This Instant Pot Pasta Puttanesca came about because of Lemony Snicket.
It's a flavorful Neapolitan dish that one of my children requested after reading that the Baudelaire children prepared it in one of the books in A Series of Unfortunate Events.
It couldn't be simpler in the Instant Pot–just add the ingredients and come back to a pasta dinner!
It's among our favorites when it comes to easy recipes for homemade meals.
It's a simple recipe with affordable ingredients, quick prep times, minimal cooking time, and bold flavors.
This recipe is vegan, but see the tip for how to add in anchovies (or use anchovy paste), which are traditional.
Garnish with shredded cheese or chopped fresh basil if you like.
You may also want to check out my Pinterest Instant Pot board for more great recipes like this pressure cooker Pasta Puttanesca!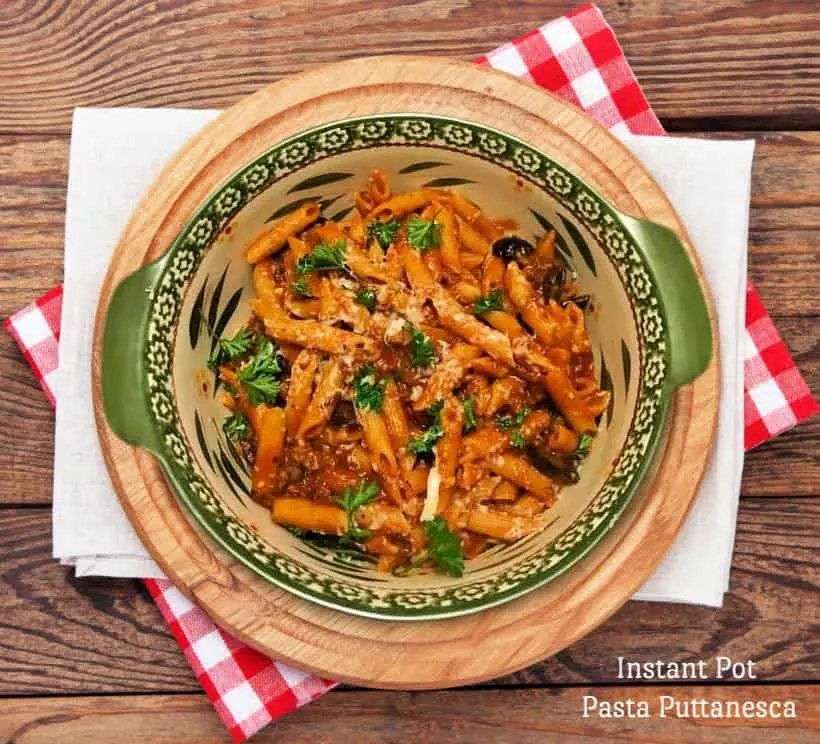 Course: Main Course
Cuisine: Modern
Difficulty: Easy
Browse Category: Rice Pastas, Vegan, Vegetarian
Duration: 15-30 min
Diet: Dairy Free, Vegan
Cooking Technique: Pressure Cook
Main Ingredient: Capers, Garlic, Pasta, Pasta Sauce
Instant Pot Pasta Puttanesca Ingredients:
3 garlic cloves, minced
1 (32-ounce) jar pasta sauce
3 cups of water (use chicken broth for more flavor)
4 cups dried pasta, such as penne or rigatoni
1/4 teaspoon crushed red pepper flakes *
1 Tablespoon capers
1/2 cup Kalamata olives, sliced
1 teaspoon sea salt
1/4 teaspoon black pepper
2 teaspoons grated lemon zest
cilantro, to taste (optional) as garnish
1/2 cup Parmesan Cheese, grated (optional) for topping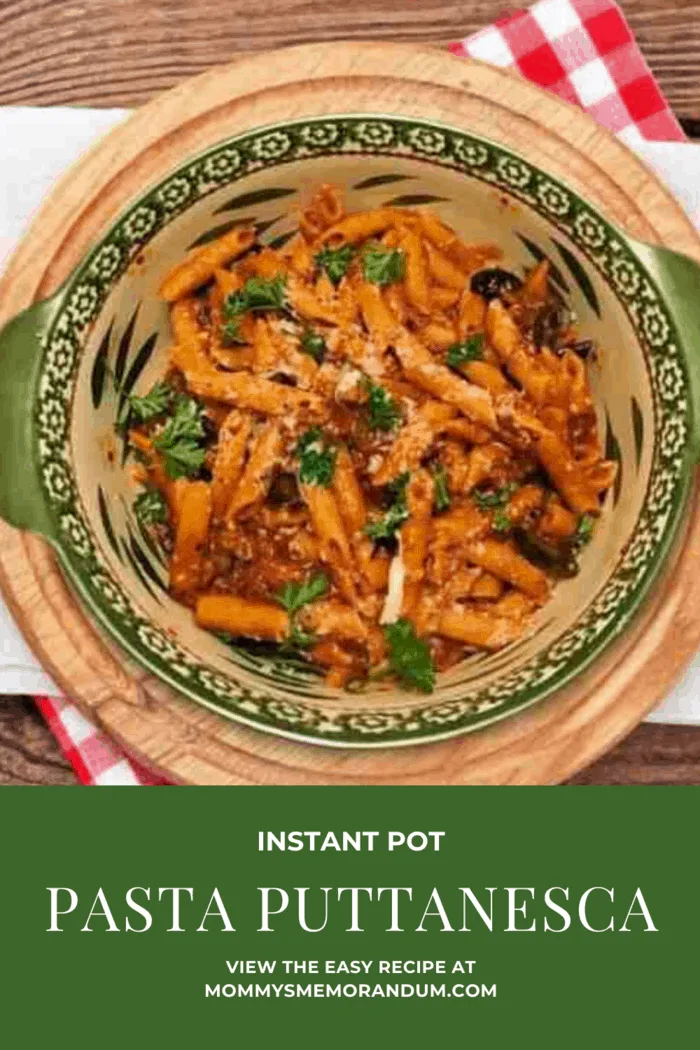 Instant Pot Pasta Puttanesca Directions:
Assemble the Ingredients:
Combine all of the ingredients (except cilantro and Parmesan cheese if using) in the inner cooking pot and stir to coat the pasta.
Pressure Cook.
Lock the lid into place and turn the pressure release valve to "sealing".
Select Manual, or Pressure Cook, and adjust the pressure to High Pressure.
Set the time for 5-minutes.
When cooking ends, carefully turn the valve to "venting" to quick release the pressure.
Unlock and remove the lid.
Give it a good stir with a wooden spoon.
Garnish:
Garnish with cilantro, fresh parsley and/or Parmesan cheese, and enjoy this quick dinner!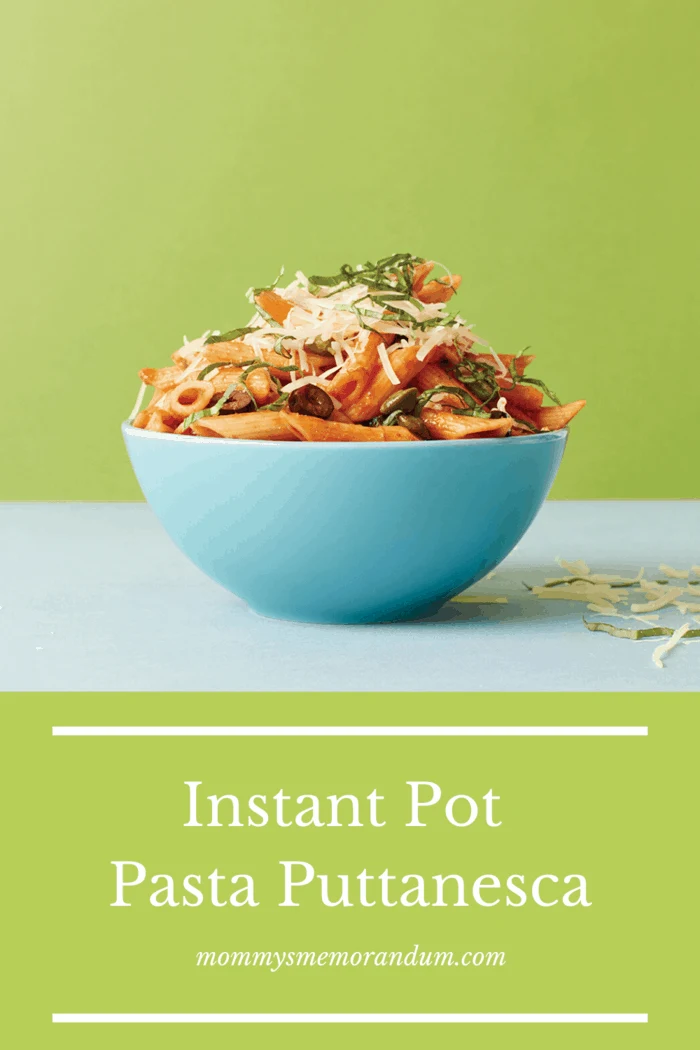 Variation Tip:
If you eat fish, go ahead and add anchovies for additional flavor.
Use 1 (2-ounce) can of anchovies packed in oil (drained), adding it to the pot along with the other ingredients.
I think their salty, pungent flavor offsets the sweetness of a typical tomato-based sauce.
*Save those crushed red pepper packets from your pizza order, they work perfectly in this recipe.
Garnish with grape tomatoes, cherry tomatoes, or black olives on top of the pasta.
You can find this recipe and more in the e-book version of my cookbook The Instant Pot College Cookbook available!
It's filled with 75 home-style quick and delicious meals to get any college kid through finals without starving.
We hope you enjoy this one-pot spaghetti puttanesca made in an electric pressure cooker.
When you're finished, why not give your Instant Pot a deep clean with this guide.
This Instant Pot Pasta Puttanesca Recipe is found in my Instant Pot College Cookbook.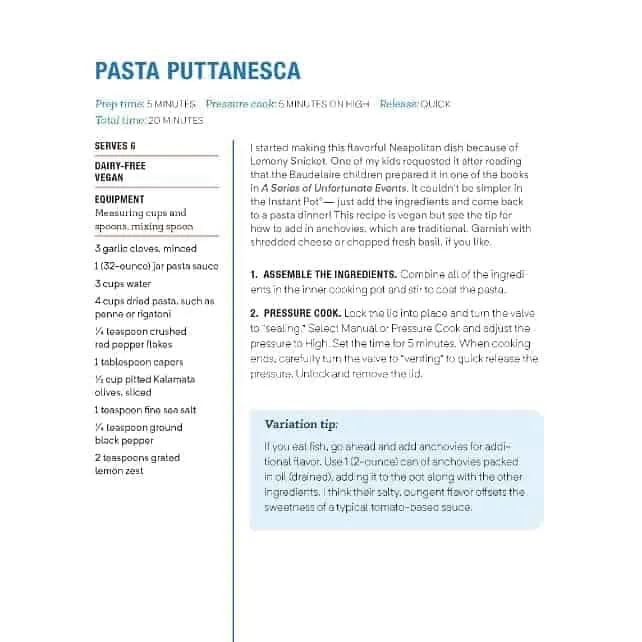 The Instant Pot® College Cookbook is the definitive dorm room solution for easy, homemade meals.
Cereal and pizza might be enough to sustain a crash study session, but the best brain food is a homemade meal.
The Instant Pot® College Cookbook saves college students from four years of nutrient deprivation with quick and easy, budget-friendly meals.
From grab-n-go breakfast burritos to late-night Macaroni and Cheese, this college cookbook contains 75 tasty meals that require no previous cooking or Instant Pot® experience to whip up.
Using easy-to-find and affordable ingredients, The Instant Pot® College Cookbook saves students time and money too with good fast food that rivals any take-out menu.
The Instant Pot® College Cookbook includes:
• Instant Pot® cooking 101 that explains pressure cooker settings for every type of food, tips, and FAQ.
• 75 home-style meals that include breakfast, everyday staples, soups and stews, meatless meals, poultry, pork and beef, dessert, and more!
• Fool-proof recipes that combine quick prep times with easy-to-find and affordable ingredients to suit student schedules and wallets.
Save ramen for emergencies with quick and easy recipes from The Instant Pot® College Cookbook.
Including this great Instant Pot Pasta Puttanesca recipe. and Instant Pot Zuppa Toscana.
About Julee:
Julee Morrison is a blogger, mother of six, who lives in the foothills of Virginia with their four dogs.
Her first book The Instant Pot® College Cookbook: 75 Quick and Easy Meals that Taste Like Home celebrates her family recipes and making quick meals everyone will love.
Her writing has appeared on The Huffington Post, Scary Mommy, Pop Sugar, SheKnows, Yahoo Shine, Love What Matters, Ellen Nation, and her recipes have been featured on Bon Appetite, SparkPeople, and The Huffington Post.