For peculiar people, laundry is like strolling in the mall or relaxing in a coffee shop. But, for most people, laundry is quite a dragging and exhausting chore. There is nothing therapeutic about it. How much more if laundry is involved harsh stains. The seemingly unending drag will increase exponentially, right?
Harsh stains are pretty tough to handle, especially if you do not have the technical know-how of the said matter. Sometimes, no matter how many times you launder it, the stains still destroy your delicate clothes' usual glam. Talk about annoying. But do not worry because you are about to read a crash course on removing harsh stains. Here is the list:
1. Presoak your Stained Clothes
Pre-soaking your stained clothes in water and detergent mixture. It is the most effortless stain removal method. All you need to do is let it soak for 30-40 mins and voila! It eradicates most if not all of the stains.
2. Different Stain Removal Methods for Different Fabrics
Knowing the fabric of your garment must be considered before any stain removal method– whether it is wool, synthetic, silk, or cotton. This will always have a significant impact on how you remove the stain. Here are some fabrics and their specific corresponding stain removal method:
Stain removal from cotton
Cotton is one of the most durable fabrics. Therefore, there are lots of stain removal methods. It can withstand harsh ways, which you can't apply in other fabrics. You can use lots of techniques without worrying about the damage you might potentially inflict.
Stain removal from silk
No matter how large or small the stain is, it is imperative to soak the whole cloth to prevent water spots from occurring. If the stains are tough to eradicate, it is highly recommended to go to your favorite dry cleaning expert, Lioxclean.
Stain removal from synthetics
Like cotton, synthetics are durable. You can always apply most of any existing stain removal method. One huge exception is bleach usage because this chemical is way too harsh for synthetic fabrics.
Stain removal from wool: Most commercial anti-stain products will damage the structure of the wool fiber. The safest way to eradicate a stain in the wool fabric is to seek professional assistance. Laundry cleaning experts are knowledgeable and can perform this task without any permanent damage to the structure of the wool.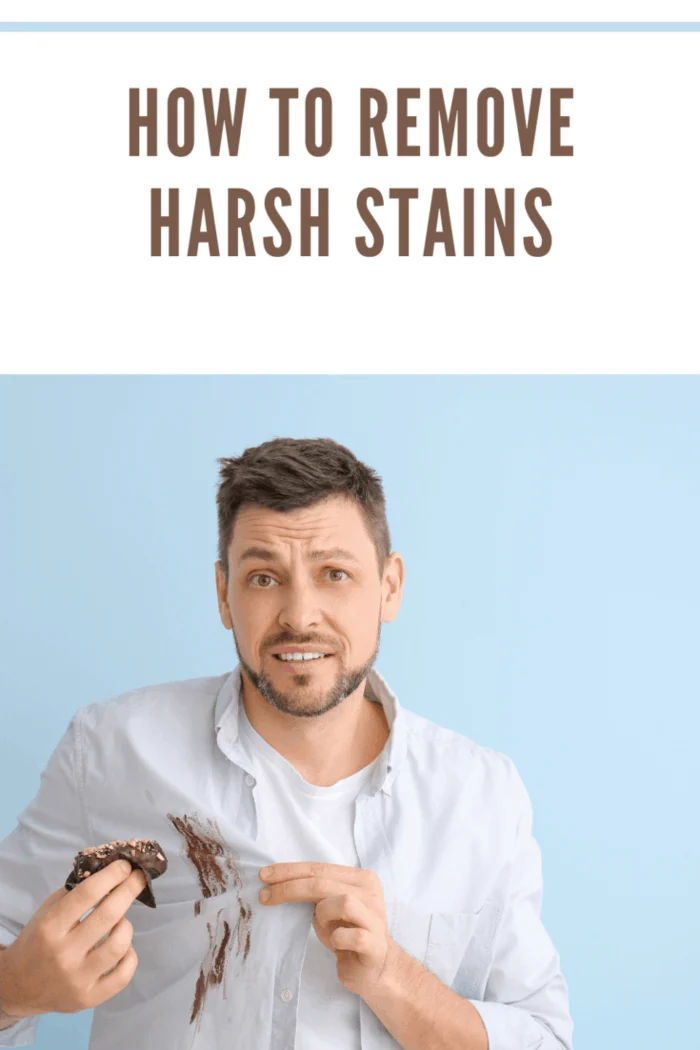 3. Always Follow the Garment Label
Following clothing, labels are the golden rule in the laundry. It is even much more critical when the laundry batch is involved harsh stains. No matter how sophisticated and articulate your stain removal method, it will not be efficient when the garment is followed.
Labels like "dry clean only.", "never wash in the washing machine," "handwash only," and "never iron" must be followed all the time to prevent your delicate garments from permanent damage.
4. Harsh Stains you Commonly Encountered
It is not necessary to create a comprehensive list of all the particular stains. All you need is to know how to treat the common ones. Listed e
For Adhesives:
Step 1. Harden the surface by applying ice. You can also use cold water. Scrape the stuck adhesive with a dull knife.
Step 2. Separate the residual adhesives by saturating them with detergent and water solution.
Step 3. Rinse it twice.
Step 4. Launder the rinsed clothes.
For Barbeque Sauce:
Step 1. Flush it with cold water.
Step 2. Pre-treat it with liquid laundry detergent.
Step 3. Rinse it well. Double rinsing is much appreciated.
Step 4. Sponge it using white vinegar.
Step 5. Rinse again.
Step 6. Soak it in water and liquid detergent solution.
Step 7. Launder it.
For Chocolates:
Step 1. Scrap off the excess chocolate. It will prevent further spreading and lessens the present stain amount.
Step 2. Soak it in cold water.
Step 3. Pretreat it with water and liquid detergent solution. Soak it for 30-40 minutes.
Step 4. Rinse it well.
Step 5. Launder it using hot water. Make sure that the temperature of the water is safe for the fabric.
For Coffee/Tea:
Step 1. Soak the stain in cold water. Do it for 20-30 minutes.
Step 2. Pretreat it with water and liquid detergent solution.
Step 3. Use sodium hypochlorite bleach or oxygen bleach. It is better to know the compatibility of the garment fabric to the bleach. Consider that older coffee/tea stains may respond to pretreating in a laundry product containing enzymes.
For Ink:
Step 1. Sponge the stained area with rubbing alcohol.
Step 2. Place the stained area on a neat paper towel. Apply rubbing alcohol to the back of the stain. Repeat the process until the ink is fairly not visible anymore. You must replace paper towels every after alcohol application.
Step 3. Rinse it thoroughly. We highly recommend rinsing the laundry twice.
Step 4. Launder it.
For Ketchup:
Step 1. Scrape the ketchup on the surface with a spoon or bread knife. Please take extra precautions because you might rub it into the part of the fabric which is not affected.
Step 2. Wash it as soon as possible.
Step 3. Soak it in cold water.
Step 4. Pretreat it with water and a liquid detergent mixture.
Step 5. Rinse it twice.
Step 6. Launder it.
5. Not All Stains are Hard
Not all stains are hard to eradicate. First, if you encounter this type of stain, then deal with it as soon as possible. The more time a stain has to soak in your delicate clothes, the harder it will be to eradicate, even though there are ways to eliminate old stains from your garment.
Second, pre-treat it with a commercial anti-stain product. Let it soak for 30-40 mins. Lastly, launder it with the utmost care by wholeheartedly following the garment label using preferably cold water. If the stain is still visible but seems manageable, repeat the above steps.
Harsh stains eradication is all about experience and knowledge. Now that you gained advanced knowledge of removing difficult stains, I hereby announce that you are a certified stain removal expert. Thanks for finishing this crash course.