Burgers are the most common and popular bites all around the world. Though cooking them is quite simple, some tools are still mandatory to make one of your own.
Although America is considered the origin of burgers, it has become one of the most popular sites worldwide. It is getting more popular as it can be eaten at any time in any meal. In addition, the ingredients can be altered to preference. From the very beginning, giant burgers loaded with cheese, fries, and heavy patties were a great attraction for all.
A good burger has to be made with fresh ingredients and proper technique. If the cooking process is not followed properly, it will not taste as good as it should. To make a good burger, some equipment is a must. The equipment would be-
Find a Meat Grinder
The patty is one of the important ingredients of any burger. If the patty does not taste good, the taste of the whole burger will be off. So, to mince the meat for the patty properly, you need a good grinder. The meat grinder will help you to mix the meat with herbs and spices properly. Moreover, grinding will create the required consistency in the mix.
Varieties of grinders are available in the market to make the process easier for you. Some people still like to do the grinding by hand. However, not everyone has the time to grind their meat manually, so electric grinders are a popular choice. A commercial grinder is an excellent choice if you are a commercial business.
Pick the Right Spatula
Before buying a spatula, you have to decide what type and qualities of the spatula you are looking for. If you are buying a spatula to make a burger, numerous options are available in the crockery shop. It is highly recommended you get yours from the best spatulas available in the market, recommends Food Guys. You have to find a spatula that is easy to hold for a long time and can also be washed easily. However, you have to be careful about the handle; it must be non-slip for easier handling.
Spatulas should be heat resistant, as you will be near the fire. The most popular spatulas are lightweight with a thin handle. Cooking professionals mostly prefer to wash their spatulas by hand instead of putting them in the dishwasher. Moreover, it can cause harm to the dishwasher as the front side of the spatulas is often sharp and made of steel.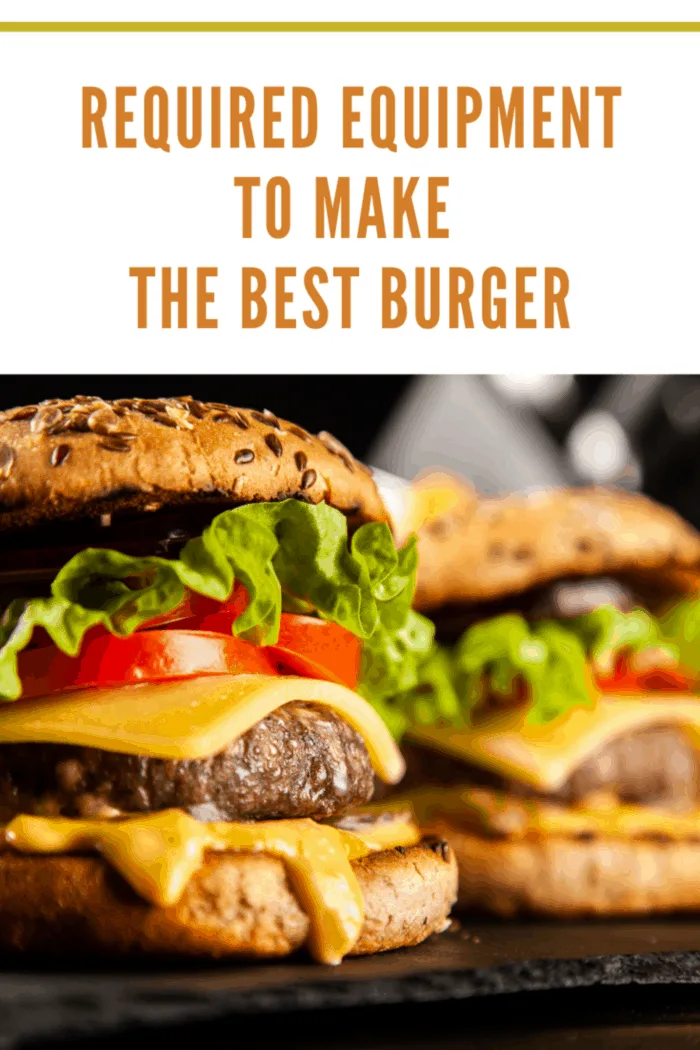 Buy a Grill Pan
Many of us do not have much cooking space or a grill of our own. For such cases, a grill pan is the best alternative. They are quite affordable and can be cleaned easily. Moreover, if it is raining or snowing outside, you can enjoy a burger with grilled patties without having to deal with inclement weather. You should look for a grill pan made of cast iron. Such pans will ensure perfect heat diffusion and will cook the burger excellently.
Follow a Good Recipe
Making a burger is considered easiest as the ingredients are quite simple and can be easily found. However, if you want to make a delicious burger with quality ingredients, you should search for a recipe before making one on your own. Everything should be done deliberately and carefully, from choosing the bun to the final plating.
Although most of us think of the bun and patty as the most important ingredients, you should not forget about condiments or sauce. A complimentary condiment will elevate your burger and make you crave it again and again. It will make the burger juicier and more flavorful.
Make Your Own Bun
If you are making a burger yourself, you should try to have everything homemade. A bun is one of the most important ingredients of any burger, so it is worth making your own. A soft and moist bun is the best thing you can have in a burger. We use the recipe for Hamburger Buns.
Baking your own buns depends on the type of oven you have. Make sure to follow the proper procedures and steps when making your own burger buns in the oven.
Find a Tool to Separate the Yolks
Many people like to have egg yolk in their burgers. Though putting a whole poached egg is seen most commonly, a single half-poached egg yolk is a new trend. The poached egg melts beautifully when the burger is cut in half.
To do such a thing, you will need a yolk separator to help you separate the yolk from the eggs, both for when you are making the bun and when you want to poach the egg yolks. For home cooks, a fish-shaped yolk separator will function best. You can even separate the yolks with a plastic bottle, but you have to know the technique to do such a thing on your own.
Besides the above tools, you also need a sharp knife, a spice grinder, and a chopping board to cut the lettuce and tomatoes for your burger. On top of that, do not serve the burger on any plate. Buy some flat plates to serve your burger, as it will create the perfect aesthetic.