We've kicked off our holiday celebration in Tennessee this year at Tennessee's Largest Waterpark, Wilderness at the Smokies. We were in awe, walking into the lobby for our room.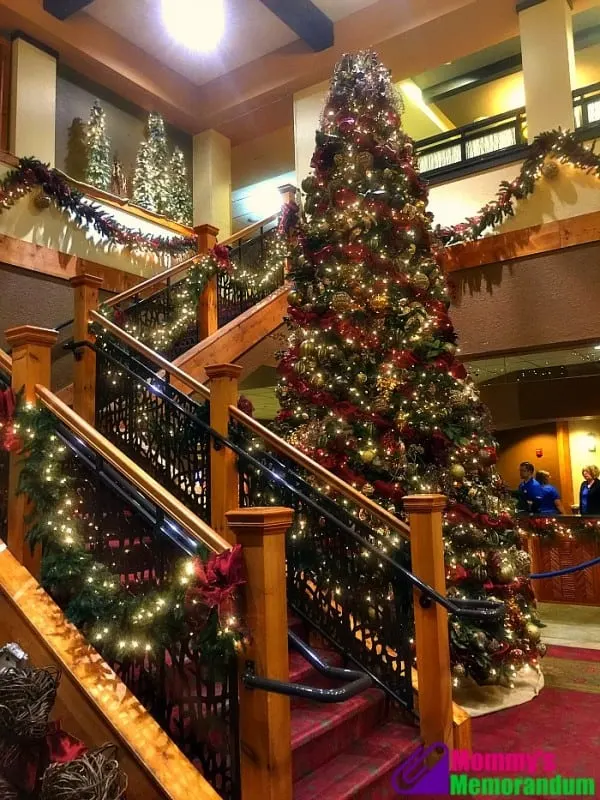 A beautiful evergreen rose to the second floor, adorned in colors of burgundy and gold. White lights illuminated the ornaments and lined the stairway. My kiddos gasped at the beauty.
Wanting a closer look at the details, we hovered around the Christmas tree. Each ornament is a wilderness symbol, making our visit seem even more magical.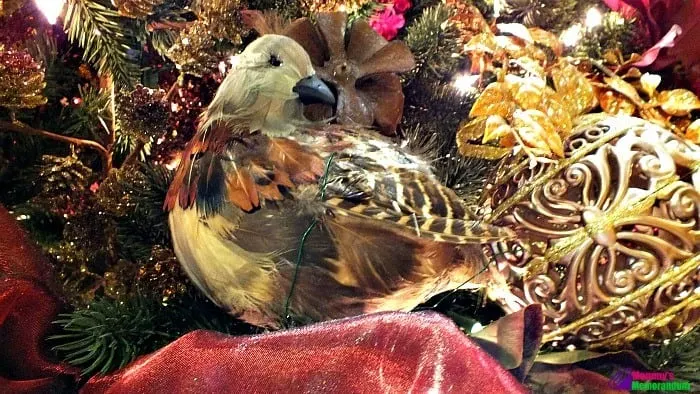 Woodland creatures, like this squirrel, decorated the tree to perfection.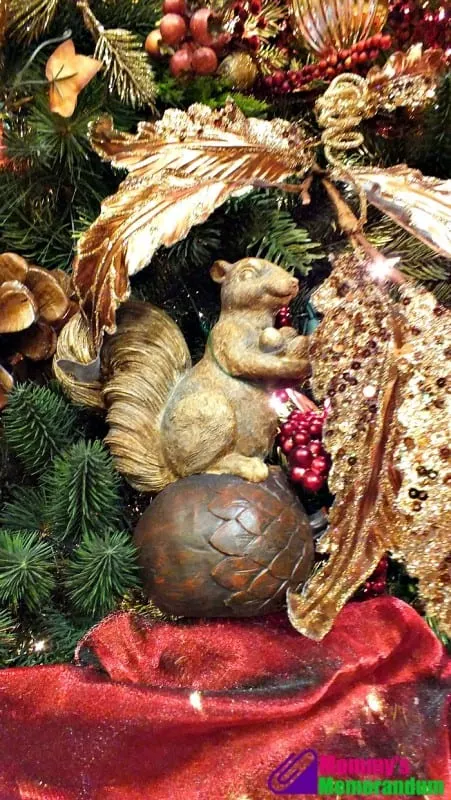 We headed up to our Junior Deluxe Suite at River Lodge with our room keys in hand.
The hallways are long and carry out the burgundy and green theme.
Once at our room, which by the way, is marked with a themed room number like this one, the excitement began to escalate.
The layout is perfect for our family of four. It is a long rectangle with a small foyer with a bathroom behind the entryway.
A little further in, the kiddos squealed and called dibs on their bed.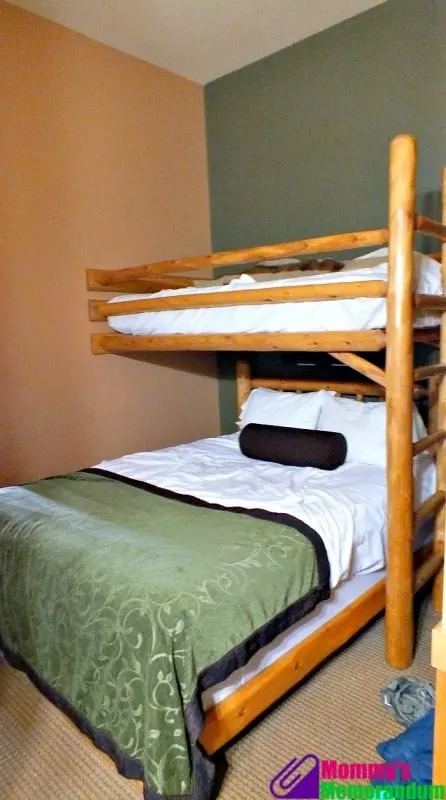 A small wall separates the bunk bed area from the main sleeping area. The area has a bed, a couch, and a small table with two chairs.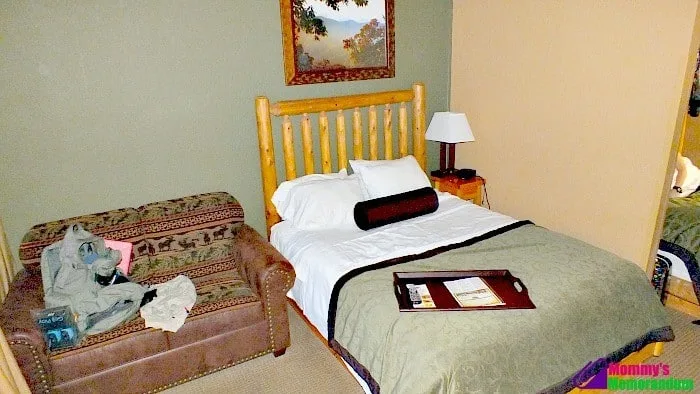 The dining area is perfect for small snacks in between swimming and fun!
Pardon the mess, but my kiddos were stripping down and half way out the door because this is more than a luxury hotel. This is an indoor waterpark, and well, they couldn't wait!
There are giant waterslides, a surfing area, a kiddie area, and a wave pool. There's plenty to keep the children busy. An indoor waterpark is perfect for water fun at the end of November. Mom and Dad can enjoy it too inside the state-of-the-art 66,000 square foot indoor waterpark that features a Foil-Tech glass roof that allows the sunshine in and guests the opportunity to tan year-round.
After a couple of hours of water fun, I pulled the kiddos out of the water and we headed to the room to change into street clothing. Wilderness at the Smokies had all the holiday fun taken care of so I could relax!
Downstairs we headed to Santa's Workshop. It was easy to find with the festive decor.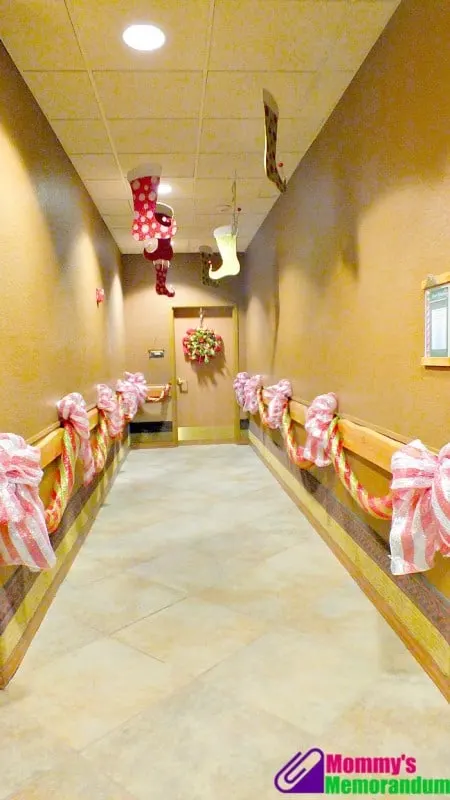 Inside the kiddos were in a Christmas Crafting heaven! This activity was included in our stay, and the kiddos went both nights during our stay. They loved socializing with other guests and creating fun things.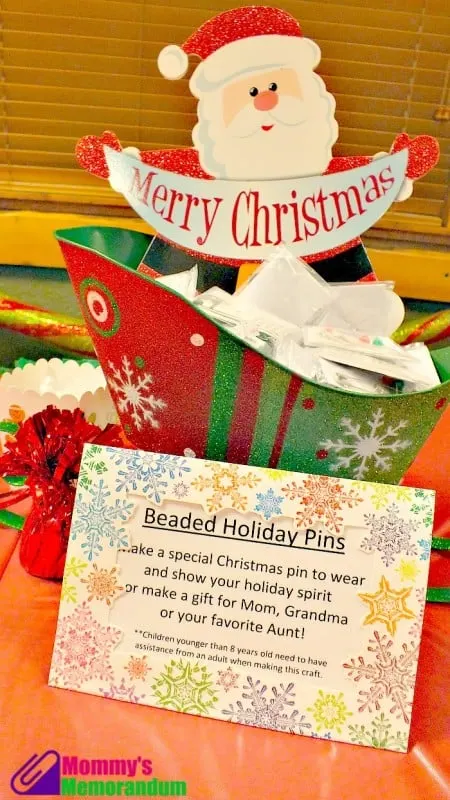 The room had long banquet tables set out and along them were various crafting stations. The kiddos could make a beaded pin, gift container box, decorate cookies, write a letter to Santa, and more!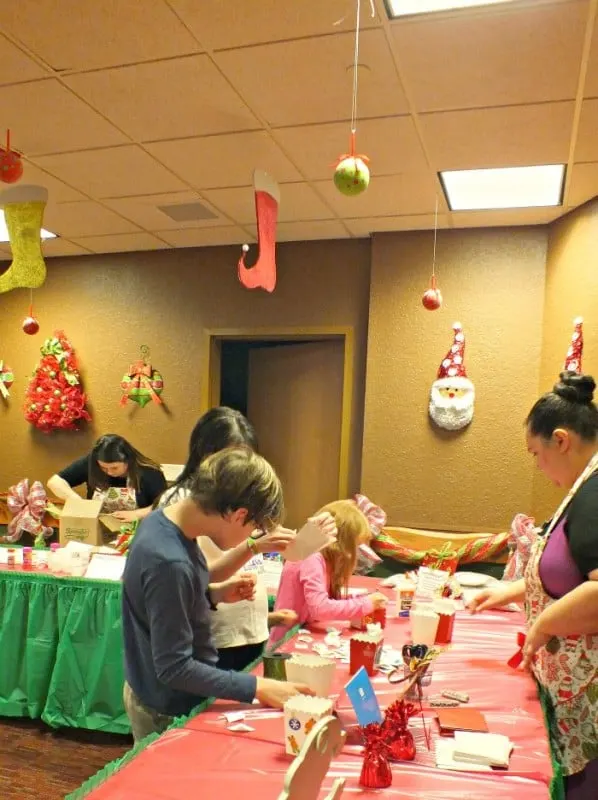 There was plenty of crafting happening, and my children had a blast.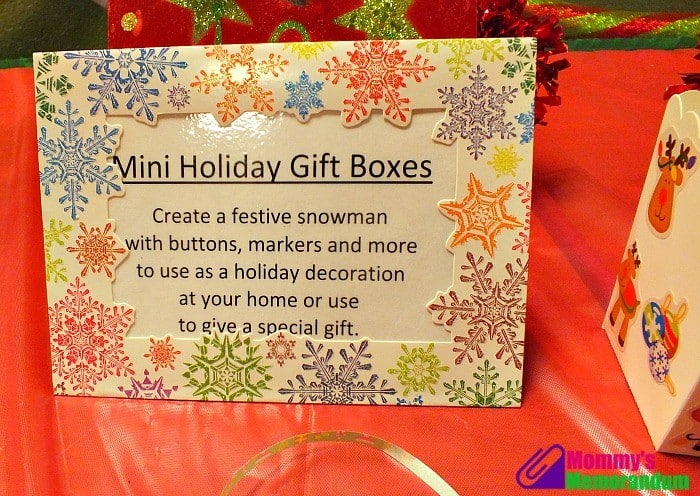 The room was decorated in fun holiday colors, complete with a Christmas tree.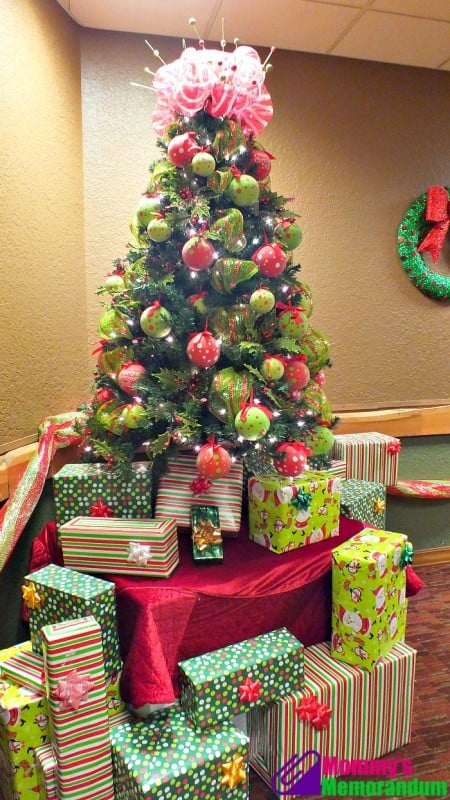 I loved watching the children craft and looking at the tree ornaments. This ornament was my favorite.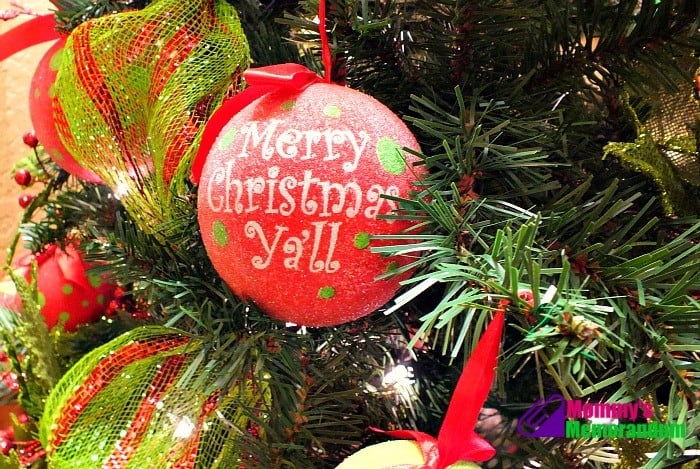 My children especially enjoyed writing their letters to Santa and mailing them in Santa's mailbox.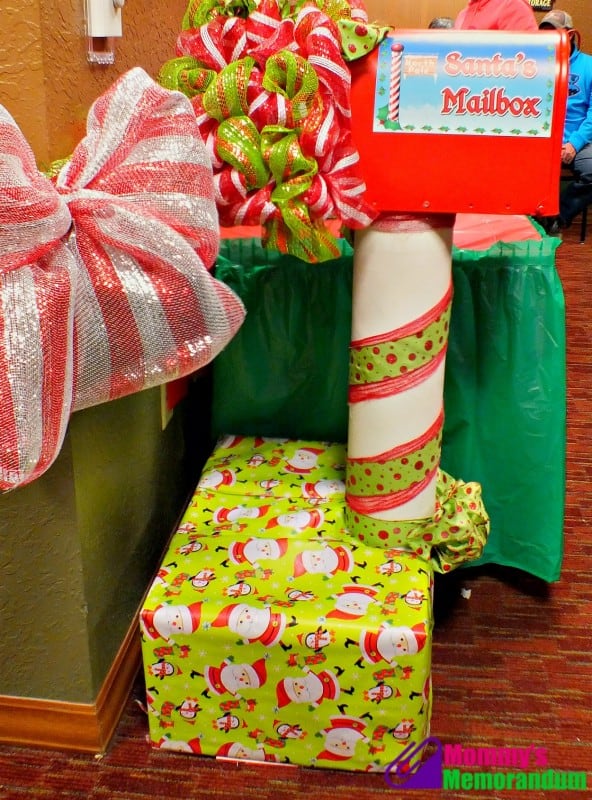 After all the crafting, we were headed up to our room when we spotted a jolly fat man in the lobby, and my children exclaimed, "It's Santa Claus!"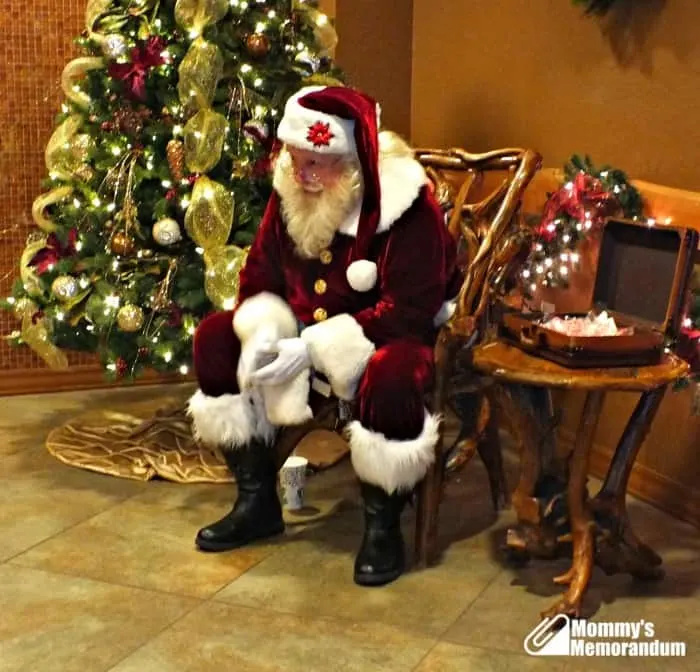 Miss M couldn't wait to sit on his lap and tell him how good she's been this year and let him know at the top of her list was a sewing machine!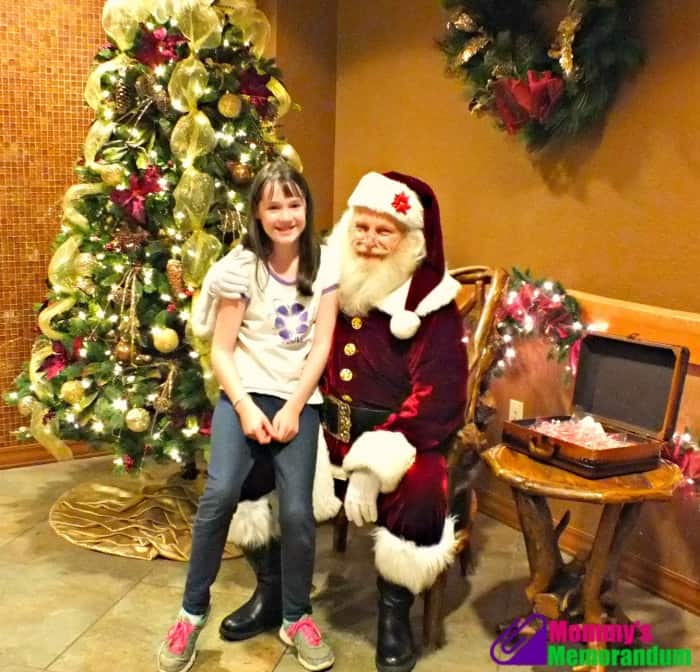 After visiting Santa, we headed to the Thirsty Miner. It's a buffet and restaurant inside Wilderness at the Smokies. We got our Prime Rib on the best part…Kid's eat free!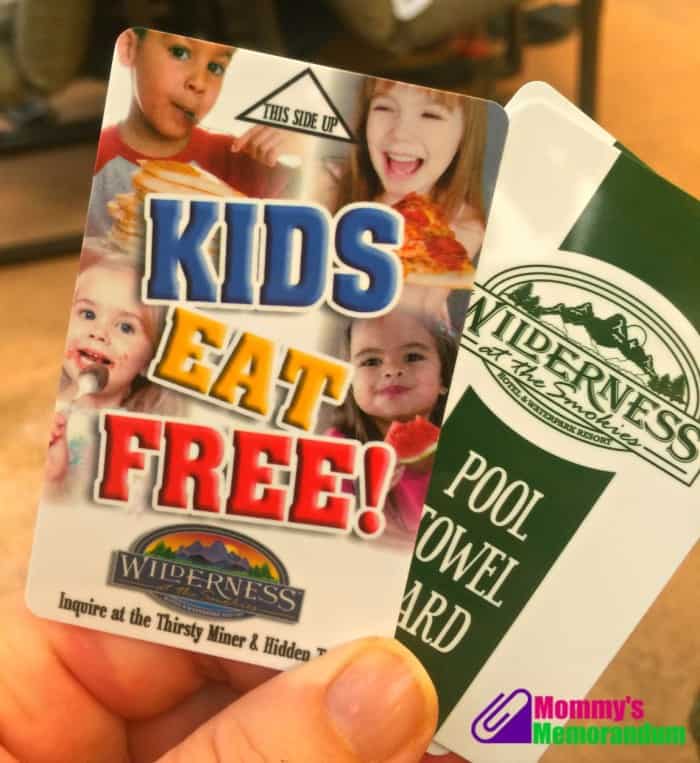 Following dinner, the kiddos and I went for a walk around the complex. The lights twinkled, and some inflatables just made it feel like Christmas. My kiddos loved this one with Snoopy.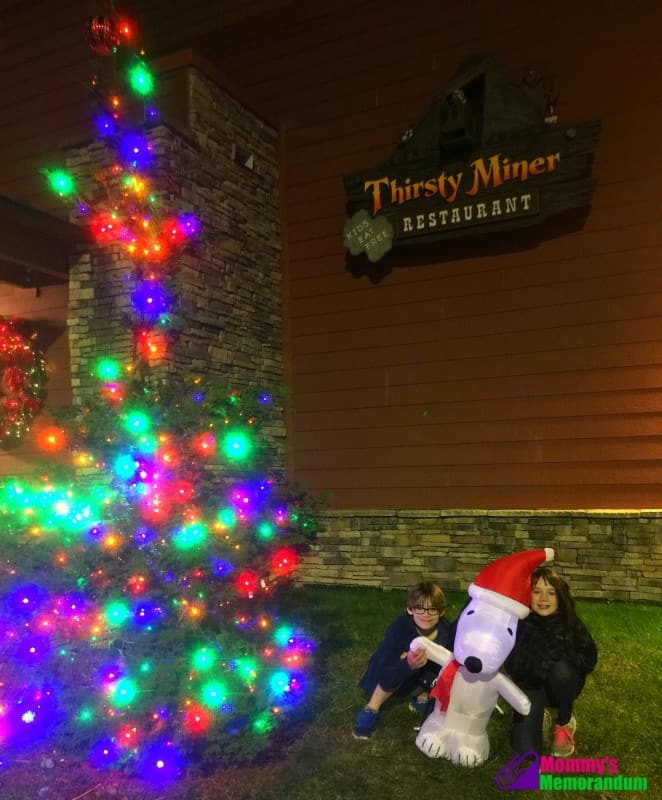 It was a busy day, filled with fun, crafts, swimming, and good food. It didn't take long for the kiddos to fall into a deep sleep.
In the morning, they lay quietly playing on their mobile devices.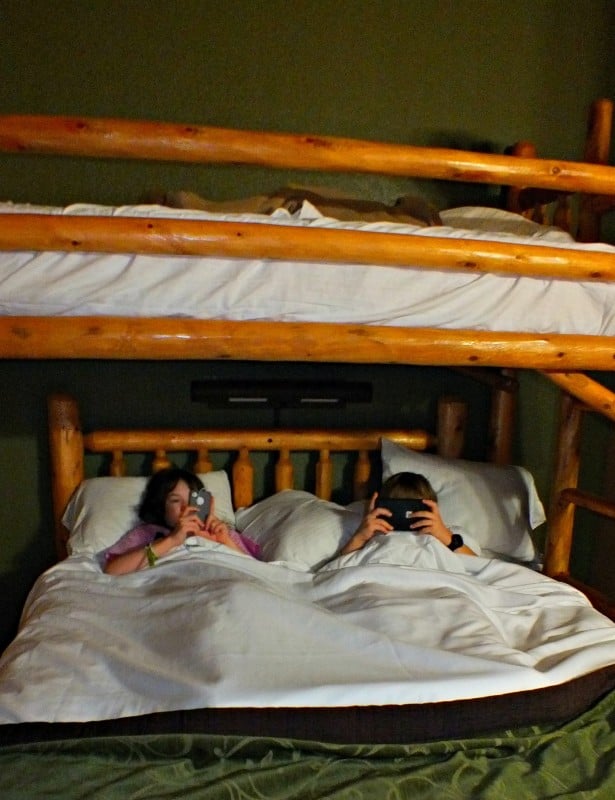 And then I invited them to come to watch the sunrise with me and a cup of hot cocoa.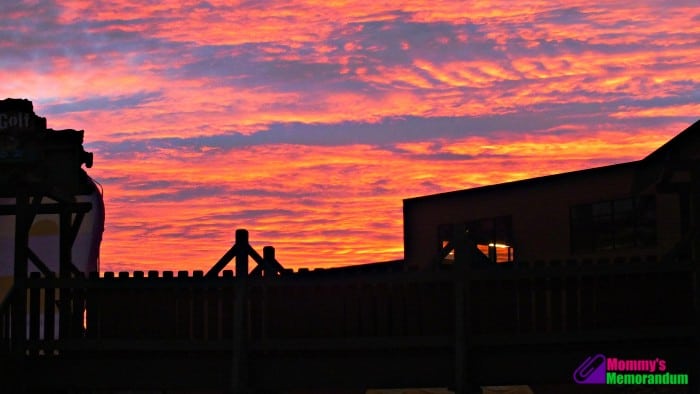 We ate at Thirsty Miner Restaurant and then started our day at Adventure Forest! This was Li'l Man's favorite place. There is so much to do here. Rock climbing, a ropes obstacle course, an arcade, bowling, miniature golf, and more.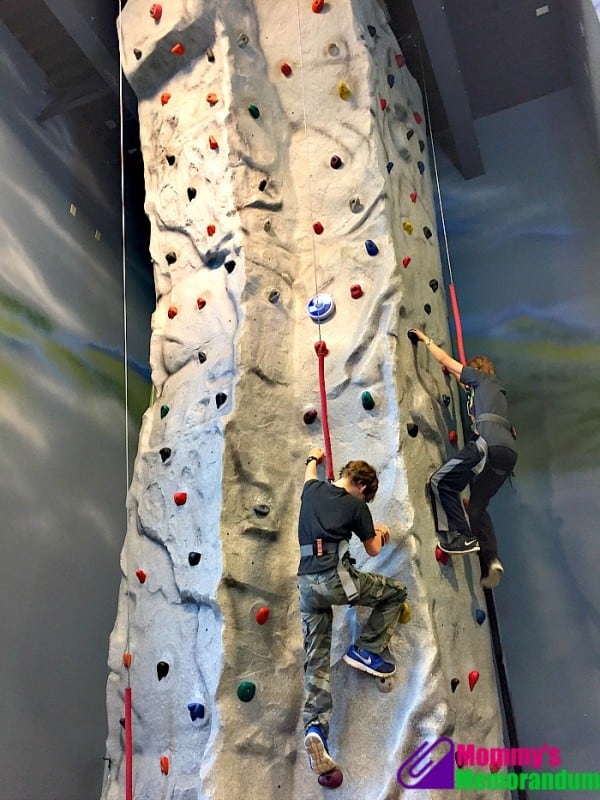 Dad and Li'l Man spent a few hours in Adventure Forest.
Li'l Man's favorite part is the Ropes Course. It's four levels of challenging ropes.
While the boys played, Miss M and I headed to Polka Dot Pots in the hotel to get our ceramic crafting on.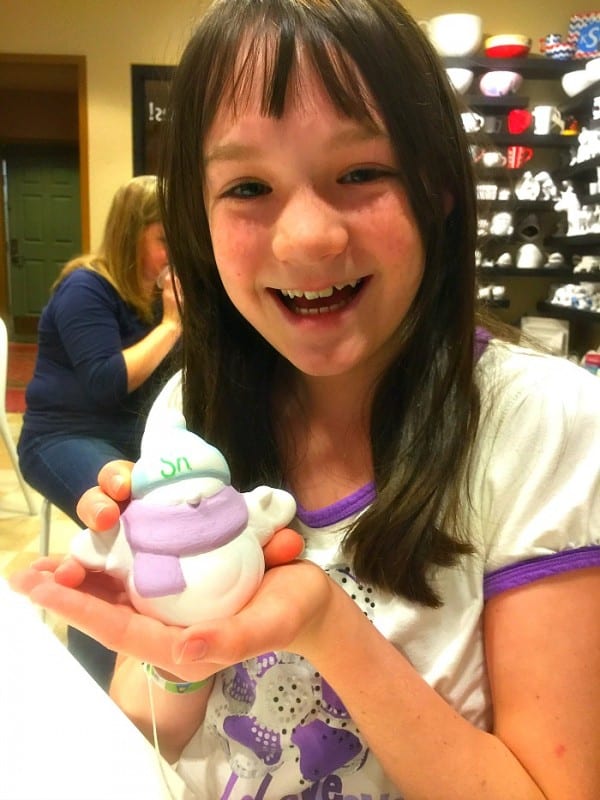 Miss M picked out an adorable snowman, and I chose a Santa Claus. We sat at the table, painting and visiting. It was some great girl time. Miss M finished hers before me and went for a swim with Dad and her brother. I stayed until every detail on my Santa was to my liking.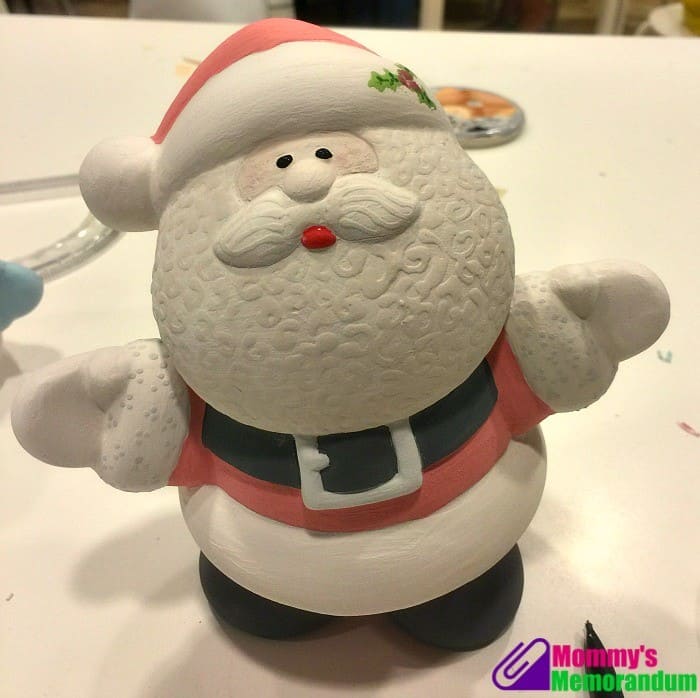 I left both Santa and the Snowman with Polka Dot Pots for them to fire in the kiln overnight. We picked them up on our way to check out.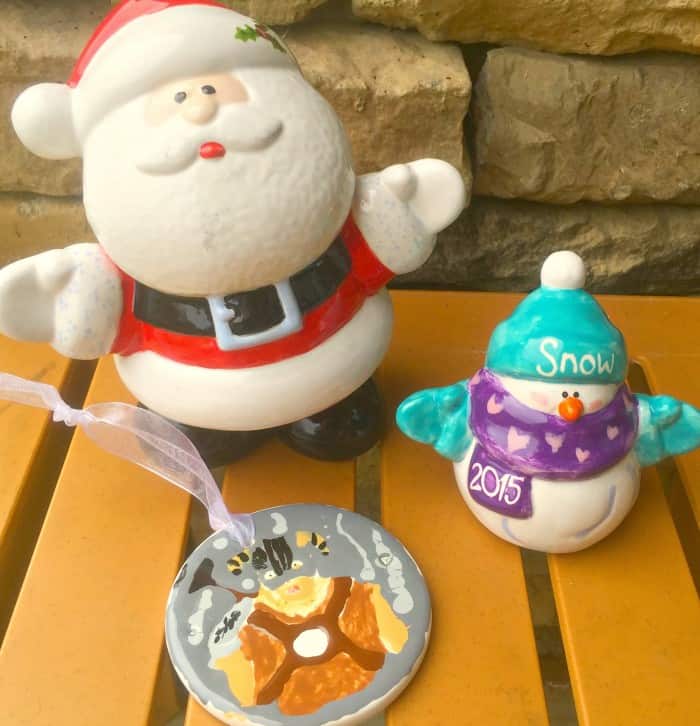 Wilderness at the Smokies is so much more than a hotel. It's far more than a waterpark. It's a vacation from the outside world. The hustle and bustle of everyday life. It's a place to unwind, celebrate family and enjoy relaxation.
I loved that Wilderness at the Smokies is self-contained. Once here, there is really no reason to leave until you're ready for check-out. During the holiday, the staff has every detail worked out to relax, and the children can be entertained.
Make your holidays bright with a stay at Wilderness at the Smokies in Sevierville, Tennessee.