We received a Chef Club Box in exchange for this post. All opinions are my own.
Chef Club Box from kid Chef Remmi Smith is one of the unique subscription boxes out there. Created by 15-year-old Remmi, who has the popular Cook Time With Remmi website and cooking show, #ChefClubBox is the outcome of Remmi's desire to make it easy for children to find healthy food choices and fitness inspiration. This monthly subscription box offers two levels:
The Big Apple Box features 15+ snacks and other goodies and starts at $45.99 with free shipping and discounts for multi-month subscriptions.
The Chef Club Classic Box features 10+ snacks and goodies for $35.99 a month with free shipping and discounts for multi-month subscriptions.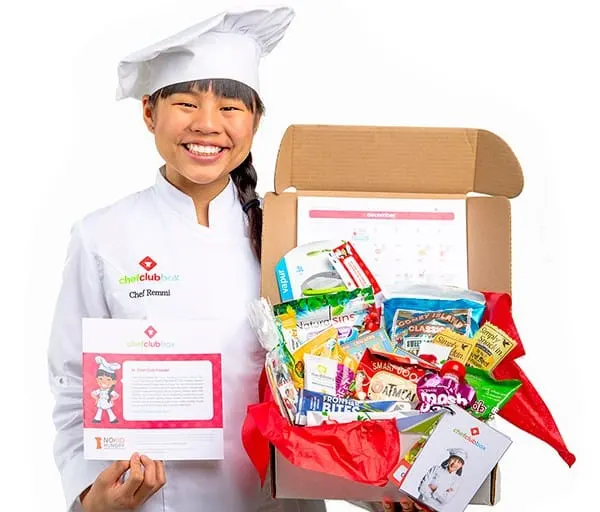 The box was an idea that was pitched to the Inc. Magazine and Cox Business Center's "Get Started" competition in August 2015. Remmi won $10,000 and prizes for her subscription-based business. Four months later, Remmi sent out her first boxes.
I love this box and so do my kiddos. I'm sharing a box we received.
The box opens with a calendar for the month. It features any National Days like December 1st is National Eat an Apple Day, December 6th is National Gazpacho Day, and so forth. All are great possibilities for the month and give you time to plan for the day should you choose to follow along.
There is also an inspirational message from Remmi. I think Miss M found this piece in the box to be the most influential. She could not get over the fact that Remmi is a kiddos, just like her, and a chef!
We learned the the "CHEF" in CHEF Club Box stands for Cook Healthy Exercise Frequently. What a powerful message for anyone.
The box includes recipes and fitness suggestions that are easy for children to do. Each month, add new cards to the collection to rotate through menus and fitness activities.
The box even includes a fun collection of goodness for parents. Ours had a soy candle from ManCans, also a company from a kid-preneur. ManCans candles are scented with men in mind and profits benefit partnerships with food banks, soup kitchens, and disabled individuals.
My son works at Whole Foods where Remmi's salad dressings are sold, but the Chef Box included Remmi's Italian dressing packet. There's also a recipe for Gazpacho Salad in the Chef Box that spotlights this delicious dressing!
Our box also included a beautiful hand-stamped necklace from The Vintage Pearl. It was a special treat, and Miss M loves wearing it, especially to celebrate when she has created a meal for our family.
Li'l Man loved that the box included a Vapur Water Bottle.
My kiddos loved all the snacks loaded into the Chef Box. It introduced them to new brands, flavors, and textures. Li'l Man is a big beef jerky fan, and the Chef Box included Simply Snackin' Gluten-Free Dried Chicken Breast, a healthier, all-natural alternative to one of his favorite snacks. It's even made with fruit!
My dad went to a high school whose mascot is the Beet Digger. My kiddos think this is hilarious. In the Chef Box, there were Orange Chocolate Beet Smart Cookies. They taste like cookies, but they are eating vegetables too–something they still cannot believe!
I love that Chef Remmi and her team created Chef Box to introduce children to healthy snacks, encourage kids to try new things, and strive for a healthier lifestyle.
It's also a subscription box that pays it forward. For each Chef Club Box purchase, one meal is donated to No Kid Hungry, helping children across the nation fight hunger.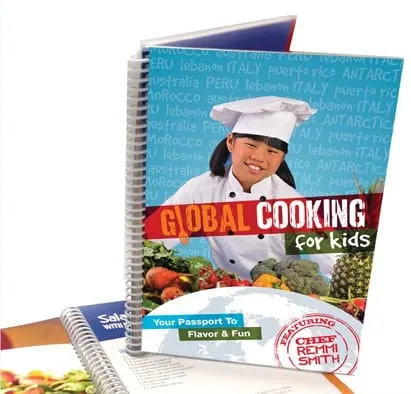 As a bonus, six and twelve-month subscriptions will receive Remmi's cookbook, Global Cooking for Kids ($25). This cookbook, created to introduce children to international food traditions recipes and help children gain confidence in the kitchen, is a great cookbook!