We received passes to Wilderness at the Smokies Adventure Forest in exchange for this post. All opinions are my own.
Our Tennessee mini-vacation at Wilderness at the Smokies was off to a great start. We checked into our Junior Deluxe Suite at River Lodge and headed down to the Adventure Forest.
The kiddos spent so much time in Adventure Forest. The absolute favorite? Tree Top Towers.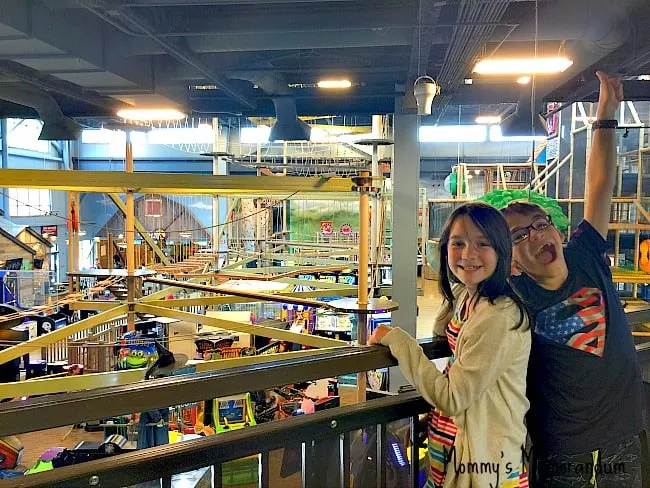 It's a three-story Ropes course. The staff takes great care in securing participants into a safety harness. Once secure, you head up steps into the canopy of Adventure Forest.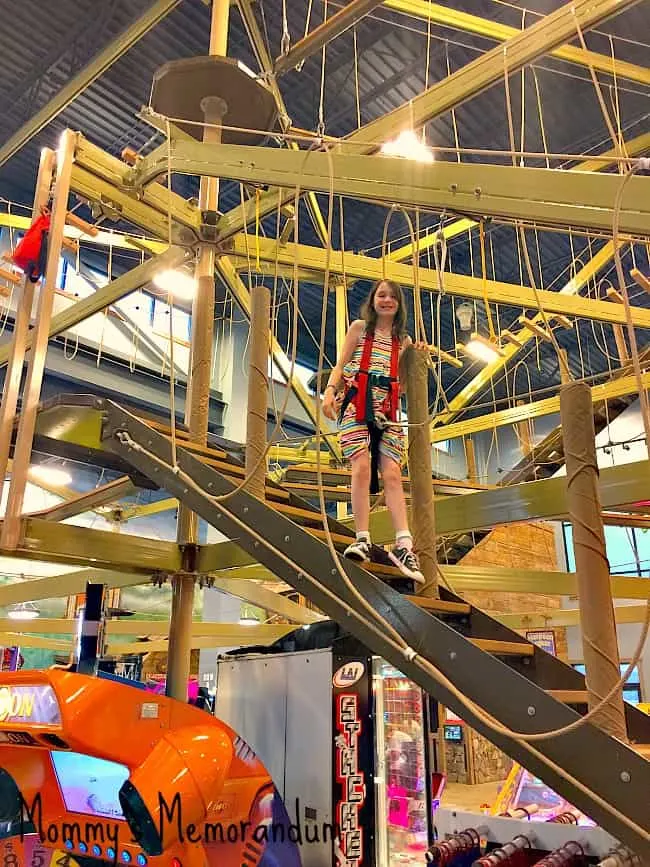 It was all I heard about for hours, so I told the kiddos I'd try it. People, I went up the stairs, crossed a rope-ladder bridge, choose this rope to tight-walk and half way across decided this just wasn't for me. Hovering 20 feet in the air just wasn't for me…but my kiddos! I couldn't get them down!
Should you or your child change their mind once up in the air, rest assured there are staff members throughout the course. Just call for them and they are right there, assisting you in getting out of the course and back down to solid ground!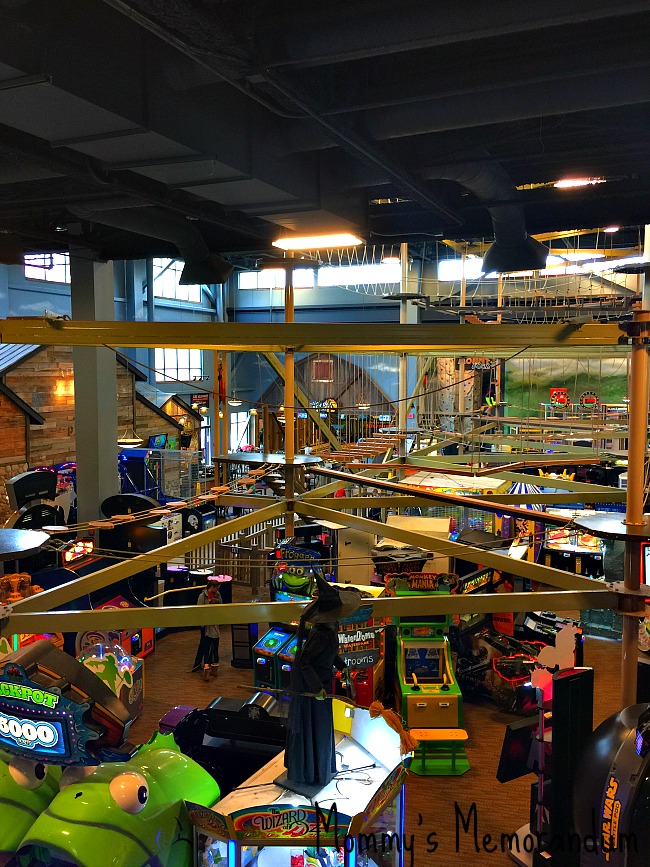 This is Adventure Forest from the second floor–where you will find pool tables, a party area, and dining.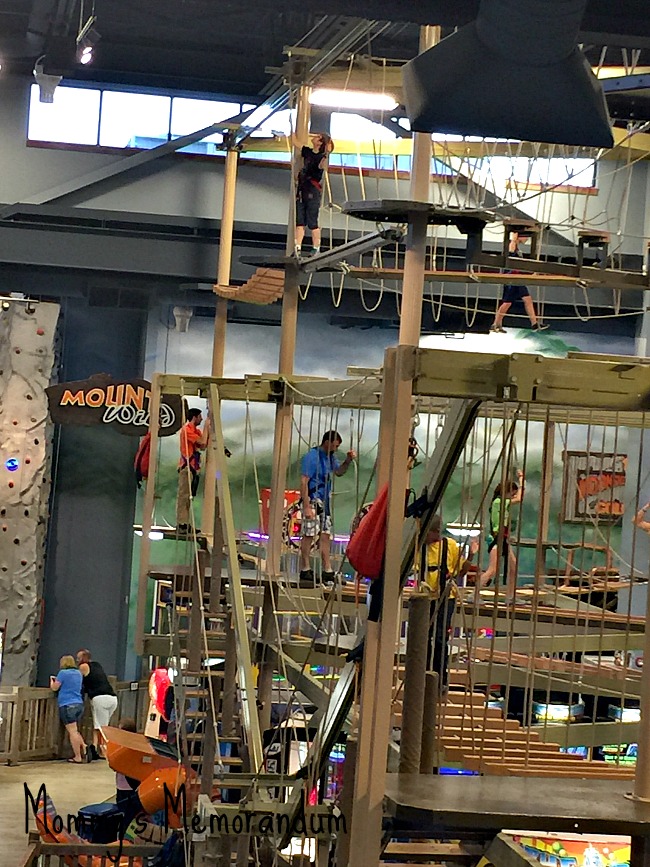 That boy, in black, at the top…he's mine. He was racing through this course. He loved the challenges, getting to pick the obstacles. Each run was different with all the options given.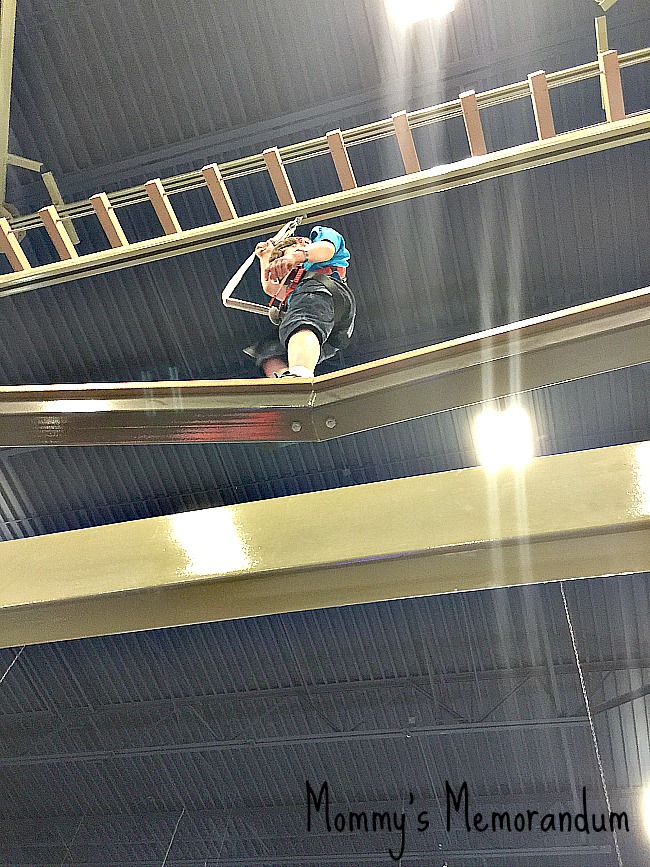 Here he is again. Way above my head, just casually walking the balance beam. No fear.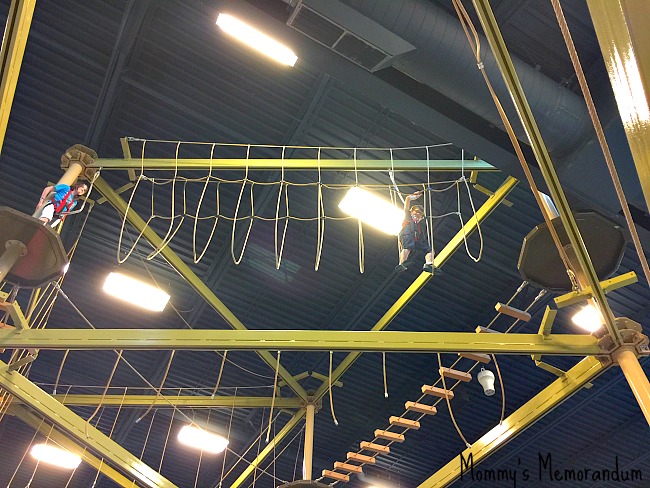 Then my kiddos teamed up. Here they are 40 feet above the ground. Miss M on the pedestal is waiting to cross, and that's Li'l Man on those rope loops–almost to the end. They absolutely could not get enough of this ropes course. Every time I'd get them down, they'd want to know when they could go back up!
Even me, the chicken that came down, thought it looked fun. There are cargo nets, balancing beams, lily pads, and more!
But Adventure Forest offers so much more than the Tree Top Towers. It also is home to a huge MEGA arcade with state-of-the-art and old-school video games.
This bad boy here, was my favorite. I had to beg the kiddos to play with me–I wouldn't let them win!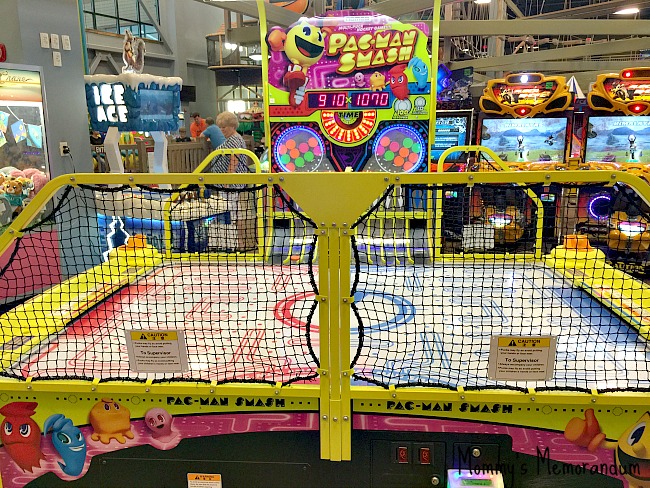 Adventure Forest's Mega Arcade is filled with over 100 games, for all ages. Pick up a reloadable action card and play the day away. Try winning tickets at many of the games to redeem for prizes!
The kiddos also spent hours climbing Mount Wild.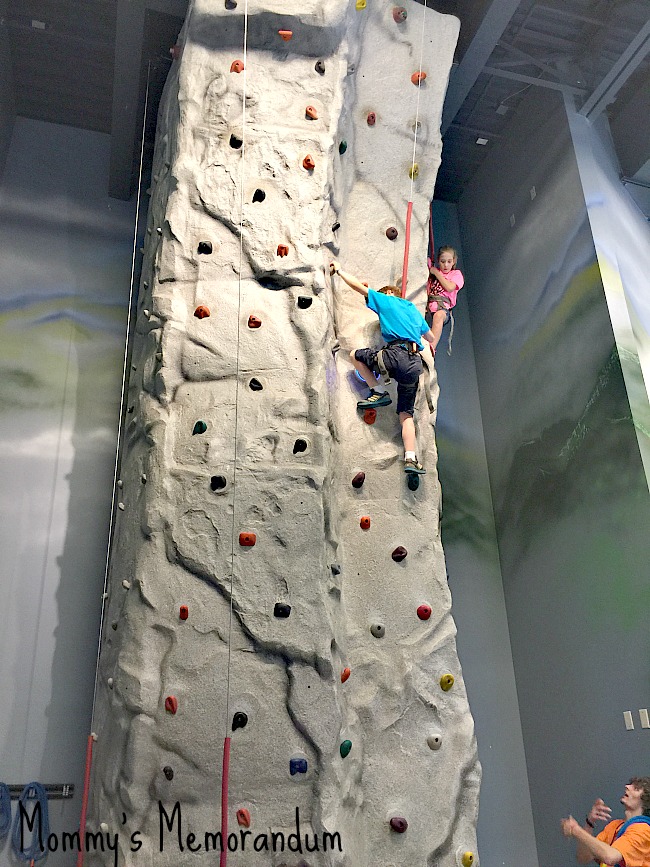 They loved the challenge. It offers something for all skill levels. The staff is very friendly and ensures everyone is safe in a safety harness.
The kiddos even loved racing each other to the summit.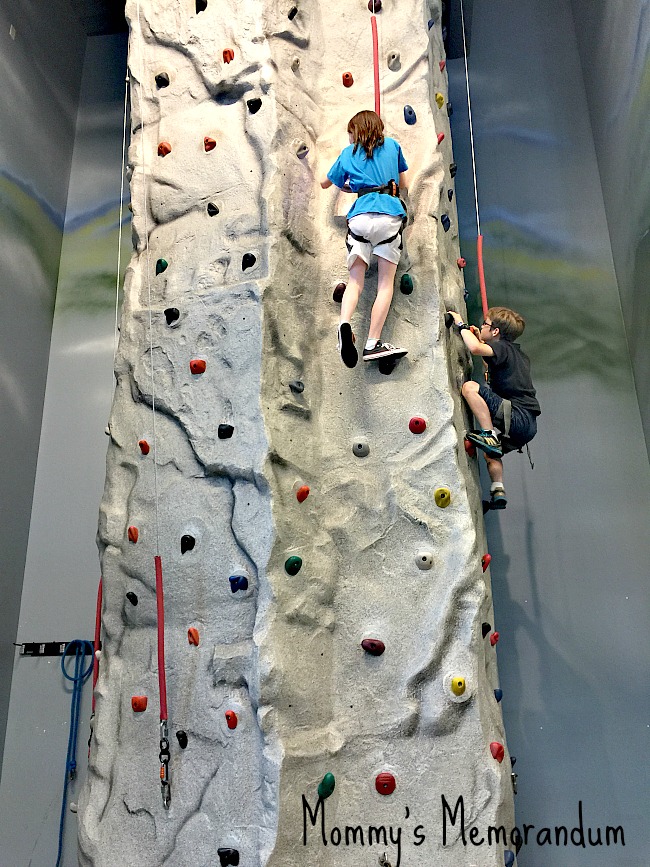 My kiddos least favorite, though still fun (they did it for more than 40 minutes), was the Copperhead.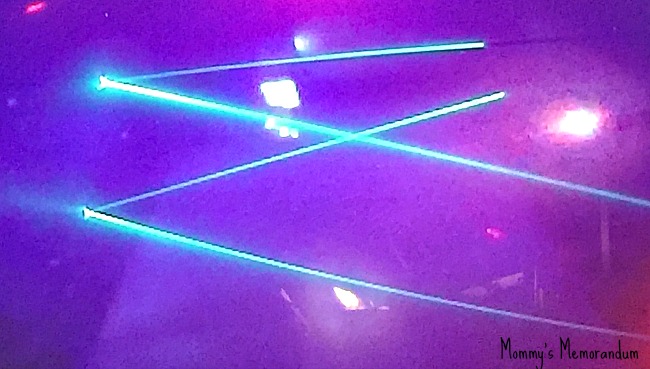 It is like a mission impossible. You have to snake your way through the laser with twists, ducks, and dives. It's timed, so there's even more challenge. I loved that I could watch them on the screen outside the attraction. It was hilarious watching the kiddos try to avoid the lasers.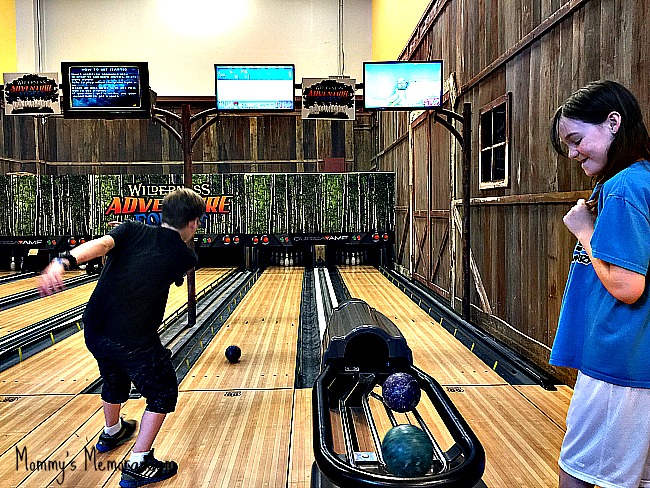 Howlin' Hound Dog Alley was a ton of fun. The kiddos had a blast bowling with the smaller balls in this mini-bowling game. They loved having their own lane and competing against one another.
One night we even played a little golf at Moonshine Run.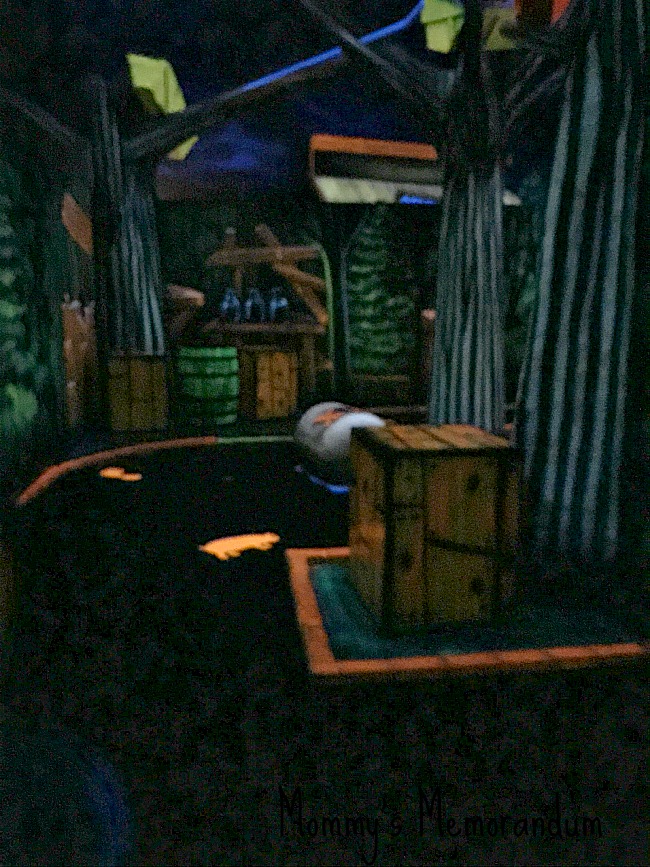 Our whole family played together. We enjoyed 9 holes of golf in this really cool black light mini-golf course. It is a fun-themed course with lights, obstacles, and some sounds when you least expect them.
During our time in Adventure Forest we even found and hung out with this guy: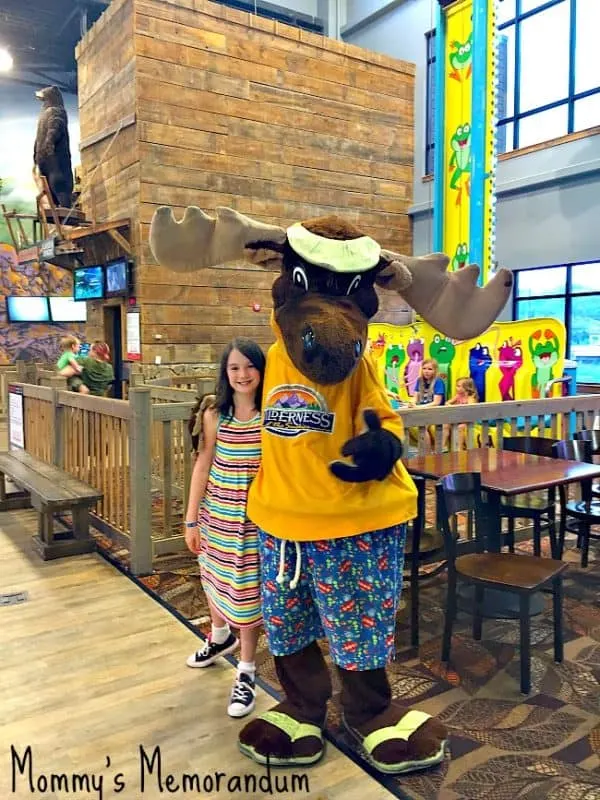 The Wilderness at the Smokies Adventure Forest offers so much to do for families. In addition to the attractions I've mentioned here, there is also Laser Tag, Daredevils Drop, Cataloochee Creek, and a Cubs Climbing Den.
We had an absolute blast, but what we really came for was Tennessee's Largest Waterpark!