We pride ourselves on our creativity here at the Morrison Home.
We love to exaggerate our qualities and take pride in the craftsmanship of our creations.
So when the ArtSkills! box arrived for review, it was snatched up and taken away for some serious review!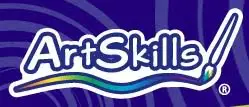 It was Zac's birthday on the first Sunday of May.
He turned 17. My girls wanted to do something fun for Zac and ArtSkills provided a means to really amplify the festivities.
My girls opened the box and we could hear them squealing and saying, "Check THIS out!"
Once they had drooled over and laid everything out, they laid on the floor and looked through the ArtSkills!
Poster Project Idea Book.
This book is spiral-bound and depicts a great selection of possibilities from birthday parties to yard sales.
It displays arrangement and presentation and all the steps in between.
It's illustrated which made it simple enough for even my non-reading four year old to understand.
I love that it is durable so it can be viewed often without being destroyed.
It's a great resource and even includes an "Emergency Guide" for those last-minute poster creations!
Abi, my seven-year-old, then logged on to the ArtSkills! Website and found their Poster Making Wizard.
The girls played with this feature for at least 30-minutes.
The Poster Making Wizard allows you to create and preview a poster online.
Then you can print out your design and follow it to create an amazing poster.
I should mention that I was lectured by my girls for not having printer ink to print out their "favorite poster to make for Zac".
Oh, the life of a Mom!
The girls were having a blast and they hadn't even gotten out a marker or glue yet.
They dug out some poster board and started preparing for their "giant birthday card".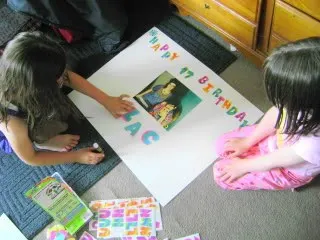 They had a plan and with Artskills holographic letters, Neon letters,nd foam letters they had the fuel to power this Giant Birthday Card to AWESOME!
Very meticulously the girls peeled and placed the ArtSkills! Retro Alpha-Stickers on their poster board.
They selected the Retro Letters to match a picture of Zac and his friend they were using.
Once they had them placed in position, they went back and turned them over and applied them to the poster board.
After they had spelled out "Happy 17 Birthday" with the Retro Alpha-Stickers, they used the Neon Letters in turquoise and hot pink to write "Zac".
Unlike the Retro Alpha-Stickers the Neon Letters are cut-outs and required glue to get to stick to the poster board.
They used the ArtSkills! Glue.
At first, they were grumbling that "it doesn't stick".
Then, they loved it because it allowed them to peel up the letters when they put it too close to the other one.
It did take a few minutes for it to adhere, but they were grateful for the delay!
I left the room to "entertain" Zac.
This is when it got C-R-A-Z-Y in the Poster Making Room.
I kid you not, you'd have thought the house was on fire the way the girls were squealing.
I rushed back into the room and there was no fire…only INSANE AWESOMENESS.
The girls had discovered ArtSkills Poster Flash.
They are too fun.
ArtSkills Poster Flash really lights up the poster.
They are shaped like stars and have a blinking light that has some serious fun!
The girls used four, one in each corner of the picture.
They have an on and off switch and the batteries are included.
The girls didn't even put a dent in all the amazing ArtSkills Products.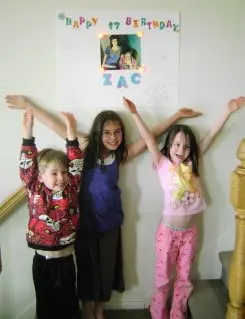 ArtSkills is a one-stop shop for all your perfect poster making!
Quick Borders –
Make those borders pop with these fun style borders; includes glue stick
Quick Letter Pads –
brightly colored letters and numbers which are re-positionable like a post-it
Sparkle Letter Pads –
re-positionable with numbers included
Eyecatchers –
Spice up your poster with these
Packages of Stickers –
Choose your style: Glitter, Pattern or Retro styles!
Poster Flash –
will turn any poster into a Rock Star!
This is the girls (and Li'l Man stealing credit) with their finished poster
Then we all signed the poster and lured Zac into the room.
He LOVED this poster–especially those Flashers!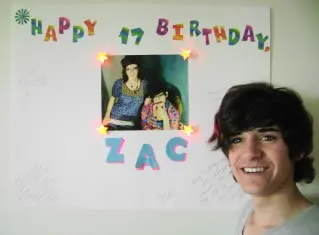 ArtSkills is available everywhere…my girls spotted them at the grocery store!
I'm impressed with ArtSkills!
I mean, seriously!
Take a look at the poster.
It was made by ONLY the hands of a seven and six-year-old.
It was their creation, their tribute to their brother.
They look like professionals!
You can too!
Disclosure: No monetary compensation was offered or accepted for this post. I received the items mentioned in this post from the sponsor in order to facilitate my review. The opinions are my own and in no way influenced by the sponsor. Others experience may vary.