Joanie Leeds "I'm a Rock Star" Review
We love music at our house! My children enjoy having their own "music". One of their favorite CDs has been Joanie Leeds' "City Kid". My kiddos love the upbeat music on the "City Kid" CD and the fun and silly lyrics.
We recently had the opportunity to review Joanie's NEW CD, "I'm a Rock Star" set for release on March 23.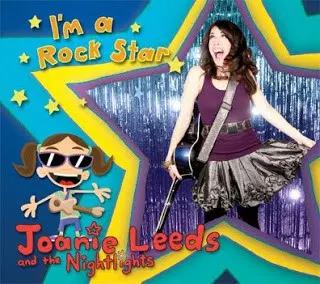 If you don't know of Joanie Leeds, you're missing out. She's been singing since the age of TWO! She majored in musical theatre at Syracuse University and composes her own songs. She started singing on the New York nocturnal club scene, bartending when not on stage, and then realized the fun in singing with and for children while managing one of the Manhattan Gymboree locations.
That realization has created THREE full-length CDs, "City Kid", "Challah, Challah" and the upcoming, "I'm a Rock Star". She is working on a children's book currently as well as a full-length DVD, an animal concept children's album due out in 2011.
Joanie Leeds grew up in Miami, Florida.
Joanie's debut children's album, City Kid, won her a 2008 Parent's Choice Award and her soulful, "rock solid" voice – plus her remarkable ability to connect with kids through her songwriting was praised highly. You can check out City Kid and enjoy videos and other fun interactive information on the City Kid Website.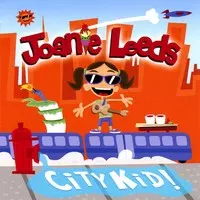 We received the "I'm a Rock Star CD" and my kiddos were dancing with excitement. They love the artwork on the cover and my six-year-old even posed like Joanie! Then we put it in the music player and they took off dancing and wanting to sing along.
My six-year-old is crazy about the first track, "I'm a Rock Star" while my four year old thinks, "Jump, Jump" is "the best song ever!"
I'm going to confess here that I was shakin' and movin' to "Joanie Says" a fun modified version of "Simon Says"…only A LOT more fun!
The songs are short and the lyrics catchy.
They all captivated my children.
We enjoyed looking at the sleeve with the lyrics.
It was fun to read what inspired Joanie to write the songs.
It also includes a "tip". An example is for the track, "I Like Jazz!" the insert reads: "I was brought up listening to the Rolling Stones, Beatles, Grateful Dead, and Bob Dylan. However, I always had a love of good Jazz music. Parents/Teachers: By teaching children about Jazz and other musical genres, their musical background will become richer and their repertoire will have more variety."
In the last 24 hours, we have listened to the "I'm a Rock Star" CD about 35 times. It has replaced "Hannah Montana" and I was told at the bus stop this morning, "Don't forget when I get home, we're listening to Joanie!"
"I'm a Rock Star" has 13 tracks.
1.) I'm a Rock Star
2.) Sunglasses
3.) More Cowbell
4.) I Wanna be Green
5.) Give Me a Hug
6.) Jump, Jump
7.) I Like Jazz
8.) Popcorn
9.) En Espanol
10.) It was the Elf
11.) Joanie Says
12.) Put a Little Smile on your Face
13.) Goodbye, Goodbye
The CD will be released on March 23 and will be available online at City Kid Music, Amazon.com, CD Baby, and at specialty toy and bookstores across the country. Joanie will celebrate the new album with a rocking family show at 10:00 a.m. on Sunday, March 14 at the Jewish Community Center in Manhattan (JCC Manhattan), 334 Amsterdam Ave., NYC.
This is a great album. My children are loving it and it's something I can enjoy along with them. It's upbeat and clever and I find humor in the lyrics!