Once you've closed the deal and finished moving in, the next thing that you need to do is to take care of your house's interior. This can be a daunting process for some, especially if you have other important things to take care of, like work and your children's everyday needs.
But having a new house is like having an empty canvas. You get the chance to decorate it and fill it up with things that reflect you and your family's personality. If you are finally in this phase, here is a guide that can help you decide what you need to prioritize:
Make an Inventory of What You Already Have
Before you begin hitting the furniture and appliances store, the first thing you need to do is to look at the things you already have. By doing this, you would be able to set a budget and know exactly what you need to buy. When consolidating, you can begin by looking at crucial furniture like your dining table, sofas, and bed.
This will be the perfect opportunity to decide which ones you can keep and which items need to be disposed of or included in your yard sale. For example, if your children have already outgrown their kiddie beds, it might be the perfect time to buy them new ones.
Another benefit of checking your existing appliances and furniture is that you will avoid the tendency of overbuying. Having a checklist of the things you don't have yet and things you already own will prevent you from going over your budget and duplicating the same item.
Measure the Space
One thing that is often overlooked when buying appliances and furniture is the dimensions of the rooms where you will put them. Knowing the measurement of the space where you will put your furniture is on the top list of many interior designers even before they decide on the theme. One good way to take note of the measurement is to use painter's tape on the floor to mark the space where you will put your new or old furniture.
You also need to take note of your door and hallway measurements because this is where the items will pass through. You need to take note of your door and hallway measurements because this is where the items will pass through. Though pushing heavy things when moving is unavoidable, you wouldn't want to drag huge furniture forcefully. The skid marks would damage your floor, especially if you have white oak prefinished hardwood flooring, says uafloors.com.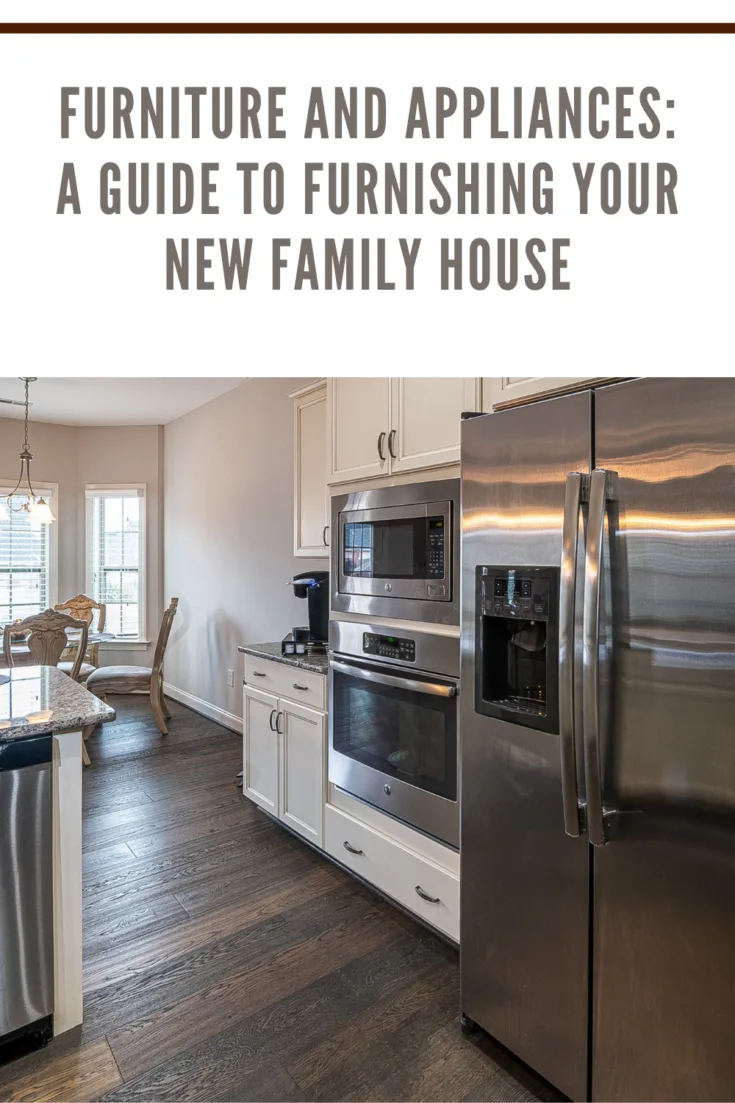 Focus on the Most Important Rooms
One good rule to follow is to focus on the most important rooms like the living room and bedrooms because these are the places that your family will immediately use once you move in. Start by deciding the key pieces you will need in these rooms and buy them first.
It is safe to invest in the basics and just eventually add more.
Living Room –
A couch is the most important must-have in this room. If you have kids or pets, the ideal sofa for you is one made with pigmented or semi-aniline leather.
Aside from being extremely durable, it is also easy to clean for crumbs, spills, and pet pee (wikiHow).
Bedroom –
Quality mattress and bed frame are good investment pieces.
When buying bed foam, you need to consider your usual sleeping position (Hopkins Medicine).
If you always sleep on your back, the best type of mattress for you is the one that is 5-7/10 on the firmness scale.
One being the softest and ten firmest.
If you just want a standard one, you can go with 6.5, which is the ideal firmness of most mattresses.
Kitchen-
You also need to ensure that your kitchen is up and running as early as your second or third day in your new house.
Some houses already have built-in stoves and other kitchen must-haves, but you must start with the essentials like a refrigerator, range, and dishwasher if you need new ones.
Range –
Ranges are usually powered either by electricity or gas.
The former is ideal for any house with a 220-volt electric line, while the latter needs propane service or natural gas.
There are many range models in the market, but the most common ones are free-standing ranges because they are easy to install.
Refrigerator –
The most common type of fridge in the market is a top freezer.
Its bottom is dedicated to storing fresh foods, while the top serves as the main freezer unit.
This type of fridge costs around USD 480 to USD 2,200, depending on the brand.
The rule of thumb is that there should be at least 4 to 6 cubic spaces per adult when it comes to size.
If you are a family of four, you're looking at a fridge with at least 20 cubic feet of space.
Dishwasher –
An 18-inch dishwasher is most suitable for a family of four because it can hold up to 6 to 10 of the standard place settings.
If you have a more prominent family, you can go with a 24-inch dishwasher capable of holding 12 to 14 places setting.
The golden rule is that the higher the number of dishes your unit can hold in a single wash, the better and the faster the efficiency is.
In Conclusion:
Furnishing a house is a process that can not be completed overnight.
Many people who have gone through the same experience would easily say that it takes some time to finish fixing and decorating a new house.
Whenever you feel overwhelmed, just remember that your efforts will not be in vain once your family sees the love and hard work you've put into your new home.