Stitched Blooms blog tour sent me a book to facilitate an honest review.
Embroidery is an art for I have great admiration. Growing up, I remember sitting on the couch, watching pillowcases be embroidered.
I laugh now because the person doing the embroidery work was my grandpa–and he was stinkin' amazing at it!
I remember watching the needle weave in and out of the cotton pillowcase, leaving behind a trail of colorful embroidery floss that colored pictures of birds and cats.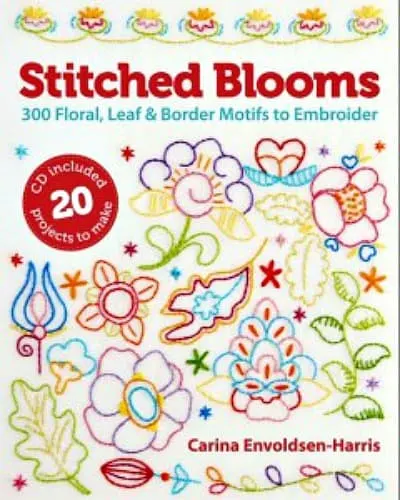 Next month–gosh! just a week away–a new book, Stitched Blooms, will be released.
Its cover reminded me of the amazing moments on that couch as my grandpa tried to teach me to "draw with a needle and thread".
Inside, there are a whopping 300 floral motifs to embroider. We are talking floral borders and corners, folk art flowers, nature's blooms, leaves, and more.
Its beautiful color combinations and Scandinavian folk design make this a must-have book for the beginner or an experienced embroiderer.
You can also check some additional tips and free embroidery designs at Digitizing Made Easy.
This book isn't just about the motifs.
Readers will discover 20 great projects from easy sewing to embellishing store-bought items.
It's inspiration or step-by-step, depending on your mood and project creativity.
The book tackles everything needed to start stitching.
There are information and tips about hoops, scissors, and how to transfer a pattern.
A detailed overview discusses the different types of knots and how to start your embroidery.
There is also a stitch glossary that includes basic and more advanced stitches.
I love the content about color and exploring the use of color in making a project our own.
I love that the author talks about the "color comfort zone" because I find myself here…I am drawn to certain colors and need to branch out and get a bit more variety.
In addition to the book, Stitched Blooms also includes a CD with the project templates and motifs featured in the book.
Import motifs into an image-manipulating program, change their size, flip them, combine them, and make them your own unique expression.
It makes the possibilities limitless and creates fun and personal right from the beginning.
Imagine a skirt embroidered with pomegranate flowers; pincushions featuring sweet little blooms; a trio of pretty, flowery luminary bags boasting pom-pom fringe, and more.
From big and bold to sweet and petite, Stitched Blooms has it all.
Stitched Blooms is a great book for the beginner embroider to anyone who wants to add something new to their talent.
It's like sitting next to Grandpa learning to embroidery!