I received ChapStick® MixStix™ in order to facilitate an honest review.
ChapStick®, the brand that is so popular it has become a generalized trademark. It played a part in the Watergate scandal, with hidden microphones being hid in the tubes. It's also one of my favorite brands of "lips", as my children called it when they were little.
History of ChapStick®
Dating back to the early 1880s, when a physician by the name of Dr. Charles Browne Fleet, from Lynchburg, Virginia concocted the first batch of ChapStick® as a lipbalm. Many would never guess that it was not initially successful. In its early years the handmade product looked like a wickless candle wrapped in foil. It wasn't until John Morton paid five dollars to buy the rights to the product in 1912 that ChapStick® gained popularity. Mr. and Mrs. Morton melted the pink ChapStick® down in their kitchen, cooled it and sliced it into sticks. It was so lucrative the profit was used to found the Morton Manufacturing Corporation.
That CHET ChapStick® logo, created by Frank White Jr., also of Lynchburg, VA, in the 1930s for a flat fee of $15, is still in use today.
Through the years, ChapStick® was acquired from Morton Manufacturing to The A.H. Robins Company and the lip balm evolved from a regular stick to more and more varieties.
As a child growing up in the 1970s I recall vividly the commercials featuring Suzy Chaffee (aka: Suzy ChapStick®). That was back when the ChapStick® 4 flavored sticks hit the shelves.
In 2009 ChapStick® was acquired by Pfizer.
Meet the New ChapStick® MixStix™
Fast forward to the present where ChapStick® is still popular and with the new ChapStick® MixStix™ its popularity can only soar!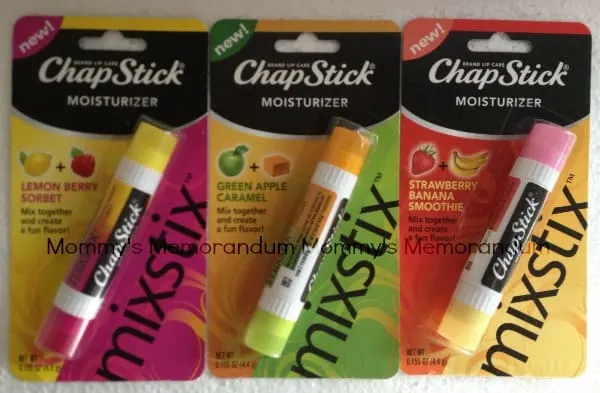 I'm a lip balm junkie. My girls are too. I smother my lips in the stuff. The new ChapStick® MixStix™ are like a smorgasbord of flavor. It's an all-in-one product that not only hydrates lips, but packs three different flavors into one stick!
Here's how it works. One end of the ChapStick® MixStix™ has one flavor. The other end of the ChapStick® MixStix™ a different flavor. Put on one flavor, or the other flavor. Or keep you lip party going by overlaying the two to make for a delicious combination!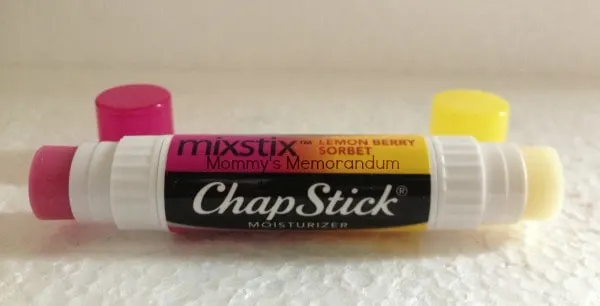 ChapStick® MixStix™ Flavors You Crave
ChapStick® MixStix™ keeps lips deliciously soft, smooth, and sweet with a mix and mingle of varieties that you crave: invigorating Lemon Berry Sorbet, Sweet Strawberry Banana Smoothie, and crisp Green Apple Caramel.
In true ChapStick® fashion, each flavor offers eight hours of continuous moisture. Its refreshing hydration, ChapStick® MixStix™ has an ultra-hydrating formula containing 11 moisturizers including Aloe.
ChapStick® MixStix™ varieties are available at Walgreens nationwide for the suggested retail price of $2.99-$3.99 each.
At our house, we love all the different flavors and the ability to shake things up with overlaying!