Today's Best Recipe is this Easy Vanilla Milkshake.
Looking for an Easy Vanilla Milkshake Recipe for that craving or delicious dessert?
This easy milkshake recipe with vanilla ice cream is a keeper, but you can also mix it up with any flavor of ice cream!
It's so easy; I can make them for the entire family on a whim.
You can add toppings, syrups, or other flavorings to experience something more than simple vanilla.
About Vanilla Milkshakes
Fun Fact: The blender was invented specifically to make milkshakes?
Prior to the blender's invention, milkshakes were literally "all shook up" in a metal container.
The blender was invented by Stephen J. Poplawski in 1922, saving the arms of soda jerks, and changing history!
In 1885, folks started using the word "milkshake" in print.
Back then, they were a "sturdy, healthful eggnog type of drink with eggs and whiskey."
By the early 1900s the term milkshake referred to "wholesome drinks made with chocolate, strawberry, or vanilla syrups." and being asked for with ice cream.
It wasn't until the 1930s that milkshakes became a favorite drink at malt shops.
Fun Fact: New Englanders eat more ice cream–and milkshakes–than anywhere else in the United States!
Believe it or not, Walgreens's Chicago drugstore chain gets credit for adding malted milk powder to a milkshake.
Credit is given to a Walgreen's employee named Ivar "Pop" Coulson, who, in 1922, was making milkshakes at the soda fountain with two scoops of vanilla ice cream to the popular malted milk drink recipe.
It was called "Horlick's Malted Milk" and became one of the most popular drinks sold in soda-fountain eateries.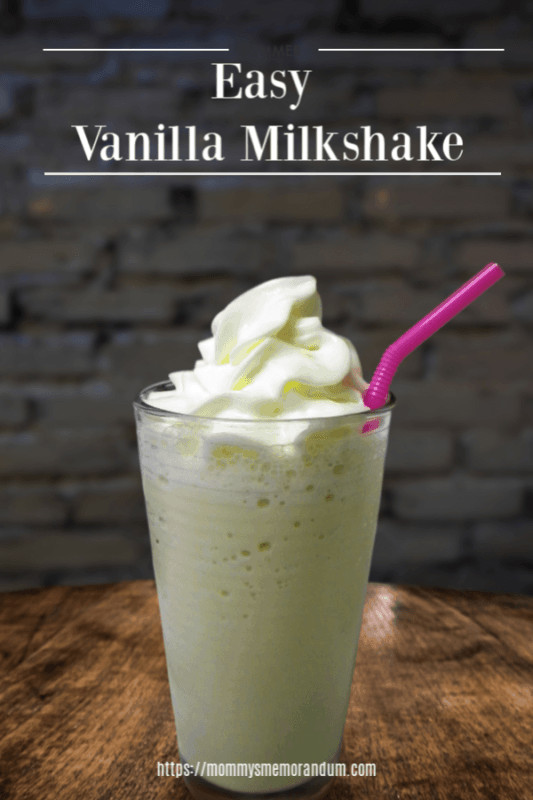 Choosing the Best Ingredients for an Easy Vanilla Milkshake
Let's face it; the vanilla milkshake is one of the most popular milkshakes in the universe.
And to think it all begins with basic vanilla ice cream.
Let's talk about the ice cream.
This vanilla milkshake recipe allows you to make it as you please.
The star ingredient in milkshakes is, after all, ice cream.
The choice of ice cream makes a huge difference.
Start with your favorite brand.
It can be the cheapest ice cream in the ice cream section, or choose a higher-quality brand.
You can even use homemade ice cream.
Choose French Vanilla, Classic Vanilla, or ice cream with vanilla beans.
Easy recipes, especially for dessert, are my favorite, and this recipe is beyond easy!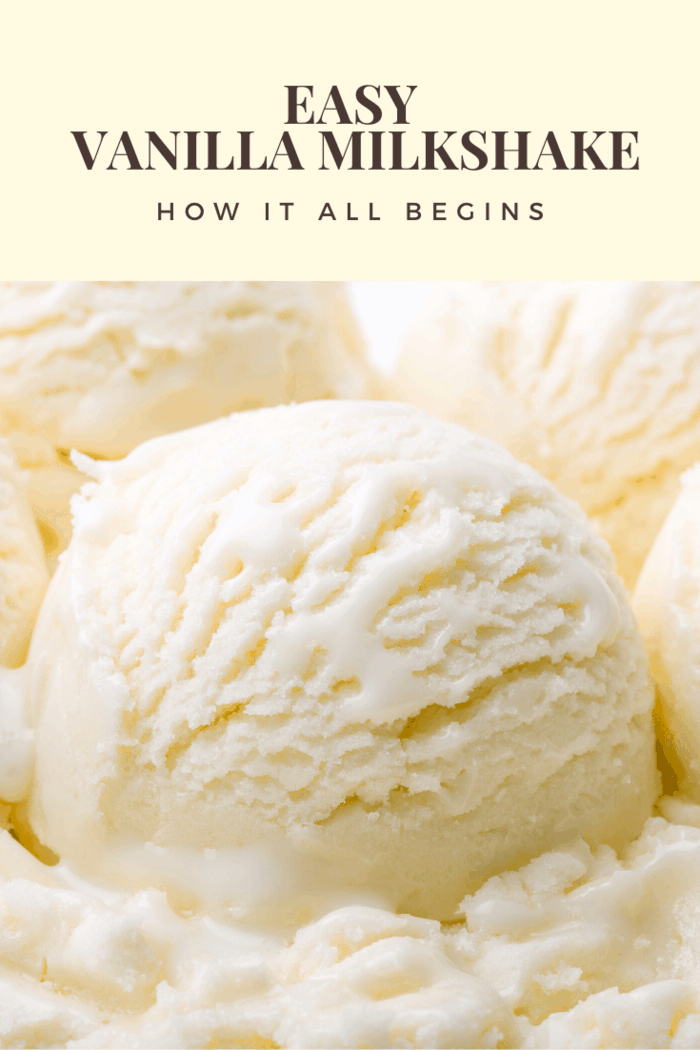 Ideas to Customize the Vanilla Milkshake
This basic vanilla milkshake is one that we love because it's so simple and always tastes delicious!
For a classic easy vanilla milkshake try topping it with some whipped cream.
You may want to customize this easy vanilla milkshake into something fancier by adding different toppings such as berries, chocolate, candy pieces, drizzle with hot fudge or caramel.
You know we love our milkshake recipes, from donut milkshake to toasted marshmallow milkshake, and everything in between, like our bacon milkshake, we always make time and feed the crave when it comes to delicious milkshakes.
This classic vanilla milkshake is one that we love because it's so simple.
Creamy and delicious, this vanilla milkshake is anything but basic!
This easy vanilla milkshake is a great base for more elaborate shakes.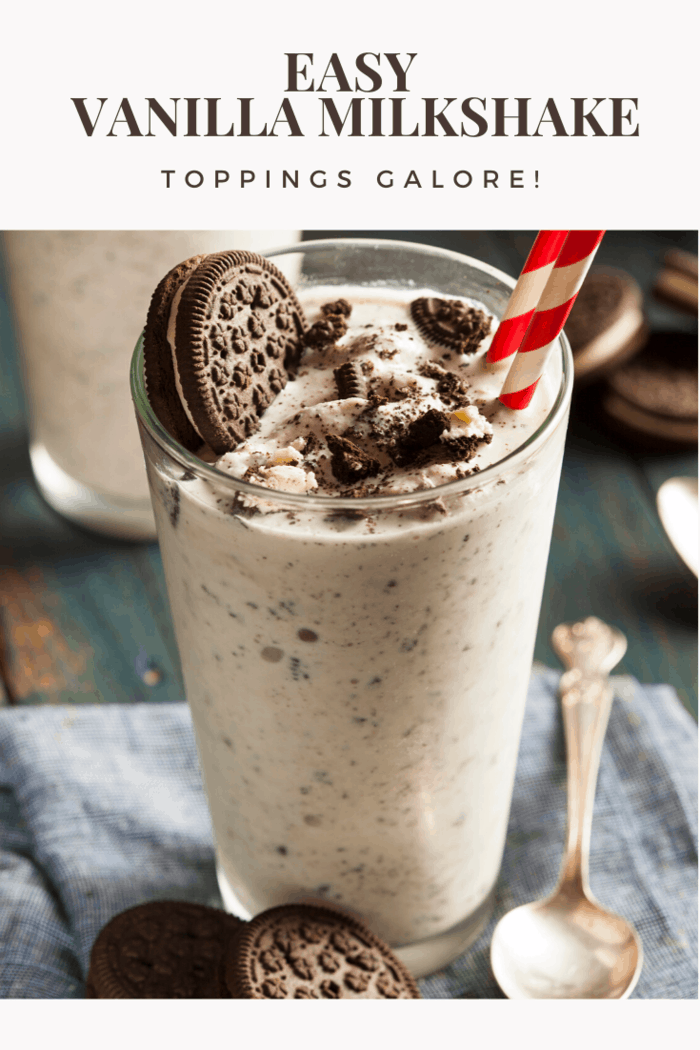 Easy Vanilla Milkshake
Ingredient checklist:
1-quart Vanilla Ice Cream
1 cup Half & Half (or whole milk, almond milk works too)
1 teaspoon vanilla extract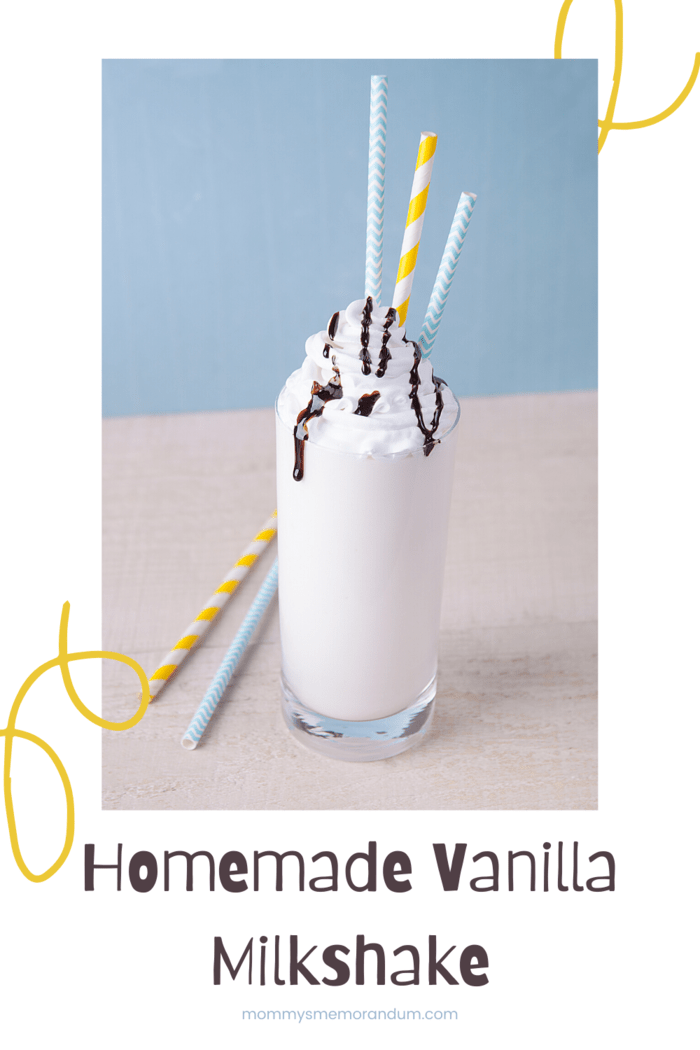 How do you make a Vanilla Milkshake?
In a blender combine ice cream and half-and-half.
Add vanilla
Blend until smooth
Pour into tall glasses.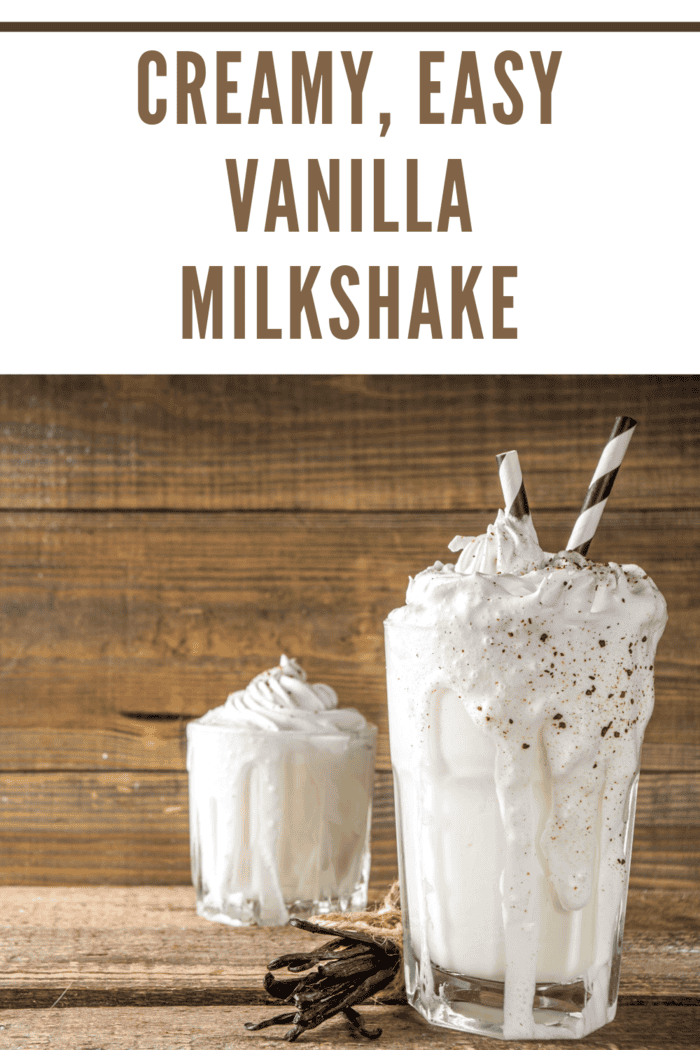 Tips for Making Amazing Milkshakes
Make sure the ice cream is frozen cold.
The colder the ice cream, the creamier and thicker the vanilla milkshake will be.
Substitute the ice cream for vanilla frozen yogurt, dairy-free frozen dessert.
For a different flavor, replace the vanilla ice cream with your favorite flavor ice cream and follow the same process.
The best milkshakes are made with milk high in fat, particularly whole milk.
You can use coconut milk or coconut cream.
Low-fat milk doesn't yield a rich and creamy texture.
Add a scoop of malt for a malty vanilla milkshake.
Freeze the milkshake glasses beforehand for at least 10 minutes. I encourage you to not skip this step!
Blend on low speed to keep it thick in consistency
Don't add ice–why would you want to water it down?
We hope you enjoy this delicious recipe for our favorite milkshake recipe.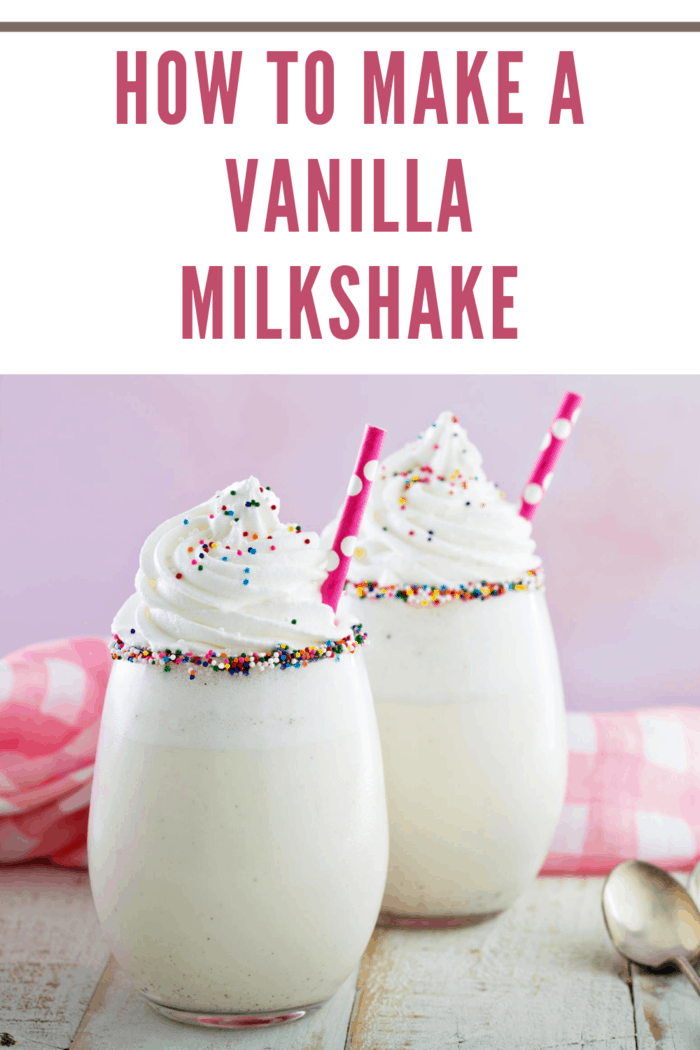 Make it Your Own:
Use this recipe as a foundation for many other flavors–exchange vanilla ice cream for your favorite ice cream flavor like chocolate, cookie dough, or peanut butter.
You're ready to indulge.
Try adding chocolate chips, or drizzle with chocolate syrup for a fun garnish.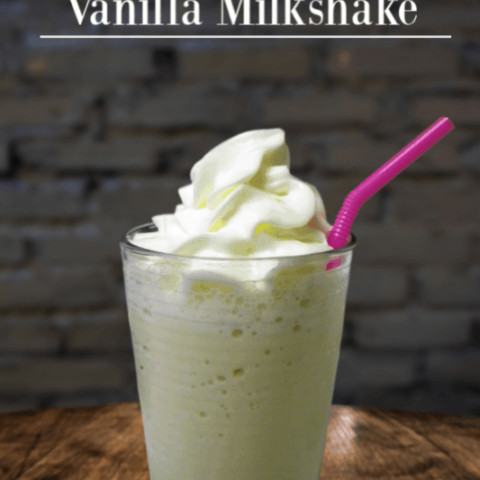 Easy Vanilla Milkshake Recipe
Looking for an Easy Vanilla Milkshake Recipe for that craving or delicious dessert? This milkshake recipe is a keeper. It's so easy,
Ingredients
1 quart vanilla ice cream
1 cup half and half whole milk works too
1 tsp vanilla extract
Instructions
Combine ice cream and half-and-half and vanilla.
Blend with the lid on until smooth
Notes
Add more half and half for thinner consistency in your shake.
Add less half and half for a thicker consistency milkshake.
Nutrition Information:
Yield:

4
Serving Size:

1
Amount Per Serving:
Calories:

388
Total Fat:

23g
Saturated Fat:

14g
Trans Fat:

0g
Unsaturated Fat:

7g
Cholesterol:

85mg
Sodium:

169mg
Carbohydrates:

37g
Fiber:

1g
Sugar:

34g
Protein:

8g
Nutritional information may not be accurate