This Easy Homemade Peach Cobbler Recipe is delicious and takes me back to my Grandma's cooking. It's easy to make and big on taste.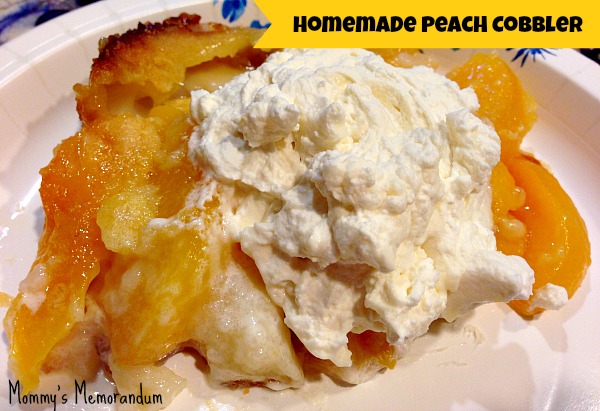 There is something about Peach Cobbler that makes me think of summer days as a child. I love the flavors, the crust and the homemade whipped cream that slowly melts and drizzles down the cobbler in mid-bite. It's delicious, it's warm and it's really easy to make.
Easy Homemade Peach Cobbler Recipe Ingredients:
2 (15-ounce) cans sliced peaches in syrup
1/2 cup butter
1 cup self-rising flour*
1 cup sugar
1 cup milk
Easy Homemade Peach Cobbler Recipe Directions:
Preheat the oven to 350 degrees F.
Drain 1 can of peaches; reserve the syrup from the other.
Place the butter in a 9- by 12-inch ovenproof baking dish.
Heat the butter on the stove or in the oven until it's melted.
In a medium bowl, mix the flour and sugar.
Stir in the milk and the reserved syrup.
Pour the batter over the melted butter in the baking dish.
Arrange the peaches over the batter.
Bake for 1 hour.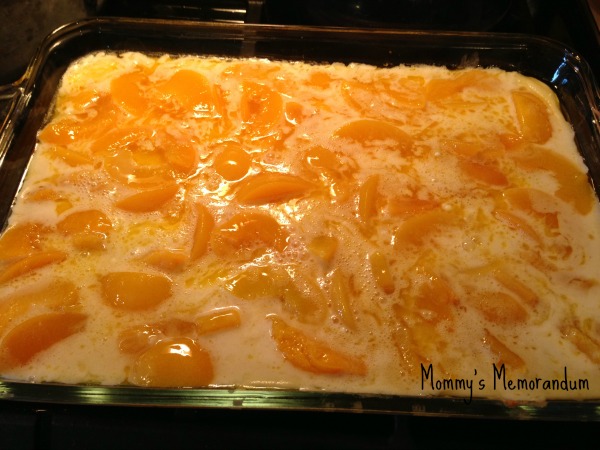 The cobbler is done when the batter rises around the peaches and the crust is thick and golden brown.
Serve warm with fresh whipped cream Homemade Whipped Cream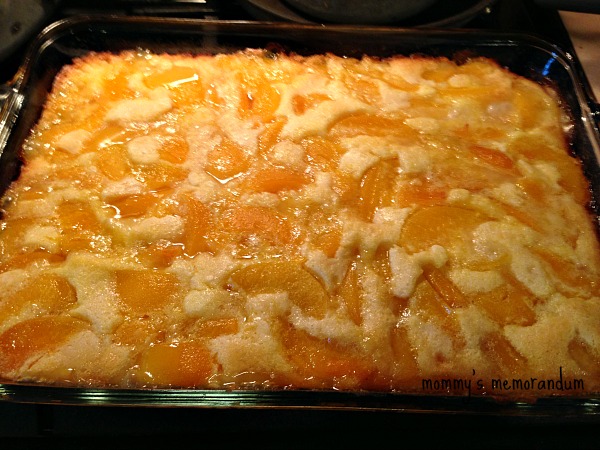 *Note: If you don't have self-rising flour, substitute 1 cup all-purpose flour mixed with 1 1/2 teaspoons baking powder and 1/8 teaspoon salt
Easy Homemade Peach Cobbler #Recipe
Ingredients
2 (15-ounce) cans sliced peaches in syrup
½ cup butter
1 cup self-rising flour*
1 cup sugar
1 cup milk
Homemade Whipped Cream
Directions
Preheat the oven to 350 degrees F.
Drain 1 can of peaches; reserve the syrup from the other.
Place the butter in a 9- by 12-inch ovenproof baking dish.
Heat the butter on the stove or in the oven until it's melted.
In a medium bowl, mix the flour and sugar.
Stir in the milk and the reserved syrup.
Pour the batter over the melted butter in the baking dish.
Arrange the peaches over the batter.
Bake for 1 hour.
The cobbler is done when the batter rises around the peaches and the crust is thick and golden brown.
Serve warm with fresh whipped cream Homemade Whipped Cream
Notes
*Note: If you don't have self-rising flour, substitute 1 cup all-purpose flour mixed with 1½ teaspoons baking powder and ⅛ teaspoon salt
Easy Peach Cobbler Recipe adapted from Georgia Cooking in an Oklahoma Kitchen by Trisha Yearwood (c) Clarkson Potter 2008
Summary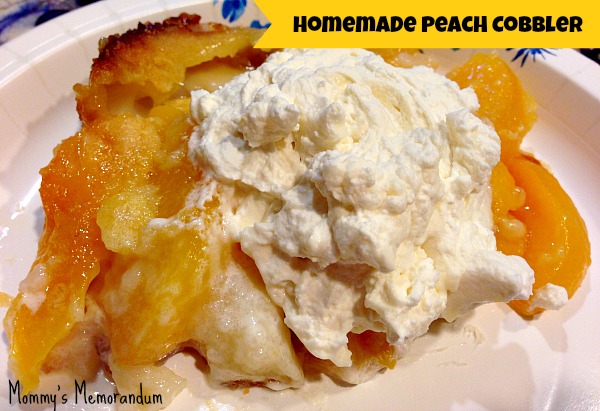 Recipe Name
Easy Homemade Peach Cobbler Recipe
Author Name
Published On
Preparation Time
Cook Time
Total Time
Average Rating
Based on 1 Review(s)