E Is for Ethics Book Review
How to Talk to Kids About Morals,
Values and What Matters Most
E Is for Ethics, published by Simon and Schuster, consists of 26 Read-Aloud Stories centered on topics that teach the values all parents want their children to have as their core. Values such as Honesty, Understanding, Forgiveness, Courage, Tact, Perseverance, Politeness, Loyalty, and Gratitude.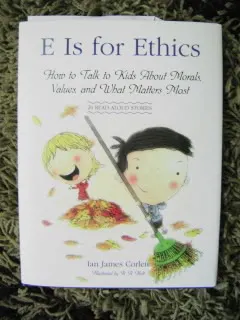 E Is for Ethics is similar to William J. Bennett's Children's Book of Virtues; however, E is for Ethics focuses on the morals and values directly with a short story whose plot is centered on that specific value or moral.
Ian James Corlett recommends setting aside some "Family Time" and reading one story each week. Corlett confesses he is not a man with a degree, just a POD (Plain old Dad). I love this fact, and I love that this is a parenting book geared to do as a family and involve the children.
Ian James Corlett may be a POD; however, he is already prominent in many of my children's television shows that have either created, written for, or developed them. Shows such as The Adventures of Paddington Bear, Roli Polie Olie. He also is the voice behind Baby Taz of the Baby Looney Tunes and the Dad in Johnny Test.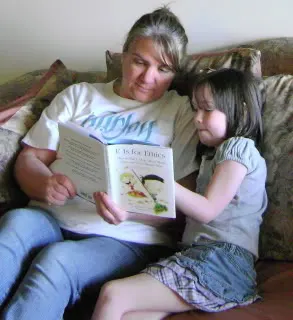 Each of the stories presented in E Is for Ethics has either the character Elliot or Lucy as the focal point. My children enjoyed these two and could easily relate to the situations Mr. Corlett put them in–such as finding a $5 bill or having plans change at the last minute. Using the same two characters in the 26 stories is genius as my children are thinking of them as "part of the family" and building a relationship based on their actions. I love that.
As a mom, I appreciated that the stories weren't complicated. They were very to the point while still providing entertainment. In less than 5 minutes, we could read a story and then spend more time discussing the exemplified value.
At the end of each story, some questions generate conversations and open healthy discussions. The story provides a learning resource, and the questions re-enforce the value by asking what the child would do…how it would make them feel…and even a reverse action and its consequences.
Following the conversation starters are quotes from famous people on the topic discussed. I found these a great addition and helped involve my older children.
My family has enjoyed the stories we have read so far, and we look forward to our family time and getting to know one another better through the wonderful conversation starters at the end of the stories.
As a bonus, the E Is for Ethics website offers a toolbox of resources, including a FREE coloring book featuring Elliott and Lucy. It's a great accessory to the book!
Disclosure: No monetary compensation was offered or accepted for this post. I received a copy of E Is for Ethics from the sponsor for review purposes. The opinions above are my own and were not influenced by the sponsor. Other's experiences may vary.
We appreciate your subscription to Mommy's Memorandum.