Vapur Review
We're a family on the go. It's a challenge to stay hydrated, on the go and environmentally friendly.
Someone is always "thirsty.
Our life just got a whole lot easier as we've discovered Vapur, the Anti-bottle!
Vapur bottles are a platypus pouch with a drinking spout.
They come in hip colors like blue, smoke, purple, green and pink.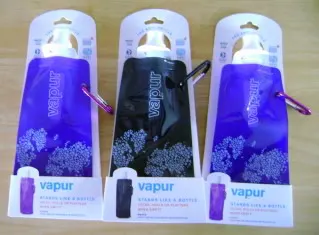 Each bottle holds 16oz. of fluid. One of our most favorite things to do is fill the pouch half full of water and put it in the freezer.
The next morning, fill it the remaining way up with water for an icy, refreshing, thirst bustin' beverage throughout the day!
My kiddos enjoy that the pouches are easy to handle and can roll up as you go.
They take up very little room in our travel bag and are easy to fold and place in the pocket when we've been out and about on our walk.
We also appreciate the carabiner that is attached to the Vapur bottle.
This makes for a hands-free walk.
I even place the car seat belt through the carabiner for a water bottle that didn't fall to the ground but provided easy access
. It was one of my better ideas!
More than just a company, Vapur has joined the 1% For The Planet program and donates a portion of all Vapur sales to water-related environmental causes.
Beyond this, they are in the process of working with local communities to make clean tap water more readily available than ever.
I love a company that does good.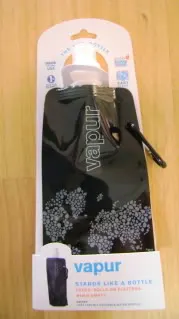 Vapur bottles are ultra-durable and made with BPA-Free polymer.
They stand on their own when full and then tuck away either flat or rolled up when empty.
With a houseful of thirsty little people, I found the "write-on" area a real-time saver!
It enables quick identification.
Vapur bottles are also top-rack, dishwasher safe.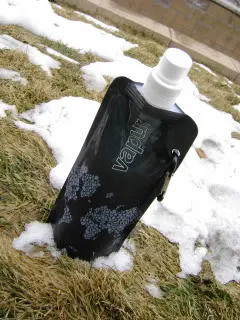 We're loving our Vapur bottle and finding so many great uses for it.
It truly has simplified our on-the-go lifestyle and I feel great knowing we're not having to add to the landfill with bottles to keep our Utah Six Pack hydrated.
Disclosure: No monetary compensation was offered or accepted for this post.
I received the item mentioned in this post from the sponsor for review purposes.
The opinions above are my own and were not in any way influenced by the sponsor. Other's experiences may vary.
We appreciate your subscription to Mommy's Memorandum