Add a heavenly twist to your Easter feast with Angeled Eggs. A delightful play on Deviled Eggs, this Precious MomentsAngeled Egg recipe is a must-try!
I received a Precious Moments Angeled Egg Platter and Precious Moments Angel Egg Salt and Pepper Shaker in exchange for this post. All opinions and my love for Precious Moments remain my own.
Celebrate the upcoming Easter with joy and delicious food as you gather with your loved ones. Among the delightful dishes, Deviled Eggs have always been a family favorite. This year, we bring you something extra special – introducing the Precious Moments Angeled Egg recipe, a playful twist on the classic Deviled Eggs that has earned its title as the "Best Deviled Egg recipe on the internet," affectionately known as Angeled Eggs.
In the spirit of celebration, we present the Precious Moments 'Angeled Eggs' Ceramic Serving Platter and the Angeled Egg salt and pepper shaker set. These charming serving pieces embody the adorable beauty that Precious Moments is known for, adding a delightful touch to your Easter festivities.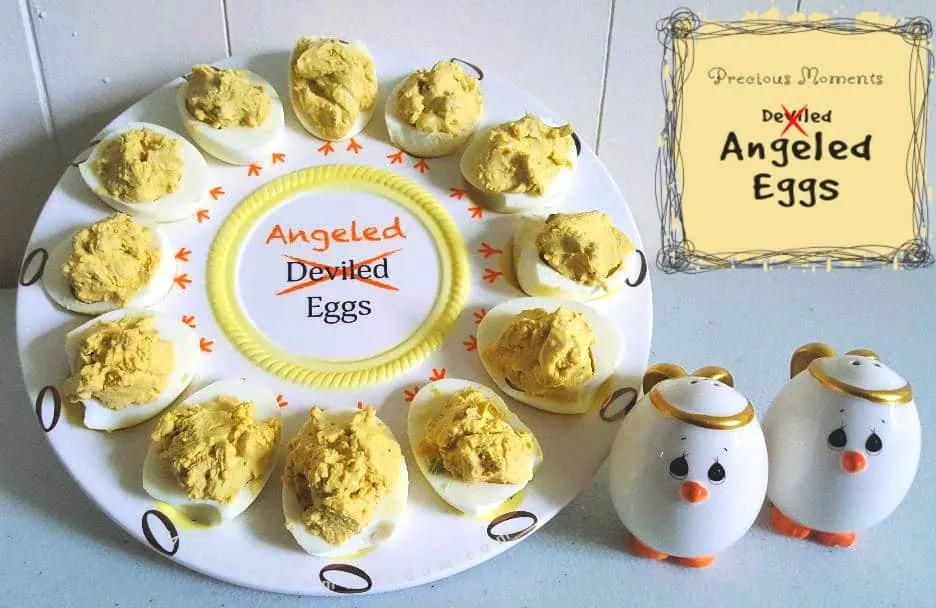 The ceramic platter, measuring approximately ten inches in diameter, will surely bring smiles to everyone as it presents your Angeled Eggs in a unique and endearing manner. With indentations for six eggs (12 halves), each spot features an adorable yellow chick donning a Halo, capturing the iconic Precious Moments eyes. Once the eggs rest on these cute indentations, they appear to be topped with heavenly halos, creating a delightful visual treat.
As your guests take a deviled Angeled egg from the platter, the spring chick is revealed, adding an element of surprise and joy to the dining experience. It's not just a serving platter; it becomes a wonderful conversation starter, spreading joy and laughter around the table.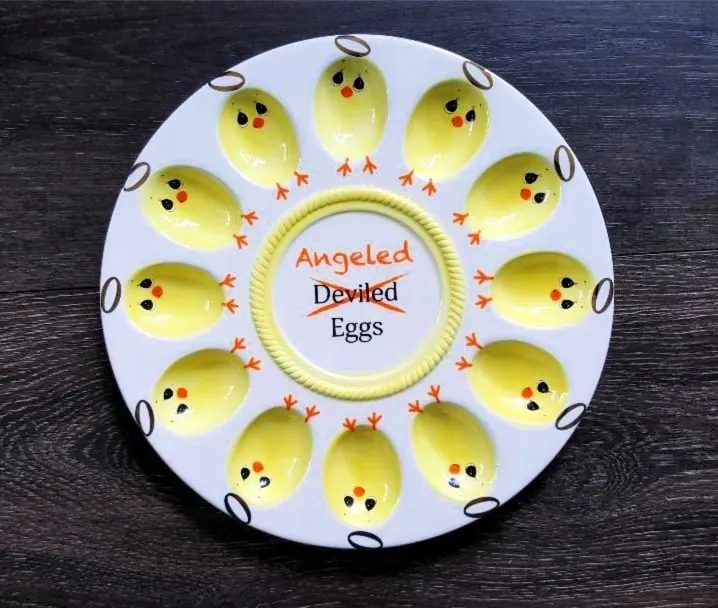 And that's not all – the back of the Precious Moments Angeled Eggs Serving Platter even comes with the coveted Angeled Egg recipe. In fact, it's been acclaimed as "the best" by none other than your son, making it a must-try delicacy for your family gathering.
So, this Easter, make your precious moments even more delightful and cherishable with the delicious Angeled Eggs served on the adorable Precious Moments platter. Celebrate with love, joy, and the best Angeled Egg recipe that will surely become a tradition for years to come.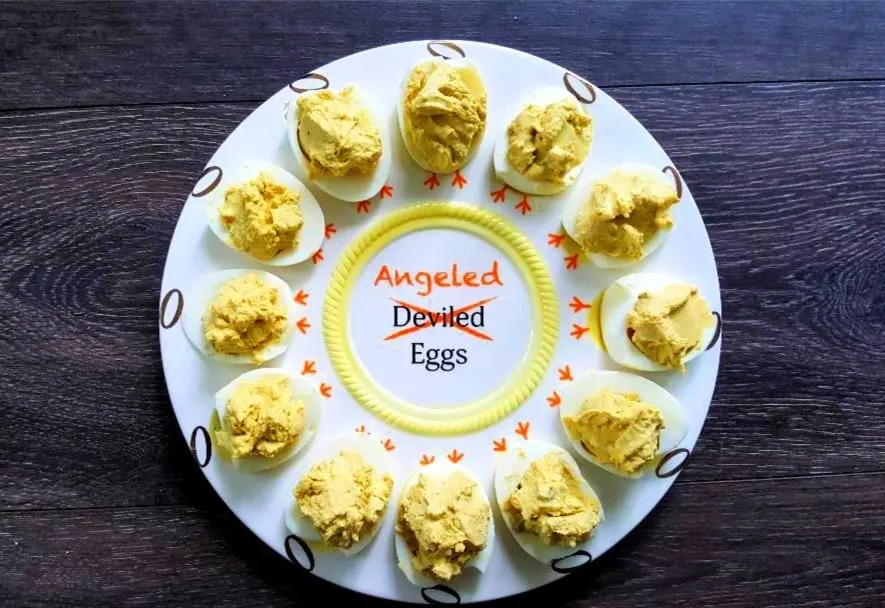 The back of the Precious Moments Angeled Eggs Serving Platter has a recipe for Angeled Eggs. My son has declared it "the best."
Angeled Eggs Recipe:
Prep Time: 15 minutes
Servings: 6
Cook's Tips:
For perfectly boiled eggs, try the Instant Pot 5-5-5 method: Place eggs in the Instant Pot with a cup of water, cook on high pressure for 5 minutes, allow natural release for 5 minutes, then quick release and place in an ice water bath for 5 minutes.
To achieve a smoother filling, ensure the egg yolks are fully mashed and well combined with the other ingredients.
For a touch of extra flavor, consider adding a pinch of garlic powder or a dash of hot sauce to the yolk mixture.
To create a more visually appealing presentation, use a star-tipped piping bag to fill the egg whites with the yolk mixture.
Ingredients:
6 hard-boiled eggs
1/4 cup mayonnaise
1 teaspoon white vinegar
1 teaspoon yellow mustard
1/8 teaspoon salt
Black Pepper, to taste
Paprika, for garnish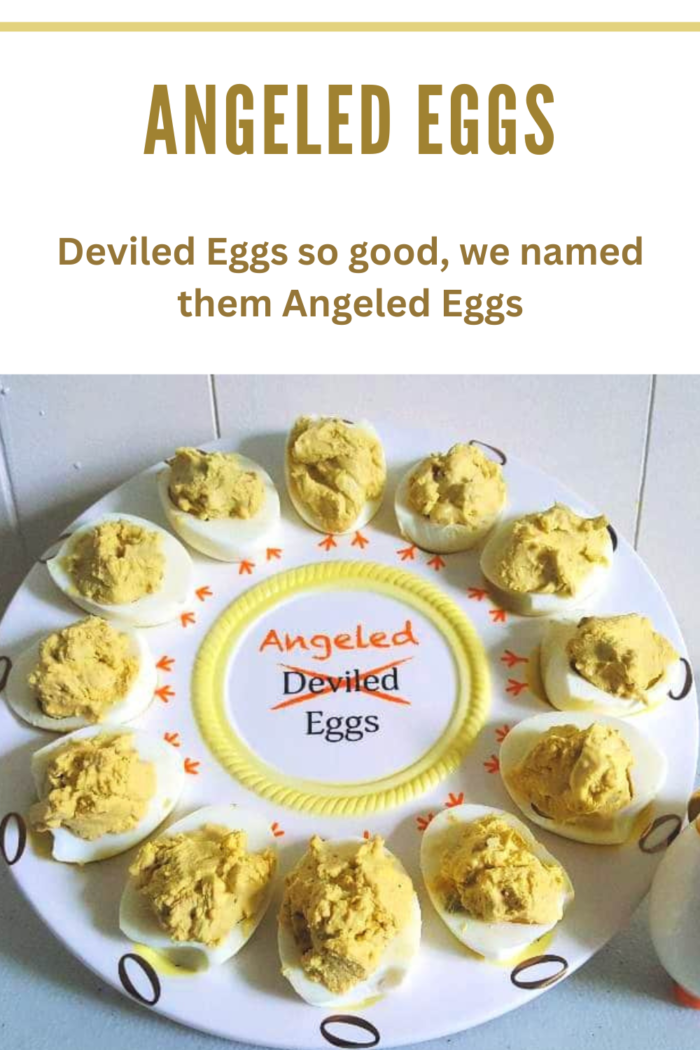 How to Make Angeled Eggs:
Instructions:
Prepare the Eggs: Once your hard-boiled eggs are ready, carefully remove the outer shell and slice each egg in half lengthwise. Gently scoop out the egg yolks and transfer them to a small mixing bowl. Arrange the empty egg white halves on the Precious Moments 'Angeled Eggs' Ceramic Serving Platter.
Mash the Yolks: Using a fork, mash the egg yolks until they are smooth and crumbly.
Create the Filling: Add the mayonnaise, white vinegar, yellow mustard, and salt to the mashed yolks. Mix well until all the ingredients are fully combined and the filling reaches a creamy consistency. Adjust the seasoning by adding black pepper to taste.
Fill the Egg Whites: Carefully spoon or pipe the yolk mixture into the empty egg white halves. If you opt for a more elegant look, use a piping bag fitted with a star tip to achieve a decorative appearance.
Garnish and Chill: Sprinkle a pinch of paprika over each Angeled Egg for a colorful and appetizing touch. Once all the eggs are filled and garnished, cover the platter with plastic wrap and refrigerate until ready to serve. Chilling the Angeled Eggs allows the flavors to meld together and enhances the taste.
Serve and Enjoy: Present the Precious Moments Angeled Eggs to your family and guests on the delightful 'Angeled Eggs' Ceramic Serving Platter. Watch as they are delighted by the heavenly appearance and savor the exquisite flavor of this classic dish with a playful twist.
These Angeled Eggs are the perfect addition to your Easter celebration or any gathering where you want to add a touch of joy and charm to your table. With the adorable Precious Moments serving platter and this delicious recipe, you are sure to create precious moments and lasting memories with your loved ones.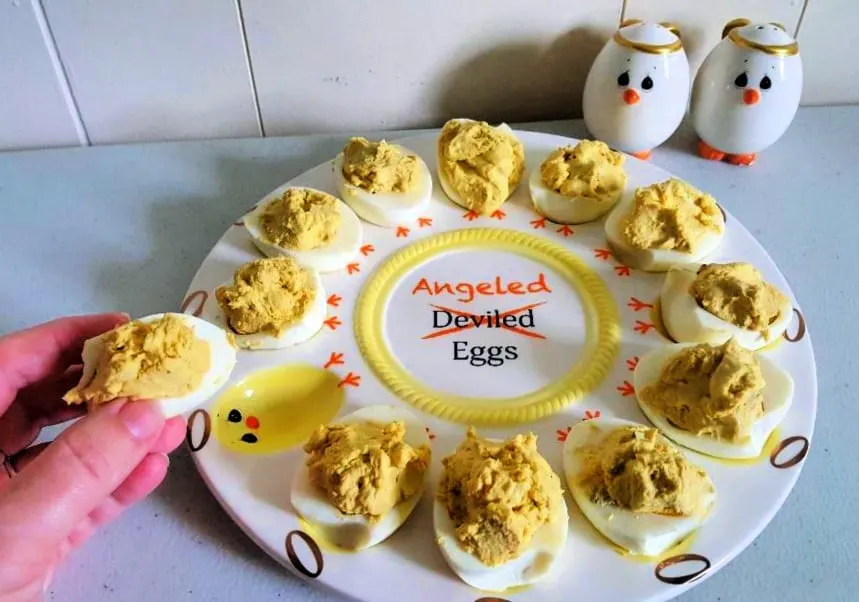 Frequently Asked Questions (FAQs) for Angeled Eggs Recipe:
Can I use regular hard-boiled eggs for this recipe? Yes, you can use regular hard-boiled eggs if you don't have an Instant Pot. Just ensure they are fully cooked and cooled before proceeding with the recipe.
Can I adjust the seasonings to suit my taste preferences? Absolutely! Feel free to adjust the amount of mayo, vinegar, mustard, salt, and pepper according to your liking.
Can I prepare the filling in advance? Yes, you can prepare the yolk mixture in advance and store it in an airtight container in the refrigerator. However, we recommend assembling the eggs closer to serving time for the best taste and texture.
How long can I store the Angeled Eggs in the fridge? The Angeled Eggs can be refrigerated for up to 2 days, but they are best when consumed within 24 hours for optimal freshness.
Can I use the Angeled Egg filling for other dishes? Certainly! The Angeled Egg filling can be used as a delicious spread for sandwiches or as a dip for vegetables and crackers.
Where can I find the Precious Moments Angeled Egg platter and Angel Salt and Pepper Shakers? You can find the Precious Moments Angeled Egg platter and Angel Salt and Pepper Shakers on the official Precious Moments website or at authorized retailers.
Can I substitute mayonnaise with a healthier alternative? Yes, you can use Greek yogurt or a light mayo as a healthier substitute for regular mayonnaise in this recipe.
How can I avoid overcooking the eggs during boiling? To avoid overcooking the eggs, follow the Instant Pot 5-5-5 method or boil the eggs on the stovetop for about 10-12 minutes, then transfer them to an ice water bath to stop the cooking process.
Can I make these eggs ahead and freeze them? We do not recommend freezing Angeled Eggs, as the texture may be affected, and they might become watery upon thawing.
Can I use other spices or herbs for garnishing? Absolutely! Feel free to get creative and use your favorite herbs, spices, or even chopped chives for garnishing the Angeled Eggs.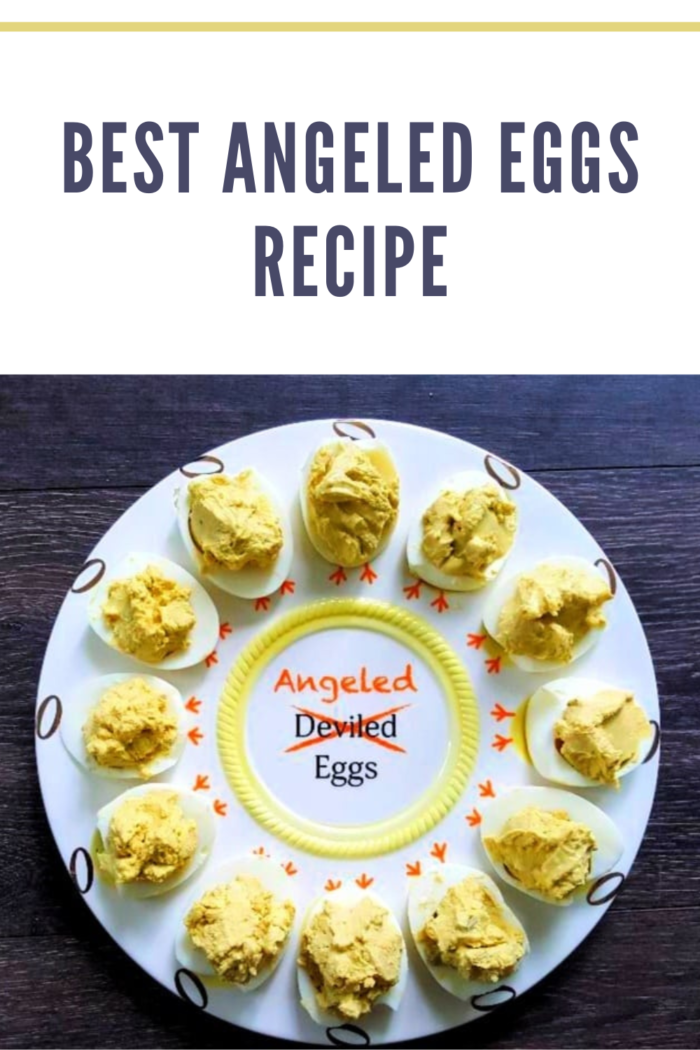 Precious Moments Angel Salt and Pepper Shakers – A Heavenly Addition to Your Table
Enhance your table setting with the adorable Angel Egg salt and pepper shakers from Precious Moments. These charming shakers are the perfect companions to the Angeled Egg platter, adding a delightful touch of joy and faith to your Easter and holiday celebrations. With their captivating Precious Moments eyes and glistening golden wings, they are sure to capture your heart at first glance.
Coordinate Your Easter Fun:
Pairing seamlessly with the Precious Moments Angeled Egg platter, these cute accents complete the Easter table display, creating an atmosphere of laughter and togetherness. As you set the table for the festivities, don't forget to include these angelic shakers to sprinkle a dash of love and warmth to each meal.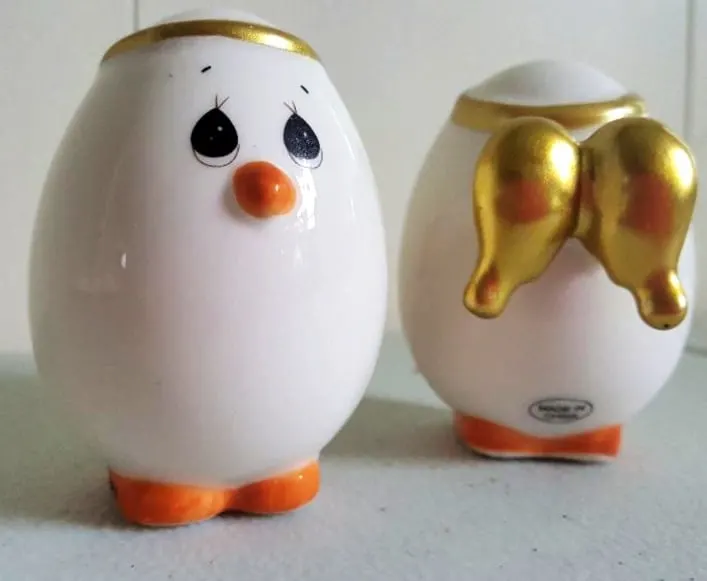 Elegantly Crafted Design:
Standing at a height of 2.5 inches, each shaker is thoughtfully shaped like an egg, symbolizing new beginnings and the promise of a joyful celebration. The top of each shaker features either two or three holes, allowing for easy differentiation between salt and pepper, ensuring your dishes are seasoned to perfection.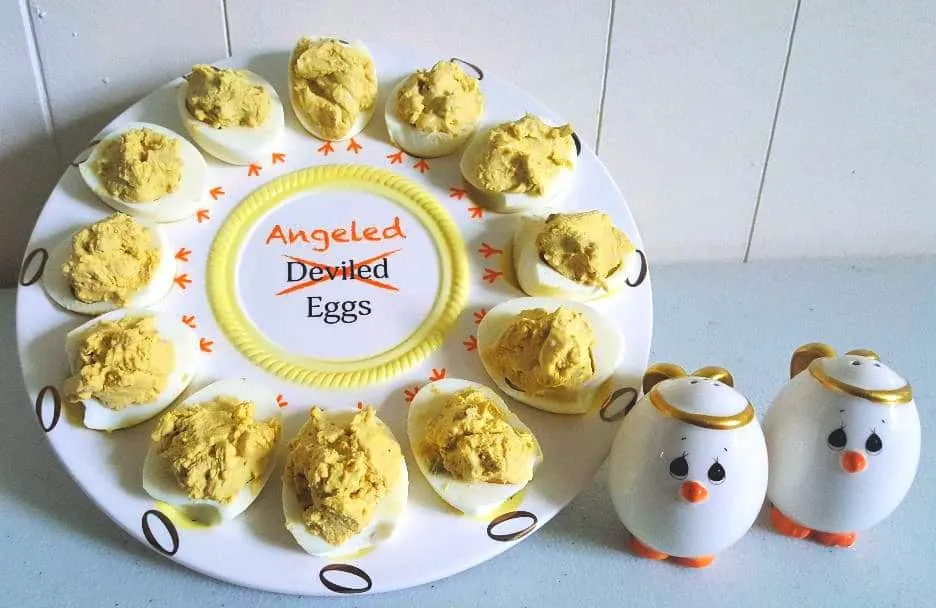 A Sweet Addition to Any Occasion:
Beyond Easter, these beautifully crafted Precious Moments serving pieces are versatile additions to any holiday gathering, including Thanksgiving, Christmas, housewarmings, weddings, or even those moments when you simply want to spread a little extra love and faith. They add humor, charm, and a sense of devotion to every occasion, making them cherished heirlooms for generations to come.
Embrace New Traditions:
We are thrilled to introduce these Angel Egg salt and pepper shakers to our family traditions, and we invite you to do the same. Begin your journey of creating lasting memories and spreading joy by including these delightful pieces in your festive celebrations. Whether you are setting the table for Easter brunch or any special gathering, these shakers will infuse every moment with precious memories and cherished laughter.
How to Get Yours:
If you're ready to embrace the spirit of joy and faith with the Precious Moments Angel Salt and Pepper Shakers, along with the Angeled Egg platter, you can discover where to purchase these delightful pieces. Let the love and laughter flow as you create treasured moments around the table with these adorable serving pieces. After all, there's no better way to celebrate than with the company of family, friends, and these heavenly additions to your table.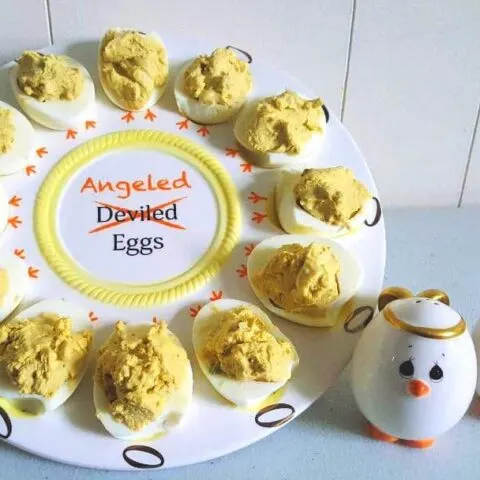 Angeled Eggs Recipe
This adorable word play on Deviled Eggs is just the beginning of this tasty appetizer. Whip up Angeled Eggs and make them a family tradition!
Ingredients
6 eggs hard boiled eggs

,

1/4 cup mayonnaise
1 tsp white vinegar
1 tsp yellow mustard
1/8 tsp salt
1/8 tsp black pepper
paprika, for garnish
Instructions
Remove outer shell and cut each egg in half.
Scoop out the yolks and place them in a small bowl.
Place your egg whites on the platter.
Make the filling: Mash the yolks with the mayo and vinegar. Add mustard and salt. Mix well. Add black pepper to taste.
Fill the Egg: Scoop mixture into egg white halves with a teaspoon (or us a piping bag for a more elegant look).Sprinkle paprika for decoration and chill until served.

This recipe appears in Julee Morrison's The How To Cookbook for Teens
Help your teenager discover the joy of cooking and becoming self-sufficient.
Cooking provides curious teens with a fun, creative outlet while teaching them lifelong skills. With simple recipes and step-by-step instructions, this introductory cookbook for teens guides young chefs-to-be from the first day in the kitchen to cooking full, flavorful meals for the whole family.
What sets this cookbook for teens apart from other cookbooks for beginners:
Teen-friendly foods

―Your teen will discover 100 recipes to please their teenage palate, including Nachos, Sloppy Joes, Easy Shrimp Scampi, Mustard and Maple-Glazed Chicken.

Cooking fundamentals

―For teens just starting out, this cookbook teaches all the basics, like cooking techniques, prepping the kitchen, and tips on reading a recipe.

Built for trial and error

―This kids' cookbook encourages teen chefs to explore. Each recipe includes space to write down new ingredients; teens can experiment with flavors and textures and learn what worked (and what didn't!).
Transform your teen into a culinary whiz with this beginner cookbook written just for them.