I received a Precious Moments Angeled Egg Platter and Precious Moments Angel Egg Salt and Pepper Shaker in exchange for this post. All opinions and my love for Precious Moments remain my own.
This Precious Moments Angeled Egg recipe is a play on words and essentially the Best Deviled Egg recipe on the internet.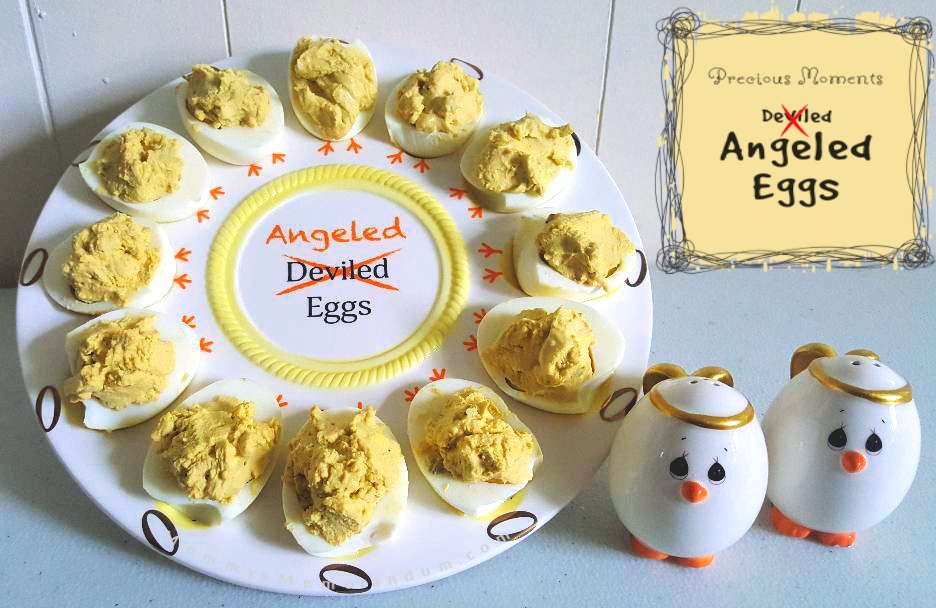 Easter is nearing and for my family, that means gathering together and celebrating. A family gathering means there will be food, and one of my favorites is Deviled Eggs. This year, we're sharing not only the Precious Moments Angeled egg recipe, but the Precious Moments 'Angeled Eggs' Ceramic Serving Platter and the Precious Moments Angeled egg salt and pepper shaker set.
These serving pieces are the adorable beauty you have come to expect with Precious Moments and a fun way to celebrate.
The platter is perfect for serving and displaying.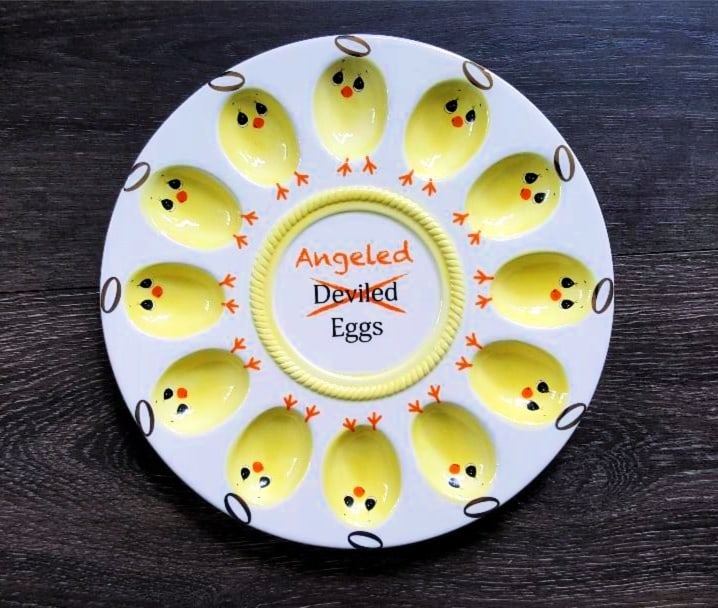 Approximately ten-inches in diameter, this platter is sure to bring smiles as it takes the familiar "Deviled Eggs" and changes the name to "Angeled Eggs".
The platter has indentations for 6 eggs (12 halves) and is sure to be a great conversation piece. Each indentation features an adorable yellow chick with a Halo. The chicks have the iconic Precious Moments eyes.
When the eggs are placed into the indentations, the rest nicely and each egg appears to be topped with a halo.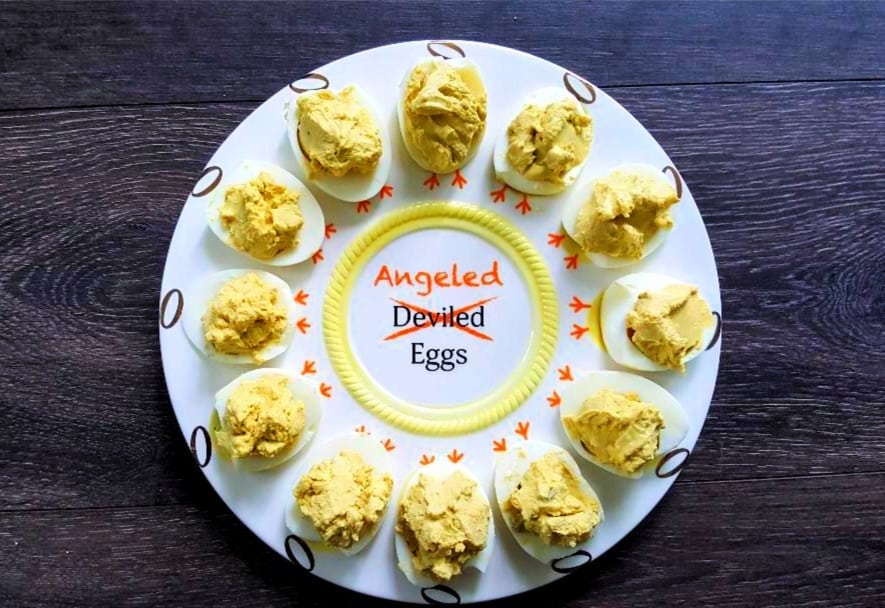 As guests take a deviled Angeled egg from the serving platter, the spring chick is revealed.
The back of the Precious Moments Angeled Eggs Serving Platter has a recipe for Angeled Eggs. My son has declared it "the best".
Precious Moment Angeled Eggs Recipe:
Precious Moments Angeled eggs ingredients:
6 hard boiled eggs (we use the Instant Pot 5-5-5 method)
1/4 cup mayonnaise
1 teaspoon white vinegar
1 teaspoon yellow mustard
1/8 teaspoon salt
Black Pepper to taste
Paprika for garnish
Precious Moments Angeled eggs directions:
Remove outer shell and cut each egg in half.
Scoop out the yolks and place them in a small bowl.
Place your egg whites on the platter.
Mash the yolks with the mayo and vinegar. Add mustard and salt. Mix well. Add black pepper to taste.
Scoop mixture into egg white halves with a teaspoon (or us a piping bag for a more elegant look).
Sprinkle paprika for decoration and chill until served.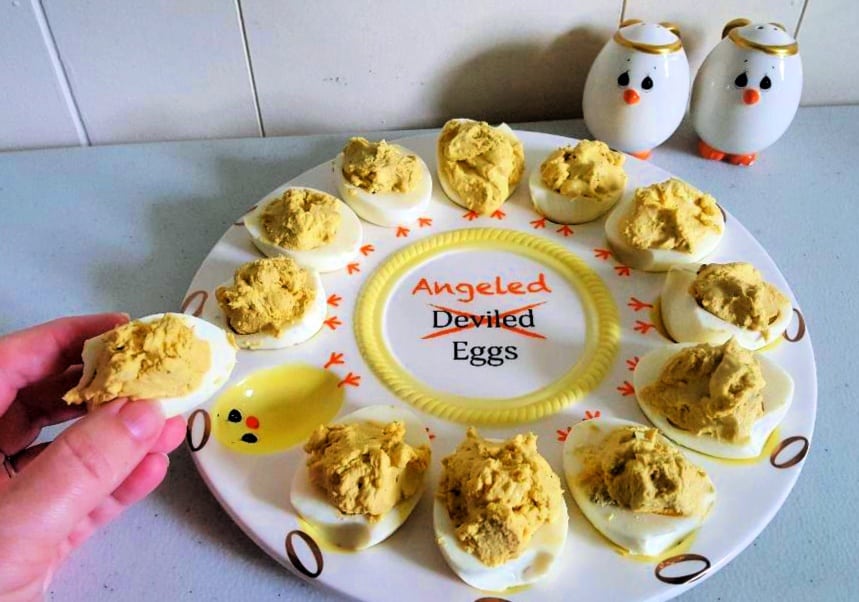 Then, adding to the celebration, are the adorable Angel Egg salt and pepper shakers. They capture your attention immediately with the Precious Moments eyes and are accented with golden wings.
These cute accents coordinate perfectly with the Precious Moments Angeled Egg platter, making it even easier to set the table for Easter fun. Go ahead and add them to your Easter table display. After all, laughter is good for the soul!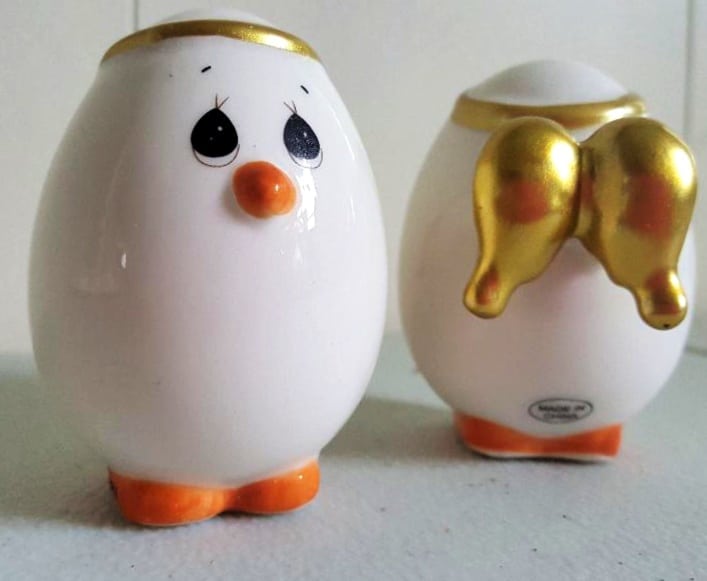 Each shaker stands 2.5-inches tall and is shaped like an egg.
The top has either two holes or three holes to differentiate between the salt and the pepper.
These beautifully crafted Precious Moments serving pieces are such a sweet addition to any holiday addition, whether it is Easter, Thanksgiving, Christmas, Housewarmings, weddings or just because, they are sure to add humor and faith to the occasion.