I received Ghostbed Sheets in exchange for this post. All opinions and my love for proper rest and luxury sheets remain my own.
GhostBed sheets are a popular bedding accessory offered by the GhostBed brand, which is known for its high-quality mattresses and sleep products. These sheets are designed to complement GhostBed mattresses and enhance the overall sleep experience.
Here are some key features and details about GhostBed sheets:
Material: GhostBed sheets are made from a blend of high-quality Supima cotton and Tencel fibers. Supima cotton is known for its softness, durability, and breathability, while Tencel is a sustainable fabric derived from eucalyptus trees that offers excellent moisture-wicking properties.
Thread Count: GhostBed sheets have a thread count of 400, which is considered a good balance between softness and breathability. The thread count refers to the number of threads woven per square inch of fabric.
Weave: These sheets feature a sateen weave, which gives them a smooth and luxurious feel. Sateen weaves have a slight sheen and a silky texture that provides a comfortable sleeping surface.
Cooling Properties: GhostBed sheets are designed to promote temperature regulation and keep you cool throughout the night. The combination of Supima cotton and Tencel fibers helps wick away moisture, allowing for better airflow and preventing heat buildup.
Deep Pockets and Secure Fit: The fitted sheets of GhostBed sheets have deep pockets, which means they can accommodate mattresses with a thickness of up to 18 inches. This ensures a snug and secure fit, preventing the sheets from slipping or coming off during the night.
Ease of Care: GhostBed sheets are machine washable, making them easy to clean and maintain. The manufacturer recommends washing them in cold water and tumble drying on low heat to preserve their quality.
Size and Color Options: GhostBed sheets are available in various sizes, including Twin, Twin XL, Full, Queen, King, and California King, allowing you to find the right fit for your mattress. As for colors, they typically offer a range of neutral shades to match different bedroom decors.
Warranty and Satisfaction Guarantee: GhostBed provides a warranty on their sheets to ensure customer satisfaction. They also offer a trial period, allowing customers to try the sheets for a certain period and return them if they are not satisfied.
It's worth noting that product specifications and details can change over time, so it's always a good idea to visit the official GhostBed website or contact their customer support for the most up-to-date information on their sheets.
Our Ghostbed Sheets Review
I am a huge advocate for sleep. Good Sleep. It took me a while to convince my husband of how important it is for our children, and us, to get a good night's sleep. It's why we chose the GhostBed mattress for one of them. I also believe that sheets play an essential part in the experience of good sleep.
Think about it. You take the time to find the perfect mattress. The one that supports you and still allows your body to relax and find comfort. Sheets are the hug that goes with that ideal mattress. Sheets that are not only super soft to the touch, but don't jump off the corners like Circus acrobats.
Meet the GhostBed Luxury Sheets.
Delivered directly to my door was a small box. Inside were GhostBed Sheets, the secret weapon for the perfect sleep.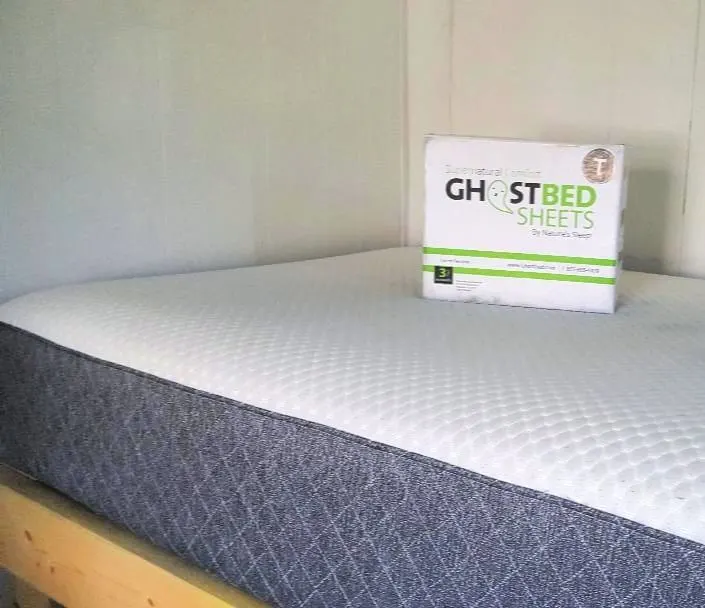 What is Included with GhostBed Luxury Sheets:
We chose the Twin Ghostbed sheets to accompany the Ghostbed mattress. Each twin sheet set includes a fitted sheet, a flat sheet, and one pillowcase. The sheets are available in white and grey. Since William is a thirteen-year-old boy, we chose grey. It's a stunning, soft grey color that matches the decor of any bedroom color or style. I love that the can transition from winter to summer and it's trending right now.
When you order from Ghostbed, the sheets ship for free.
In addition to super soft, free shipping, and trending colors, these sheets come with an industry-leading 3-year warranty.
My Favorite Part:
These sheets have plenty for me to rave about, but I am super excited to share GhostBed sheets feature a GhostGrip on the corners so your fitted sheets stay on securely and no matter how much you toss and turn, the corners never pop off.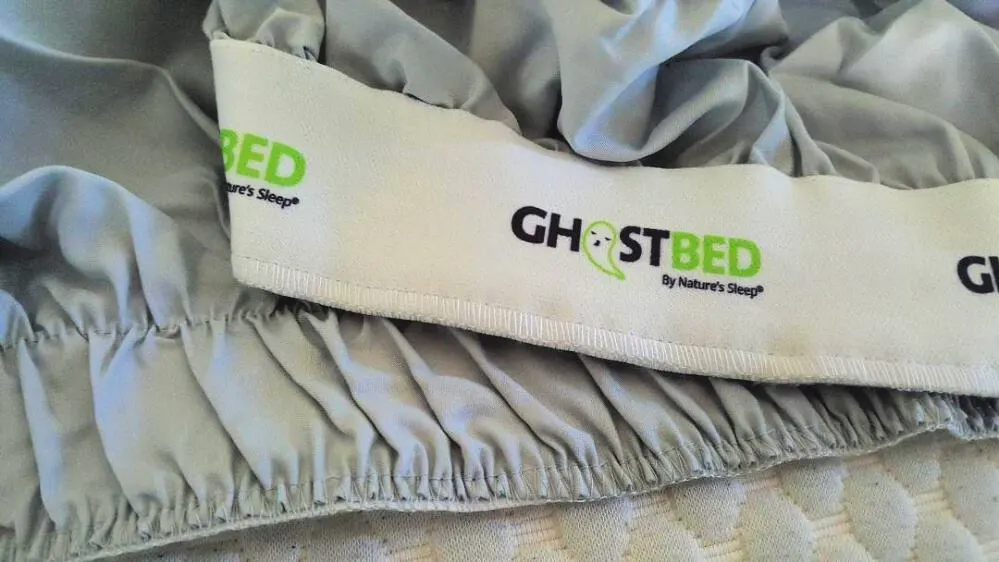 The sheets are made to pair perfectly with a GhostBed Mattress. However, they work with any mattress. The sheets feature deep pockets, so they accommodate a mattress, including a pillow topper.
We're In It for the Sleep:
Sheets that stay in place are awesome, but we're in it for the sleep, which means we seek comfort. We have tried so many sheets; some have been scratchy, some have pilled, some have felt like a slip n' slide, but GhostBed sheets are luxury, and you can feel it.
The luxury and comfort comes from a unique blend of Supima Cotton + Tencel Fibers. This dynamic duo is responsible for the sheet's incredible softness. Out of the box, it was the first thing I noticed. Oh, my goodness, these sheets are soft!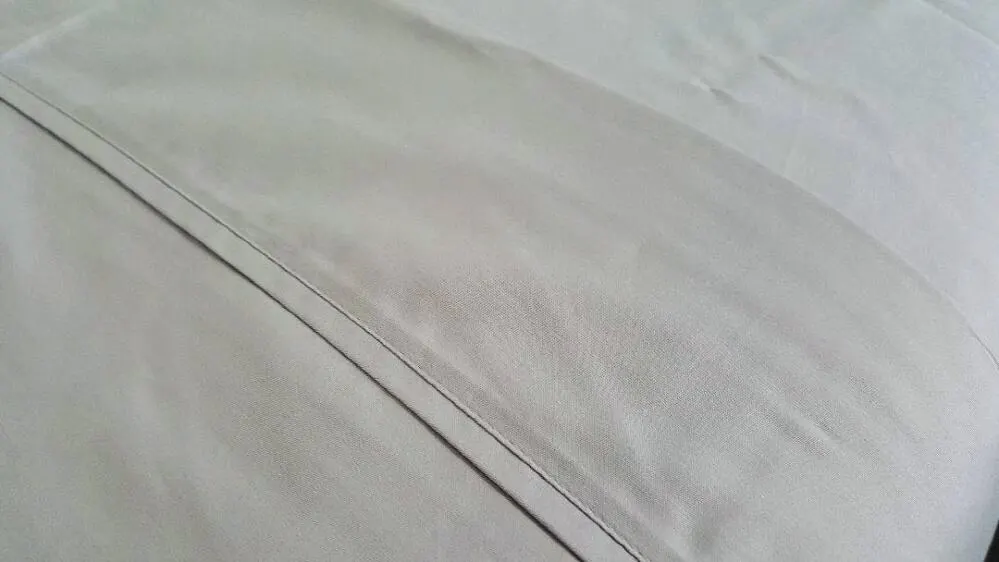 Supima Cotton is one of the finest cotton grown in the United States, known as 100-percent Pima Cottom. Improving that cotton with superior technology creates a new blend of cotton Supima cotton (Superior + Pima). This blend is twice as strong as regular cotton, inherently softer, and more luxurious. The softer, plusher feel is because Supima cotton is made with longer, smoother, cleaner yarn.
Tencel fibers are revolutionary. They have a plant-based origin; the fiber is extracted using an extremely eco-friendly closed loop system. Some of Tencel fibers outstanding properties include temperature regulation, superior moisture absorption, breathability and bacteria, and allergen resistance.
As I mentioned, my son is a thirteen-year-old boy. He stinks. He sweats so much that he showers at night and then again when he wakes up. The GhostBed sheets, keep him cool through the entire night. The combination of the Supima Cotton and Tencel Fibers also makes these sheets 50 percent more absorbent than cotton.
Night after night, my son gets the best rest possible from his sleep's foundation, the GhostBed mattress, to the luxury sheets he rests between. Good sleep is important to his growing body, and the GhostBed sheets allow him to sleep in comfort without being too hot, and their softness is soothing against his skin.
The GhostBed Luxury Sheets set is a product of GhostBed by Nature's Sleep, which makes a mattress that Consumer Reports rated very good or excellent in every category.
Isn't it time you got a good night's rest? Head to the GhostBed website and see all they offer to help you get the rest you need.
About Ghostbed:
GhostBed is a company that specializes in sleep products and is known for its mattresses, pillows, and bedding accessories. The company was founded in 2015 by Marc Werner and has since gained a reputation for offering high-quality, innovative sleep solutions.
Here are some key details about the GhostBed company:
Mattresses: GhostBed is best known for its mattresses, which are designed to provide optimal comfort and support. Their mattresses are constructed using a combination of different foam layers, including memory foam and latex foam. These layers are engineered to offer a balance of pressure relief, cooling, and responsiveness, promoting a restful night's sleep.
Product Line: In addition to mattresses, GhostBed offers a range of sleep accessories. These include pillows, adjustable bed bases, mattress foundations, mattress protectors, and, of course, their GhostBed sheets. The company aims to provide a complete sleep system to meet various sleep preferences and needs.
Cooling Technology: GhostBed mattresses and sleep products often incorporate cooling technologies to help regulate body temperature and prevent overheating during sleep. This includes features like breathable covers, gel-infused foam, and airflow-enhancing designs, all aimed at promoting a cooler sleep environment.
Customer Satisfaction: GhostBed focuses on customer satisfaction and offers a generous trial period and warranty for their products. They typically provide a risk-free trial period of 101 nights, allowing customers to try out their products in the comfort of their own homes. They also offer warranty coverage that varies by product but generally ranges from 10 to 25 years.
Eco-Friendly Approach: GhostBed takes an eco-friendly approach in its manufacturing processes. Their mattresses are CertiPUR-US certified, which means they are made without harmful chemicals and are low in VOC emissions. The company also prioritizes sustainability and sources materials responsibly.
Awards and Recognition: GhostBed has received positive recognition and accolades for its sleep products. Their mattresses have been featured in various media outlets and have received endorsements from athletes and influencers.
Online Presence and Availability: GhostBed primarily operates online, selling its products directly to consumers through its official website. This allows them to cut out middlemen and offer competitive pricing. They also provide customer support and have a responsive online presence through social media platforms and their website.
As with any company, it's always a good idea to visit the official GhostBed website or contact their customer support for the most up-to-date and detailed information about their products, policies, and company values.