I received Descendants 2 in order to facilitate my review. My love for Disney Descendants and time with my daughter, as well as my opinions, remain my own.
🌟 Unleash Your Inner Villain in Disney's Descendants 2! 🌟
Step into a world where the line between heroes and villains is blurred, and a new chapter of magic, music, and mischief awaits! Get ready to embark on a thrilling journey with Disney's Descendants 2, the ultimate sequel that will transport you to the enchanting realm of Auradon.
Join the wickedly talented offspring of your favorite Disney villains – Mal, Evie, Carlos, and Jay – as they dive deeper into their extraordinary destinies. This time, they are faced with a brand-new adventure that will put their loyalties to the test and push them beyond their limits. Are you ready to discover the untold stories that lie beneath their wickedly fabulous exteriors?
Prepare to be captivated by a spellbinding tale of friendship, love, and self-discovery as these misfit heroes navigate the challenges of fitting in and finding their true identity. Immerse yourself in a world where extraordinary powers collide with teenage dreams, and watch as our beloved characters evolve and grow into their own unique strengths.
Featuring sensational musical performances, jaw-dropping dance sequences, and eye-popping costumes, Disney's Descendants 2 will leave you singing, dancing, and craving more. Witness the electrifying chemistry between the descendants and their new adversaries, and get ready for epic battles that will test their bravery, resilience, and unity.
With breathtaking visuals, unforgettable characters, and a story that will tug at your heartstrings, this enchanting sequel is a must-watch for fans of all ages. Whether you're a devoted Descendants follower or a newcomer to this spellbinding universe, get ready to experience a magical journey that will leave you spellbound.
So, grab your friends and family, embrace your wicked side, and prepare for an adventure of a lifetime with Disney's Descendants 2. Are you ready to let your inner villain shine? Don't miss out on the fun – join the descendants and make your mark on the world of Auradon!
🌟 Disney's Descendants 2 – Where Magic Meets Mischief! 🌟
Disney's Descendants 2 Music
The music in Disney's Descendants 2 is a major highlight of the movie, captivating audiences with its infectious beats, catchy melodies, and powerful performances. The film features a diverse soundtrack that blends pop, rock, R&B, and hip-hop elements, creating a vibrant and contemporary musical experience.
The soundtrack includes a mix of original songs, cover versions of classic Disney tracks, and dynamic mash-ups. Each song serves as a storytelling tool, giving audiences a deeper insight into the characters' emotions and advancing the plot.
One of the standout tracks is "Ways to Be Wicked," performed by the main cast. It sets the energetic tone of the film, showcasing the descendants' mischievous and rebellious nature. The song's upbeat tempo and empowering lyrics make it an instant favorite among fans.
Another notable track is "What's My Name," a powerful and sassy anthem performed by Uma, the daughter of Ursula, played by China Anne McClain. With its edgy and confident vibe, this song perfectly captures Uma's determination and her desire to make her mark in Auradon.
Mal, played by Dove Cameron, also gets her moment in the spotlight with the emotionally charged song "It's Goin' Down." This captivating number showcases Mal's internal struggle and her journey towards self-discovery.
Additionally, there are memorable group performances like "Chillin' Like a Villain," which brings together Mal, Evie, Carlos, and Jay in a fun and lively musical sequence. The song highlights their camaraderie and the bond they share despite their villainous roots.
The soundtrack of Descendants 2 also includes a heartfelt ballad called "You and Me," performed by Dove Cameron and Sofia Carson as Mal and Evie. This beautiful duet explores the themes of friendship and loyalty, reminding audiences of the strength found in their connections with others.
Overall, the music in Disney's Descendants 2 is a dynamic and integral part of the film, adding an extra layer of excitement, emotion, and energy. Whether it's the catchy tunes, empowering anthems, or heartfelt ballads, the soundtrack is sure to leave audiences singing along and tapping their feet long after the movie ends.
Our Descendants 2 Overview
Descendants 2, the sequel to the hit 2015 television movie, where the main characters are the children of Disney Villians, is now on BluRay and DVD.
If you missed that Friday night premiere a few weeks ago when it aired on Disney Channel, ABC, and other channels, we've watched it enough times to give you the scoop.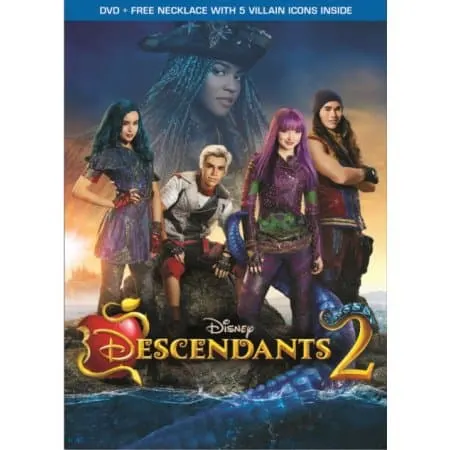 Descendants 2 is the continuation of Mal (Dove Cameron), daughter of Maleficent, who is chosen, in the first movie, with three of her friends (also children of Disney Villians, to leave the island prison where evil was banned long ago, so everyone (your favorite Prince and Princesses) in Auradon could have their happily ever after.
It's a show down of good versus evil, and the four settle into Auradon and find good.
As Descendants 2 opens with the awesome Ways to Be Wicked number, Auradon is preparing for a cotillion. It's a big deal as Mal will officially become a lady of the court of Ben (Mitchell Hope). He's Belle and Beast's son and the Prince whose heart Mal captured in the original Descendants.
The original Villian children are all back in Descendants 2:
Carlos (Cameron Boyce), son of Cruella de Vil
Evie (Sofia Carson), daughter of the Evil Queen;
Jay (Booboo Stewart), son of Jafar
Mal (Dove Cameron) daughter of Maleficent
I miss that Kristen Chenoweth didn't return. She played Maleficent in the original, wherein the end, she was turned into a tiny lizard. The lizard makes an appearance in a terrarium, in D2, with a sign that reads, "Don't feed my Mom!" Chenoweth brought a lot to Descendants, and it is felt.
Descendants 2 does well in filling in the gap without Chenoweth, introducing a new cast of energetic, talented characters. One of my new favorites is China Anne McClain. She plays Ursala's daughter, Uma, with flair and zest. Her musical numbers steal the show!
We follow Mal, who has decided she is faking her inner goodness and is genuinely evil at the core. This is enhanced by the fact that her eyes, on occasion, turn a bright green.
I thought there was WAY too much discussion of hairstyles, but I suppose this is what the age of girls targeted for this movie probably do. I see it in my daughter.
A talking dog made me laugh and turns out to be a great part of the plot.
My favorite part was the pirate-themed sword fight. Kenny Ortega shows he's still got it with choreography reminiscent of West Side Story and a bit Hamilton-esque.
Overall, Descendants 2 was good viewing. As an adult, I thought it was a tad long in some areas, but my 13-year-old loves it and has watched it over and over, memorizing the songs!
Descendants 2 Synopsis:
In Disney's Descendants 2, the story picks up with Mal, Evie, Carlos, and Jay as they continue to navigate their lives in the idyllic kingdom of Auradon. After their successful integration into Auradon society, they are starting to find their place among the heroes.
However, a new threat looms on the horizon. Mal, feeling the pressure of being the girlfriend of King Ben and the expectations of being a good leader, begins to question her own identity and where she truly belongs. Her struggles intensify when she starts having nightmares about her evil past on the Isle of the Lost, the home of the villains.
Driven by her desire for self-discovery, Mal, along with Evie, Carlos, and Jay, embark on a dangerous journey back to the Isle of the Lost. There, they encounter Uma, the daughter of Ursula, Harry Hook, the son of Captain Hook, and Gil, the son of Gaston. These new adversaries have a score to settle and seek revenge on the heroes.
As the descendants face their old nemeses and confront their fears, they uncover secrets about their families and learn the importance of embracing their true selves. The bonds of friendship are tested, new alliances are formed, and exciting adventures unfold as they fight to protect Auradon from a wicked threat that could jeopardize the peaceful coexistence between heroes and villains.
With spectacular musical numbers, stunning choreography, and dazzling costumes, Disney's Descendants 2 takes viewers on an exhilarating journey filled with action, humor, and heartfelt moments. It explores themes of self-acceptance, friendship, and the power of choice, as the descendants discover that their destinies are not predetermined by their villainous lineage.
Will Mal and her friends find the strength to overcome their doubts and unite to save Auradon once again? Prepare to be swept away by the magic and excitement of Disney's Descendants 2 as the descendants show us that being a hero or a villain is not simply a matter of birth, but a choice from within.