I received Descendants 2 in order to facilitate my review. My love for Disney Descendants and time with my daughter, as well as my opinions, remain my own.
Descendants 2, the sequel to the hit 2015 television movie, where the main characters are the children of Disney Villians, is now on BluRay and DVD.
If you missed that Friday night premiere a few weeks ago when it aired on Disney Channel, ABC, and other channels, we've watched it enough times to give you the scoop.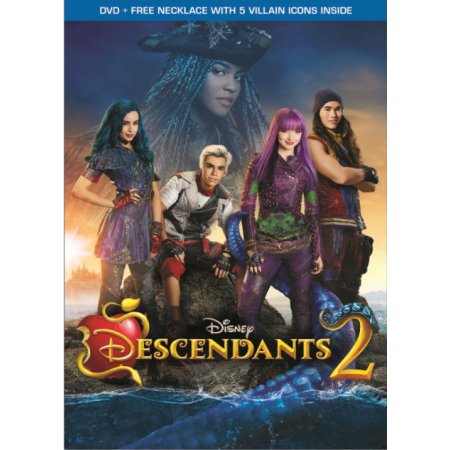 Descendants 2 is the continuation of Mal (Dove Cameron), daughter of Maleficent, who is chosen, in the first movie, with three of her friends (also children of Disney Villians, to leave the island prison where evil was banned long ago, so everyone (your favorite Prince and Princesses) in Auradon could have their happily ever after.
It's a show down of good versus evil, and the four settle into Auradon and find good.
As Descendants 2 opens with the awesome Ways to Be Wicked number, Auradon is preparing for a cotillion. It's a big deal as Mal will officially become a lady of the court of Ben (Mitchell Hope). He's Belle and Beast's son and the Prince whose heart Mal captured in the original Descendants.
The original Villian children are all back in Descendants 2:
Carlos (Cameron Boyce), son of Cruella de Vil
Evie (Sofia Carson), daughter of the Evil Queen;
Jay (Booboo Stewart), son of Jafar
Mal (Dove Cameron) daughter of Maleficent
I miss that Kristen Chenoweth didn't return. She played Maleficent in the original, wherein the end, she was turned into a tiny lizard. The lizard makes an appearance in a terrarium, in D2, with a sign that reads, "Don't feed my Mom!" Chenoweth brought a lot to Descendants, and it is felt.
Descendants 2 does well in filling in the gap without Chenoweth, introducing a new cast of energetic, talented characters. One of my new favorites is China Anne McClain. She plays Ursala's daughter, Uma, with flair and zest. Her musical numbers steal the show!
We follow Mal, who has decided she is faking her inner goodness and is genuinely evil at the core. This is enhanced by the fact that her eyes, on occasion, turn a bright green.
I thought there was WAY too much discussion of hairstyles, but I suppose this is what the age of girls targeted for this movie probably do. I see it in my daughter.
A talking dog made me laugh and turns out to be a great part of the plot.
My favorite part was the pirate-themed sword fight. Kenny Ortega shows he's still got it with choreography reminiscent of West Side Story and a bit Hamilton-esque.
Overall, Descendants 2 was good viewing. As an adult, I thought it was a tad long in some areas, but my 13-year-old loves it and has watched it over and over, memorizing the songs!
Descendants 2 Synopsis:
Ben, who is now reigning as the king of Auradon, works to help Evie, Mal, Jay, and Carlos in their attempts to adjust to their life in Auradon. When Mal is overcome with the pressure to become royally perfect, she cracks and decides to return to the Isle of the Lost. To find her, Evie, Carlos, and Jay help Ben disguise himself to return to the Isle themselves to find her. When Mal returns, she is greeted with the surprise of discovering that Uma, the daughter of Ursula, along with her friends Harry, who is Captain Hook's son, and Gil, the son of Gaston, has replaced her as the rulers of the Isle.