There is a buzz in the room right before she walks through the door. She is petite, blonde, and most recognizable from her role as Liv & Maddie in Disney's show by the same name.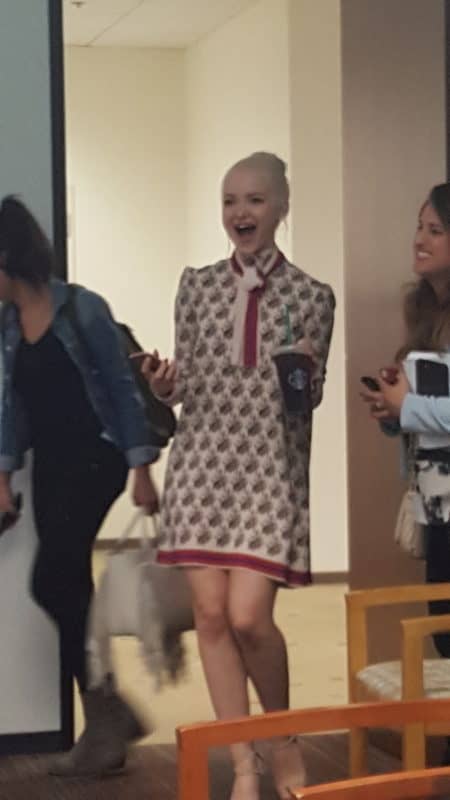 She is Dove Cameron.
We're here to discuss Descendants 2, premiering Friday, July 21. In the movie, Dove Cameron plays the main protagonist from the Disney Channel film as Mal, daughter of Maleficent.
She sits with such poise. Her appearance is nothing similar to her role as the girl with dark purple hair.
Then, she is asked about her role as Mal and how Descendants 2 it's different from the first movie.
As if getting into character, she shoots a side glance.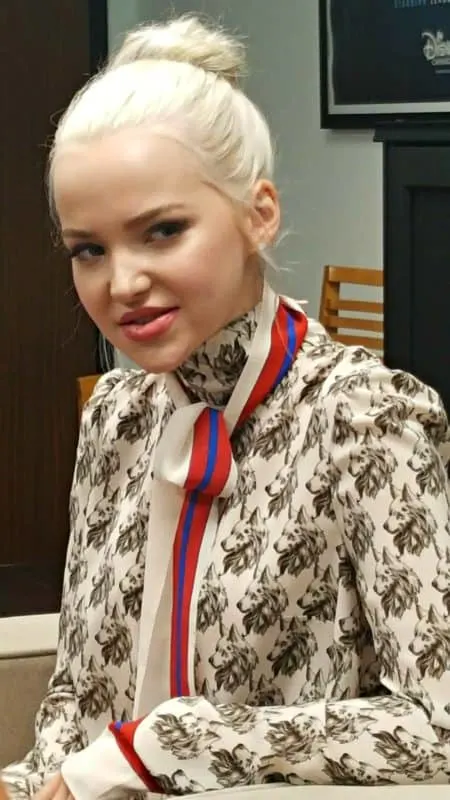 Then explains:
"Everything that Mal was in the first one, we all are as a team, because a movie is such a collective experience. Kenny, the writers, and I all threw [strict notions of Mal's character] out the window because she, as a human, goes through life changes and experiences."

"She never had anyone growing up and she couldn't ever really find her footing with the one person that she did have to rely on [her mother, Malificent]. So she learned to rely on herself."

"In the second movie when we pick back up, she now knows what it feels like to be authentically loved and to have a space held for her to be supported. Just like any other human, you gravitate towards whatever you're used to, and so she has no idea how to deal with that. It's almost impacting her negatively, because she's thinking, "Oh, I only know how to build up my walls. I don't even know how to function without my walls." Now she has to start over and find what is [her authentic identity] for the first time in her life. Throughout the

It's almost impacting her negatively, because she's thinking, "Oh, I only know how to build up my walls. I don't even know how to function without my walls."

Now she has to start over and find what is [her authentic identity] for the first time in her life.

Throughout the movie, she goes through a lot of incarnations of what she thinks Mal is, and doesn't really find herself until the end.

That was a weird experience for me as an actress, to feel like I knew the character really well, and then to lose her as she's losing herself, and then to find her as she finds herself."
In the original novel, Isle of the Lost, Mal is introduced as the daughter of Maleficent, the worst of the villains. We witness Mal changing as she experiences new things in the original movie.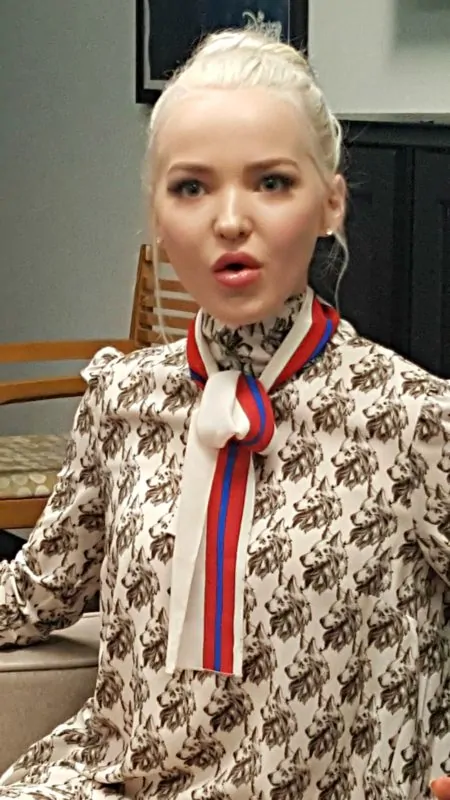 Dove Cameron talks about bringing herself into the film and the personal experience that helped Mal find herself.
"As an actor, I bring myself as much as I can in every role, but Mal is my ride or die. I fell in love with her when I read the "Descendants" script back in 2013.

[Disney Channel] didn't tell me anything. They didn't say, "We're going to set up an audition."

It was more like, "Will you read this and tell us what you think?"

I had an emotional, visceral response. I said, "She's my girl!" because I related to her so much.

Even though all of the characters and Mal are in fantastical circumstances, their experiences are very relatable.

A lot of people – a lot of kids and a lot of adults who were once kids – don't always have an easy home situation. They don't always have all the support that they deserve. I think all of us in this room can relate to feeling like we lacked something there that we now have to deal with as we've gotten older.

That was something that I had such a lovely time with, for myself psychologically and also as an actor, to inject pain into an experience that we [all share].

This is a movie for children, and so we have to ride that line between [communicating] really helpful and relatable messages, but still keeping it light. That was challenging and interesting for me, and I did bring a lot of things I felt like I lacked from my own childhood.

It definitely helped keep Mal real. It also helped me as a human to explore somebody else's issues, and to fix my own at the same time."
As a group, we viewed a few parts of Descendants 2. As a discussion opened, we realized that parts of the movie are CGI, like the water around the pirate ship. Dove shares how it was filming these scenes on a bigger, grander set than the original.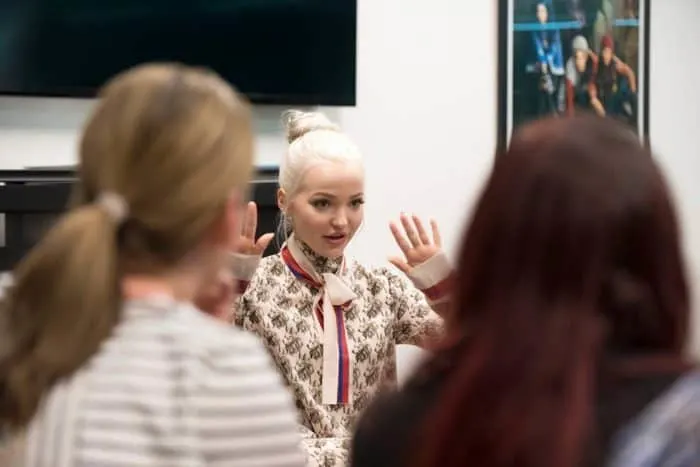 "Intoxicating. There wasn't water, but when I watch it back, I think "Was there water?" It was amazing.

While we did not have water, the ship was real. I have no idea how [the set decorators] did it. Our set decorators turned out for this one. I remember seeing the concept and thinking, "There's no way it's going to look like that." They outdid themselves.

Being on the actual set was safe, but it didn't look safe. And we were all sword fighting.

Nobody would ever notice, but I'm a pipsqueak. I'm so tall and in the film, I am wearing shoes that are one inch short of being stilts. My shoes are this big, and I'm sword fighting in them.

There are stairs and wood and railings, and everybody's different. It helped me so much because it's so fun being physical. As an actor, it's exactly what you want. You want to feel lost in it. It's like opening up your favorite book and then being able to jump into it.

People are saying, "Oh, be careful." You're thinking, "I know. Let me do my thing." So yeah, it was an amazing thing. It definitely helps. All of the sets were real minus things like the water and some special effects."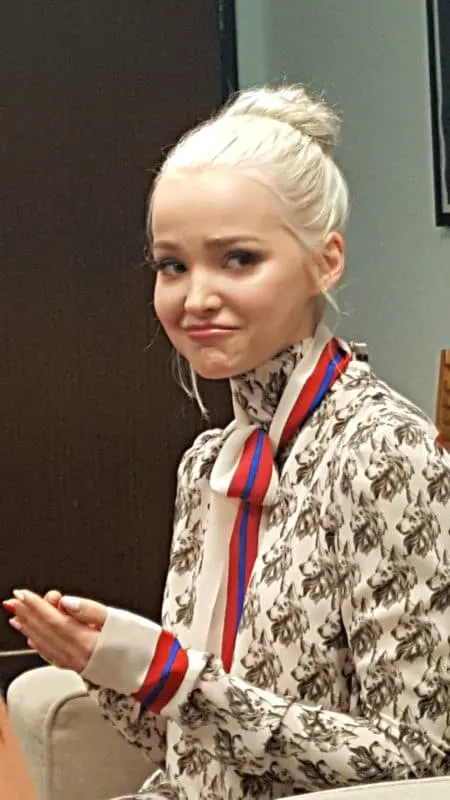 Dove Cameron recognizes that her audience is a young one. She shares the message she hopes viewers (the kiddos) walk away with after seeing Descendants 2.
"What's beautiful about having such a broad cast of characters is that we all have our really unique storylines. One of my favorite storylines actually isn't my own, it's Lonnie's, and you'll see that when the movie comes.

She has this beautiful, empowering message for girls that gets me every time I see the movie. I want to say, "Yes! Lonnie!" I'm being serious. I'm being campy, but it's so real. In terms of the whole movie, there's a beautiful synergy between the fact that the whole cast has been having this

In terms of the whole movie, there's a beautiful synergy between the fact that the whole cast has been having this year long love affair with each other. We're so there for each other in a sibling-like, familial way and it translates to the film. It projects a message of togetherness, of banding together, of supporting people that you love. That sounds like such a simple concept, but when you're absorbing things as a kid, separatism is such a thing.

We're encouraged to be our own island. Especially with things like social media, we all have our own brand and image, and that's what's taught. I think that it's so beautiful to rely on and trust people.

If you hand someone your whole heart, they're much more delicate with it.

So I do believe in trusting the world around you, and I do believe in kids learning to rely on each other and their surroundings and the world in general.

It's just a really empowering story.

There's not one character that doesn't go through some weird arc where they're much more fully formed and healthy. So the message would be the importance of help, togetherness, support [and] trust."
Friday (July 21), the much-anticipated musical sequel, Descendants 2 will debut, at 8 pm EST, on six different channels at the same time: ABC, Disney Channel, Disney XD, Lifetime, Lifetime Movies, and Freeform (formerly ABC Family).
Descendants 2 will also be available through online applications and available on DVD on Aug. 15.