Once upon a time, I had a business making and decorating cakes. It was long before the trend of cake pops. My kiddos love them, and Li'l Man can connive one whenever he spots them. So there was no surprise when his birthday rolled around, and I asked, 'What kind of cake are we making?"
His answer was, "I want cake pops!"
Of course. The problem was Mom had never made cake pops. Didn't even know the first thing about them. Thankfully, there are books like Crazy for Cake Pops and Mom can read.
So…I invited Charlotte the Great over to help. She didn't know what a cake pop was, but she was ready. She looked through Crazy for Cake Pops while I made the cake batter. She thought we should go with the elaborate, fancy-schmancy ones–I told her I thought the round ones would be fine. My house. My rules. Round it would be.
Grandma read through the book, learned about what equipment was needed, and devoured the pictures. Together we read through (several times) the step-by-step instructions for making a cake pop–thankfully, there were photos of each step.
Our cake came out of the oven. Both Grandma and I cooed over how beautiful it had turned out.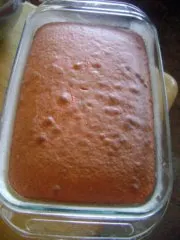 What happened next had me near having to resuscitate Grandma. After cooing over the beauty of a cake, the instructions said to destroy it. That's right…destroy. it. My number one destruct-or is Li'l Man so I called him in. Within seconds that beautiful cake looked like this: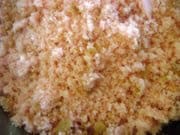 Grandma was speechless.
Li'l Man was lovin' life.
I was left on my own for the next step: adding icing to the cake crumbs.
As I scooped it in, Grandma's speech came back, and she wanted to know why we didn't just put the frosting on the cake–after all, it had been beautiful. The answer is, 'We're making cake pops."
We mixed it until it looked like this: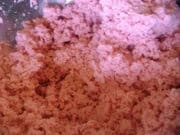 We were on a roll. Literally, the instructions told us to roll the "dough" into balls and place them in the refrigerator.
Grandma thought it was disgusting. I tend to agree with her often.
We measured out a Tablespoon of dough and then rolled it. Once it was "round," we put it on a cookie sheet lined with waxed paper and popped it into the refrigerator.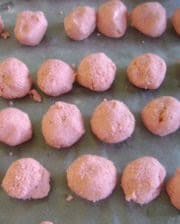 When they were firm, we removed them and I dipped them in melted chocolate and then Grandma dipped them in sprinkles. We put them back on the waxed paper and back to the refrigerator.
It took us hours!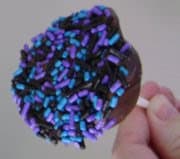 Grandma kept telling me how much work these were, and I kept telling her to "keep dipping."
Back in the refrigerator while we cleaned up.
Then, while relaxing with a cup of coffee, we ate one.
Grandma said she liked the ones in the book better than ours.
No kidding!
She was not fond of the texture.
I thought they were tasty.
The true test was Li'l Man, who thought they were beautiful and delicious and the perfect ending to his birthday celebration!
Crazy for Cake Pops is a great book with chapters on equipment, flavors, methods, design, techniques, and suppliers. There are some great recipes in a variety of flavors with complimenting frosting. I loved the photographs that show not only the finished cake pops but the instructions!
The book suggests which recipe to use for the cake pop design. There are some amazing cake pops in this book…Snowmen Pops, Skull Pops, Tropical Fish Pops, Ice Cream pops, and grandma's favorite Tea Party Cake Pops!
It's a great book for the baker in your life or to browse through!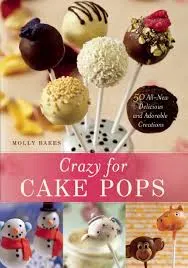 CRAZY FOR CAKE POPS: 50 ALL-NEW DELICIOUS AND ADORABLE CREATIONS
Paperback: 160 pages
Publisher: Ulysses Press (October 11, 2011)
Language: English
ISBN-10: 1612430449
ISBN-13: 978-1612430447
ABOUT CRAZY FOR CAKE POPS
A beautifully decorated cake can wow anyone. And there's nothing more entertaining than food on a stick. Combine the two and you've got the incredibly cute, one-bite, hand-held snacks everyone loves: cake pops!

Introducing Crazy For Cake Pops, a craft cookbook packed with 50 cake-on-a-stick designs and 70 stunning color photos. The wide range of exciting shapes and tasty flavors will have you eager to make and decorate these treats for any and every occasion. A few fun examples:

and more!

Teaching you how to create these scrumptious mini desserts with professional results, author Molly Bakes clearly explains the step-by-step process for cake pop success. "These recipes show that you don't have t be a brilliant baker or even an experienced cake decorator to make these adorable treats," she says. "All you need is a few simple ingredients, some lollipop sticks, and, of course, your imagination!"