During the summer months, many households are heavily reliant on air conditioning. When it comes to providing relief from extreme summertime heat, AC often seems like the most attractive option. While the speed and efficiency of most AC systems can't be denied, air conditioning isn't great for the environment or your personal finances. Although people tend to disparage alternative cooling solutions, many of them are able to get the job done just as effectively as AC. Homeowners interested in reducing their carbon footprint and preserving their finances throughout the summer should put the following pointers to good use
Keep the Sun Out
While it's often conducive to producing picturesque scenery, the brutal summertime sun can be a huge hindrance to your home cooling efforts. If you keep your curtains or blinds open during the daylight hours, don't be surprised to see indoor temps increase. Furthermore, while there's nothing wrong with a little bit of natural light, the summer sun can make your home uncomfortably bright. This can prove particularly inconvenient to people who require total darkness to relax and/or fall asleep.
You can minimize the amount of sunlight that enters your home by purchasing sun-blocking window dressings. Stick-on blackout screens can prove very helpful in this endeavor. Though they're not particularly resilient or pleasant to look at, these screens are affordable on any budget and can easily be applied to your windows. However, once they've been removed, they generally can't be reattached. Still, given how inexpensive they are, replacing them shouldn't require much of a financial sacrifice.
While a little pricier than the screens as mentioned above, Blackout curtains are highly affordable and longer-lasting than their stick-on counterparts. Additionally, the thick thermal materials make them ideal for sealing in cool air and keeping warm air outside. On the flip side, they can help seal in warm air during the winter months while keeping cool air at bay.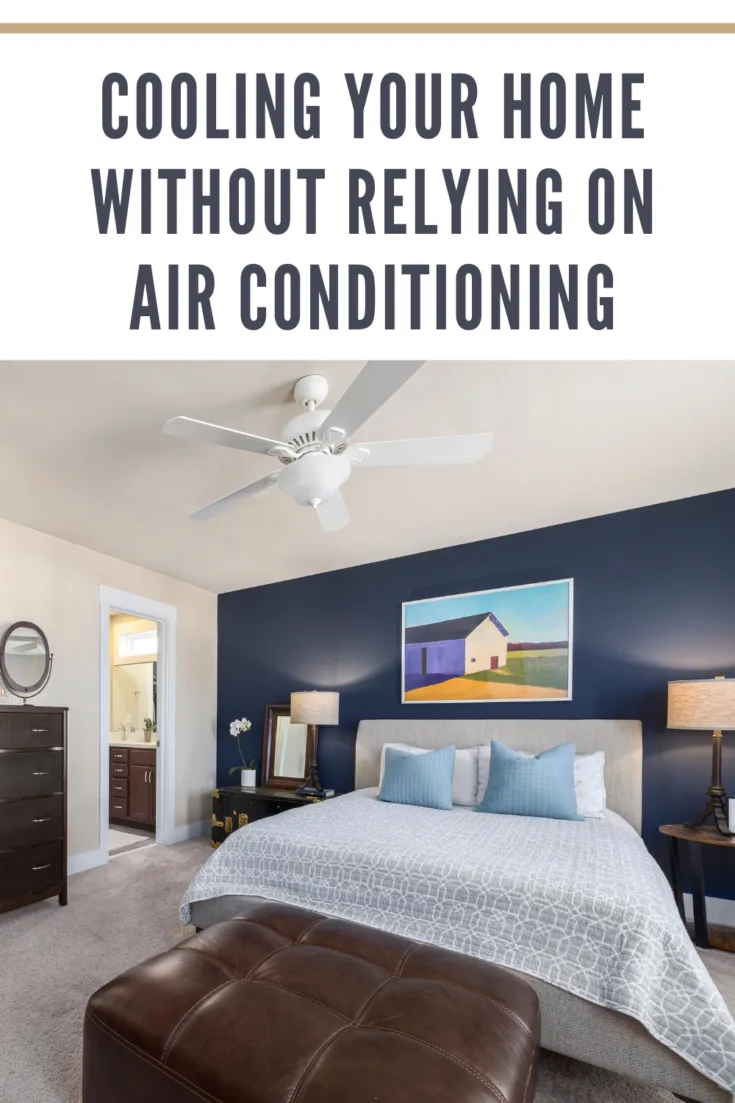 Install High-Quality Ceiling Fans
High-quality ceiling fans can play an integral part in your summertime cooling apparatus. Installing them in critical areas across your residence will help increase airflow and distribute cool air throughout the entire home. Additionally, if the temps in your area drop overnight, simply open some windows and allow your ceiling fans to circulate the naturally cool air after the sun goes down. You can also enable your fans to produce a downward-flowing cool breeze by setting their blades to rotate counterclockwise. Since ceiling fans are available in an extensive array of shapes and sizes, you should be able to find the right ones for your home in a simple and timely manner. For example, says Hunter Fan, if you live in a rural area or have an appreciation for rural décor, look into purchasing a farmhouse ceiling fan.
Alter Your Cooking Habits
Using your oven can increase the temperature of your kitchen and any areas in the immediate vicinity. This can be rather convenient when the weather's cold, but during the sweltering summer months, it's liable to make your kitchen uncomfortably warm. That being the case, you'd do well to alter your cooking habits throughout the summertime. For starters, if you absolutely must use your oven, take care to do so sparingly and after the sun has set. Secondly, make sure to use your kitchen's exhaust fan whenever you use the oven.
Instead of regarding limited oven use as an inconvenience, you should use it as an opportunity to try your hand at making refreshing summertime dishes that don't require an oven. You can also start experimenting with outdoor grill recipes and honing your skills as your household's resident grill master.
It's easy to see why air conditioning is the go-to cooling solution for countless households. After all, it's efficient, easy to use, and capable of providing near-instant cooling. However, while you may be tempted to crank your AC all summer long, doing so stands to increase your household's carbon footprint and result in exorbitant utility bills. While there are times when AC use is necessary, it shouldn't be the only item in your home cooling arsenal. So, if reducing your reliance on AC, doing right by the environment, and lowering your summertime utility costs strike you as appealing prospects, heed the measures discussed above.