77% of people prefer a homecooked meal over takeout. Yet, with our busy lifestyles, finding time to prep and cook food at home can be hard. (PRNewswire)
Simple and delicious dinner options make it easier for us to make our own meals. They can help us to be more successful at home cooking more often.
Chicken thighs are a healthier option for at-home cooking. They are full of protein and flavor and cook up quicker than other meats.
So, what's the best way to prepare this poultry favorite? Here are the 5 easiest ways how to cook chicken thighs at home.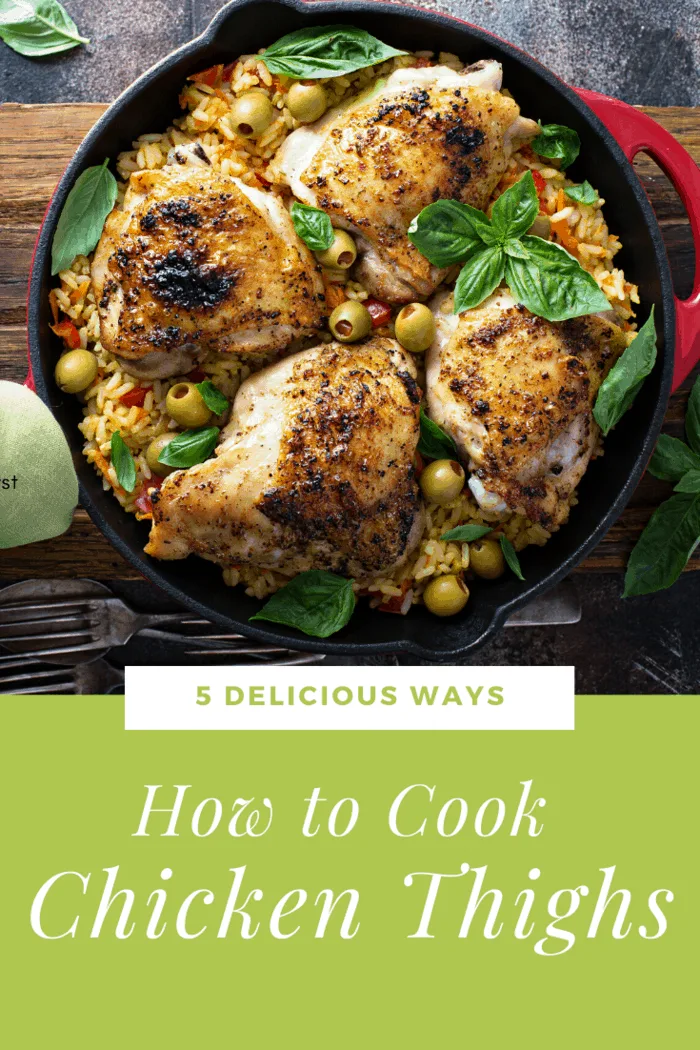 How to Cook Chicken Thighs: 5 Delicious Ways
Baking
Baking chicken thighs results in a moist and flavorful meal that is easy to prepare. Start by taking your chicken out of the fridge about 20 minutes before you plan to cook it.
Then use a paper towel to pat the skin of the chicken thighs. Less moisture allows for a crisper skin. It's best to do this for any cooking style you use for chicken.
Preheat your oven to 400 degrees, then season the thighs. You can use a dry rub for these with your favorite Italian seasonings.
You can also brush the thighs with a bit of olive oil. Then add crushed garlic, dried herbs, salt, and pepper. Garlic and parmesan are other great seasoning options.
Many people wonder how long it takes to bake chicken thighs. Set the thighs on a wire rack placed over a rimmed baking sheet. Then place them in the oven for 35 to 45 minutes.
Note that if using boneless and skinless chicken thighs, it will take less cooking time. This recipe is delicious and served with a fresh salad and roasted sweet potatoes. The potatoes can even be placed on the same pan to cook to save on clean-up.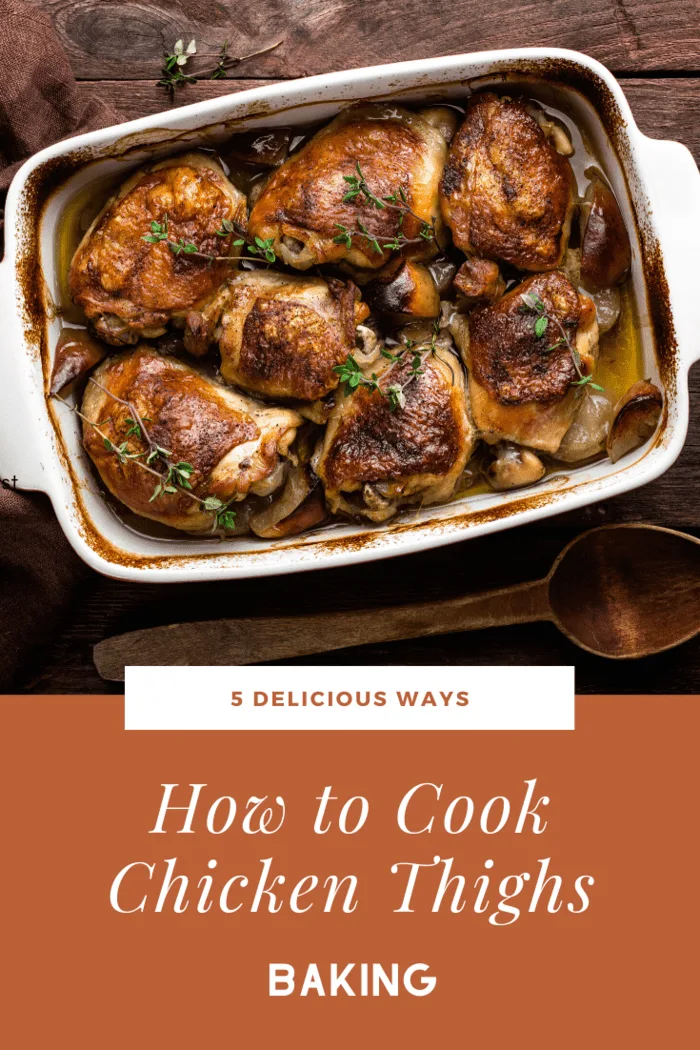 Grilling
Grilling is a quick and healthy option to cook chicken thighs. It uses less oil or butter compared to other cooking methods. Grilling also results in faster cooking times.
This is a great option for a family barbeque during the summertime. You can cook the chicken thighs outdoors and then dine al fresco.
It's best to marinate your chicken overnight if possible. Choose your favorite store-bought marinade or you can make your own. Use olive oil, vinegar, crushed garlic, and fresh herbs like thyme and rosemary.
Set the grill to medium-high heat, about 400 to 450 degrees. Then place the thighs directly on the grill and cook them for about 6 minutes per side.
When learning how to cook chicken thighs on the grill, a meat thermometer can be helpful. The internal chicken thigh temperature should reach 165 degrees.
Let the chicken rest for a few minutes after it's done to avoid losing the juices. Serve this dish with macaroni or potato salad and corn on the cob.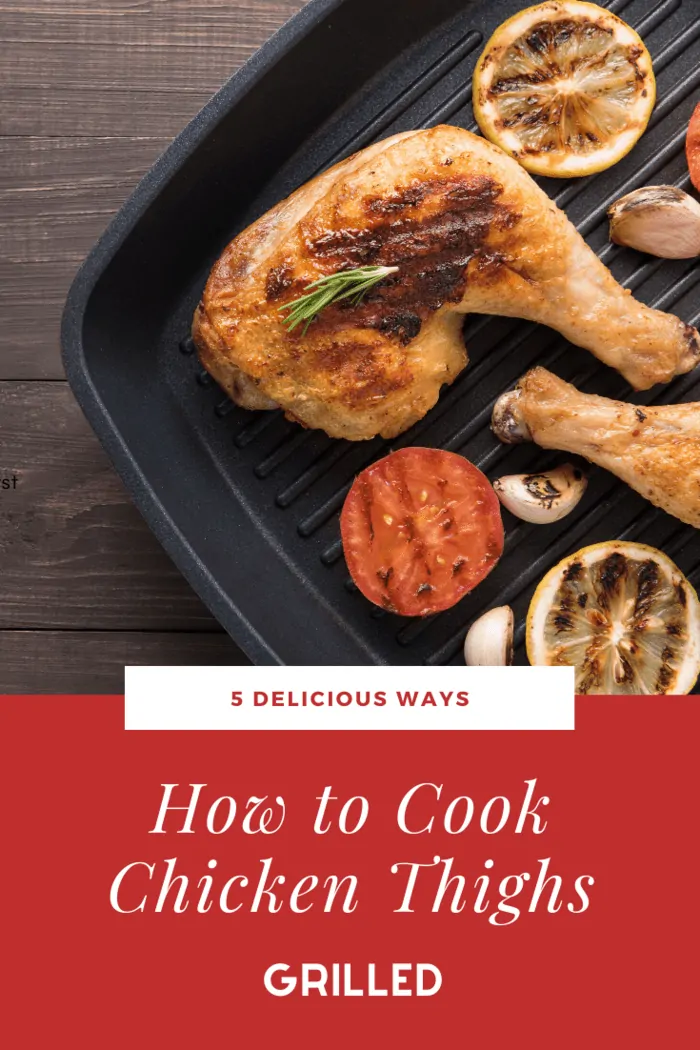 Pan Roasting
Chicken thighs also cook well with a searing or sauteeing cooking style. Start by seasoning the top of the chicken thighs with your favorite spices. Salt, pepper, paprika, garlic powder, and cayenne pepper create a good mix of flavor.
It's recommended to use a cast-iron pan for pan-roasting the thighs. These distribute the heat more evenly, resulting in consistent heat for faster cooking.
Cast iron offers a non-stick and well-seasoned surface. Non-stick also means you get to use less oil for cooking.
Warm up your pan on medium-high heat with a bit of oil. Then place the thighs into the pan with their skin-side facing down. Let the thighs cook for about 8 minutes without moving them.
A great tip is to bake chicken thighs in the oven after searing them. Set the oven to 400 degrees for crispier skin.
Then move the pan into the oven and cook them for about 10 more minutes. Flip the thighs so their skins face upward and cook for another 3 minutes.
Let your cooked chicken rest for a few minutes to keep the juices inside. This dish pairs well with oven-roasted broccoli or asparagus.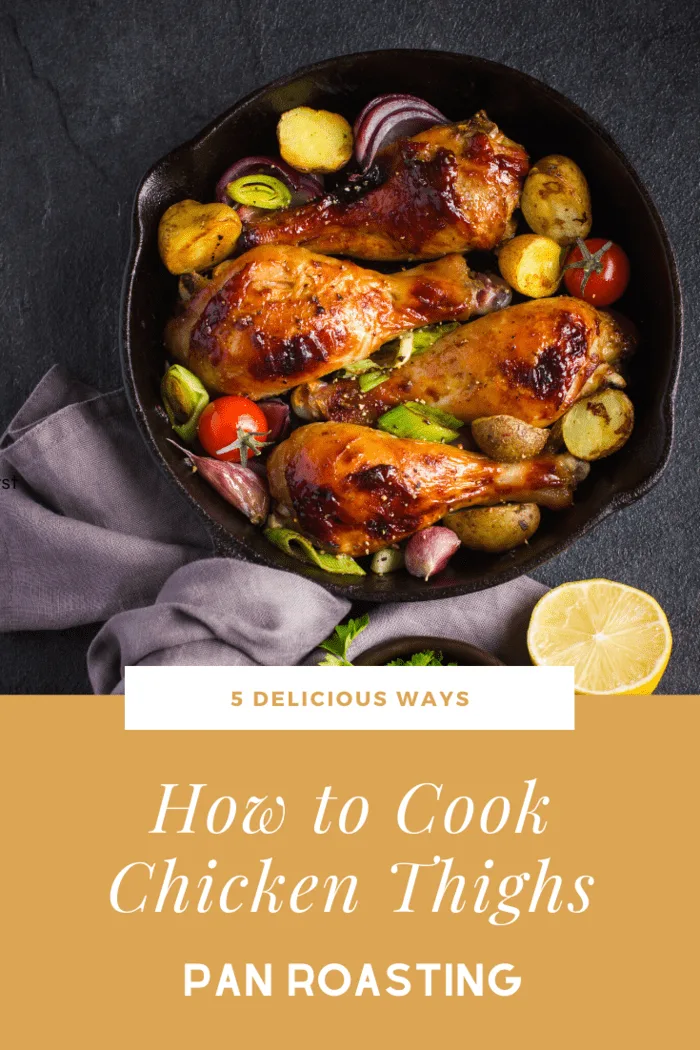 Frying
Cooking chicken thighs in a fryer gives you the crispiest and crunchiest skin. An air fryer is a healthier option than a traditional deep fryer. It uses much less oil yet takes a bit longer to cook. (USA Today)
Preheat your fryer to 400 degrees. Then rub the chicken with olive oil and season with your preferred spices. Then add the thighs to the fryer basket.
Cook for about 20 to 25 minutes for bone-in chicken thighs. Boneless thighs will take about 18 minutes.
Chicken is done when it reaches a nice brown color with a crisp texture. Use a meat thermometer to check on the temperature if you're unsure.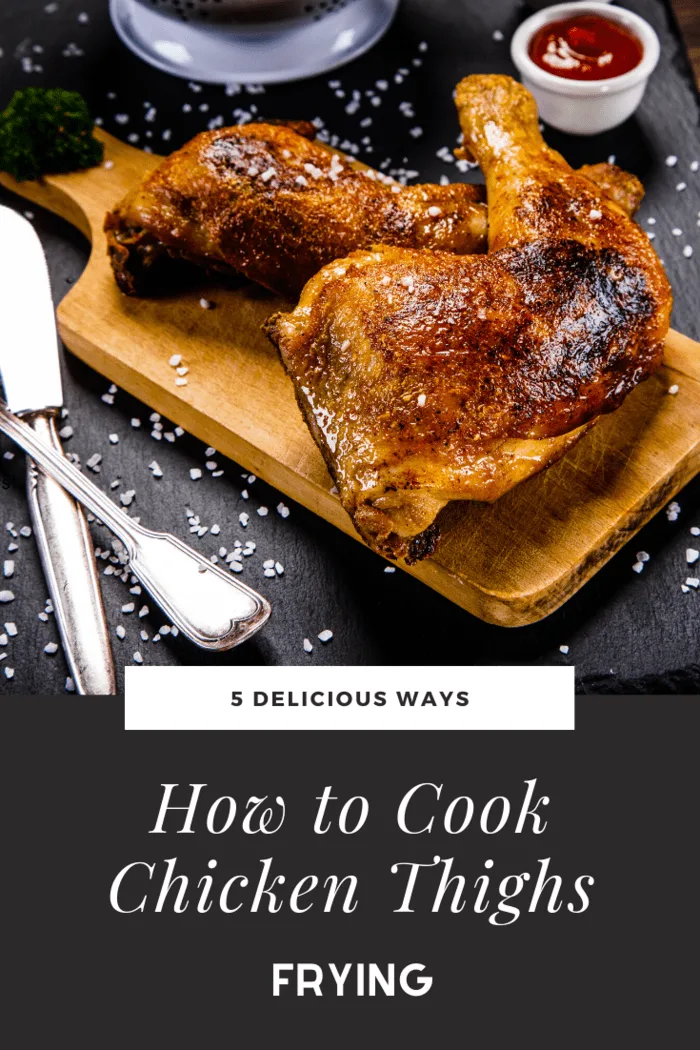 CrockPot
According to Market Watch, Using a slow cooker saves money, time, and energy. It also makes cooking a full meal for the entire family easier. When limited on time, use a crockpot to let the chicken thighs cook all day.
A good sauce is key for crockpot cooking. A blend of garlic, honey, ginger, and soy sauce offers a great flavor for the chicken thighs.
It helps to brown the chicken thighs first before placing them in the crockpot. This adds extra flavor yet isn't a necessary step.
How long to cook chicken thighs will depend on the setting you use. For moister chicken, let the thighs cook on a low setting for about 6 hours.
You can also throw some potatoes and vegetables into the pot for a full meal. Using an Instant Pot for this recipe can also offer you much faster cooking times.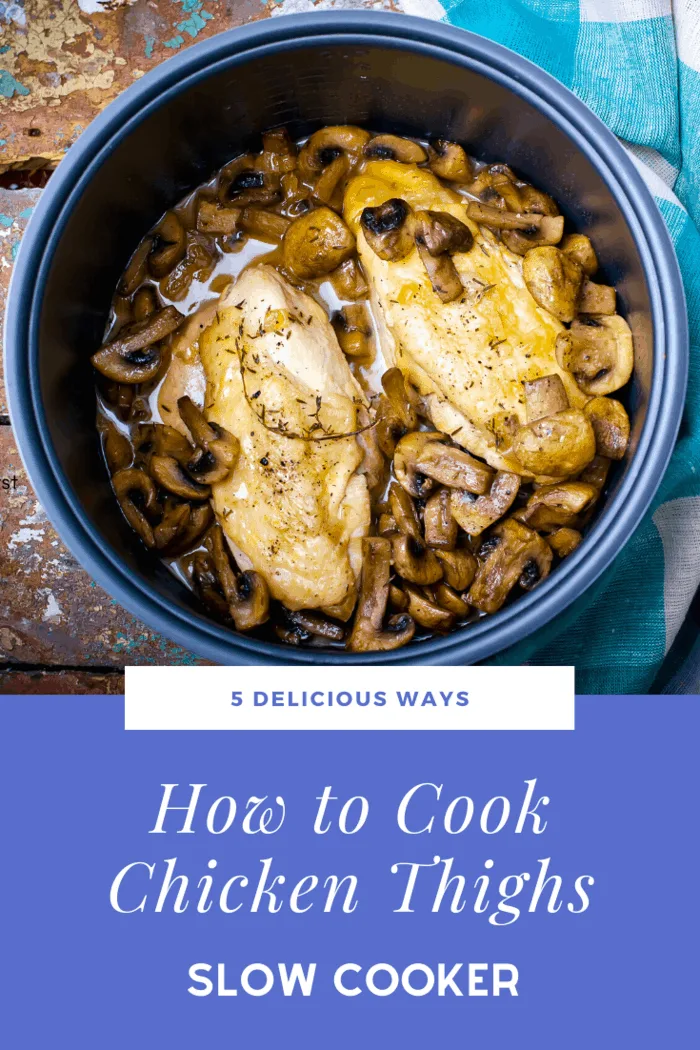 How to Cook Chicken Thighs for the Best Homemade Meal
These tips will teach you how to cook chicken thighs that are moist and flavorful. Chicken thighs make for a great meal idea as they are easy to prepare and full of healthy protein.
Looking for more great tips on baking and cooking that the whole family will love? Follow us on social for all the latest tips.