This Easy Chicken Cacciatore recipe is comfort food. Great flavor with minimal ingredients. I like it best with skin-on chicken because I feel the skin holds the fat and well, fat holds flavor. It's warm and rustic with such simplicity–as food should be.
Sometimes it's hard to balance the nutritional needs of my family, but this Chicken Cacciatore Recipe is as easy and good as it gets. In less than an hour, I can feed my family food that offers flavor, texture, and appeal without chemicals or preservatives.
With origins from Italy, Chicken Cacciatore typically is made with braised chicken.
This recipe uses tomatoes, however, in Italy the dish doesn't always include them.
It's one of my favorite things to cook because the aroma is amazing and seems to fill the kitchen with the warmth and comfort of a good homecooked meal.
This chicken cacciatore is similar to a soup, if you prefer a more hardy version, reduce heat to low, and simmer the chicken and sauce until the chicken thighs 35 to 50 minutes longer. You can also whisk cornstarch with water and 1 tablespoon of the sauce, and stir the mixture into the skillet until the sauce is your desired thickness.
You can serve it over pasta, such as spaghetti or egg noodles, but it's delicious by itself!
I don't have to mention anything about it being healthier, they love it just as it is.
Cacciatore means "hunter" in Italian. Legend has it that it was hunters who first ate the dish they made with rabbit or other wild game during the Renaissance period. That's the 14th and 16th centuries, in case you aren't a history date junkie!
Store leftovers in a well-covered dish in the refrigerator for up to 5 days. It also freezes nicely and keeps for up to two months.
This dish reheats nicely. Bring the leftovers to room temperature and then reheat it in a 325° oven, covered with aluminum foil, for about 20 minutes, until heated through, or you can reheat heat in the microwave.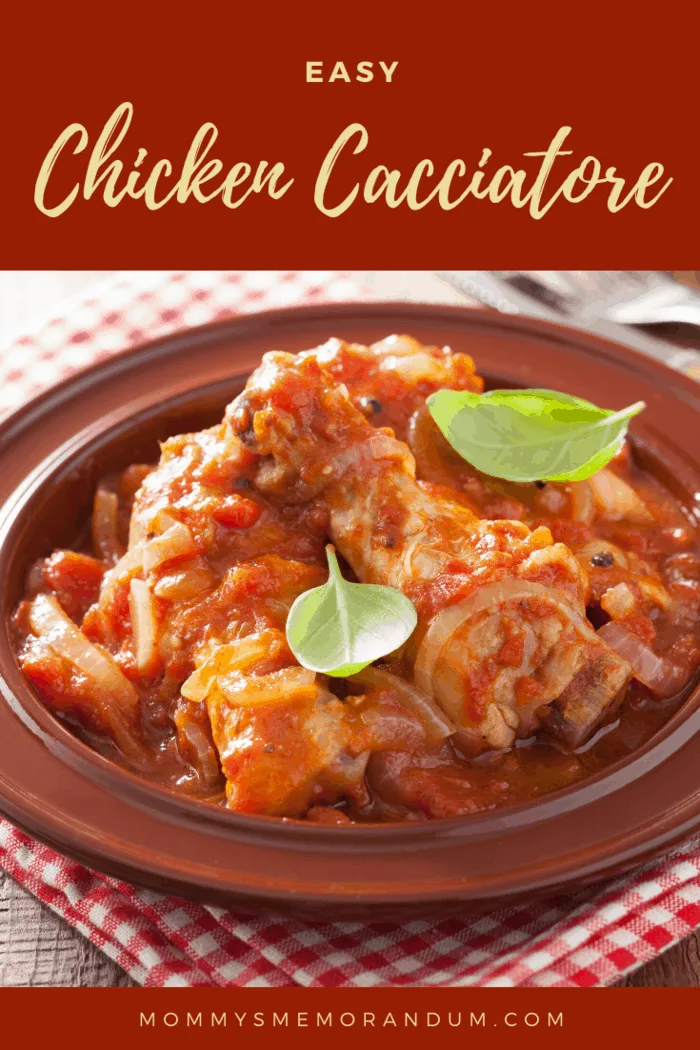 Easy Chicken Cacciatore Recipe
Serves 2
Prep Time: 15 minutes
Cook Time: 40 minutes
Total Time: 55 minutes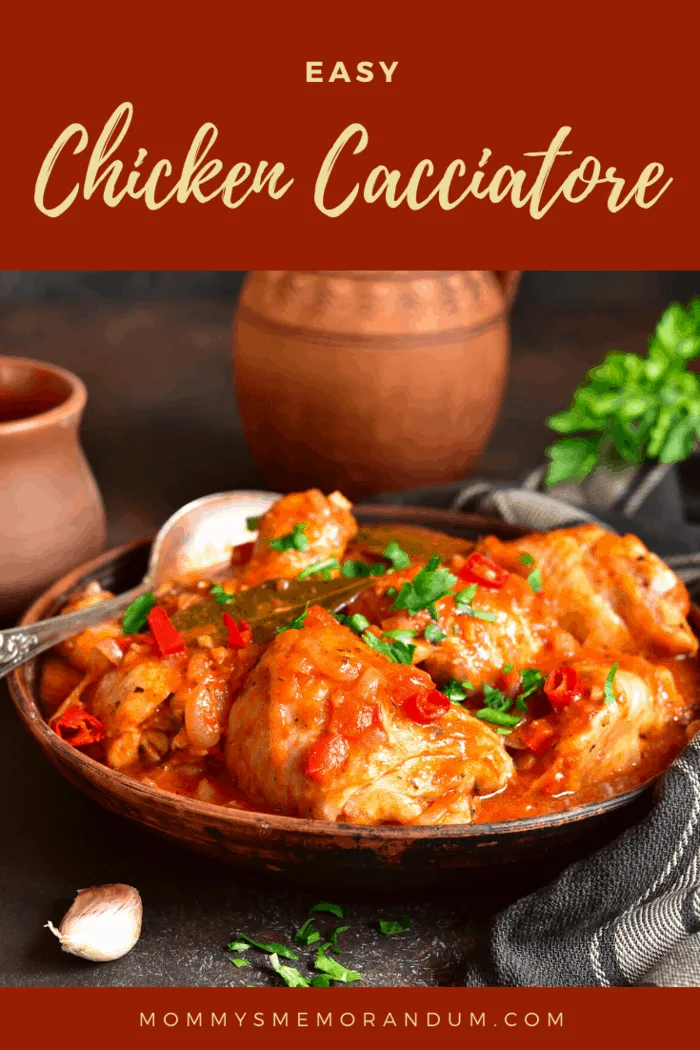 Easy Chicken Cacciatore Recipe Ingredients
4 tablespoons cooking fat
1 pound chicken legs (bone-in, skin-on)
½ pound boneless chicken thighs
½ teaspoon salt
½ teaspoon black pepper
½ onion, minced
½ red bell pepper, finely diced
1 cup mushrooms, sliced
2 cloves garlic, minced
1 tablespoon capers, drained
1 14.5-ounce can diced tomatoes
1 cup of chicken broth or water
1 tablespoon fresh basil leaves, rough chopped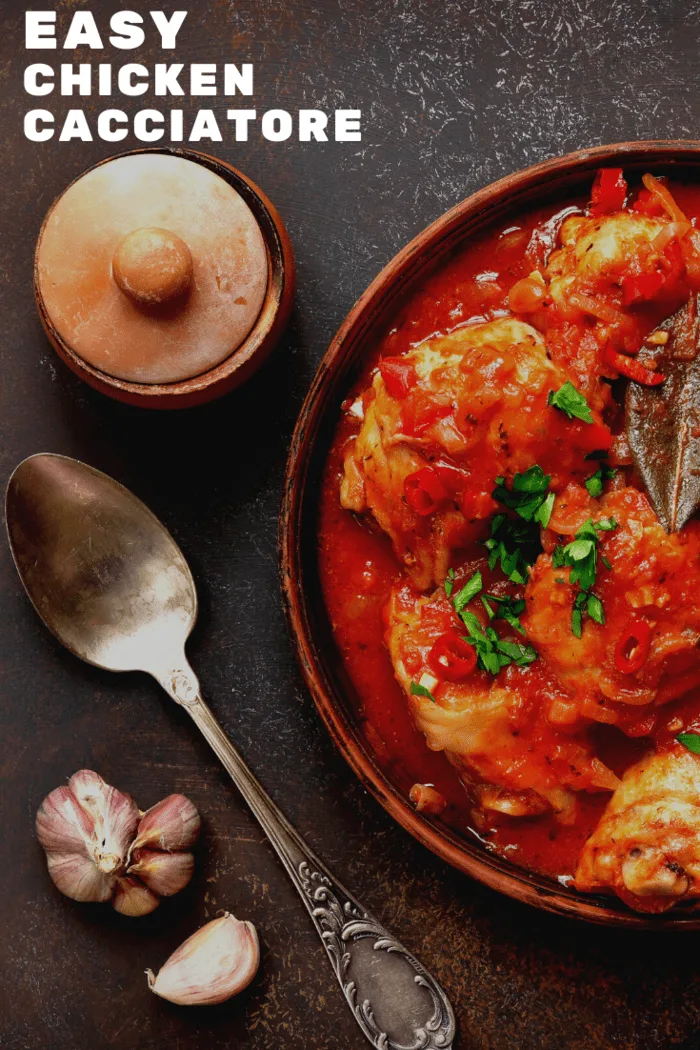 Easy Chicken Cacciatore Recipe Directions:
Prepare the Chicken: In a large skillet with high edges, heat 4 tablespoons of the shortening over medium-high heat, swirling to coat the bottom of the pan. Blot the chicken with a paper towel to dry off and season the chicken with the salt and pepper and place in the pan. Sear the chicken until golden brown, about 3 minutes on each side. Remove the chicken from the pan and set aside.
Prepare the Vegetables: With the same pan still on medium-high heat, add the remaining 4 tablespoons of cooking fat, onions, and peppers and sauté for 2 to 3 minutes, until the onion becomes translucent. Add the mushrooms and continue to cook, stirring for 2 minutes. Add the garlic and stir for 1 minute. Add the capers and the diced tomatoes.
Make the Cacciatore: Return the chicken to the pan and add the chicken broth or water. Reduce the heat to medium and bring everything to a simmer. Turn the heat down to low and continue to simmer (not boil) until the chicken reaches an internal temperature of 160°F, about 30 minutes. Garnish with the chopped basil and serve.
From The Whole30: The 30-Day Guide to Total Health and Food Freedom.