I've been cooking with olive oil for years. I like it's texture. I love the flavor and it's a healthy dietary fat, unlike saturated and trans-fats. I have wondered through artisans stores and marveled at the beautiful bottles of olive oil fragrant with herbs, vegetables and flowers. It's beauty to the eyes and savory taste to the palate.
These days there are shelves of olive oil. Knowing which one to buy can be difficult. Splurge on the expensive extra virgin oil and then wonder what you can do with it beyond salad dressing and sauteing is a rut we have all found ourselves wondering. I was sent a copy of
Cooking Techniques and Recipes with Olive Oil
to review. I love that this basic cookbook provides home cooks tips, techniques and recipes that create delicious meals.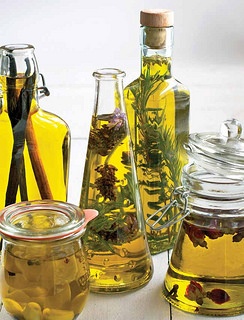 Authors Mary Platis and Laura Bashar created this book as a resource to provide easy, and yet detailed, techniques for braising, infusing, marinating, poaching and even baking with olive oil. It's all for home cooks, from purchasing, storage to delicious recipes.
My family uses Olive Oil. We love the dynamic and diverse flavor.
It's a staple in the Mediterranean diet and one of the secrets to their having one of the healthiest and delectable diets in the world.
The book is beautifully done with colored photographs and details like the various characteristics of olive oil, their flavors and how to use it.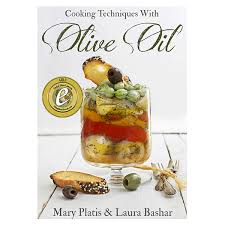 I love that this book is cataloged by chapters. It's like a culinary school with lessons in Olive Oil, Poaching, Braising, Marinating, Steaming and Baking. There's a chapter on Other Techniques where instruction is given on how to infuse and preserve oils with recipes f
or comfits, mayonnaise and mustards, dressings and more.
Recipes in the book include:
Rosemary-Garlic Lamb Chops with Mashed Potatoes and Artichokes
Tuna with Citrus and Avocado Salad
Figs with Muscato Grapes

Greek Style Vegetables with Tomatoes

Beef Stew with Root Vegetables

Chicken Kabobs with Cucumber-Mint Barley

Stuffed Grape Leaves with Brown Rice, Kale and Fresh Herbs

Whole Wheat Scones with Blueberries and Lavender

Olive Oil Almond Cookies with Rosewater and Cardamom

Kalamata Olive Bread with Rosemary

Olive Oil and Vanilla Ice Cream

Watermelon Shooters with Persia Mint Syrup an Olive Oil
The authors also provide conversion charts and references and encourage home cooks to buy locally produced oil from farmers markets in their area if available.
A Gold-medal winner of Dan Poynter's Global Ebook Award, COOKING TECHNIQUES AND RECIPES WITH OLIVE OIL is thego-to cookbook and reference guide that will change the way you think about olive oil. It's not just an ingredient, it's a way of life!
ABOUT THE AUTHORS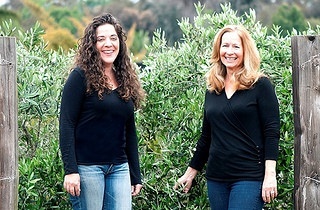 Mary Platis,
food writer and culinary teacher, discovered her passion for olive oil after visiting the Greek island Kythera. Mary's Greek heritage introduced her to healthy and seasonal cooking, and now she shares her own recipes with culinary students, readers of her popular blog,
California Greek Girl
and, of course, her family. Mary is currently the olive oil spokesperson for Bragg Live Foods©, and owner of The Greek Gourmet© catering for more than 25 years. Mary and her recipes have been featured in a number of publications – including Olive Oil Times, Greek – American Magazine, October Unprocessed, Melissa's Produce, and Meatless Mondays among others – and on Dr. John Westerdahl's Health and Longevity Talk Show on Life Talk, and Author's Corner with Neil Haley on Total Education. Mary sits on the board of the Les Dames d' Escoffier San Diego and is a member of the Publisher and Writers of San Diego. As an avid gardener, her inspiration for recipes and writing begins with a morning walk through her seasonal garden. She is the mother of three grown children and lives in San Diego, California with her husband and dog, Hershey.
Laura Bashar
is a former graphic designer and advertising account executive. Self-taught in HTML she started her very popular food blog,
Family Spice
in 2009 to share her love of family and Persian food. Laura regularly develops recipes for brands and companies, and her work has been featured on online sites such as: Huffington Post, Yahoo Shine, Katie Brown Workshop, Babble, The Kitchn, Olive Oil Times, Safest Choice Eggs, Newman's Own, allParenting, PBS Parents and BlogHer. Combining fresh ingredients, contrasting flavors, exotic spices and multiple cooking techniques from all over the world continues to be Laura's passion today. A stay-at-home mother of three, Laura lives with her husband and kids in
San Diego
, spoiling them all with wholesome, delicious food.