We live in the desert. It gets HOT here. I watch the temperature and when it pushes red over 100 degrees, the kiddos are coming inside. Pick any day of our summer and chances are you'll find my kiddos splish-splashing in the pool or running amuck through the backyard creating adventures with their imaginations. It's hard to get them to come inside and they have discovered a hose is a great way to stay hydrated.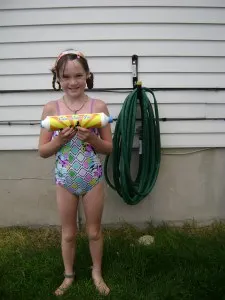 Inside we drink filtered water. I am not a fan of my children drinking chlorine and other chemicals in our water. Outside I can't control that. Until now. The Clean Water Fun: Garden Hose Filter is making our water outside as safe as the filtered water inside. It has a service life of up to 10,000 gallons.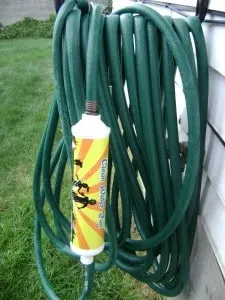 Installation is easy. Just attach it to the end of your garden hose. It screws on quickly, making it easy to take on and off. Usually, we leave it on so I know Li'l Man isn't drinking straight from the hose.
The kiddos think it is fascinating, which has them drinking more water when they are outside and asking less for sugar-laden beverages. I'm all about that! Li'l Man thinks drinking from a hose is something he invented!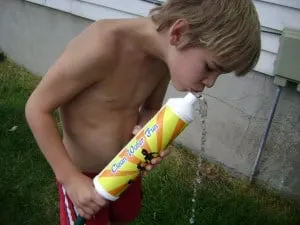 The kiddos helped me attached the Clean Water Fun: Garden Hose Filter to our house hose. When the water began running through it came out black. The kiddos were fascinated by this, which helped open a discussion about how the filter works.
It is an Activated Coconut shell GAC carbon. Carbon is an extremely porous material that attracts and holds a wide range of harmful contaminants. Activated carbon is carbon which has a slight electro-positive charge added to it, making it even more attractive to chemicals and impurities. As the water passes over the positively charged carbon surface, the negative ions of the contaminants are drawn to the surface of the carbon granules.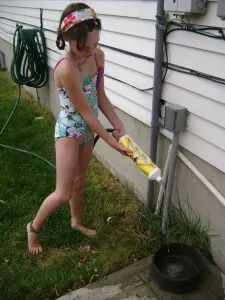 The kiddos are finding new ways to make everyday life easier and better for everyone. Our dog, Bailey Mae, loves to play outside with them. The kiddos job is to fill her bowl with water. They have filled a pitcher with filtered water and poured it into the bowl. This takes patience and time. Now, they get a drink and stretch the hose over to Bailey Mae's bowl and the bowl has never been dry since Clean Water Fun: Garden Hose Filter.
Eliminate the chemicals in your water outside and serve up a refreshing drink that, until now, generations have said, "No" to–go ahead. Drink out of your garden hose with Clean Water Fun: Garden Hose Filter.
About Clean Water Fun:
The Clean Water Fun garden hose filter has been specially designed to fit any standard garden hose thread. It has been third-party tested to remove Chlorine, VOCs, and Pesticides/Herbicides commonly found in home water supplies. The Clean Water Fun garden hose filter can be used for any of your outdoor water needs where cleaner water is desired such as children's outdoor water play, pet care, and organic gardening.
Visit Clean Water Fun to learn more about the garden hose filter and purchase your filter for $39.95.
Disclosure of Material Connection: I received one or more of the products or services mentioned above for free in the hope that I would mention it on my blog. Regardless, I only recommend products or services I use personally and believe will be good for my readers. I am disclosing this in accordance with the Federal Trade Commission's 16 CFR, Part 255: "Guides Concerning the Use of Endorsements and Testimonials in Advertising.".