Not long ago, we did a giveaway where the question was asked, what is your favorite handbag is. So many of you commented that you loved your Miche Bag. I had never heard of Miche Bags but after the rave comments, I had to find out about this brand.
I'm a woman. Therefore, I always tell my husband that shoes and handbags are just part of my genetic makeup. I love all shapes and colors, though I prefer larger
handbags
. The one thing I don't like is the changing handbags. Emptying one handbag to transfer to the new handbag. It makes changing handbags something I don't often do. Miche Bags is a genius! Allowing women to change their handbag from one stylish look to the next with a simple change of the exterior, leaving the inside in place. No fuss, no mess.
Miche Bag also offers an amazing selection of styles and colors, making your handbag an endless possibility for accessorizing. Plus! They release a new style each month. Change the exterior or the handle and make it your bag, no matter what your style is today!
The first part of shopping for any bag is the shape and style. The process works the same with Miche Bag.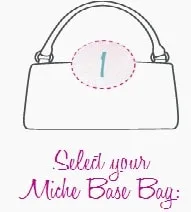 There's a choice of four sizes: Petite, Classic, Demi, and
Prima
.
I selected the
Prima base
. I loved the larger size 5″w x 15″l x12″ tall. It offers the room I need when I'm on the go.
The base includes 20.54″ long handles that are one inch wide and, once attached, create a 10′ handle drop.
The inside is spacious. There are a lot of options with two small interior open pockets, a medium open pocket, four
credit card
slots, a large zippered pocket and two pen holders!
Once you have your base, the fun really begins. It's time to select the shell!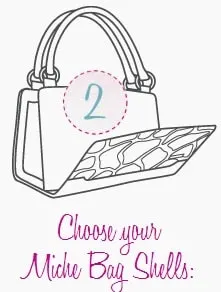 The Miche Bag site is easy to navigate and find what you're seeking. Simply click on the style of your base bag to find shells that fit your base.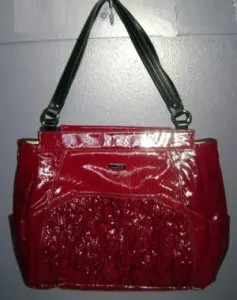 I received the Adrianna. I love the red color, and the uber-glossy finish makes it a fun bag! It has roomy side pockets and plenty of styles.
Not only is the color amazing, but the look is also awesome, with a smooth upper on the bag with a textured look and feels on the bottom of the bag.
In three simple steps
I'm ready to rock and roll in the Kendal!
The color on the Kendal is awesome. Unfortunately, I don't think a camera can capture it. It's silvery gold. It sort of reminds me of
watching the moon
dance on the lake at night. I love it! The Kendal features top pleating detail, deep side pockets, and an oversized zippered exterior pocket.
Besides getting compliments on how cute my purse is everywhere I go, my favorite feature of the Miche bag is the magnetic closure.
I love that my bag closes by itself and keeps shut across the top of the bag, so nothing falls out – and I never have to hassle with stubborn zippers. The Prima Base Bag also features two small interior open pockets, one medium open pocket, one large zippered pocket, four credit card slots, and two pen holders.
I've used both bags, and each one has received many compliments while we have been out. The sizing of the Prima bag is perfect for me. We went to the zoo this weekend and I took the Miche Bag. I couldn't believe how hands-free it made touring the zoo with the kiddos. It held three water bottles, pamphlets, a large juice, and all my regular stuff.
One of my favorite features of the Miche Bag is the magnetic closure. I get involved in what's happening around me and so many times have failed to close my handbag. The Miche Bag closes almost by itself and shuts all the way across the top. This keeps things inside, and I don't have to fuss with a zipper, button, or tie. I also use it when I'm out if I'm doing a quick turn-around, like the gas station, to hold my keys. I just place the ring on the magnetic strip, and when I open my purse, they're right there!
The variety of shells is awesome. I absolutely love the giraffe print. It makes me think of my mom. One of the great things in storage. When the shells are not in use, they lay flat, allowing for stacking and storage. Far less room than a rack full of handbags!
The options don't stop here. Add some more fab to your Miche Bag with accessories like changeable straps, charms, and coin purses. I love the charms, and the handle choices are fun and flirty!
Miche Bags are also affordable with base bags starting at $21.95 and Shells at $17.95.
Miche also offers work-from-home opportunities where you can earn money and offer your friends and community special Hostess Rewards and Exclusive Hostess Shells when they have a Miche party with their friends. Check out their website at www.michebag.com for more information on this great opportunity.
Miche also offers a Look Book for the latest in Miche trends. The pictures make me want them all!
Disclosure of Material Connection: I received one or more of the products or services mentioned above for free in the hope that I would mention it on my blog. Regardless, I only recommend products or services I use personally and believe will be good for my readers. I am disclosing this in accordance with the Federal Trade Commission's 16 CFR, Part 255: "Guides Concerning the Use of Endorsements and Testimonials in Advertising.".