The first – and most significant – move in finding your new best friend is finding a responsible breeder you can trust. Breeders are priceless resources: not only are they a connection between you and your ideal dog, but they are your connection to the dog's lineage and life-long health. Consider a breeder to be your guide to anything dog-related, from selecting the best dog to caring for it for the rest of your life.
Although there are many benefits to adopting an adult dog, purebred dogs allow puppy buyers to balance their family's needs with the dog's traits and temperament characteristics that will be ideally suited to their home. However, it's important to note that selecting the right breeder is just as important as choosing the right breed. A responsible breeder will assist you in acquiring the puppy of your dreams. On the other hand, an irresponsible breeder may have long-term consequences for you.
Each dog breed was developed to have specific characteristics and traits. Historically, dogs were bred for more than just pets – they would be bred as hunting dogs, cattle herders, and even guard dogs. As a result, over several generations and centuries of selective breeding, each breed's body structure, habits, and temperament have been shaped to create the breed's form. Although temperaments cannot be guaranteed, purebred dogs provide prospective owners with a clear understanding of what their puppy will grow up to look like, as well as their innate instincts, behaviors, intelligence level, and temperament.
As with any significant decision, it is critical to do your homework and research the breeder before selecting them.
This article will discuss a few pointers on finding and working with a reputable and responsible breeder.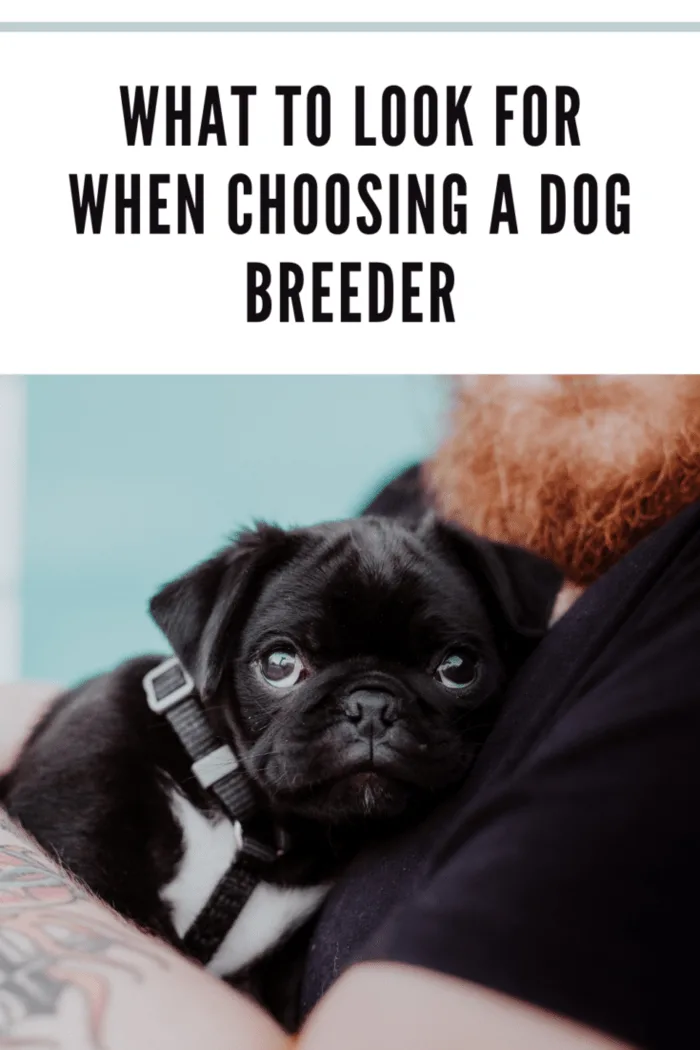 Are You Prepared to Adopt a Dog?
To begin, consider whether your budget, lifestyle and current commitments allow for a four-legged companion before beginning your quest for a breeder or attempting to purchase a dog.
The Importance of Good Breeders
There are numerous reasons why choosing a reputable breeder is critical. For starters, it's the quickest and most convenient way to get a safe purebred puppy. That isn't to say that buying a purebred from a breeder is the only way to get one – several purebred dogs are surrendered to shelters every day. If having a puppy is not as essential for you to as getting a dog, please consider rescuing a surrendered dog. When you have a particular set of standards in mind for a purebred dog, working with a breeder is always the quickest and most convenient choice. You may also promote responsible breeding and stop supporting the barbaric puppy mill industry by putting a value on good breeders. Don't feel guilty about giving your money to good breeders because they aren't the cause of unwanted dogs being euthanized in shelters around the country.
Get A Couple of References
Request at least two recent references from your breeder. Listen for details like the tone of voice and enthusiastic responses as you call these references. Feel free to ask questions about the dog's health and temperament, dealings with the breeder, and any veterinarian feedback about their dog. If you're fond of chihuahua, ilovemychi.com has an article on how to find a chihuahua breeder.
Spotting a puppy breeder
A responsible breeder would do the following:
Be willing to accommodate a visit with the puppies and their mother and siblings in the home where they were born and raised.
Accept more than one meeting to confirm that you and the puppy are a good match.
Be willing to answer all of your questions and ask you just as many to ensure that their puppies go to good homes.
Willing to use The Puppy Contract.
If they are breeding and selling pets as a corporation, they will be happy to show you their Local Authority license.
Willing to provide genuine documentation for puppy vaccines, microchipping (which is a mandatory requirement), deworming, and, if applicable, health test results should be given.
A responsible breeder would not do the following:
Pressure you to buy a puppy.
Attempt to deceive you by claiming that the mother is at the veterinarian's office, sleeping, or out for a stroll. If the mother isn't there, the puppy is not bred there.
Offer to bring a puppy to you or meet you at a random place, such as a parking lot.
Suppress any health information about the puppy and the lineage.
Use kennel club registration (or any other form of registration) as a promise of health and enjoyment for your dog.
Where Should You Begin Your Breeder Search?
A dog show is an excellent place to start if you are still deciding between multiple dog breeds or already settling on one. A dog show is a perfect place to find breeders for the majority of the breeds. This is your chance to meet a variety of dogs of each breed in a high-stress environment. You'll get a good idea of whether a breed is laid-back or high-strung, and you'll learn a lot about the breeders in the process.
You should go and have a trial to choose which types are the most prevalent if you choose to prepare your dog for a competitive event like herding, agility, disc, or flyball dog. You'll meet the dog trainers there, who will then recommend you to well-known breeders in that specific performance field.
Begin by volunteering at a shelter or a rescue organization
You'll not only find a fantastic puppy, but you'll also feel good about helping a homeless dog find a good home. The majority of dogs are evicted from their homes due to some issues regarding their previous owner, such as disagreements between their parents and their guardians, including financial constraints, and insufficient time, lifestyle adjustments (new pregnancy, divorce, relocation, or marriage), or allergies, rather than what the dog has done.
You should stop buying a puppy from a pet shop or a website. The bulk of such puppies come from puppy factories or mass breeding facilities. If you've wanted to purchase a dog from a breeder, you'll want to help one who cares about the welfare of their animals.
Do your homework
The first step is to look for breeders specializing in the breed you like. Depending on how common is the breed you are looking for, you may need to travel a significant distance to reach a breeder. Along with finding the breeders, make sure to read reviews and testimonials from people who have already worked with them. Other breed owners will often steer you in the right direction.
Make an appointment with the breeder.
Next, schedule a meeting with the breeder. Request a video conference meeting if meeting them in person isn't feasible due to distance or the current pandemic. Examine the premises if you can meet in person. Are they sanitary and odorless? Do the dogs seem to be relaxed and well-cared for? You should also test the breeder to see if they appear competent and enthusiastic about raising the breeds. Trust your instincts and gut feeling here. If anything feels fishy, move on to the next breeder.
Bring your questions with you.
Create a list of questions for the breeder to answer during your meeting, including everything related to treatment, food, or breed-specific advice. Don't worry if you have many questions or think they're dumb or obvious. Successful breeders want their dogs to go to loving homes, so don't be shy about asking them.
Inquire about the puppy's parents
Meeting your puppy's parents is one of the easiest ways to assess how they will grow up. While genetics may often confuse us, this should give you an idea of how their general disposition and physical features will turn out.
Eight Week Rule
Puppies should not be separated from their mother until they have reached the age of eight weeks.
Doing so means puppies separated from their littermates and their mother too quickly struggle to develop social skills such as bite inhibition, play activity, and bonding.
Any breeder who suggests taking puppies from their litter before they reach eight weeks of age is uninformed about puppy growth and should be avoided at all costs.
Keep in Touch
Reputable breeders will accept your calls right after picking up your puppy. They will gladly respond to any questions you may have. They will often check in with families to ensure that their puppies are well. Many responsible breeders also offer a promise of stock fitness and health. It gives you peace of mind, even though it's not something you want to think about when it comes to a living animal. The breeders are happy with their stock's fitness.
Use the puppy contract.
It's time to consider taking your puppy home if you're sure that the puppy you've selected is safe and happy and you're confident you've chosen a good breeder. There's one more thing you can do to make sure you're buying from a trustworthy breeder. Request a Puppy Information Pack and a contract to purchase a puppy from your preferred breeder. This is something that a good breeder should be happy to do.
Keep in mind If something doesn't seem to be right, it most definitely isn't. While it might be tempting to 'save' the puppy, you will be financially supporting the exchange, and another puppy will sadly take their place if you do so; instead, walk away and report your complaints to the authorities as soon as possible.