If you have a pet, they are most likely a cherished member of your family. When you take on some home renovations, you want to consider them as well.
Dog Grooming Station
If you have space and a little extra money, you may want to build a dog grooming station when you are doing your renovations.
Without one of these, you are most likely using your laundry or bathtub to bathe your pet.
This can be a real hassle, and it can make a big mess to clean up.
It is really easy to build in a dog grooming station, especially with good harnesses from Fetching Ware and other pet supply shops.
An ideal place for this is in the laundry room.
Here will be a good source for the water needed.
The grooming station looks like a miniature shower.
It should be able to accommodate a handheld hose.
Also, there should be a safe hookup to control the pet.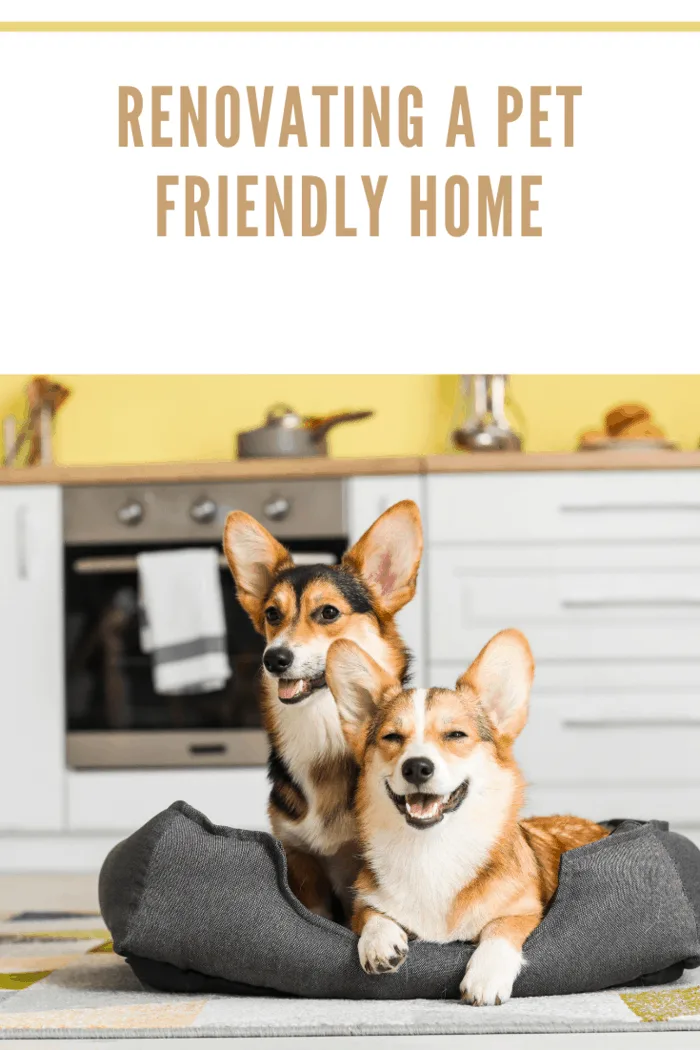 Pet-Friendly Kitchen Renovations
The common domestic animals like the cat and dog love to hang out in the kitchen.
This is usually where they are fed.
They also like to be around the family members, and the kitchen is the hub of the house.
For the pet renovation needs in this room, think about building a feeding station.
There are some significant advantages to this.
One is keeping the pet food contained in one area.
Some cats and dogs are a little messy when they eat or drink.
A pet feeding station prevents this mess from spreading throughout the entire kitchen.
For the renovation, you can choose one kitchen area that is out of the mainstream traffic.
You may want to use some non-slip flooring for this area as the animals tend to slide on the type of floors that are often found in kitchens.
Another option is to build a feeding station at one end of your island.
You can be innovative with this.
If there is a water supply to the island, you can hook up a water circulating pump to the feeding station.
Your pet will then have its private fountain and will never be without water.
The Mudroom is For Pets Too
Pets love to bring a lot of the outdoors inside as it accumulates on their paws.
This is another excellent reason when doing home renovations to include a mudroom.
One that the pets will find easy to access.
For pet use purposes, it is better to locate this at the back of the house.
Being as most pets are allowed to roam a fenced-in backyard freely.
Even if you take them for a walk, you can use the back entrance when returning home.
Make sure to have a door in the mudroom.
Just in case you need to keep your pet safely enclosed here while they dry off from a rainy day.
Sleeping Quarters
Your pet will probably love their privacy when they want to have a nap.
If you train them early, they will go to a designated sleeping spot.
Then you won't be sharing your bed with your beloved pet.
This is another home renovation that is quick and easy to do.
For cats, they tend to like to be up off the ground.
You can build a bed at the end of the cabinet for your feline friend.
Dogs aren't fussy and don't mind ground level.
Provided it is warm and cozy.
Find an appropriate spot and build up a recessed bed as dogs tend to love a den feeling.
Exercise For All
Pets need exercise just as people do.
It is not always convenient to be able to take them for walks.
If you are renovating a home exercise room, renovate an area for designated pet exercise.
You can buy tread walking units for animals.
For your renovation, just prepare an area where these can be installed.
---
Resources:
https://www.fetchingware.com.au/collections/harnesses
https://absoluteprojectmanagement.com/home-renovation-pets/