The Fourth of July weekend is heading our way and calendars are marking the date with cookouts and backyard parties. Make the party extra festive with a bottle of Great American Wine Company or SMIRNOFF No. 21 Limited 'American Summer' Edition and this Berries and Basil Punch.
SMIRNOFF No. 21 American Summer Edition
For a limited time, SMIRNOFF has released the SMIRNOFF No. 21 American Summer Edition bottle with a unique 'American Summer-themed' patriotic bottle wrap created by graphic designer Jay Fletcher to get everyone pumped for summer!
Created with SMIRNOFF No. 21 – award-winning vodka, triple distilled for exceptional smoothness and clarity – this limited-edition varietal will be your go-to as you mix up cocktails for your summer celebrations with family and friends; the festive bottle wrap can also be a great addition to your summer-themed décor! Still trying to find the perfect summer cocktail? Try SMIRNOFF's Summertime Party Time Punch recipe to kick off your 4th of July bash!
The Origin of SMIRNOFF
While vodka can trace its heritage back to 19th century Russia, SMIRNOFF revolutionized the cocktail in the U.S. beginning in 1941 with the creation of the Moscow Mule. SMIRNOFF later went on to popularize familiar cocktails such as the Bloody Mary, Screwdriver, and Vodka Martini – shaken, not stirred of course.
Mommy's Memorandum is not advocating the abuse of alcoholic beverages and hopes that if you try the recipe and other material provided on this site, you do so with moderation and caution. It is not the intent to promote misuse of alcohol, alcoholism, hazing, binge drinking or any other form of alcohol abuse.
Mommy's Memorandum cannot take any responsibility for these drinks' effect on people. Some drinks may be bad for your health, but they have been included more as a novelty. If you make them, please do so responsibly.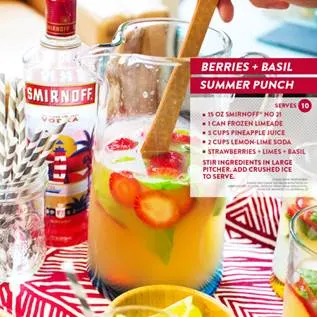 SMIRNOFF Berries & Basil Summer Punch
Serves 10
Berries & Basil Summer Punch Recipe Ingredients:
1.5 oz. SMIRNOFF No.21

Limited 'American Summer' Edition

1 Can Frozen Limeade

3 Cups Pineapple Juice

2 Cups Lemon-Lime Soda

Strawberries, Limes, Basil
Berries & Basil Summer Punch Recipe Directions:
Stir together ingredients in large pitcher.
Add crushed ice to serve.
Great American Wine Company
Settle in for some fireworks this holiday with a delicious glass of the great American Wine Company which recently launched a line of three varietals with a distinctly American look. Each variant makes the perfect accompaniment for celebrating America's independence with close friends, and the red, white and blue bottles provide the perfect patriotic touch! The Great American Wine Company is a proud supporter of the USO who will receive a $100,000 donation to support its efforts to provide thousands of programs for US troops and their families worldwide. The three varieties offered include: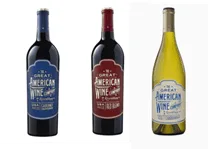 o Cabernet Sauvignon– This Cabernet has a bold, rugged character and dark fruit flavors.
o Red Blend– Zinfandel-based, this blend is balanced and fruit-forward, with luscious cherry and raspberry flavors.
o Chardonnay-The Chardonnay shows a stone fruit and citrus profile, with soft vanilla tones.
Recipe and photos provided by Smirnoff