I received 250 Best Meals in a Mug in order to facilitate an honest review.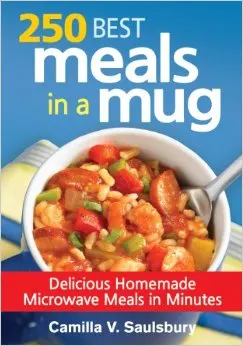 Delicious Homemade Microwave Meals in Minutes. It's what we all dream about, right? A hearty meal or snack in minutes…we want what we want now! The 250 Best Meals in a Mug puts your cravings for comfort food and desserts within reach!
The crazy for microwaving portion-size dishes in a mug is only gaining steam. Think of the convenience when dining alone or just waiting for time. Meals in a mug are a great option. It's the ideal solution for those living in a dorm, traveling in an RV, or eating at the office trying to make the deadline. It's convenient, budget-friendly, and a great way to make delicious, healthy meals.
Think individual-portion-sized recipes. Recipes that will take you through morning breakfast to late-afternoon snacks and top it off with a satisfying supper and mouth-watering dessert. It all happens with just a quick trip to the microwave, omitting hours of stove-top simmering or baking.
Written by Camilla V. Saulsbury she's done all the work of stripping away all the time-consuming steps and all the artificial ingredients found in boxed meals. Most of these recipes can be created from scratch in less time than it takes ot defrost a processed store-bought meal. For example, breakfast gets a boost in just two minutes with a delicious homemade muffin! We love the Cinnamon Sugar Muffin Recipe…so easy Miss M makes it for her and Li'l Man in about 5 minutes for two!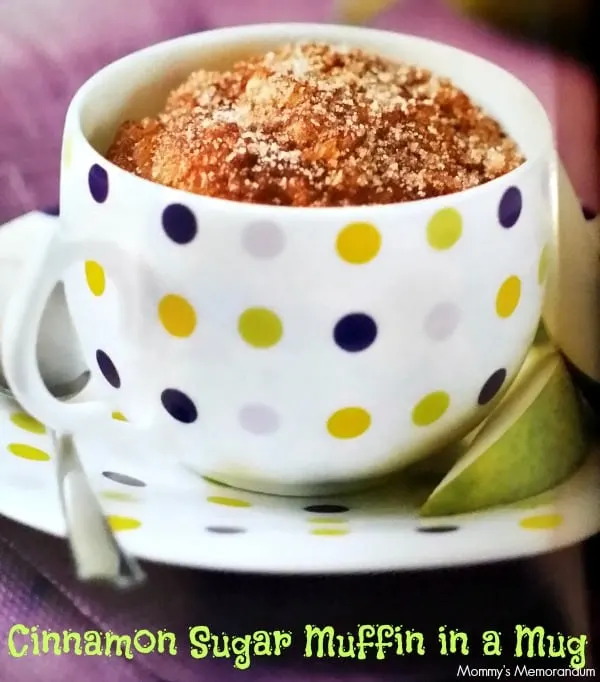 A sampling of the recipes:
Super-Fast and Easy Recipes
Mushroom Barley Soup, Broccoli Basil Soup, Apple Pancake Puff, Chocolate Peanut Butter Crunch Mix, Cheese Fondue
Breakfast
Banana Bread, Almond Flour Muffin, Green Onion Bread, Zucchini Bread, Apple Cinnamon Bread, Boston Brown Bread
Soups, Stews and Chilis
Loaded Baked Potato Soup, Quinoa Minestrone, Miso and Mushroom Soup, Poblano White Chili, Koshari, Red Clam Chowder
Meatless Main Dishes
Eggplant Parmesan Mug, Green Chile Quesadilla Mug, Chickpea Potato Masala, Curried Lentils with Yogurt and Tortilla, Korean Pajeon
Meat, Poultry and Seafood Main Dishes
Philly Cheesesteak Mug, Cauliflower and Ham Gratin, Shrimp with Roasted Peppers and Feta, Shepherd's Pie, Teriyaki Salmon
Dessert
Sugar Cookie, Chocolate Fudge Cake, Blueberry Dumpling, Bananas Foster, Lemon Pudding Cake, Butterscotch Blondie, Panna Cotta.
These tasty and healthy dishes move the focus off of the time- and labor-intensive oven and reintroduce the ease and simplicity of the microwave. They take everyday meals to the next level and the handy nutritional analysis that accompanies each recipe takes all the guesswork out of planning healthy meals.