One of my absolute favorite shows is Breaking Bad. One of my absolute favorite beverages is coffee. Therefore when Breaking Bad Season 3, Episode 6 aired, I immediately took a liking to Gale. He was in the "lab" waiting for Walt the first day. He greeted Walt with a cup of coffee. That's my kind of assistant. It turns out, Walt declares it the BEST cup of coffee in the world.
The Gale gives us the secret to his ingenious formula:
It's all about the quinic acid level. You want just north of 4800 milligrams per liter, but if you over boil to get there, you're going to leach your tannins, which produces bitterness. Yuck. So you pull a mild vacuum to keep the temperature at no higher than 92 degrees Celsius, using Sumatran beans with the proper grind, of course.
All righty. I should tell you that I wasn't a great chemist in High School. While this may be the best tasting coffee on the planet, I can only say, "Thanks, Gale. Love ya, but I'm stickin' with my coffee maker."
Until I discovered the Aeropress Coffee and Espresso Maker! Now, I'm sayin' move over, Gale, there's a new cup of coffee in the kitchen!
To be fair, I love coffee. Zac and I spend quality time together tasting the stuff. Charlotte the Great and I converse over the black elixir. I've spent a fortune on mochas that tasted ah-mazing, and guests are greeted with the sound of my drip coffee machine!
I've been so desperate for coffee that once I mistakenly bought whole coffee beans (we didn't own a grinder), so I put the beans in baggies and sent the kiddos out to the patio with hammers. Not one of my best days–nor my best cup of coffee!
It was that day that I got a grinder. Nothing elaborate, just a small grinder that allowed me to explore the world of coffee beans–flavors and textures that moved my cup of coffee up my list of favorites.
When the Aeropress arrived, Zac and I screamed like giddy school girls. We read the instructions, which were clear and easy to understand.
Then we looked at one another and said, "Let's do this!"
So we've determined that Gale's coffee maker makes some mighty outstanding coffee. It looks like this: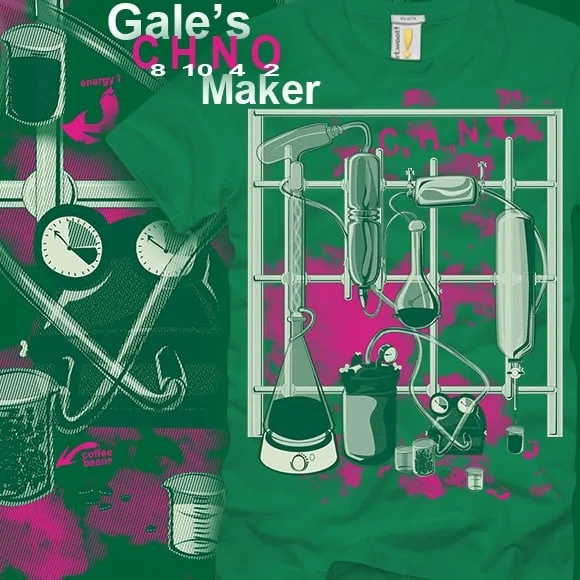 Not exactly the machine that works well in every setting.
Compare Gale's contraption to the Aeropress.
Gale's works using the Florence Siphon method, which, let's face it, is far over my head.
The Aeropress works like this: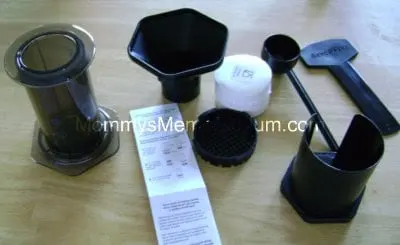 AeroPress Coffee Espresso Maker
To be honest, it took two cups for Zac and me to have the hang of the process. Now we can make the perfect cup of coffee in under a minute–another thirty seconds and clean up is complete.
Gale's process is lengthy and requires wizard skills. Aeropress requires water (ideally at 175 degrees), a cup, coffee, the Aeropress, and a filter. It makes one to four cups of coffee or espresso.
The initial process yields the smoothest, most delicious espresso I've ever tasted. I drink it straight.
If espresso isn't your thing, add some hot water for a cup of Americano Joe or hot milk for a luxurious latte.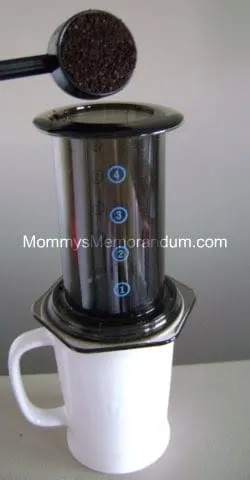 Add the coffee grounds to the AeroPress's cylinder, pour in the water, and stir with the stir stick for 10 seconds.
The total immersion extracts the coffee's flavor.
Then comes the fun part. Insert the press and slowly apply gentle pressure.
The AeroPress does all the work, yielding a delicious and perfect cup of coffee every time.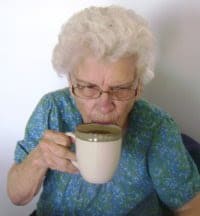 You can buy the AeroPress on Amazon for $25.95
or view other places it is available in the USA.
The AeroPress is made in the USA!
*I received an AeroPress Coffee Espresso Maker in order to facilitate an honest review. The opinions where expressed are my own and were in no way influenced by the sponsor. Other experiences may vary.