When I met my husband he was a Historical fiction reader. I had never really read historical fiction…even after his prodding me I had pre-determined that it wasn't for me. Boy, was I mistaken. I just finished reading Love On The Line by Deanne Gist. It's historical romance and I loved it!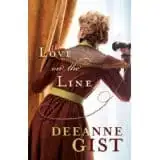 Perhaps it was the main character, Georgie Gail, a rural switchboard operator, that lured me. Growing up I heard stories about my Great-Great Aunt Mel who was a switchboard operator. Like Georgie, Aunt Mel was proud of her independence in a man's world. Throughout the book I pictured Aunt Mel and when Georgie became vexed over the telephone company sending a man to supervise her, I burst out laughing because that would have been Aunt Mel!
The Telephone Company's man, Luke Palmer, is more than what he appears. He's an undercover Texas Ranger working to infiltrate a notorious gang of train robbers, The Comers. The last thing he wants to do is repair telephones and tangle with this tempestuous woman. When he organizes a stakeout and puts Georgie in peril, Luke realizes there's more on the line than just his job.
I'm telling you, Gist must have met Aunt Mel because not only was she a switchboard operator, Butch Cassidy and his notorious gang of train robbers once stole Aunt Mel's dad, my great grand-father's, horse!
I mentioned Aunt Mel and Butch Cassidy, the reality is Deeanne Gist did research real people, including real Texas Rangers. She threads it with shards of her own experiences for a great story. The train robberies in Love On the Line really occured and Gist makes only a smidgen of changes so they flow with her storyline. I love this!
Gist is a great story teller. The book begins with the Comer Gang's shenanigans with the plot centered on Lucious Landrem (Luke Palmer), Georgoe Gail and their love/hate relationship.
There's some cliches in the writing…Luke is handsome, curls in his hair, blue eyes, broad shoulders, rugged.
The storyline is set in the early 1900s in Brenham, Texas. It's the old west come to life with gangs and the telephone and automobile coming into life. The details Gist incorporates into the book make it all come to life and weave together exquisitely.
I love that Gist takes the characters and gives them a past. The Comer Gang may appear rough on the exterior but sometimes looks can be misleading. While the lawmen are here to serve and protect, they are human and sometimes that shows as they confront danger. This glimpse of humanity on all fronts makes the story more real and keeps the flow moving rather than making it feel rushed, dragged out or trying to fill in the pieces.
Deeanne Gist–known to her family, friends, and fans as Dee–has rocketed up the bestseller lists and captured readers everywhere with her very original, very fun historical & contemporary romances. Add to this three RITA nominations, two consecutive Christy Awards, rave reviews, and a growing loyal fan base, and you've got one recipe for success.
"Love on the Line" is available at Amazon.
Follow the entire Litfuse Blog Tour.
While you're reading this great book get ready to party!
Enter to win an iPad2 & RSVP for Facebook Party on 11/8!
Deeanne is thrilled to introduce Georgie and Luke to the word in her latest novel, Love on the Line. To celebrate Deeanne's publisher, Bethany House, is hosting the Love on the Line iPad2 giveaway an Author
*I received a copy of Love on the Line in order to facilitate an honest review. The opinions, where expressed are my own and were in no way influenced by the sponsor. Others experiences may vary.