Short dresses are ever-favorite for being comfortable yet chic for any formal event. They can be accessorized accordingly to suit the theme of any occasion. Be it a wedding, prom, honeymoon, or formal dinner, a short formal dress always stands out for being incredibly stylish and elegant. They come in various trends and fabrics, and there's a short dress for every event. With Jovani short formal dresses, you get to show some bare legs and spend a discomfort-free time and be the center of attention at any party.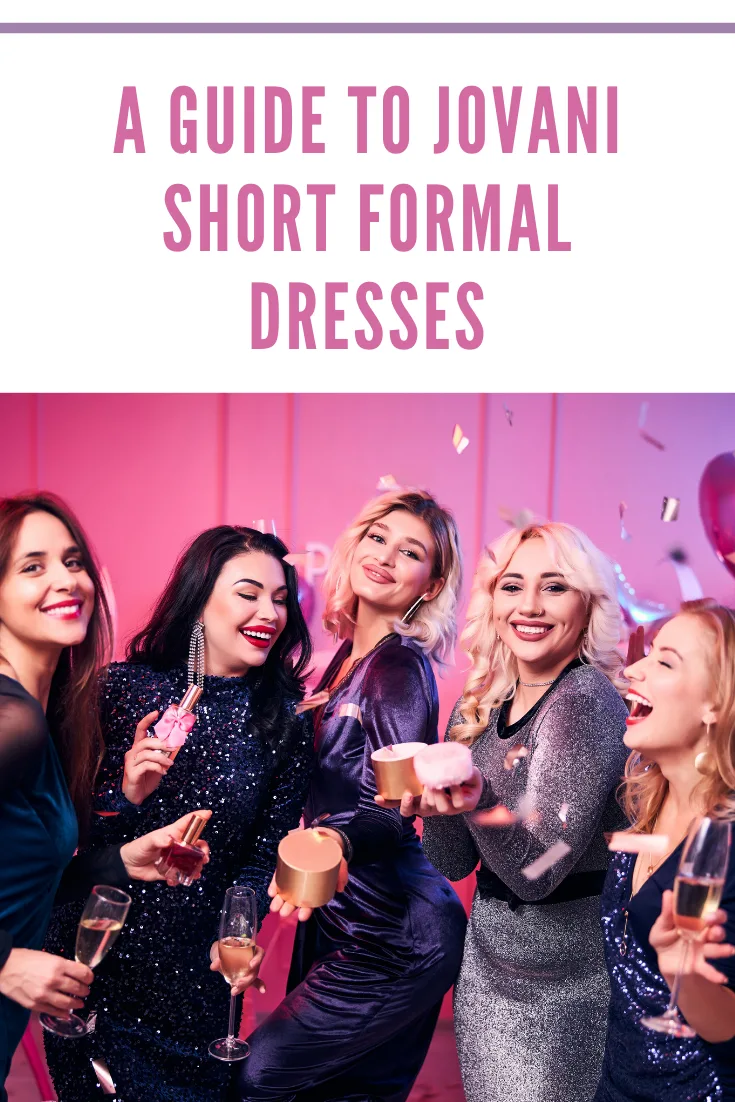 How to Choose Between a Long and a Short Formal Dress?
With the extensive range of dresses in the market, most people find it quite hard to choose between a long and a short formal dress. Naturally, it can become tedious and take a lot of your time. Well, luckily, we are here to sort out your worries.
Understandably, selecting a dress for an important formal event is a big decision, and you may want to consider all aspects. It would be best to start with understanding which dresses best suit your body type. Figuring this out is crucial because a dress that flatters your body type may not look as fantastic on someone else.
Most basic body types include hourglass shape, apple shape, pear shape, and athletic shape. Likely, your body type falls into one of these four categories. As per designers, there are specific dresses for each body type well suited to that particular figure.
Dresses that accentuate your curvy body are the best for the hourglass shape. Women with the hourglass body type have ample busts and hips that create a delicate curve, and their waists are well-defined. Appropriate dresses include mermaid dresses and mini bodycon dresses. Go for shorter dresses rather than longer ones, as they will look flattering on your body type.
Women with an apple shape body type have petite body figures with fuller busts yet narrow waists. They have slender bodies and appear suitable in tight dresses around the waist and have flowy bottoms. These include A-line dresses with a flared skirt or a Midi dress. Try not to go for dresses that are too fitting as these body types are not quite curvy; hence mermaid dresses (and oversized outfits alike) are a no-go. However, since such women have lean legs, mid-thigh short dresses also look beautiful on them.
A woman with pear shape body type has thick thighs and larger hips. These women look fascinating in dresses that fit around their defined curves, such as A-line long dresses and Maxis. They should avoid wearing short dresses as they make their hips and thighs look less flattering and straight dresses that fit around their waist. Embrace your body type and wear dresses that make your beautiful curves prominent.
Finally, athletic body types are typically characterized by a physically fit body with evenly sized hips and busts. Their bodies are generally lean and do not have many curves. You do not want to wear dresses that fit around your small hips and busts. Hence, wrap dresses and short halter dresses are better choices.
Once you have figured out your body type and gone through the fore-mentioned guidelines, you will have a much better idea of which dresses suit you better: long or short? Women with lean legs and defined waists look fabulous in short formal dresses.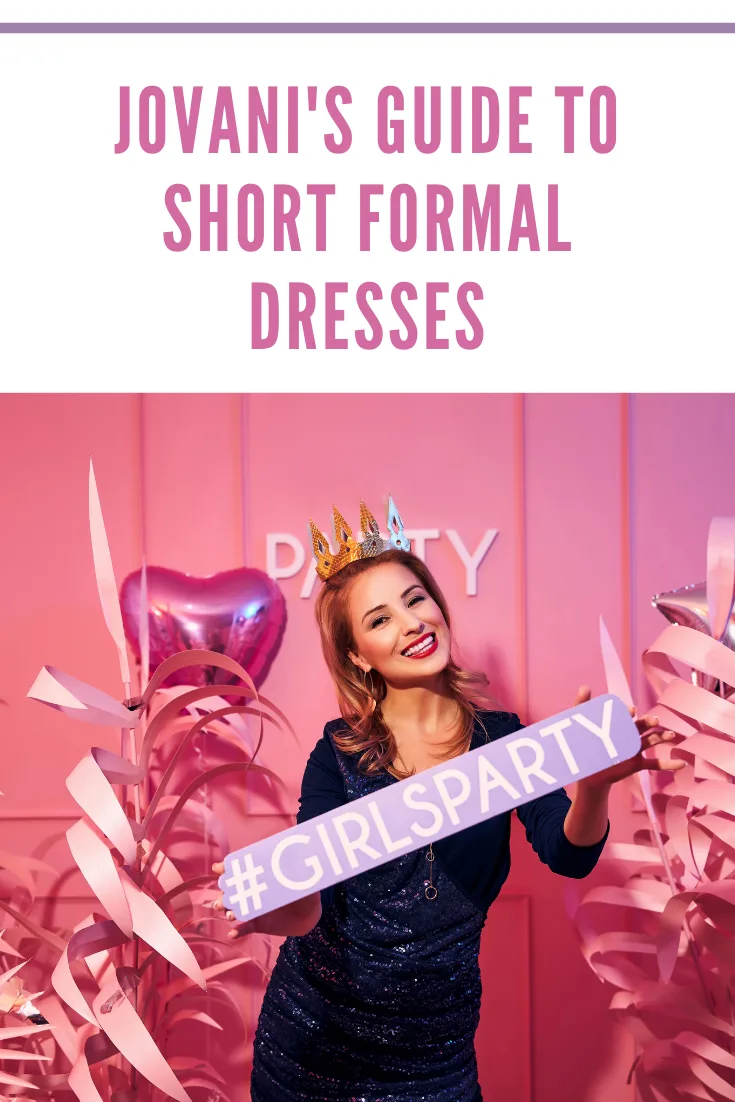 Short Formal Guest Dresses for Weddings
Short wedding guest dresses are always a perfect way to look elegant and regal. There is a diverse assortment of fabrics you can choose from for your dress. Designers suggest choosing pastel shades for daytime events, like sky-blue, powder pink, and pale yellow, as these colors look bright in the sunlight and pop out in photographs. Lay your hands on a cocktail dress that matches the wedding theme and flatters your body type. At night-time weddings at clubs or rest houses, lace dresses with flared chiffon skirts look beautiful. Dark-hued satin dresses look very prim and exude luxurious energy. Coordinate your attire with matching heels and fancy jewelry to complete a perfect look!
Short Formal Dresses for Honeymoon
A honeymoon is a thrilling time for any bride. You're lost in a whirlwind of emotions and peaking with happiness. You want the best outfits to boost that bridal glow. And what better than a short dress? Stock your wardrobes with these beauties: short dresses that suit every occasion, whether a lunch on a cruise, dinner at an elegant restaurant, or a party at a beach – you should have a sexy mini dress for all events.
Brides especially love showing off some skin in short strapless dresses with bodices made of sheer. It is a lovely time in your life to experiment with new designs and styles, and you should go over the top in choosing your honeymoon outfits.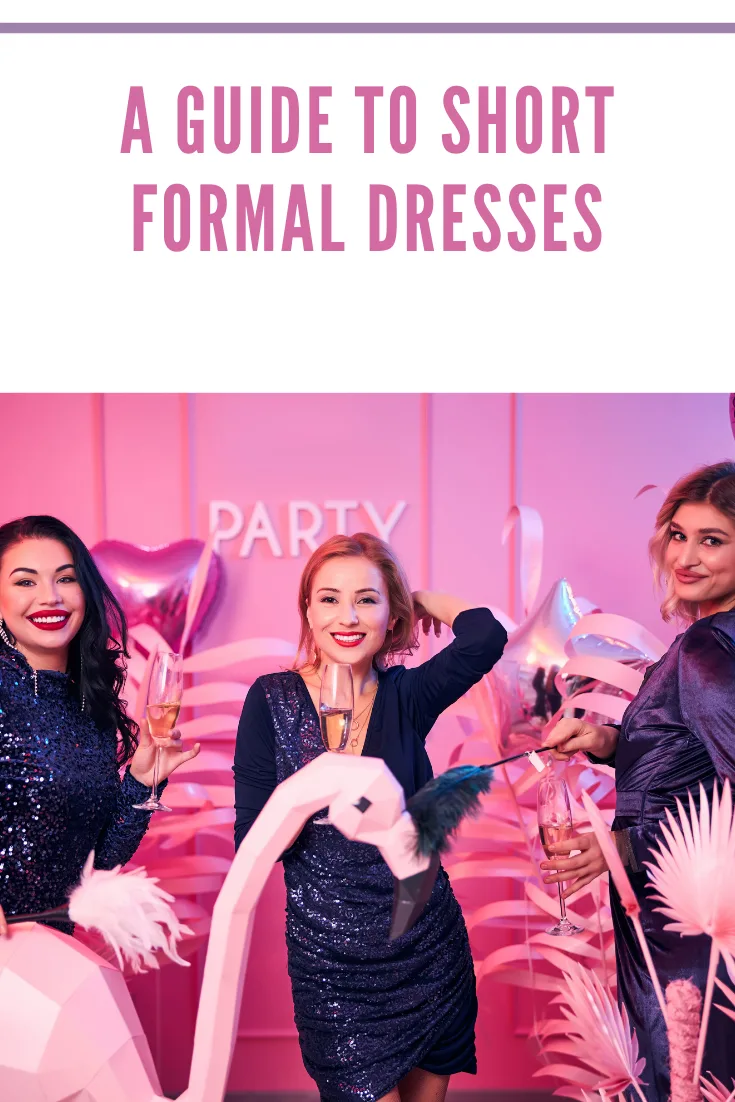 Short Cocktail Dresses for Formal Dinners
Cocktail Dresses, typically those that fall above the knee, are most cherished for being incredibly versatile. While they can be worn on numerous occasions, these dresses are perfect for formal dinners at luxurious hotels. They elevate your outlook while at the same time bringing out your flirty side. Cocktail dresses are popular amongst celebrities like Jennifer Aniston and Cameron Diaz, who have worn them on the red carpet and looked excessively breathtaking. So, what are you waiting for? Get a short cocktail dress today, and flaunt your fabulous fashion sense at an upcoming event!
Short Formal Dresses for Proms
Prom night is all about dancing and making moves on the dance floor. Short dresses make it easier to enjoy this magical night without the anxiety of tripping or looking out for a flared long skirt. It is so convenient to move around in a sexy mini dress. In a short strapless dress with a cinched skirt, you are sure to avert many eyes your way on prom night.
Conclusively, a short formal dress goes a long way. They are mainly loved for their versatility as they can be easily modified according to any event's theme. Next time, don't have second thoughts about buying yourself a chic short dress!