Diamonds are fabulous, but dresses are a girl's absolute best friend. They strike the perfect balance between comfort, style, and versatility to make you look flattering irrespective of your shape. Maybe this is why dresses have been sported on the silver screen since the origin of cinema. The Givenchy sheath dress Audrey Hepburn wore in the movie 'Breakfast at Tiffany's is one of the most iconic dresses to shape Hollywood's fashion trajectory (Vogue). Sheath dresses are even part of Modern-day lady-bosses like Michelle Obama's wardrobe. So? what body type can wear a sheath dress? Read on to learn more.
This perennial fashion workhorse has a form-fitting shape and is characterized by darts running through the bust region. The fitted skirt portion of this dress emphasizes the waist area. While it comes in a variety of styles, the knee-length short sleeve patterns are the most popular. You can wear this style at cocktail parties and date nights since it induces a nice balancing effect.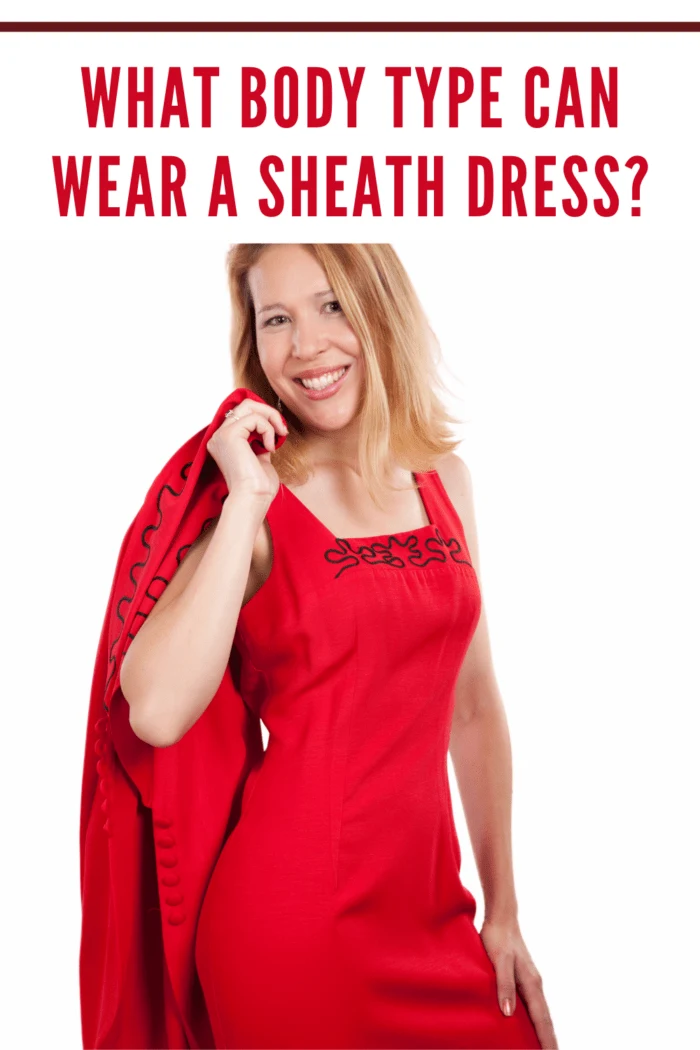 History of Sheath Dress
Sheath Dress could first be seen amongst the deities and elite ladies of the Egyptian civilization.
By the 1950's sheath, dresses became a rage amongst fashion-forward American women.
Christian Dior introduced its 'Vertical Line' during the 1950s, which accentuated the natural curves of a woman's body.
Coming to recent times, sheath dresses are mainly worn as cocktail wear.
What Is A Sheath Dress Style?
The sheath dress is characterized by a fitted silhouette and hemline, ending anywhere between mid-thigh and mid-calf.
While the neckline style might vary from one dress to another, the fitted waistline remains the USP of the sheath dress style.
What Body Type Can Wear a Sheath Dress?
Suitability for Body Types
Sheath dresses look best on women with an hourglass body type, drawing attention toward their slim waist.
It also looks appealing to athletic ladies, creating the illusion of ladylike curves.
This silhouette comes in a variety of fabrics and colors so that you can transition seamlessly from formal venues to party gatherings.
Styling Tips to wear Sheath Dress
• Sheath dresses can be styled with every form of outwear. A light-shaded cardigan or swing jacket can serve you well for nailing a business casual or smart daytime look. When paired with ankle boots, leather jackets can add an extra edge to your look for a night out with friends.
• Fashionistas can emphasize their waist region by adding a colored belt, ribbon, or sash. This creates an extra cinching effect and shows your proportions as a clean line is created at your midsection.
• Sheath dresses can be layered with a long-sleeved shirt or turtleneck worn underneath during wintertime. This form of creative layering can shake up your entire look drastically. You can try wearing a crisp white button-up shirt for formal events while dressing up your sheath dress.
• Nailing a figure-flattering silhouette becomes easy by wearing a sheath dress that has a side zipper, as it creates the illusion of a smoother shape by accentuating your waistline.
• It's not easy to have washboard abs. But you can still look perfect by opting for a sheath dress with pleats around the waistline to conjure the delusion of a smoother tummy.
Ideally, you should stay away from light fabrics as they will contour to your body to highlight the problem zones.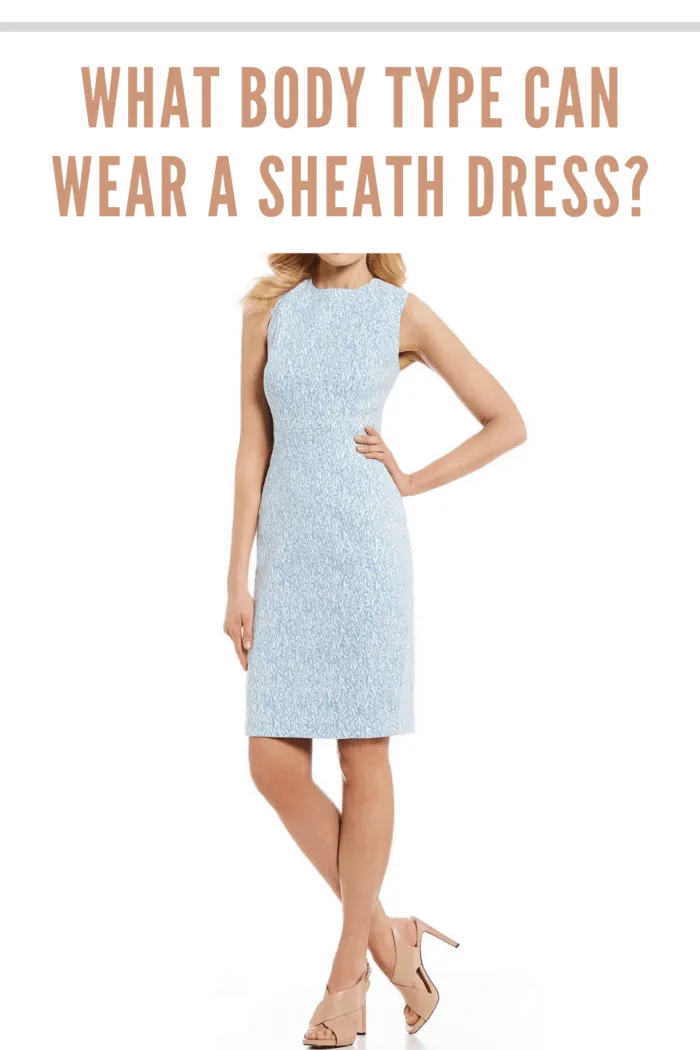 Can Pear Shape Women Wear Sheath Dress?
While the sheath dress flatters all body types, the pear-shaped girls look best in other options.
In most cases, they face fitting troubles as it might be too snug on the bottom if it fits beautifully on the top.
Similarly, it might be too roomy on the top of the bottom and fits snugly.
But if you are a pear-shaped lady who wishes to grace a sheath dress, then opt for a style that fits around the thigh and hip region.
Next, you can alter the top section to get a seamless fit around the bust and shoulder line.
Are Sheath Dresses Appropriate For Work?
Sheath dresses exude a sophisticated aura that has led to their acceptance in the world of executive fashion.
You can nail a polished look with a Calvin Klein sheath dress which can make you stand out in formal and official outings.
Classic looks can be created by pairing up a black sheath dress with high-heeled pumps and stockings.
While the sheath dresses come in various prints, you can nail the office-approved look with solid monotones or small prints.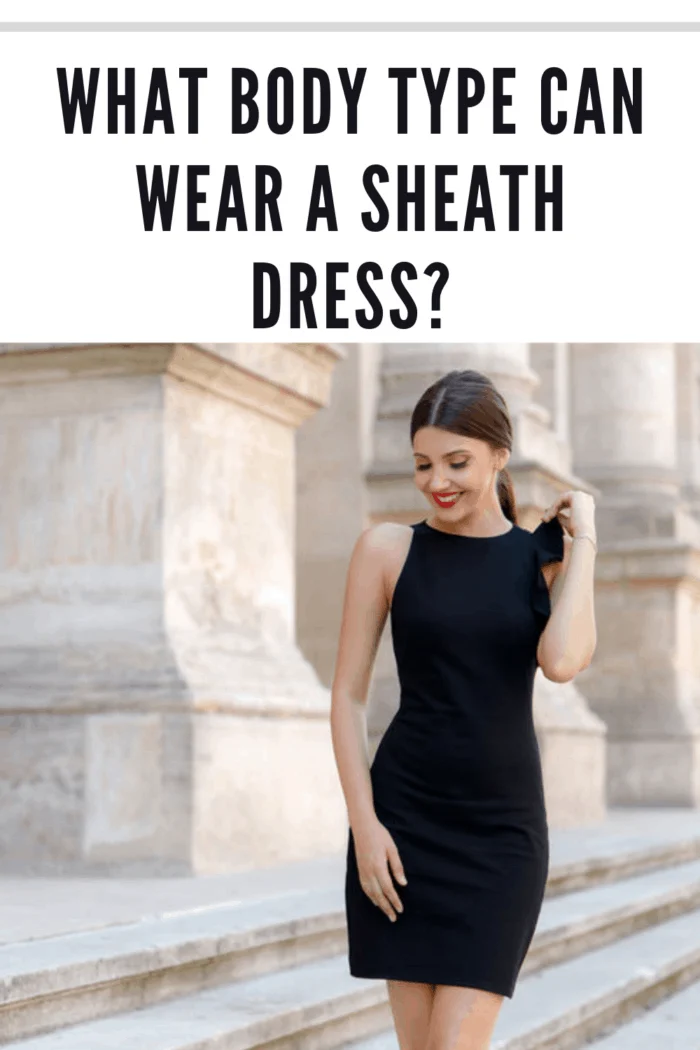 How Do You Wear A Sheath Dress?
Team up your sheath dress with a kimono, ankle-wrapping sandals, and layered necklaces for a boho look.
A sporty look can be nailed by layering your regular sheath dress with a button-down blouse, classic white sneakers, and a plain baseball hat.
You can look classic by teaming up your sheath dress with a simple long cardigan and boat shoes.
Add a touch of denim to your look by sliding on a denim jacket, golden hoop earrings, and simple sandals with your sheath dress.
Can You Wear A Sheath Dress To A Wedding?
Pippa Middleton became the talk of the town as she walked down the aisle as the maid of honor of sister Kate Middleton in a magical sheath dress.
You can also leave the fashion police gaping in awe by sporting a sheath dress to your next wedding.
However, you can choose your desired dress length for covering your legs.
Nevertheless, it will be form-fitting till your torso and taper down towards the bottom.
Sheath dresses often feature an alluring trail to make you look stately and elegant.
Is Sheath Dress Business Casual?
The high versatility quotient of sheath dresses helps pair them with almost all types of outwear.
You need to team up your sheath dress with a light-colored cashmere cardigan or a jacket for a business casual look.
How Do You Accessorize A Sheath Dress?
Scarves and pearls look alluring on being worn with a sheath dress. However, for an evening look, you can go for chunky bracelets and necklaces.
Soft cardigans, snug jackets, and coats matching the hemlines of your dress can be worn during the winter months.
Both hats and high-heeled pumps are two fail-safe accessories that can be worn with a sheath dress.
What Can I Wear With A Sleeveless Sheath Dress?
A straight sheath can be layered right with a kimono jacket having shorter sleeves for imparting more structure to your entire look.
A short denim jacket might work wonders with all types of sleeveless sheath dresses. Oversized jackets might help you nail a more fashionable fit. You can scrunch the sleeves by keeping the coat open for more structure.
Short-fitted blazers might serve you well while dressing up for a business formal event.
Waterfall drapes of short and fluid cardigans look gorgeous when worn over both straight and flared dresses. However, for the best effect, you need to opt for a gauze fabric to leave them open and to flow
Lastly, a trench coat can look glamorous when worn over a sheath dress having the same hem length.
How Do You Wear A Black Sheath Dress?
Styling a black sheath dress is extremely easy as you can rarely go wrong with it.
Let us take a look at some ways to style a black sheath dress:
Create a minimal yet elegant look by pairing your black V-neck sheath dress with black heels, which can instantly prepare you for formal occasions.
A black sequin sheath dress can make you look classy at a cocktail party. You can style it with a black purse and ballet heels.
You can radiate a casual flair by styling a black and white striped sheath dress with a denim jacket and white loafers.
Power dress to work with a black sheath number and accessorize the look with an ivory bag and nude open-toe heels. You can add more power to the look with a wide gold belt.
Add a feminine touch to your all-black outfit by opting for a super-cute tie-waist design. Complete your chic style with a black purse and ankle strap heels.
How Do You Wear a Sheath Dress in the Winter?
The classic sheath style can be worn throughout the year.
You can wear it with boots and tights with a cardigan over or a button-up shirt under the dress during the winter months.
A light jacket and ankle boots can serve you well in spring or fall.
How Tight Should A Sheath Dress Be?
Sheath dresses should ideally ensure a snug fit without being too tight.
You don't need any special occasion to wear a sheath dress.
They are both easy to wear and also rank high in terms of style quotient.
You are bound to radiate a stylish and effortless vibe by wearing the sheath dress style, a must-have for all fashion-forward ladies globally.