The word Chiffon is related to a fabric type. Its original form is silk or nylon that gets twisted in alternate directions when woven to create that crumpled effect.
How many different types of Chiffon dresses are there?
A Chiffon dress is perfect for a formal or semi-formal occasion.
Selecting your Chiffon dress depends on the season and the occasion.
You can shop online for your favorite Chiffon dress.
There are generally only three types of Chiffon material.
However, there can be an unlimited amount of different types of Chiffon dresses.
This depends on fabric, skirt lengths, skirt types, dress styles, waistlines, and necklines.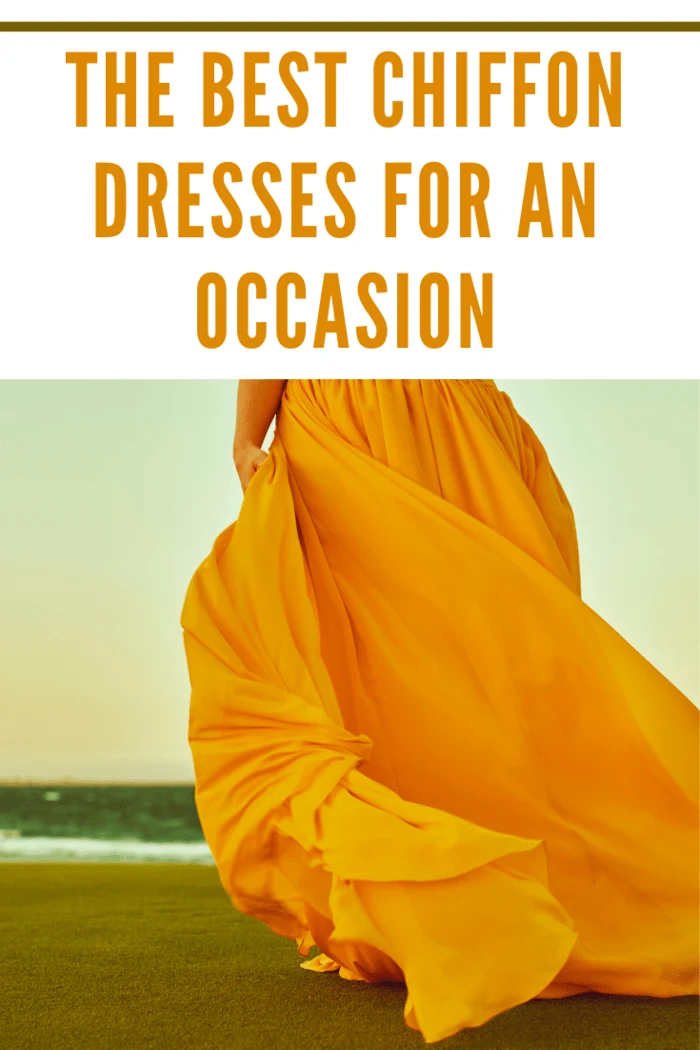 Types of Fabrics
Chiffon is a sheer translucent fabric of French origin, where the word Chiffon means "cloth."
Given that Chiffon is such a delicate material, it is hard to work with.
The thread used in the Chiffon material is twisted in alternate directions while weaving, resulting in the crumpled look in the fabric of the Chiffon dress.
Silk Chiffon Dresses
Silk is the traditional fabric used for Chiffon and probably the best type of cloth to use.
It's such a fine textile and feels smooth, light, and perfect for a Chiffon dress.
However, it's pretty expensive and hard to come by as it's very fragile and must be hand washed carefully with shampoo or dry-cleaned.
However, this material's softness, filmy look, and silky feel surpass other synthetic fabrics in lightness and superb comfort.
You will love this material, especially in the summer months.
Nylon and Polyester Chiffon Dresses
A synthetic Chiffon dress is less expensive than a silk Chiffon dress.
It's also more durable, but the material is still very delicate.
According to OurEveryDayLife.com, you can wash synthetic Chiffon in a machine on a gentle cycle.
That being said, you need to be careful about washing in a machine as it can leave a mark or stain.
This Chiffon should also be dried naturally.
This type of dress will not tear as easily as silk.
However, the feel of a synthetic Chiffon dress is not as cool, light, and refreshing as silk.
The sensation on your skin is also not as pleasant.
Chiffon Fabric Blend Dresses
Silk and polyester can be blended to improve fabric resilience.
This results in a less expensive dress that can be more easily looked after while retaining part of the shimmering look and silky sensation of pure silk Chiffon dress.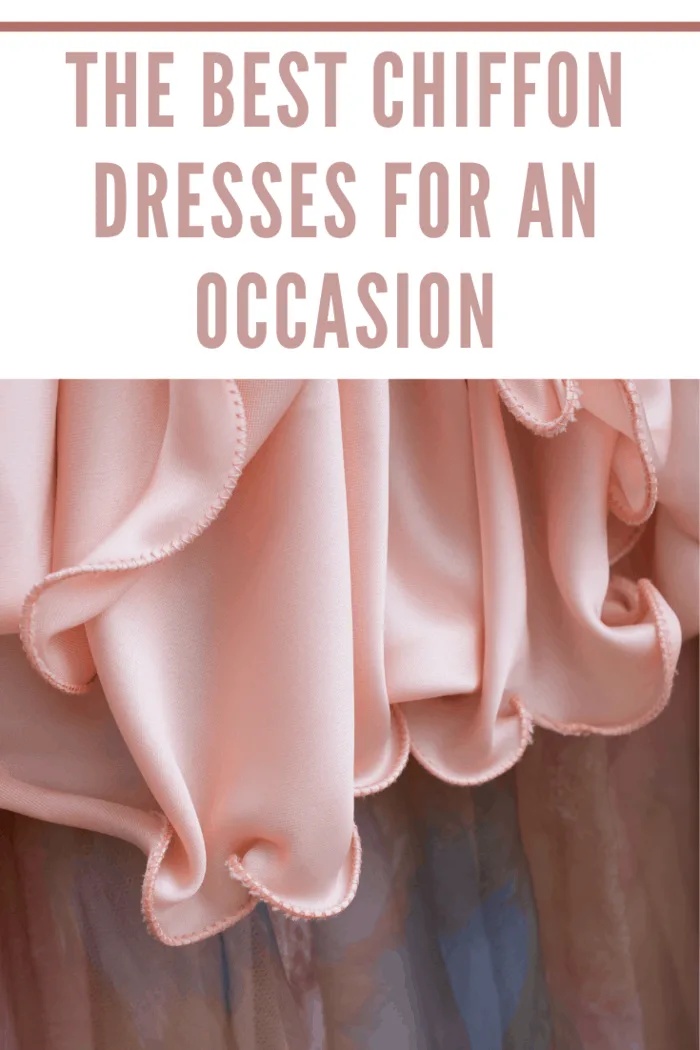 Chiffon Dresses
There can be many types of Chiffon dresses concerning style.
This depends on many factors already outlined above, and some include:
Length
Skirt style
Neckline
Whether it has sleeves or not
The type of sleeves you want
See below for a brief outline of the many different types of Chiffon dresses there can be.
Chiffon Maxi Dresses
If you are going to a special formal event or wedding in the winter, it would be best to select a Chiffon dress with sleeves to ward off the cold weather.
You might also want a longer Chiffon maxi dress with sleeves to keep your arms and legs warm.
However, if going to a formal evening in the summer, you would most likely prefer a Chiffon maxi dress without sleeves in Chiffon gown styles.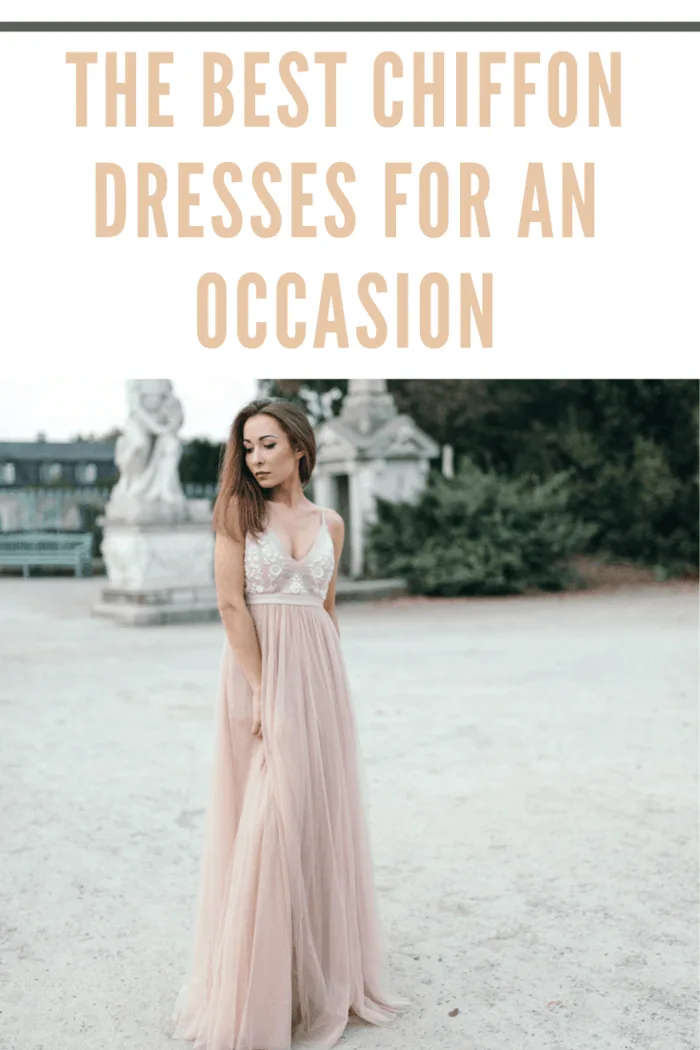 Chiffon Midi Dresses
A sleeveless Chiffon midi dress is perfect for a summer party or prom.
On the other hand, a short Chiffon dress with sleeves can also be quite pretty.
In my opinion, cap sleeves are most likely the best choice for a short Chiffon dress with sleeves in summer.
A Chiffon midi dress is usually mid-calf length.
You could go for a sexier look with an above-the-knee or short skirt just below the mid-thigh.
Chiffon Dress Necklines
Generally, a Chiffon dress is suited to several different types of necklines.
The first is the jewel, a plain rounded neckline just above the collarbone.
The advantage of this neckline is that it allows you to display your expensive necklaces and pendants.
The next type of neckline generally used on Chiffon dresses is the bateau, a wide neckline that runs almost horizontally front and back almost to the shoulders' points.
Chiffon Wedding Dresses
The Chiffon dress is also suitable for an off-shoulder neckline.
A bridesmaid's most suitable dress length is the full-length dress, although a Chiffon maxi dress or ankle-length will also do very well.
Many maxi dresses are a line, which means slightly touching hips and thighs.
They are typically narrower at the top and broader at the bottom, making it look like the letter A.
A maxi dress is below mid-calf, but the long dresses are called ankle or total, sometimes floor length.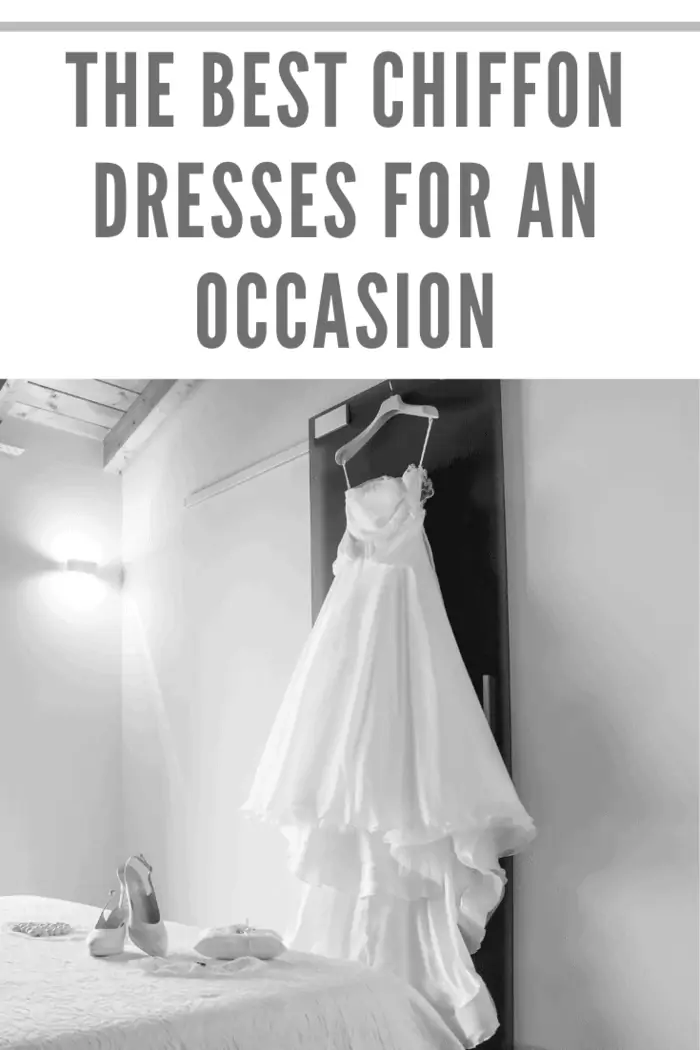 Chiffon Gown Styles
Chiffon gown styles can also come in an array of sleeve types.
Those with no sleeves are strapless, spaghetti straps and sleeveless styles.
Other sleeve styles include cap sleeves, short sleeves up to the elbow, and cap sleeves, just long sleeves.
Conclusion
Regarding how many different types of Chiffon dresses there are, well, that can be unlimited due to today's changing fashion styles.
You can find dress styles like this when you hire dresses in Melbourne at glamcorner.com.
Whether you are going to a formal engagement, a wedding, or a party, a Chiffon maxi dress or gown is perfect for any occasion.
I recommend that you choose your dress according to the season and the occasion.
A silk Chiffon dress will be the most pleasant for you to wear.
It is comfortable and pleasing to the eye regarding how it feels on the skin and the lightness of the fabric as the visual shimmer and sheen that will have every head turning to see who this is.
This is a fabric that gives you a range of options you could buy from to leave you with a rare sense of elegance.