The Air Fryer's Versatility
Get ready to challenge everything you know about frying foods.
Air Fryers can fry your favorite foods to crispy, golden-brown perfection (yes, French Fries and potato chips!) using little or no oil.
Not only can you make traditionally fried foods like potatoes chips and French fries but it's also great for vegetables (Crispy Brussel Sprouts), proteins like chicken wings and drummettes, and appetizers like croquettes, feta triangles, and blooming onion.
Even desserts like brownies and blondies are perfectly baked in an air fryer.
We can give you at least 10 Reasons to Buy an Air Fryer.
Why It Works
Put in other terms, an air fryer is much like a convection oven, but in a different outfit, cooking food at a very high temperature while simultaneously circulating dry air around the food, cooking food faster all the while making it crips without need to add extra fat.
What to Look for in an Air Fryer
There are a lot of different sizes and types of air fryers available now.
If you're cooking for a crown, try a larger 5 to 6 quart Air Fryer which can cook an entire chicken or six portions of fries.
If you have limited counter space, try a smaller, compact size.
You want to make sure there is room for the air to circulate around the food to ensure food cooks evenly (no more worrying about pile-ups).
You can now enjoy all your favorite fried foods, without the guilt.
To increase an air fryer's versatility, even more, you can also buy a variety of different attachments, such as a rack, grill pan, muffin pans, and mesh baskets.
Check out Air Fryer seasonings that make seasoning food a cinch.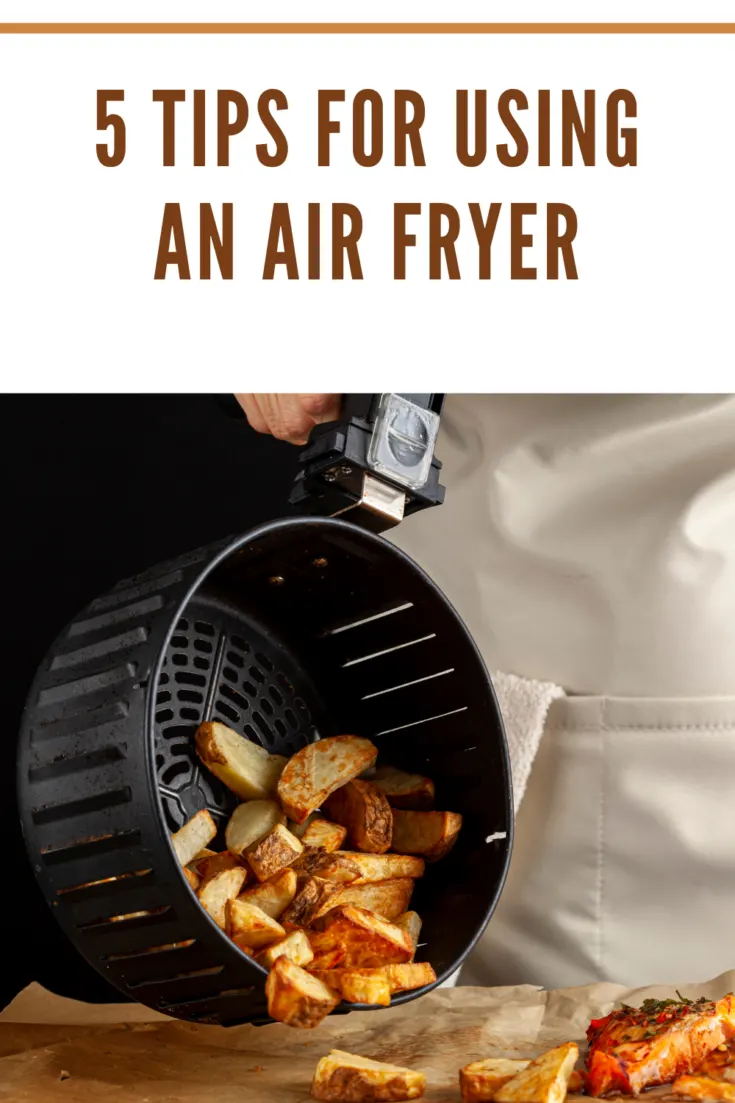 5 Tips for Using an Air Fryer
1. Shake It.
Be sure to open the air fryer and shake foods around as they "fry" in the machines' basket–smaller foods like French Fries and chips can compress.
For best results, rotate them every 5-10 minutes.
2. Don't Overcrowd
Give foods plenty of space so that the air can circulate effectively; that's what gives you crispy results.
I swear by the air fryer for snacks and small batches.
3. Give Foods a Spray.
Lightly spray foods with cooking spray or add just a bit of oil to ensure they don't stick to the basket.
4. Keep It Dry
Pat foods dry before cooking (if they are marinated, for example) to avoid splattering and excess smoke.
Similarly, when cooking high-fat foods like chicken wings, make sure to empty the fat from the bottom machine periodically.
5. Master other Cooking Methods
The air fryer isn't just for frying; it's great for other healthy cooking methods like baking, roasting, and grilling, too.
I love to use the Air Fryer for cooking salmon and ribeyes!