Are you in search of the perfect coffee maker to complement your household's needs? If so, it's worth turning your attention toward the renowned range of Keurig coffee makers.
Keurig has solidified its reputation as a premier brand in the coffee maker industry, consistently delivering products of exceptional quality. Their commitment to excellence ensures that every customer is treated to an unparalleled coffee experience.
However, in the vast array of Keurig models, which one is the optimal fit for your specific requirements? The extensive selection may leave you grappling with the challenge of pinpointing the ideal choice.
Fear not, for I'm here to guide you through this process. In the following discourse, we will delve into the details of Keurig's top five coffee makers. By exploring their distinctive advantages and unique attributes, you will be better equipped to make a well-informed decision.
From the array of available options, we will uncover the features that set each model apart, assisting you in identifying the one that perfectly aligns with your preferences. So, without further ado, let's embark on this journey to discover the finest Keurig coffee makers that will elevate your coffee brewing experience to new heights.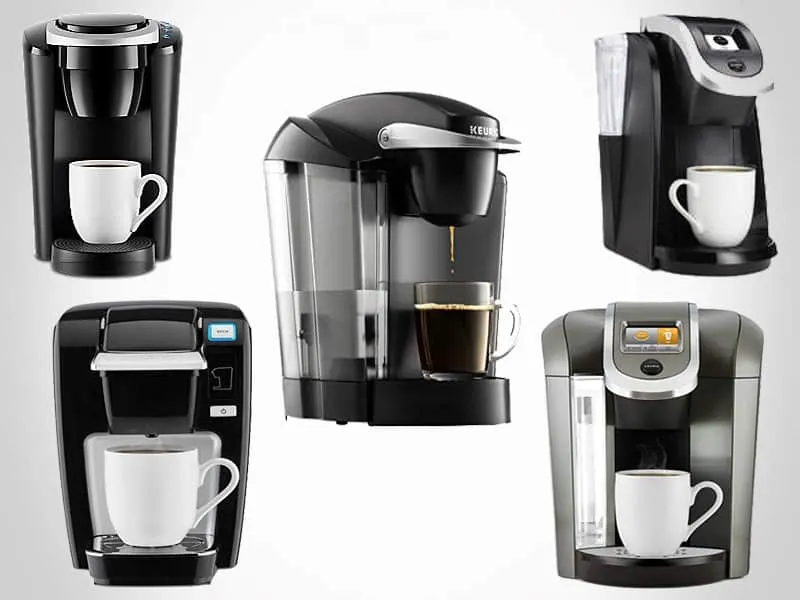 Top Five Best Keurig Coffee Makers This 2019
Are you wondering which are the best coffee makers to buy from Keurig?
Then check out these five fantastic models made by a reputable company:
1. Keurig K145 OfficePRO Brewing System
The Keurig K145 Coffee Maker is the best for offices and large households, as it has a huge water reservoir and versatile sizes for brewing.
You're able to brew for one or an entree group of people!
Furthermore, it comes with an amazing selection of coffee types and quick brewing times, producing your favorite cup of coffee within less than a minute.
What makes it the best is its versatility, making coffee for your taste.
However, you're unable to use certain K-Cup pods or brew ground coffee, as it's a machine made for the quick and high-frequency brewing for large households and offices.
2. Keurig K55 K-Classic Coffee Maker
What you'll like most about the Keurig K55 is how it's able to brew large batches of coffee and can produce several cups in a day without fail.
It's also the affordable choice for many households on a budget, coming with a big water reservoir and the strength to continue brewing coffee multiple times throughout the day.
It also comes with various features beginners can take advantage of, from its easy-to-adjust controls and other options to make it easy for you to use your travel mugs and to clean the coffee machine.
I highly recommend this coffee machine for those addicted to coffee and want to make more than five cups a day!
3. Keurig K250 Single Serve Coffee Maker
According to HuffPost, If you're not a huge coffee addict and the only one who actually drinks coffee in the household, then you'll appreciate the Keurig K250.
It's a powerful coffee maker that comes at a moderate price, coming with advanced technologies that make brewing your cup of coffee easy.
The machine has the touchscreen display to customize the type of coffee you want and the size, compatible with carafes and mugs, too!
You're able to decide the intensity of flavor in your coffee, as well as choose ground-coffee brewing, producing cups as small as 4 oz to 30oz!
It's really great for the home.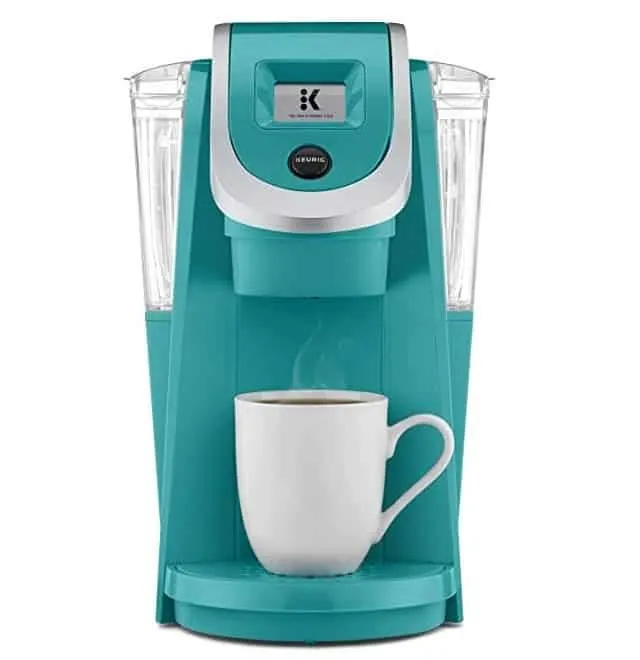 4. Keurig K15 Single Serve Compact Coffee Maker
For those who need something convenient and a space-saver in the kitchen, then you'll appreciate the Keurig K15.
It's suitable for both the home and office, having a compact and simple design that anyone can understand.
However, there are drawbacks to being a very affordable and compact machine.
For starters, there is no water storage or reservoir, so you'll need to refill it before every wing.
Furthermore, it lacks the cup size and storage for multiple cups of coffee (Healthline).
But with all this being said, it can still produce great coffee in under two minutes, being compatible with ground coffee, K-cups, and third-party K-cups, too!
It's made best only for those who really have no space in the kitchen area for coffee makers or are on a tight budget.
5. Keurig K575 Single Serve K-Cup Coffee Maker
For the heavy coffee consumers wherever they are (work or office), then the Keurig K575 is for you.
It comes with a massive water reservoir, which is a whopping 80 ounces!
This is perfect for the coffee addicts and large households, providing a lot of cups of coffee without the need to refill.
Furthermore, it has a better control system and customizability, made for all types of mugs and carafes.
The machine even has a touchscreen display panel with a programmable feature, with you being able to schedule your brewing times and the types of coffee you want.
Keurig coffee makers are one-of-a-kind, coming with new and improved features that make them one of the best in the industry.
As long as you invest in the right one, you'll be able to enjoy a host of benefits and great coffee.
All it takes is research and a good eye when getting the proper coffee maker suitable for you.
I hope that this article on the best Keurig coffee makers this 2019 gave you an idea on what to invest in.
So don't wait any longer and check any of these fantastic models out now.
If you have any question or want to share your tips and experiences when selecting a Keurig coffee maker, then comment below.
Your thoughts are much appreciated.