A baby sleepsuit is a piece of nightwear that almost resembles a wearable blanket. It usually features a 2-way zipper and snaps buttons.
The two features are aimed at allowing easy access during diaper changes.
They also help make potty training easier.
They also help to keep the baby warm and comfortable while sleeping.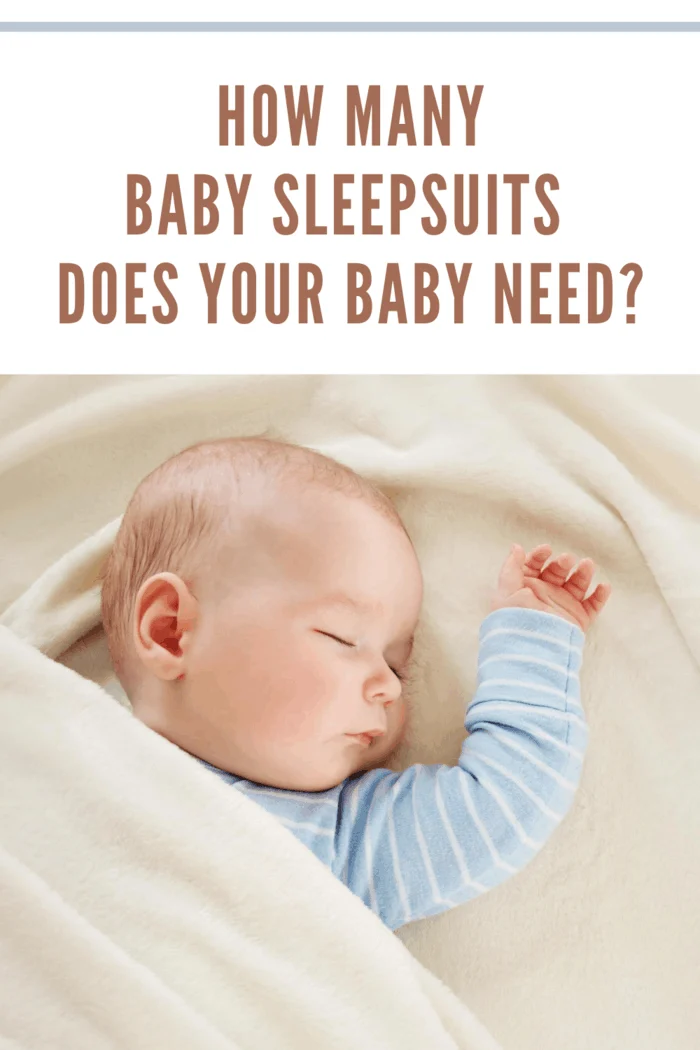 What is the appropriate number of sleepsuits?
While there is no definite answer to this question, a few considerations would come in handy.
Firstly, it would be wise if you avoided buying too many newborn sizes.
Try mixing the different sizes because babies tend to outgrow the newborn size pretty fast.
Note that some kids do not even fit in a newborn size when they are born.
You also do not want to buy too many of the same colors or styles.
Try and choose different colors, patterns, and sizes.
Remember that even though the suits are worn to sleep, they do not have to be bland.
You may also want to avoid too many bright colors.
Concerning how many pieces are too many, you can have 20-30 pieces.
It also depends on how many times you want to be doing laundry.
For instance, if you plan on doing laundry weekly, around ten pieces would be enough.
However, if you plan to wait for longer, then you may need more pieces.
Choosing Sleepsuits for Babies
Shopping for baby clothing is not as easy as most people think.
One of the most challenging things about choosing baby clothes like sleepsuits is determining between the different sizes.
Kids tend to grow very fast between the first six months to one year.
Therefore, it would be wise to choose different sizes unless you want to keep running back to the store every couple of weeks or months.
Another critical factor to consider when choosing the best baby sleepsuit is the material.
The best material should be soft enough for your baby's delicate skin.
It should also be comfortable.
Stretchy materials are the most comfortable because they allow the baby to move freely in them.
Avoid loose materials because they can cause harm to your baby.
Also, check for choking hazards like loose buttons and strings.
Finally, consider the ease of getting the garment on and off when changing your baby.
When choosing the best number of baby suits, you should consider your child's age.
A toddler will need more sleep suits than an infant because they tend to get their clothes dirtier faster.
You can also watch out for the growth of your baby.
If your baby is growing up too fast, you need to get a couple of pieces in different sizes.
---
Resources:
https://www.petit-bateau.co.uk/baby/underwear-and-nightwear/pyjamas/