Most of us have been in a situation where we picked up a clothing item from our washer and wondered if it was clean. Unless you have a laundry sink or tub with an essential laundry tub faucet, your clothes probably aren't as clean as they should be, say the experts at Vevano.
As a result of the hectic lives, most of us live, it's hard to stay on top of the laundry. From getting your children to help to organize used items more carefully, there are several things you can do to ensure that you're able to tackle your laundry more efficiently.
Split Laundry Responsibilities With Children
One of the things you can do is to split the responsibility of doing laundry with your children.
By doing this, you will have less laundry to worry about and children will learn a skill that they will use throughout the entirety of adulthood.
When children become toddlers, they aspire to do everything that they can.
Therefore, it's easy to get a toddler into the habit of doing laundry-related tasks such as bringing clothing items into the laundry room as well as separating clothes by colors.
By the time they reach elementary school, they will be mature enough to use the dryer and washer.
Ideally, you can start by teaching them how to wash basic items such as towels and sheets.
As time goes on you can switch to more challenging and delicate fabrics.
Use Laundry Hampers
Keeping track of dirty laundry would be a lot easier if you provided a convenient spot to place dirty laundry in.
There lies the beauty behind a laundry hamper.
You can keep track of dirty laundry by placing hampers in areas such as the bathroom, closet, mudroom, and bedroom.
Another thing you can do is to ensure that each family member has their own hamper as to which they are responsible for taking care of.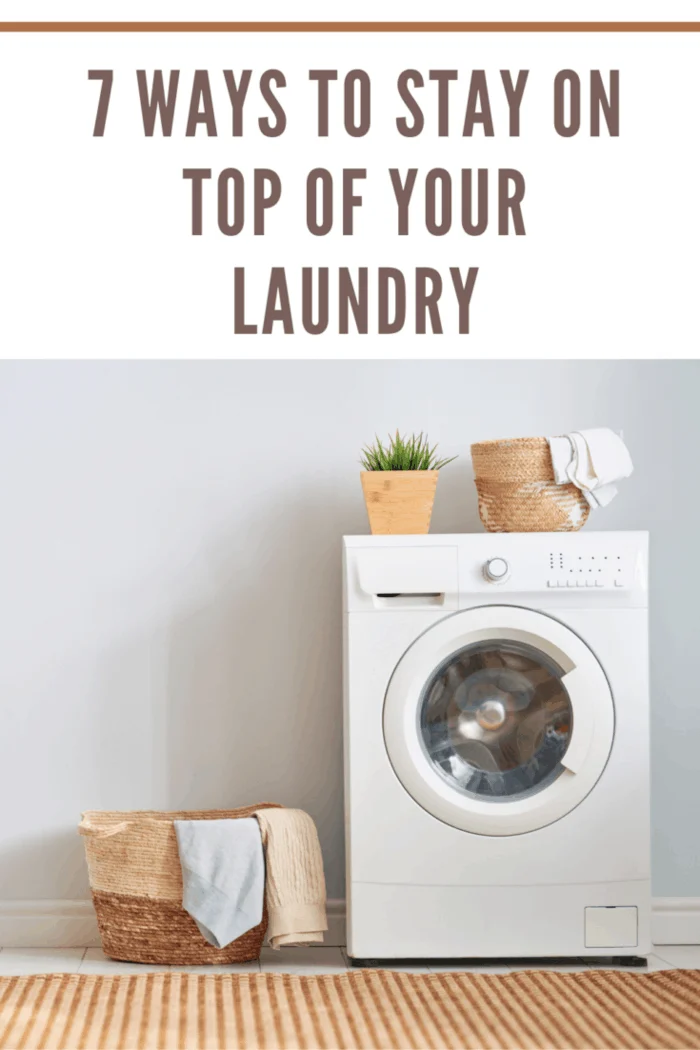 Mesh Laundry Bags
Mesh laundry bags are similar to laundry hampers, with the exception that they can be placed into the washer.
Mess laundry bags can be used for delicate items such as baby clothes or socks.
By placing small clothing items in hampers, it eliminates the need to go through each clothing item.
Use an App or Calendar
There really is an app for everything.
By going to the app marketplace you can find an app that gives you an alert when the dryer cycle is finished or when to pick up your laundry.
Additionally, if you live a hectic life, a chore chart may be the answer to a more efficient laundry routine.
One of the things you can do to get children involved is to establish a day on which a child will either change the bedsheets for every room or gather towels and bring them to the laundry room.
Dry Cleaning
Nothing hurts more than throwing your favorite "dry clean only" outfit into the washer to have it be destroyed.
Therefore, ensure that you have a hamper that's labeled "Dry Clean Only" so that you can keep track of all clothing items that require special care.
If you have numerous clothing items that require special care, consider using a dry cleaning pickup and delivery service or choose a dry cleaner that is easily accessible.
Teach Kids to Fold Clothes
One of the first things you can do when it comes to teaching children how to do laundry is to teach them how to fold and put clothes away.
While the clothes they fold may not be perfect, it will help you to stay on top of your laundry because you'll be able to focus on the washing and drying aspects instead.
As children grow older, they'll get better at folding and putting away clothes.
Create Less Laundry
One of the more effective things you can do is to reduce the number of fabrics that you use.
This doesn't mean that you should wear the same clothes for multiple days, but rather, you should focus on your usage of items like sheets and towels.
A good rule of thumb to go by is that each family member should be limited to two sheets and towels per person.
A regular person only needs one towel that they can use for the week and another for when the previous towel has to be washed.