Easy macaroni and cheese recipe that everyone will love! Make with or without the bacon for comfort food heaven!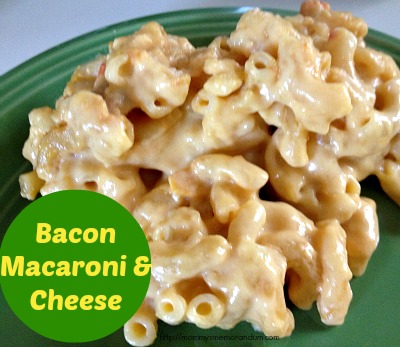 Ingredients:
Non-Stick Baking Spray
2 (10 oz) cans condensed cheddar cheese soup*
1 can evaporated milk
1-1/2 cups water
3 cups shredded sharp Cheddar Cheese
1/2 tsp. salt
12 oz. uncooked elbow macaroni
9 slices bacon, cooked crispy and crumbled
Directions:
Spray slow cooker with baking spray
In med. saucepan, combine soup, milk and water.
Bring to a simmer over medium heat, stirring often.
Stir in cheese and salt until cheese is melted.
Removed from heat and stir in macaroni and bacon pieces.
Pour mixture into greased crockpot.
Cover and cook on high for 2-hours, or until sauce bubbles and macaroni is tender.
Enjoy!
*I use one Condensed Cheddar Cheese can and one Fajita Cheese can of Soup.

Julee is the writer behind the blog, Mommy's Memorandum. She vents her emotions through flour and butter. While she realizes there are the tried and true endorphin-inducers like exercise, being thankful and eating healthy, she prefers to live in the fast lane: real butter, a new recipe with a gazillion calories and laughing until she sobs…and of course blogging. She's perky, quirky, dorky. A Utah native and NC transplant with an appetitie to taste the world, meet its desserts!