Don Hall and Chris Williams are both talented filmmakers and directors associated with Disney Animation Studios.
Don Hall is an American film director, screenwriter, and voice actor. He joined Walt Disney Animation Studios in 1995 and has worked on several notable projects. He served as the co-director of the animated film "Winnie the Pooh" (2011). However, Hall's most significant contribution to Disney came as the co-director of the critically acclaimed film "Big Hero 6" (2014), for which he won the Academy Award for Best Animated Feature. He later directed the film "Moana" (2016), which was also well-received by both audiences and critics.
Chris Williams is an American film director, screenwriter, and animator. He began working at Disney Animation Studios in 2000 and has been involved in numerous successful projects. Williams co-directed the film "Bolt" (2008), which received positive reviews and was nominated for an Academy Award for Best Animated Feature. He then co-directed the immensely popular and successful film "Frozen" (2013), which became a cultural phenomenon and won the Academy Award for Best Animated Feature. Williams also contributed to the story and character development for "Zootopia" (2016), another critically acclaimed Disney film.
Both Don Hall and Chris Williams have made significant contributions to the success and creative output of Disney Animation Studios, showcasing their talent as directors and storytellers.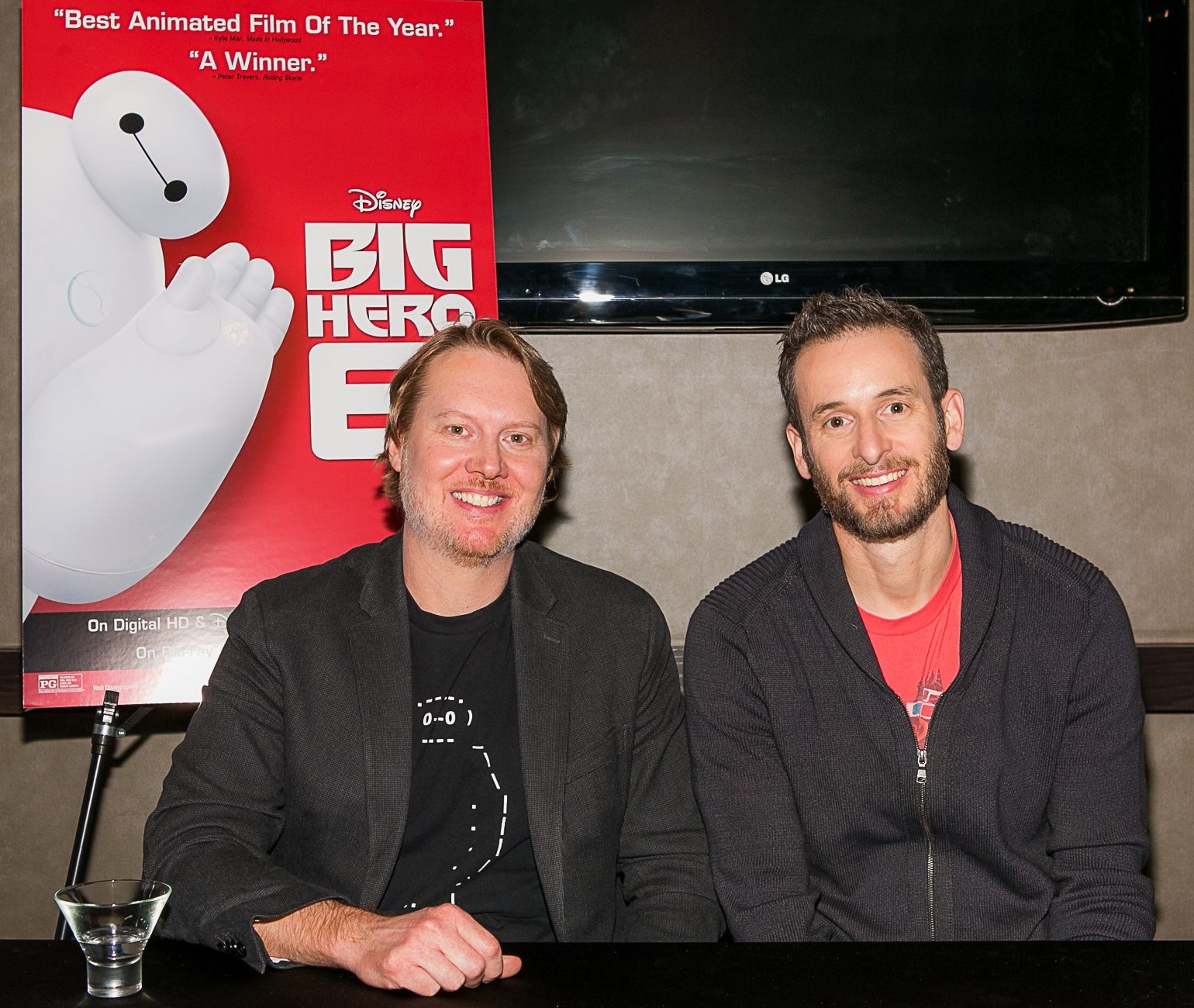 It seems a stretch of the imagination to emerge from the Hundred Acre Woods and land in San FranTokyo, but that's exactly what happened with Don Hall, co-director of Big Hero 6.
I had the opportunity to interview Disney's Don Hall and Chris Williams during a Disney Press Junket.
When asked by John Lasseter what he was passionate about the firs things that came to mind were Disney Animation and Marvel Comics.
A five-minute conversation with John Lasseter and a list of things Hall "thought would be cool" lead to "Big Hero 6".
Having never read the Comic, I liked the title. I saw it on their website. I researched it further and it was a Japanese Super Hero team. I thought that was cool. I read the Comics and it's like I thought the tone was appropriate. It was lighthearted. The Characters are fun. They had goofy names. You could tell the Creators just loved Japanese Pop Culture, and that's what they were trying to infuse into the Super Hero story.
It was the beginning sonnet of Japanese Pop culture. This emotional story is about a 14-year-old Super Genius who loses his brother. This robot becomes a surrogate big brother.
Chris Williams remembers the day Don First pitched Big Hero 6 to him and the other directors at Disney.
When he talked about this, at that stage, he was pitching just a seed of an idea and when he talked about this Main Character, who was going to lose his Brother, who was leaving behind his creation, and how it was going to become his surrogate older brother, it was so powerful, and I thought Man, that's great. I really hope that will be what John (Lasseter) responds to and Greenlights.
We all know from Disney it's the core emotion we all relate to, something funny, exciting, with thrilling scenes, but in the end, it's the emotion.
A year or so later, Don Hall would ask Chris William to join him in co-producing Big Hero 6.
Don Hall talks about knowing Big Hero 6 would be successful.
We're very fortunate because we're always the first Audience. We were won over by Baymax as a character and the Film subsequently. You always feel like OK if I'm not that different from everybody else, and if we like it,and our Studio likes it, hopefully everybody will. Once we started rolling it out , and we sat in the Audience and listened to them laugh and gasp and cry, then it started to hit us that OK, it seems to be resonating with people.
The movie is so successful and the characters so endearing that Don Hall shares what he's leaving to future generations.
Baymax, as a Character, is something you can't predict. That is, that a Character will, blow up that bit. I didn't mean to do that, I didn't mean to do that. That a Character will just resonate like that with people and worldwide. It's just resounding. It's pretty cool. Baymax will outlive all of us, and to have contributed a character like that to the Disney Legacy is pretty cool.
A legacy. Baymax. Can you imagine?
Chris Williams, does imagine.
That legacy is something we think about a lot. We got into Animation because we fell in love with the Disney when we were kids. I loved the Baymax Character. That was definitely my in to the Film. I'm really proud of the dynamics between Hiro and Baymax. I definitely feel the lineage from Baymax, all the way back to Bambi, and Dumbo, and Pinocchio, and these kind of characters that have this purity and this sweetness to them. I always respond to those kind of Characters that they're a big part of the Disney Heritage. It is an overwhelming idea sometimes for us that we are part of this group that's helping to carry that Legacy forward, but here we are. We're very proud of the movie.
One of the fascinating things about the movie Baymax is that they actually brought a Clinical Psychologist in to mold Hiro's character.
Hall and Williams talk about how important this was in molding the character.
DON: It was hugely importan on a couple of different levels. We always start with our personal story, especially when you're dealing with something as personal as loss. The conversations in the story room would always be more personal stories so you always start there because that's your only experience. I did some reading very early on about loss and grief and watched "Ordinary People." When we did bring in the Clinical Psychologist, and the Child Psychologist later, it did two things. It gave us a new insight into specifically Teen loss. But it also reinforced that we're on the right track because a lot of things she talked about we were already doing in the film. So in a sense, it kind of validated our approach, and also gave us some new insight.
Williams adds to the conversation from his own perspective.
CHRIS: It is amazing in our story room how generous and open people are and how vulnerable they allow themselves to be. The story room for us is a really sacred space. We come in there, we close the door, and then people are very open and respectful. People will talk about some of the most difficult moments of their lives. We wanted to be true to that experience, telling a story about the character who's dealing with loss. One of the things I'm most struck by is we don't want to be driven. We want to talk about our own experiences and that's certainly helped us a lot with this film.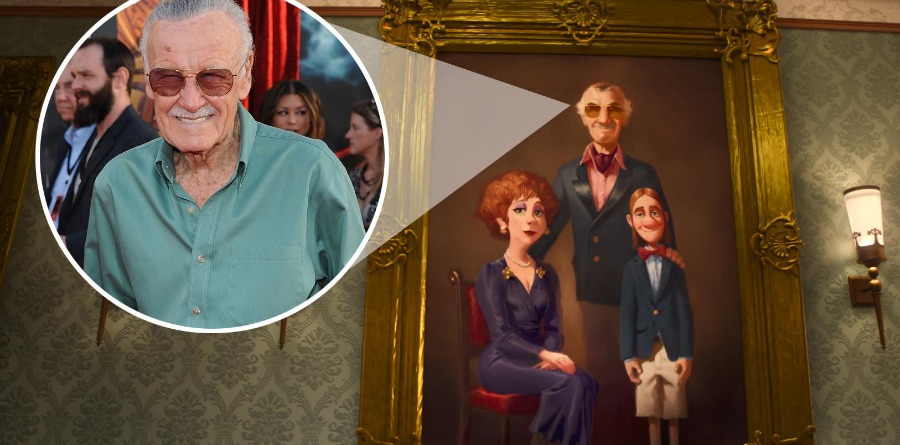 Stan Lee
Fans love appearances by Stan Lee in Marvel films because he was a legendary figure in the comic book industry and a beloved creator of many iconic Marvel characters. Stan Lee, who passed away in 2018, co-created numerous superheroes such as Spider-Man, Iron Man, Hulk, X-Men, and many others. He also played a significant role in shaping the Marvel Universe and its rich mythology.
Stan Lee had a charismatic and engaging personality, which endeared him to fans worldwide. He often made cameo appearances in Marvel films, including those produced by Disney Animation Studios, as a way to connect with the audience and pay homage to his contributions to the Marvel universe. His cameos were usually light-hearted and humorous, and fans enjoyed spotting him in each film. It became a fun tradition for fans to anticipate where and how Stan Lee would make his appearance in each new Marvel movie.
Furthermore, Stan Lee's cameos created a sense of unity and continuity within the Marvel Cinematic Universe. His appearances served as a nod to the interconnectedness of the films and reinforced the idea that all these stories exist within the same shared universe.
Overall, fans appreciate and love these appearances because they are a tribute to Stan Lee's legacy and provide a sense of nostalgia, excitement, and a connection to the broader Marvel universe. It became a delightful tradition that fans looked forward to in each new Marvel film.
The co-producers discuss how Stan Lee came to be part of this amazing film:
CHRIS: Well, you knew there would be something, right like at least?!

DON: Yeah, we had a desire to do that. I have to say though, we kind of back burnered it. We pushed this about as far as you could push, right up to the deadline. Like, when you say it's 'ripped out of our hands", I mean, it was really ripped out of our hands.

We both went to go see "Guardians of the Galaxy" ,and by this point, Big Hero 6 was animated, and we're finishing it up, doing some stuff, and we both had a very similar reaction when we came in on Monday morning. It was sort of panic because it was like, "Oh, My God! Nobody left the Theater."

We stayed for the entire "Guardians of the Galaxy" and everybody stayed through the credits for the Howard the Duck scene. We weren't doing that. We didn't have one. So we both came in on Monday morning a little panicked! We just had a quick conversation, and I think we always thought that it would be funny to do something with Fred and his Dad. That felt like kind of the area that we hadn't explored yet. Chris went away and Storyboarded and wrote that little tag, and came up with the Underwear call back.

CHRIS: We were winding down.

DON: We went to our producers and said, "We need a little little money for this. Can you finagle something?" He had a couple of Car Washes and put together some people…The most amazing thing about this sequence is, we kept it from the crew. We took just essential personnel. We had a team of maybe 20 people, sworn to secrecy. We all had Code names. It was on its own Server, so that people couldn't snoop around and find it.

We actually managed to pull that off. We actually managed to keep it a secret from the crew until the Wrap Party. They didn't know and it was awesome.

CHRIS: We always had the Stan Lee and the Painting that we passed by. That was a given. That was going to be in there. It wasn't until very late in the game that we decided we needed to do more. It was really great and it meant that we, if ever so briefly, got to meet and work with Stan Lee.

DON: Bask in the glory.

CHRIS: That was — that was pretty awesome.

DON: It was awesome.
From here, Chris and Don turned into total geeks, talking about their idol, Stan Lee:
CHRIS: I had kind of written this thing and I knew he was 90.

DON: He was 91 at the time and now he's 92.

CHRIS: I had never met him so I didn't know what to expect when we finally met him. We were trying to keep it a secret. we didn't record him in our building. We recorded him in another lot, and they had actually booked him on a second story sound stage.

DON: With no Elevator by the way.

CHRIS: No Elevator.

DON: It was an old recording.

CHRIS: We were walking a flight of stairs. We had a whole plan. We were going to walk behind him, and catch him if he fell, because we didn't want to be responsible. We would be Marked Men.

DON: Yeah.

CHRIS: Fortunately, we were waiting upfront and he rolls up and he springs out of the car.He was everything you want him to be, you know, the energy, the persona, the voice.

DON: Gusto.

CHRIS: The gusto. Very self-effacing. He was awesome, and he took those stairs like a champion! He was really, really great. He nailed the part. It was the part he was born to play.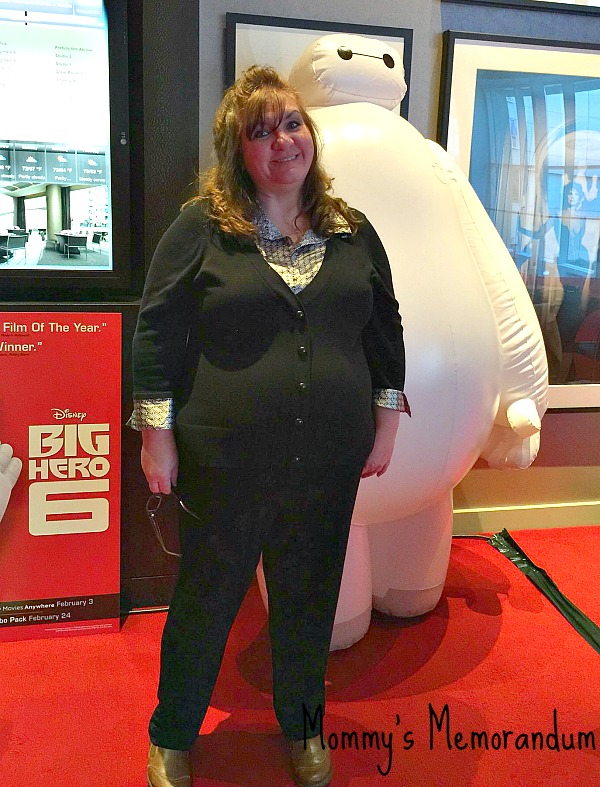 Big Hero 6 is up for an Academy Award, Best Feature Film.
How has working on this been different from anything else you've ever worked on?
DON: Well for me, it just reaches back into those childhood loves. It sounds trite, but it is sort of a dream come true, to be able to do a Movie like this– and then to have it be recognized by people. I mean, that's sort of the icing on the Cake. Especially considering the field of other Nominees. There area lot of Animated Films this year and they're all really, really good. It's an incredible feeling.

CHRIS: We have both worked at Disney Animation for about 20 years, and I've worked on a lot of Movies and every story's hard. It's just the way it is. If you're going do something original, then it's going to be hard. With Big Hero 6, I think we would agree, it was the most challenging story we've ever worked on. There's a lot of elements that we brought together and had to make sense together.

It was just really ambitious. I think the size of the characters, the size of the world, technically, it was incredibly challenging. I think there was also a choice made form the very beginning that we were going to attempt to reach a depth of emotion with this Film that was deep. We knew that — that was the bar we were aiming for, and — and we had to achieve that, or again, we wouldn't have done our jobs. We work with hundreds of really talented Artists who are so invested and they give everything they have, and they give years of their creative lives to this one thing. We achieved it with them and I'm really proud of what ultimately came together.
Big Hero 6 Synopsis:
"Big Hero 6" is an animated film produced by Walt Disney Animation Studios and loosely based on the Marvel Comics superhero team of the same name. The film takes place in the futuristic city of San Fransokyo, a blend of San Francisco and Tokyo.
The story follows a young robotics prodigy named Hiro Hamada. Hiro is a brilliant teenager with a talent for building robots and participates in illegal robot fights. Inspired by his older brother Tadashi, Hiro decides to use his skills for a greater purpose and enrolls at the San Fransokyo Institute of Technology.
Tragedy strikes when a devastating accident occurs at the institute, resulting in the loss of Tadashi and a fire that destroys Hiro's robotic creations. Hiro finds solace in Tadashi's creation, an inflatable healthcare robot named Baymax. Together with Baymax and a group of Tadashi's friends, Hiro forms a superhero team to uncover the truth behind the accident and bring the responsible party to justice.
The team, known as Big Hero 6, consists of Hiro, Baymax, GoGo Tomago, Wasabi, Honey Lemon, and Fred, each possessing unique skills and technological expertise. As they investigate, they discover a mysterious villain who threatens the safety of the city. The team must use their combined strengths and abilities to overcome obstacles, fight against evil, and protect their home.
Throughout the film, Hiro goes through a journey of grief, personal growth, and acceptance. With the help of his friends and the lovable Baymax, he learns valuable lessons about friendship, teamwork, and the importance of using his intelligence and skills for the greater good.
"Big Hero 6" is an emotional and action-packed adventure that combines heartwarming moments with thrilling superhero action, all set in a visually stunning and vibrant world.
Watch Big Hero 6 on Amazon Prime.
Don't miss your chance to own this amazing film, Big Hero 6