After a screening of McFarland, USA, we met with the real cross-country team who inspired the movie. It was an excellent introduction, and immediately, one could sense a family unit.
After watching the movie, there is a sense of a culture within the community of McFarland. One that has deep roots and a close inner circle.
Damacia Diaz, one of the Diaz brothers in the movie, shares that the movie is something he is "very proud of the way the movie turned out. Yes, it does a great job of portraying our life."
One of my favorite characters is the Diaz brothers' mom, Maria. She is a strict mother who loves her sons fiercely. David Diaz shares, when asked if his mother is as stringent as the film portrays, "Not at all. She's much worse. I'm proud of the way Hollywood portrayed us in the film. But we lived in a rigorous environment."
Coach Jim White chimes in, "Even mom said, I love the film, but they didn't make me strict enough."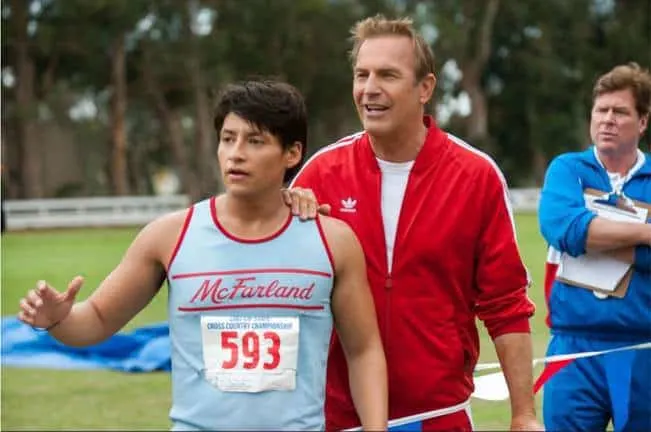 Through the movie, we see the changes in the McFarland community, but the changes continue; Danny Diaz explains, "7,000 to 10,000 people live in McFarland. Not much has changed. You blink, and you'll miss it. There's not much to do there. There's not a mall or big grocery stores. If it weren't for sports, our kids would be lost. It's either sports or the streets. Now our city's excited and rightly so because of what Jim's brought to our community. The whole community is just embracing the publicity.
Jim says we've not changed too much, but we've got a definite change. We changed our logo. We are no longer the "Heartbeat of Agriculture." Now we're a runner running through the field with the words "Tradition, Unity, and Excellence." It is a logo created by a McFarland High School girl."
While the team has grown up and has families of their own, Coach Jim White shares, they don't train together anymore, while David adds, "We run once in a while amongst ourselves. We're still in decent shape."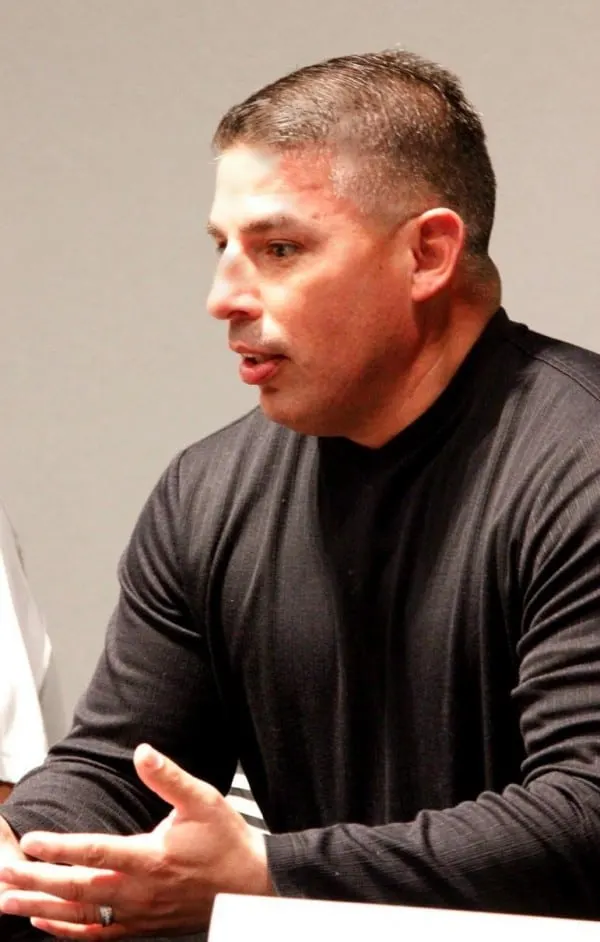 Damacio adds, "We have kids who run and compete. I can't keep up with them; Danny and I run 3 to 5 miles a day to stay in shape."
In the movie, there is a scene where Coach Jim White insists the team run up and down hills of almonds; we wanted to know if the mountains were actual and something they use in training.
Damacio: Oh, they're much worse.

Danny: If you drive 6 miles east of McFarland, Mr. White took us to the hills. Those are big rolling hills.

David: It helps us running wise but endurance wise as well. You also have to be prepared mentally for those hills.
The movie was a fifteen-year process. Coach Jim White explains, "We signed with one company, and two years later, we signed with another. We were thrilled when Disney wanted it because we knew it wouldn't have sex, cussing, or anything like that. The script that was written originally was one we prayed wouldn't happen. Disney threw the script out, resigned us, and we got a new writer."
Danny adds, "How our mother was portrayed in earlier scripts was a more accurate portrayal. This was a family movie, though, so it was ok."
The movie is based on the team's true story, and they share how their input came to make the movie.
Damacio: "We told our story during interviews for hours and hours. That was pretty much all we did was tell them our story."
Danny: "Once you give them your story, they can do whatever they want. They made me chubby and slow in the movie, and that wasn't true. They could have chosen any team from McFarland because nine different teams won state titles to write about, and they chose us. We're just happy to be a part of the movie."
The last race in the movie had me on the edge of my seat, nearly screaming, "Go! Danny! Go!" but we just learned that Danny was not fat, so did it play out like that in life? Damancio responds,
Yes, that was true. Our third man Jose was out of it. Danny went from 7th to 5th and he had pressure on him for the first time. I was just running to displace other runners. That day we were able to pull it off.
We asked how it changed their future races with success under their belts.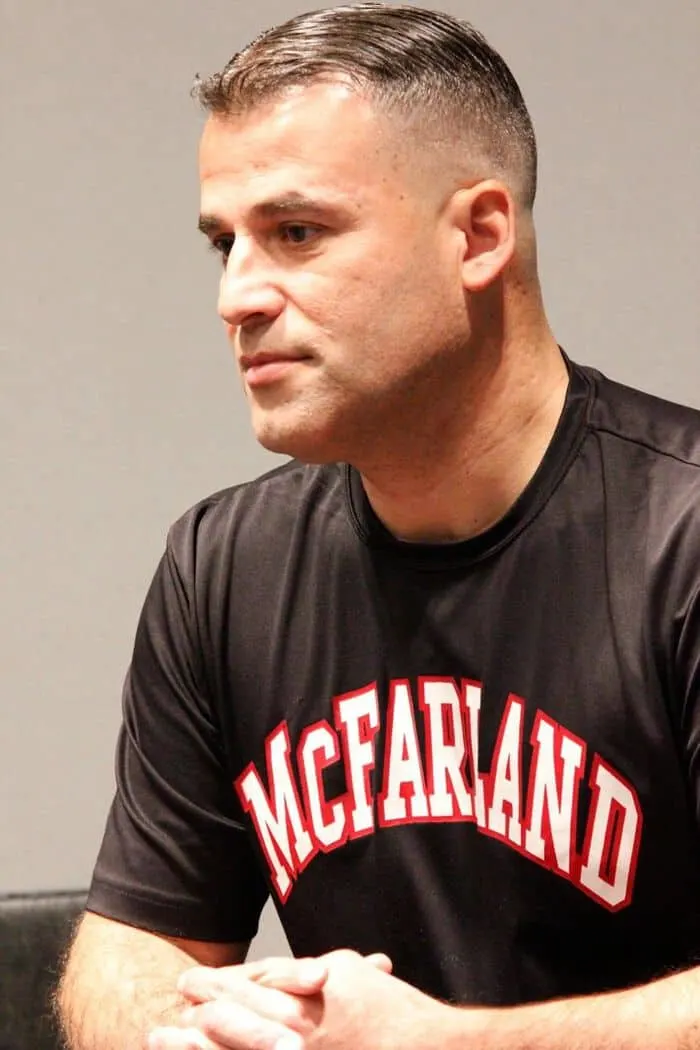 Danny: "That was the last race that year. It was 1988, and I was a senior, and Demacia was a Junior. Well, that year, we were ranked #1 all year-long. Mr. White had an emergency and had to go to Stockton over Christmas. He left us there to train on all on our own. We didn't train. We played basketball the entire week. We got fifth that year, and we should have gotten 1st. Mr. White never went back to Stockton again."
The boys have grown up and now have careers; some work as teachers and coaches at their Alma Mater, McFarland High. They share how Coach Jim White changed their life.
David: "He was very inspirational. We were teaching in Sunday schools for years and Royal Rangers. Mr. White was there as a person we could rely on. He's a scientist and a fifth-grade teacher. We would try to trip him up with leaves, bugs, etc. He wasn't the only reason we got into education, but he was one of three. We took the road that most people take with skin like ours don't. We went to college. I would say that less than 1/5 of the folks of our color completed college."
Jim White adds, "Mr. Diaz, the dad, Paul, pushed education hard too. He told me, 'I want them to get their education, so he went back and got his education (GED) in 1991."
Damancio talks about how sports impacted their lives and enabled them to move forward into their future.
For us we're all tough kids. David's the oldest and he was a bully so he made us tougher. He also encouraged us to play sports. Because he was the first and he had already done it. It teaches you discipline and character. It taught us how to accept losing or winning. It helped us travel the country and get out of our environment. A lot of us went to college and all of us that went, competed there.
In the movie, we see how important it is for the boys to remain in the fields picking; there is a scene where Coach White spends the day helping in the fields. You might be surprised to know that Jim White still takes to the fields to help.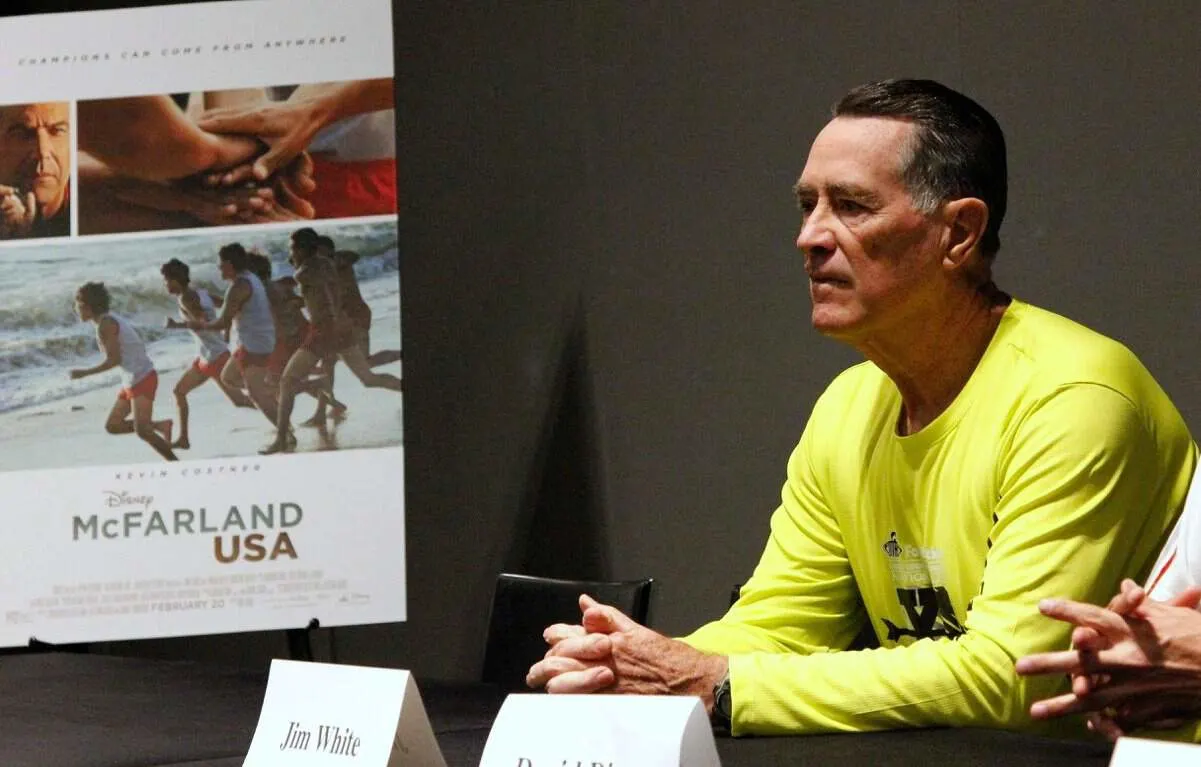 I did it quite often. I didn't enjoy it either. In the movie we picked cabbages but we didn't have that close to us. That was the only thing they had to show that kind of work. We picked almonds, oranges, cotton and grapes in our area. But that was a good representation of what we did.

I went to work and would grab Damacio and some of his friends and we'd go to work in the fields so we could get them shoes and uniforms and stuff.
David Diaz adds:
And just to let you know, God's good. We now own almond fields. Mr. White still comes and helps us work occasionally. He's retired so sometimes we get to use him.
We see the community pull together in the movie, and after all these years, the community still believes it takes the village to raise a child.
Danny: In our case, absolutely it takes a village to raise a child. We have a big family. I have seven kids. My mom has 12 brothers and sisters, and my dad has 13. So we have a large family that helps. This large family helps keep the kids on the straight and narrow.
Damacio: This happened a lot to us when we were kids too. We looked to Mr. White as a dad as well as a Coach. He fed us, bought us shoes, and kept us in line. We have a dad, and we love our dad. But Mr. White was there while dad was working in the fields.
Disney's "McFarland, USA" stars Kevin Costner, Maria Bello, Morgan Saylor, Martha Higareda, Michael Aguero, Sergio Avelar, Hector Duran, Rafael Martinez, Johnny Ortiz, Carlos Pratts, Ramiro Rodriguez, Danny Mora, Valente Rodriguez, Vanessa Martinez, Chris Ellis, and Diana Maria Riva, and is directed by Niki Caro.