Chia Seeds. They are strange. Tiny seeds that, when mixed with liquid, create a gel. Dr. Oz says, "They just may be one of the healthiest things around."
Reasons to Eat Chia Seeds:
It was my Zac who introduced me to Chia Seeds. I told him I'd try them. I did, and my first experience and thought were, "Whoa! These are so weird". I was intrigued at how few ingredients went into making Chia Seed pudding, but I admit it was delicious.
It all made me look into why people were consuming these strange seeds. It turns out there are many good qualities.
Reduce food cravings
Help weight loss
Feel full faster
Reduce blood pressure
Hydration
Control Blood Sugar
Omega-3–they are the richest plant source of Omega-3
Chia Seeds in Mamma Chia's new Chia Squeeze Vitality Snack
The product featured in this post was provided to me free of charge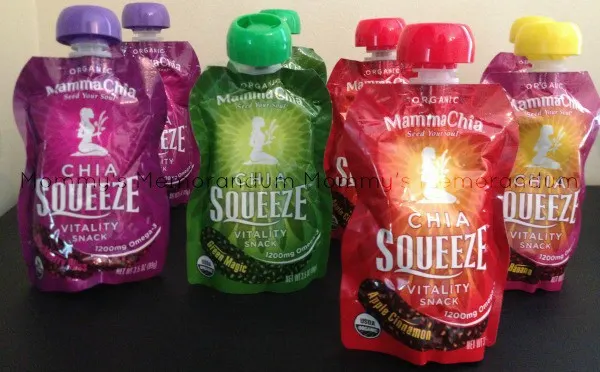 Sometimes you just need a good squeeze! Especially when it comes in the form of a delicious, healthy snack! In all honesty, I'm sure these were intended for the kiddos; however, I tried one and have now claimed them all for my lunch box! Chia Squeeze Vitality Snack by Mamma Chia is a 70-calorie, no sugar added snack in an on-the-go squeeze pouch. Yup! It's perfect for my drive to work and home!
Chia seeds are packed with the richest plant-based source of Omega-3, dietary fiber, protein, and antioxidants. Chia Squeeze combines chia seeds with organic fruits and vegetables to create a delicious snack beverage that is gluten-free and vegan!
The squeeze pouch makes this snack a cinch for backpacks, lunch boxes, gym bags, and my purse! They require no refrigeration and taste delicious at room temperature–or you can put them in the fridge for a chilled snack option! Chia Squeeze is a natural and organic alternative to sugary beverages and snacks. They are sweetened with agave and contain no artificial colors or flavors!
The ingredients incorporate organic chia seeds that are infused with delicious fruits and vegetables to create a convenient, fun, and tasty snack for active people of all ages.
Chia Squeeze Comes in 4 Delicious Flavors–A Great Way to Consume Chia Seeds
The Chia Squeeze pouches are not only convenient, but they are available in four delicious flavors:
Strawberry Banana

Green Magic

Apple Cinnamon

Blackberry Bliss
I have tried the Blackberry Bliss–which is so far my favorite, and the Green Magic.
I was curious about what the "juice" looked like inside the pouches, so I poured some out. I was really surprised it wasn't gelatinous like expected. It tastes like drinking a smoothie with a little bit of a crunch.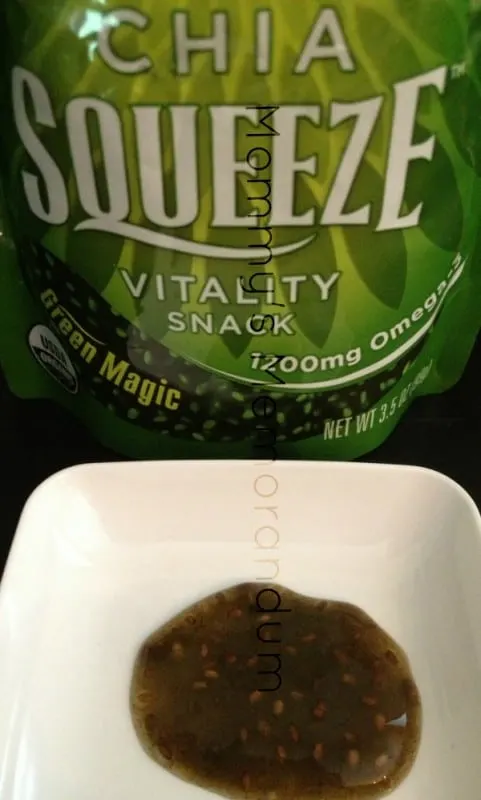 Chia Squeeze is very new, but soon you will be able to purchase it at a retailer near you.
Chia Seeds that Support Farmers
A Certified B Corporation, Mamma Chia meets rigorous social and environmental performance standards, accountability, and transparency.
Mamma Chia donates 1% of gross sales to support farmers, community groups and organizations that are building healthy, local food systems.
More information on Chia Seeds
A staple in the diets of the Aztecs and Mayans
Source of essential fatty acids (EFAs) support heart health and beautiful skin, hair, and nails.
Chia Squeeze snacks contain 4g of dietary fiber, 2g of protein, 1200 mg Omega-3, 500 mg Omega-6, and 210 mg Omega-9.
High fiber content; great for cleaning out your colon.
Same seeds used in the infamous Chia Pets!
The suggested Retail Prize per Chia Squeeze is $1.69.
Add Chia Seeds to Your Diet with Chia Squeeze
They are a healthy, delicious, and convenient back-to-school snack that is:
A tasty blend of organic chia, fruits & vegetables

Provides more than HALF the recommended amount of Omega-3s

4 grams of fiber – equivalent to about the amount of fiber found in an average size apple

7 grams of sugar –

VERY LOW

for any fruit-based snack

Chia Squeeze is a 3.5-ounce, 70-calorie, no-sugar-added snack packed with Omega-3 (important for brain health), fiber, and complete protein.
This lightweight, on-the-go squeeze pouch is perfect for children, busy moms (especially on the way to the gym!), or active adults and does not need refrigeration. Chia Squeeze can be enjoyed at room temperature right from the pouch or refrigerated for a tasty, cool treat! Available at Whole Foods and other retailers nationwide.