I received The Soup Maker's Kitchen in order to facilitate an honest review.
During my thirties, I had the wonderful opportunity to live just two houses up from my beloved grandmother. Every afternoon, I eagerly visited her, and I was in awe of her culinary skills, especially when it came to creating delicious soups from scratch while minimizing food waste and maximizing flavor. Her soups were so irresistible that I found myself going back for bowl after bowl. As the summer season gradually transitioned into the crisp, cooler weather of fall, I found myself eagerly looking forward to indulging in bowls of comforting soup.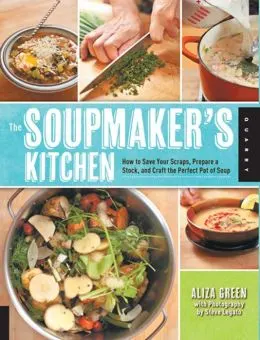 Luckily, Aliza Green has penned "The Soup Maker's Kitchen," a cookbook tailor-made for those who wish to explore the art of crafting soups from the very basics, including making their own flavorful stocks. This resource is a treasure trove for anyone seeking to stretch their food budget, get back to the essence of cooking, and bask in the heartwarming embrace of a well-made soup.
The opening chapter of the cookbook is a revelation, as it focuses on the ingenious idea of saving vegetable scraps and even the water used to cook them, transforming them into the foundation of delicious soups. From there, readers are treated to a delightful array of soup recipes hailing from various corners of the globe. Whether it's the classic comfort of New England Clam Chowder or the exotic allure of Thai Tom Kah Gai, this cookbook caters to all taste buds. Some recipes are delightfully simple, perfect for quick and easy meals, while others require a bit more involvement, rewarding the cook with layers of rich flavors. Rest assured, each recipe comes with full and easy-to-follow instructions, ensuring that even novice chefs can create soup masterpieces.
As I delved into the book, I discovered that what sets it apart is the invaluable tips sprinkled throughout the pages. These gems of wisdom cover a wide range of cooking techniques, from practical advice on freezing finished soups to the art of soaking dried mushrooms. Aliza Green leaves no stone unturned, providing guidance on cutting a basic chiffonade, cleaning and steaming clams, straining broth, and even the ingenious trick of determining if oil is hot enough for frying using a wooden spoon! These little nuggets of culinary wisdom add an extra layer of brilliance to an already exceptional cookbook.
Understanding that a delicious soup starts with a robust and flavorful stock, the author dedicates a detailed chapter entirely to this foundational element. The stocks are thoughtfully divided into the major soup families, including clear broth-based soups, rich and velvety bisques, hearty stews, and hearty chowders. This comprehensive guide ensures that aspiring soup makers can craft the perfect stock for any soup they desire.
No cookbook is complete without tantalizing visuals, and "The Soup Maker's Kitchen" does not disappoint. Food photographer extraordinaire, Steve Legato, captures the entire culinary process with stunning imagery, offering readers not only mouthwatering shots of the finished dishes but also invaluable step-by-step photographs that guide them through the preparation.
The cookbook concludes with a comprehensive index, making it easy to find your favorite recipes, as well as a list of suppliers for some of the unique ingredients and equipment used throughout the book. This thoughtful touch ensures readers have all the resources they need to embark on their soup-making journey confidently and easily.
Having explored "The Soup Maker's Kitchen," I can confidently say that it is more than just a cookbook; it is a heartfelt tribute to the cherished memories of time spent with my grandmother. The recipes in this book produce generous pots of soup, making it convenient to prepare ahead and freeze for future meals. These soul-warming soups are destined to become cherished traditions in any family's menu rotation, bringing comfort and joy to the table for years to come.
About The SoupMaker's Kitchen
Step into the world of soups, where the comforting aroma of simmering broth fills the air, and each spoonful warms both body and soul. Renowned chef Aliza Green extends a heartfelt invitation into her kitchen, where she shares her time-honored techniques for crafting an impressive array of soups, bisques, chowders, and purées. From the humble foundation of stocks to the enchanting flavors of European-inspired classics like Zuppa Pavese and French Onion Soup, Aliza unveils the origins, ingredients, and step-by-step procedures that ensure a warm and satisfying culinary experience with every batch of soup.
With over 100 soup recipes from all corners of the globe and in various styles, this book is a treasure trove for soup enthusiasts. Each recipe is accompanied by tantalizing variations, ensuring that you can tailor your soups to suit your cravings and preferences. Among the delectable offerings are:
Hungarian Woodlands Mushroom Soup with Sour Cream and Paprika, a rich and earthy delight.
Tuscan Pappa al Pomodoro, a classic tomato and bread soup that sings with Mediterranean flavors.
Senegalese Peanut and Yam Puree with Ginger, a harmonious blend of ingredients from West Africa.
Provencal Soupe au Pistou with Savoy Cabbage, White Beans, and Leeks, an enticing vegetable-based soup from the south of France.
Wild Salmon Chowder with Sweet Corn & Gold Potatoes, a luxurious and indulgent treat.
Tom Kha Gai (Thai Chicken Coconut Soup), a fragrant and spicy Thai favorite.
Cream of Cauliflower with Nutmeg and Chives, a velvety and comforting choice.
Kerala Red Lentil Soup (vegan), a nourishing and flavorful soup from Southern India.
Vietnamese Pho Soup with Beef Brisket, a beloved Vietnamese specialty with complex flavors.
Caribbean Callalou Soup with Crabmeat and Coconut, a delightful blend of tropical ingredients.
Each recipe is brought to life with the help of Steve Legato's stunning full-color photography, guiding readers through the soup-making journey with visual splendor.
Beyond the sumptuous recipes, the book delves into essential knowledge and insights that will elevate your soup-making prowess:
Basic Stocks: Discover the secrets to extracting the utmost flavor from your stocks, including the importance of using vegetable water, roasting juices, trimmings, seasonings, and the right combination of vegetables.
Soupmaker's Tips: Gain valuable tips for ingredient preparation, from correct washing, slicing, and dicing to understanding the significance of fresh versus frozen ingredients. Learn how to utilize flavor enhancers like fresh herbs and appropriate spices, as well as how to optimize your soup-making process with the right utensils and time-saving techniques. Unleash your creativity with inspiring serving suggestions that will make your soups even more inviting.
Basic Techniques: Master essential culinary skills, such as properly chilling soups, cooking dried beans to perfection, shredding cabbage like a pro, and the delicate art of chiffonade—cutting leaves into thin, ribbon-like strips.
With Aliza Green as your guide and the comprehensive collection of recipes at your disposal, your soup-making success will be effortless. This cookbook embraces a wide range of palates, offering seafood, poultry, pork, beef, vegan, and vegetarian options, ensuring there's a perfect soup for every occasion. Moreover, the wealth of information provided will undoubtedly become an invaluable resource, enriching your culinary endeavors for years to come. So gather your ingredients, sharpen your knives, and embark on a flavorful journey into the world of soups with "The Soup Maker's Kitchen." Your taste buds and your loved ones will thank you.