When these olives bake, they shrink a bit and the flavor intensifies, so they're even more flavorful than any "raw" spiced olives. During an olive taste test, these two olive and-spice combinations were our favorite. Pick one or prepare and serve them both. I love that I can toss the ingredients together, throw them in the oven, and not do anything else. Serve them along with the salads and dips during the first course of a meal. Your guests will think you splurged on some gourmet antipasti.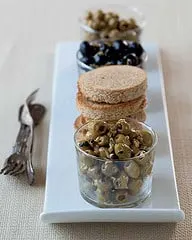 INGREDIENTS
Za'atar Black Olives
2 (6-oz) cans whole black olives, drained
2 tsp za'atar
4 cloves garlic, minced
2 tbsp olive oil
Rosemary Green Olives
12 oz whole green olives, drained
1 tsp dried rosemary
4 cloves garlic
2 tbsp olive oil
INSTRUCTIONS
1. Preheat oven to 375 degrees F.
2. Prepare the za'atar black olives: In a baking dish, combine olives, za'atar, garlic, and olive oil. Bake, uncovered,
for 40 minutes.
3. Prepare the rosemary green olives: In a baking dish, combine olives, rosemary, garlic, and olive oil. Bake,
uncovered, for 40 minutes.
You can serve the olives separately or combine them in one serving dish. These olives turn into a perfect spread for garlic bread or challah if you smash them up a bit.
Can't find za'atar?
Make your own:
Combine ¼ cup sumac, one tablespoon sesame seeds, one tablespoon thyme, One tablespoon oregano and one teaspoon salt in a food processor or mini chopper and blend.
AHEAD: You can prepare these olives up to one week ahead. Keep refrigerated and serve at room temperature.
Yield about 4 cups
© 2013 Artscroll May not be reprinted without publisher's permission.