I received a Laura Ingalls Doll in exchange for this post. All opinions are my own.
One day, as the kiddos sat on each side of me, we flipped through television channels. On one channel Little House on the Prairie was on, and I stopped flipping, "I use to watch this show when I was a little girl."
One episode and my little ones fell in love with the Ingalls family, just as I had.
A television show with a family where the dad was smart and worked hard. The mom is loving and kind. The children listened, and the adventure was there. Night after night we tuned in. Night after night my kids came to love these characters. It opened discussions with our pioneer pedigree. It gave my kids a glimpse of a simple life where family relied on each other, supported their community and worked hard.
Those are all lessons I want to teach my family. That life is not about what money can have, but what love can endure.
We visited the Little House on the Prairie website and spent so much time reading so many helpful and educational resources about Little House on the Prairie including a historical timeline and many history articles as well as fun crafts, recipes, and more.
Then, when the children started school, they learned about the book series, and so our bedtime storytime became time to find out more about Ma, Pa, and their children, from someone who would know, Laura Ingalls Wilder.
Even now, a decade later, my kiddos still stop on a channel playing an episode, and from time to time, they tell me they miss Albert or are thinking about Mary.
They ask how Ma and Pa would handle a situation.
They love to make a Pioneer Doll and spend an afternoon immersed in imagination.
Laura Ingalls Little House on the Prairie has been impacting the lives of girls for decades.
Laura Ingalls comes to life with the officially licensed Little House on the Prairie Laura Ingalls 18" Doll, exclusively made by The Queen's Treasures.
The details of The Queen's Treasure Laura Ingalls doll are amazing.
She features soft hair, styled in the iconic braids worn by Laura.
The eyes are stunning, such a beautiful blue, peeking out from the lashes.
Expressive, tilt-close eyes make this doll extra-special!
And look at those sun-kissed freckles.
Miss M has freckles, so this doll is that much more personal for her!
Laura comes in an eyelet ruffle-front nightgown and cap.
This doll is beautiful, and I am in love with how much detail in the nightgown and doll. Just look at the lace and buttons!
The details continue with the adorable rag doll that Laura Ingalls holds.
It's a doll that Ma or Mary might have made for Christmas or a birthday.
An embroidered face and braided yarn to resemble Laura is the perfect touch!
In addition to the doll, the box includes a pillow, patchwork quilt and an original keepsake box that converts into a cozy bed which tucks in a log cabin backdrop, complete with window!
This 6-piece set makes an instant heirloom collection.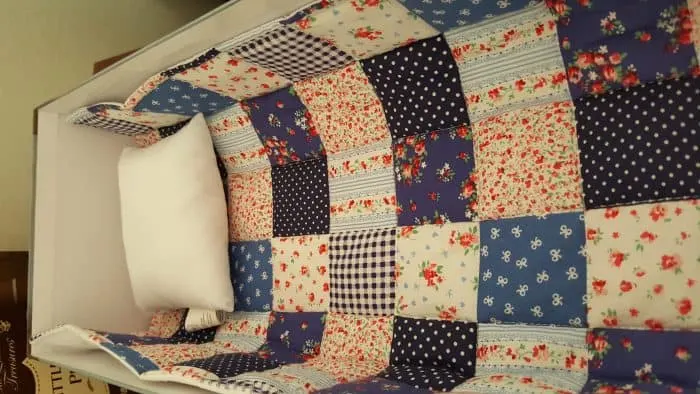 The Queen's Treasure Laura Ingalls doll is high-quality with unprecedented detail.
The toy features vinyl shoulders with a soft poseable body.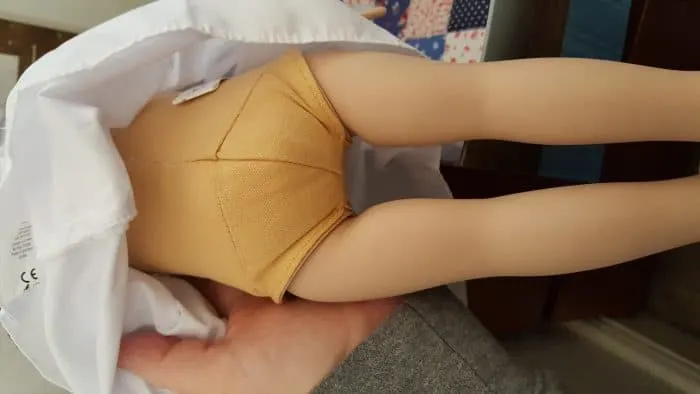 The doll measures 18-inches, and the box measures 18 3/4″L X 7 1/4″W x 4 1/4″ D.
There is also a special insert page that the doll's owner can color to share her vision of the prairie.
More accessories can be purchased at The Queen's Treasure or Target.
It would make the perfect gift!