Welcome to a delightful culinary adventure that combines the goodness of crispy tater tots with a medley of mouthwatering ingredients. Introducing our scrumptious White Trash Casserole recipe – a comforting and satisfying dish that will leave your taste buds dancing with joy. Perfect for busy weeknights or family gatherings, this casserole effortlessly blends layers of flavorful ingredients to create a symphony of textures and tastes that will have everyone coming back for seconds. So, gather your apron and appetite as we embark on a journey to discover the ultimate comfort food: our irresistible Tater Tot Casserole!
What is White Trash Casserole?
White Trash Casserole is a beloved and classic American comfort food dish. It typically consists of a hearty combination of ground meat, vegetables, and creamy sauce, all topped with a generous layer of tater tots, which are crispy, bite-sized potato nuggets. The casserole is then baked until the tater tots are golden and crispy, and the flavors meld together to create a delicious and satisfying one-dish meal.
The casserole's versatility allows for various adaptations and ingredient choices. While ground beef is a common choice, it can be replaced or combined with other meats such as turkey, chicken, or even vegetarian options like lentils or beans. The vegetable selection can include onions, corn, peas, carrots, or any combination of your favorite veggies. The creamy sauce often incorporates ingredients like cream of mushroom or cream of chicken soup, sour cream, or cheese, providing richness and depth to the dish.
Tater Tot Casserole is not only loved for its comforting flavors but also for its ease of preparation, making it a popular choice for busy families and potluck gatherings. Whether served as a hearty dinner or a delectable side dish, this warm and satisfying casserole is sure to please both kids and adults alike.
How My Recipe Came to be?
As a newlywed, I embarked on a culinary journey to delight my husband with amazing meals. However, each culinary endeavor seemed to be overshadowed by comparisons to his former girlfriends' cooking skills, and it slowly drove me mad. No matter how hard I tried, his nostalgic remarks about his ex-partners' dishes haunted every meal.
It was the infamous Spaghetti Sauce that started it all. Every time I even mentioned making it, I could already anticipate his dismissive remark, "It won't be as good as ____; she's Italian." The same happened with Northern Beans; his mom's recipe was, apparently, unbeatable.
But it was the mention of Tater Tot Casserole and the memories of some girl he dated that pushed me over the edge. I couldn't bear the constant comparisons any longer. Rather than depriving myself of the joy of cooking dishes I loved, I decided to face the challenge head-on.
I took matters into my own hands and made it my mission to create the most extraordinary Tater Tot Casserole he would ever taste. I spent countless hours experimenting with various ingredients, techniques, and flavors. Each time I presented the dish, he would subtly compare it to his "special someone" from the past, but I didn't give up. I remained persistent, determined to win him over with my culinary creation.
After months of dedication, I served the casserone one day without uttering a word. My heart was pounding as he took his first bite. Surprisingly, he remained silent throughout the meal. As he finished, I anxiously awaited his verdict. And then it happened – he said nothing. In that moment, I knew I had succeeded. The taste was impeccable, and my heart swelled with satisfaction.
It was an empowering moment for me – a moment when I realized that my cooking skills were unique and deserving of recognition. I had conquered the shadow of the past and proven that my dishes could stand on their own merit.
As for "the girl" he dated, whom he seemed to hold on a pedestal, I couldn't help but privately disagree. I never understood why he saw her as the epitome of culinary excellence; her attitude and behavior left much to be desired. To add a touch of humor and a gentle reminder of the victory I achieved, my husband and I affectionately call this delicious creation "White Trash Casserole" – a tongue-in-cheek nod to the past and a symbol of my triumph in the kitchen.
In the end, this experience taught me not only about cooking but also about the strength to stand tall against comparisons and appreciate the uniqueness of my efforts. And now, as we savor "White Trash Casserole" together, we laugh about the journey that led us to this scrumptious victory.
You may also want to check out my Pinterest Casserole board for more great recipes like this white trash casserole.
Easy White Trash Casserole
Prep Time: 10 minutes
Cook Time: 35 minutes
Total Time: 45 minutes
Servings: 8
Indulge in the comfort of Easy White Trash Casserole, a no-fuss dish that blends savory goodness with a crispy tater tot topping.
Ingredients:
1.25 pounds of ground beef
1 can cream of mushroom soup
1 can diced green chiles
1 can corn
1 bag frozen tater tots
1-1/2 cups cheddar cheese
Salt and pepper to taste
How to Make White Trash Casserole
Brown the Meat:
Preheat the oven to 425 degrees.
Spray a 13×9 baking dish with non-stick cooking spray.
In a large skillet, over medium heat, brown the ground beef for about 5 minutes.
Drain the grease.
Make the Casserole:
In a large mixing bowl, combine the soup, diced green chiles, corn, salt, pepper, and the browned ground beef. Stir until all the ingredients are well mixed.
Pour the mixture into the prepared baking dish, spreading it out evenly.
Top with Tater Tots:
Cover the mixture with a layer of frozen tater tots. For a crisper texture, stand the tater tots on their smaller ends rather than resting them on their sides.
Bake:
Place the baking dish in the preheated oven and bake for approximately 30 minutes or until the casserole becomes bubbly, and the tater tots turn golden.
Serve and Enjoy:
Remove the casserole from the oven and let it rest for 5 minutes before serving. The cheesy, savory flavors combined with the crispy tater tots create a mouthwatering experience that will satisfy your comfort food cravings.
Pro Tip:
For added indulgence, sprinkle the top with 1-1/2 cups of shredded cheddar cheese before baking. The gooey, melted cheese will take this White Trash Casserole to the next level of deliciousness!
Savor the simplicity and heartiness of this comforting casserole, perfect for a family meal or a potluck gathering. Easy to prepare and even easier to enjoy, this dish is sure to become a household favorite.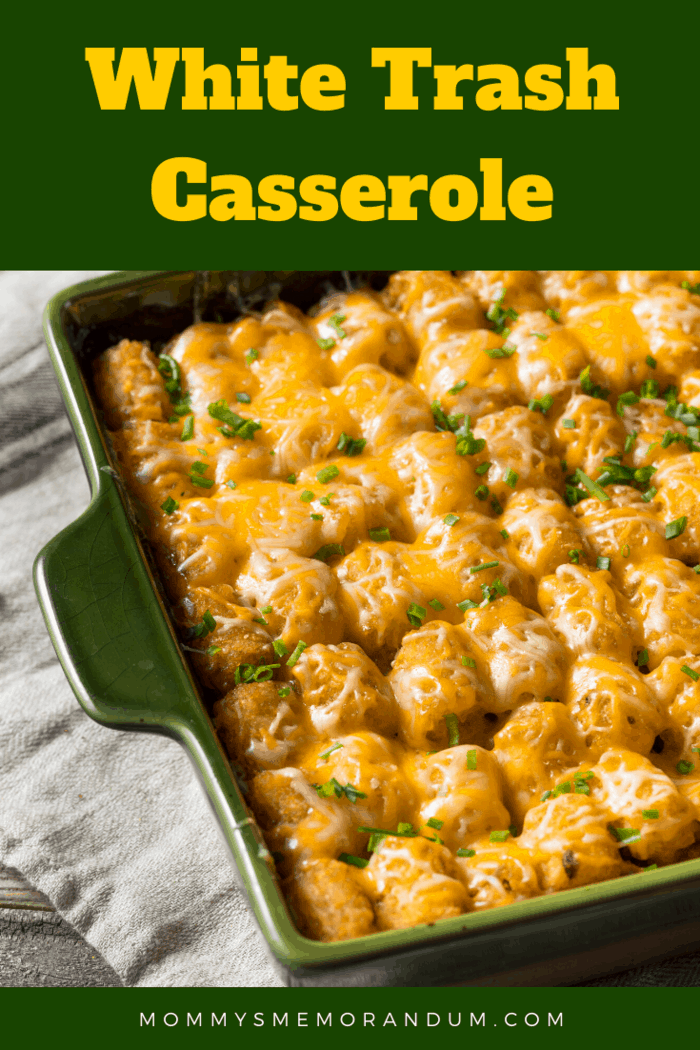 FAQs for Easy White Trash Casserole:
Can I use a different type of meat instead of ground beef? Absolutely! This casserole is versatile, and you can use ground turkey, chicken, or even a plant-based meat substitute for a vegetarian version.
Are there any alternative soup options to cream of mushroom? Yes, feel free to experiment with cream of chicken, cream of celery, or any other creamy soup that complements your taste preferences.
Can I add more vegetables to the casserole? Of course! This recipe serves as a great base for customization. You can add diced bell peppers, onions, or any other veggies you love to enhance the flavors.
How can I make this casserole spicier? If you prefer a spicier kick, consider using diced jalapenos or adding a dash of your favorite hot sauce to the mixture.
Can I prepare this casserole in advance? Definitely! You can assemble the casserole ahead of time and refrigerate it before baking. When ready to serve, simply pop it into the preheated oven and adjust the baking time slightly if needed.
How can I store leftovers? Any leftovers can be stored in an airtight container in the refrigerator for up to 3-4 days. Reheat individual portions in the microwave or in the oven until heated through.
Can I freeze this casserole? Yes, you can freeze the casserole before or after baking. To freeze before baking, assemble the dish, cover it tightly with foil, and freeze. When ready to use, thaw in the refrigerator overnight, then bake as directed. To freeze leftovers, allow the casserole to cool completely, portion it into freezer-safe containers, and store for up to 2-3 months. Thaw and reheat when needed.
How can I make this casserole gluten-free? To make this recipe gluten-free, ensure that the cream of mushroom soup and frozen tater tots you use are labeled as gluten-free. Many brands offer gluten-free versions of these products.
Can I add other toppings to the casserole? Absolutely! Sprinkle some chopped green onions, parsley, or cilantro on top before serving for an extra burst of freshness and color.
What sides go well with White Trash Casserole? This casserole pairs well with a simple green salad, coleslaw, or roasted vegetables for a complete and satisfying meal.
If you have any other questions or concerns, feel free to experiment and adapt the recipe to suit your tastes and dietary preferences. Enjoy the deliciousness and comfort of Easy White Trash Casserole!
How Do I Reheat Tater Tot Casserole?
When you're ready to reheat the casserole, thaw it overnight in the refrigerator if frozen. Then, preheat the oven to 350°F (175°C), remove the plastic wrap or aluminum foil from the casserole, cover it with foil, and bake for 30-40 minutes or until heated through. Remove the foil, and bake for an additional 10-15 minutes or until the tater tots are crispy and golden brown.
Dinner Inspiration:
This Tater Tot Casserole could be on your table tonight!
If you had The How To Cookbook for Teens, you could put YOUR feet up and let them cook this main entree!
What are you waiting for?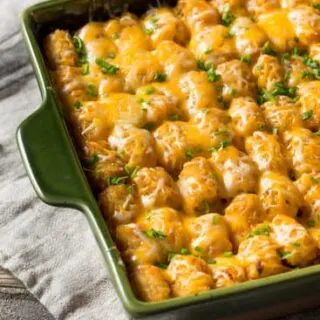 EASY White Trash Casserole Recipe
Additional Time:
5 minutes
This White Trash casserole is the ultimate classic comfort food. It's packed with corn, cheese, meat, all coated in a thick and creamy sauce. It's a meal everyone loves!
Ingredients
1 1/4 pounds ground beef
1 (10.5 ounce) can cream of mushroom soup
1 (4 ounce) can diced green chiles
1 (15.2 ounce) can corn kernels
1 (32 ounce) bag frozen tater tots
1-1/2 cups cheddar cheese
½ teaspoon salt
½ teaspoon pepper
Instructions
Brown the Meat: Preheat the oven to 425 degrees. Spray
a 13x9 baking dish with non-stick cooking spray. In a large skillet, over
medium heat, brown the ground beef, about 5 minutes. Drain the grease.

Make the Casserole: In a large mixing bowl, combine the soup, chiles, corn, salt, pepper, and meat and stir until well mixed. Pour mixture into prepared baking dish. Top the mixture with tater tots.

Bake: Bake in preheated oven for 30 minutes until bubbly and the tater tots are golden. Let rest 5 minutes before serving.


Notes
The Tater Tots will be crisper if you stand them on the smaller end, rather than
rest them on their sides.
Nutrition Information:
Yield:

8
Serving Size:

1
Amount Per Serving:
Calories:

364
Total Fat:

24g
Saturated Fat:

11g
Trans Fat:

1g
Unsaturated Fat:

11g
Cholesterol:

93mg
Sodium:

555mg
Carbohydrates:

8g
Fiber:

1g
Sugar:

1g
Protein:

27g
Nutritional Information may not be accurate