Introducing Wendy's Delectable Asian Cashew Chicken Salad!
Are you craving an explosion of flavors in every bite? Look no further! Wendy's is thrilled to present our mouthwatering Asian Cashew Chicken Salad, a culinary delight that will leave you wanting more!
Freshness meets Fusion: Indulge in the perfect fusion of fresh ingredients and vibrant Asian flavors. Our hand-picked vegetables, tender grilled chicken, and crunchy cashews combine to create a salad that's a true feast for the senses!
Succulent Grilled Chicken: We believe in serving only the best, which is why our chefs meticulously grill the juiciest chicken to perfection. The delightful char-grilled taste paired with our signature Asian-inspired dressing elevates the salad to a whole new level of deliciousness.
Nutty Sensation: Savor the delightful crunch of cashews that complement every forkful of this incredible salad. The nutty texture perfectly balances the flavors, leaving you craving for more!
A Symphony of Asian Flavors: Our unique Asian-inspired dressing infuses every ingredient with a harmonious blend of sweet, tangy, and savory flavors. It's the ideal accompaniment to the fresh veggies and tender chicken, elevating the taste to an extraordinary level.
Customize Your Way: At Wendy's, we believe in catering to your individual tastes. Customize your Asian Cashew Chicken Salad with an array of toppings and dressings, making it uniquely yours!
Healthy and Wholesome: Indulging in delightful flavors doesn't mean sacrificing your health goals. Our Asian Cashew Chicken Salad is a nutritious option, crafted with care to ensure you get the best of both worlds – taste and well-being.
Don't miss your chance to tantalize your taste buds with Wendy's Asian Cashew Chicken Salad! Head to your nearest Wendy's restaurant today and embark on a culinary adventure like no other. Taste the fusion of fresh ingredients, succulent chicken, crunchy cashews, and irresistible Asian flavors in every bite!
Available for a limited time only. Try it now at Wendy's!
Wendy's Asian Cashew Chicken Salad Review
I received Wendy's Gift Cards in order to review the Wendy's Asian Cashew Chicken Salad. All opinions are my own.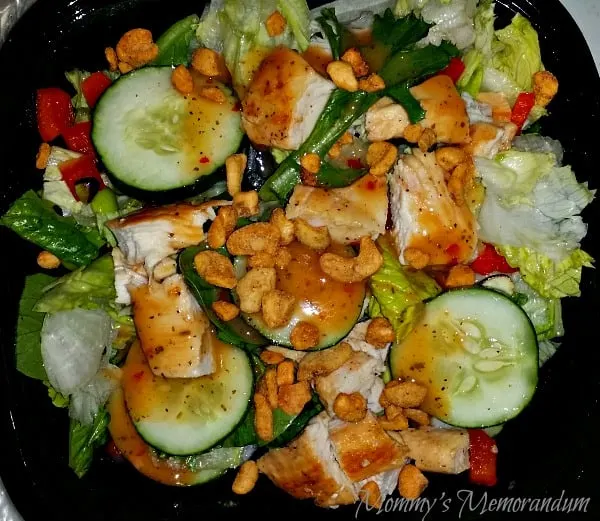 I seem to lead a double life. I'm a working woman and a mother. Both are still trying to be young and resilient. My days begin at 4:30 am and after work, homework, errands, and blogging, the clock is ticking past eleven. Balancing it all can be tough, and finding a meal on the go that is satisfying and semi-healthy can be challenging.
This weekend, while running errands, I picked up a Wendy's Asian Cashew Chicken Salad. It's available in a full size and half size, both are full-flavored!
I was impressed that the fully dressed salad is only 380 calories; opt for a half-size for 240 calories.
It's a fresh take on salad with trendy ingredients such as fire-roasted edamame, red peppers (which are sliced fresh in a restaurant), there's spicy roasted cashews dusted with garlic, onion, and sea salt, cucumbers, a blend of eleven different kinds of field greens topped with a warm grilled chicken breast. The dressing was a big hit at my house. Light Spicy Asian Chili Vinaigrette, whose flavor comes from roasted peanuts, soy sauce, lime juice, chili garlic sauce and brown sugar.
I am big on food with texture and Wendy's Asian Cashew Chicken Salad is big on texture. The salad was fresh and satisfying, and the protein from the grilled chicken and cashews satisfied my hunger and kept me going.
My kiddos loved this salad, and a full-size can be claimed as my lunch, or added to my Wendy's ordered and divided out to go with Wendy's Chili for those nights when we just seem on the go!
Wendy's is helping moms make good food choices by offering coupons for $2 off the full-size Asian Cashew Chicken Salad through October 26 after any purchase at a local Wendy's restaurant.
(Nutrition Facts – Full Size – 380 calories, 120 calories from fat, 13 grams of fat, 2 grams of saturated fat, 90 milligrams of cholesterol, 970 milligrams of sodium, 1130 milligrams of potassium, 33 grams of carbohydrates, 18 grams of sugar, 6 grams of fiber, and 36 grams of protein.)