The harvest of fall makes this applesauce cake recipe the perfect signature dessert, using just five ingredients you probably already have.
Apples are a fruit that always reminds me of fall. The cool weather and biting into a crisp apple.
This applesauce cake is so easy and perfect for a Fall dessert, potluck, or snack.
There is no applesauce in this cake.
It's more of an apple spice cake.
My kids call it this because it tastes a lot like cinnamon applesauce in cake form!
Why You'll Love This Apple Spice Cake Recipe:
This is an easy recipe.
Some will say it has two ingredients: Cake Mix and Pie Filling.
I went ahead and said five ingredients because the Cake Mix requires a few things like oil and eggs. Then there's the fall flavor Cinnamon. We like more of that.
I have made this by blending just the cake mix and the apple pie filling together until well blended, then bake at 350 degrees for 30 minutes or until toothpick inserted in center of cake comes out clean.
Either way works.
I'll leave it up to you.
The cake mix + pie filling makes a more dense cake.
Toppings
Swap out the buttercream for warm, homemade caramel, or a dollop of whipped cream. OR BOTH.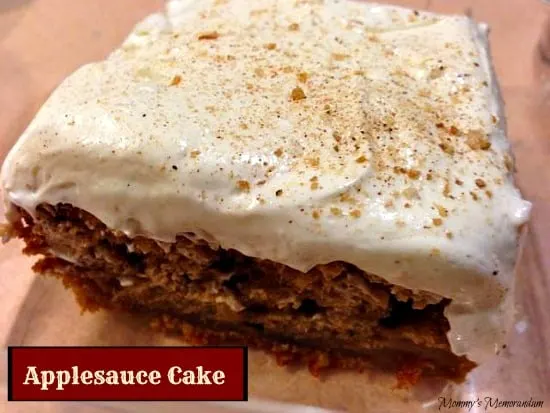 Applesauce Cake Recipe Ingredients
1 box spice cake mix
¾ cup apple juice
⅓ cup vegetable oil
3 eggs
1 can (21 oz) apple pie filling
Icing:
Vanilla buttercream or use a pre-made container
½ tsp cinnamon (I grated cinnamon sugar on top with a grinder)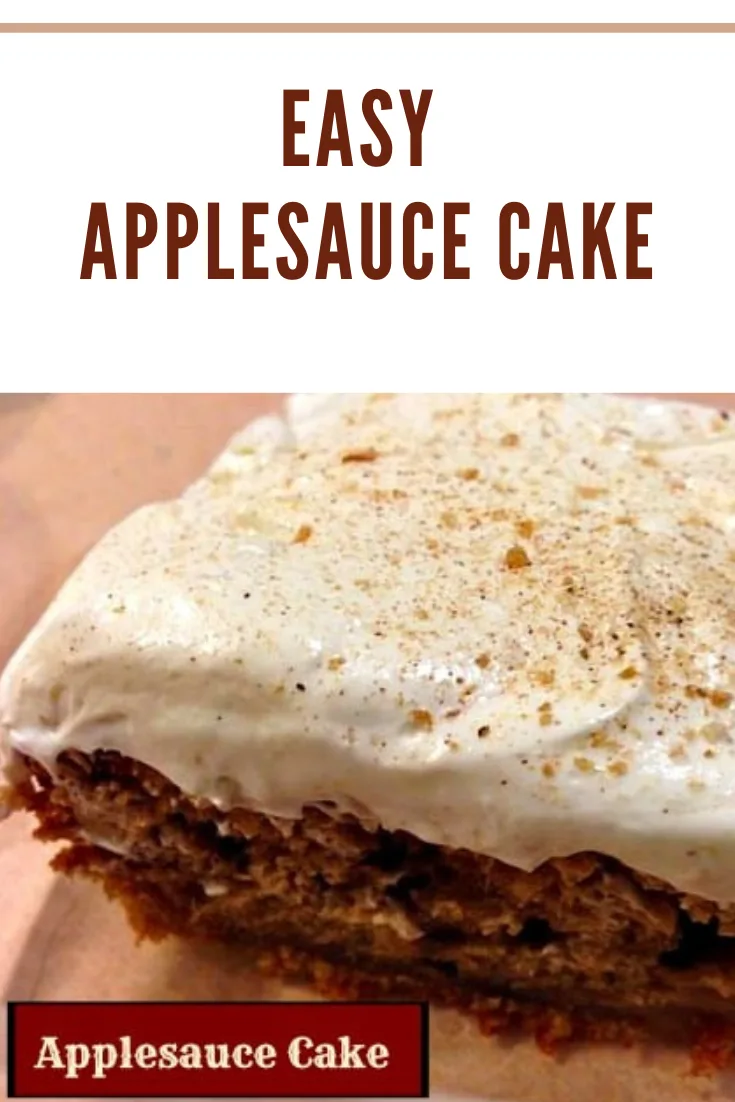 How to Make Applesauce Cake
Preheat oven to 350
Line 9×13″ pan w/foil and spray w/non-stick
Open the can of pie filling, and while it's still in the can- dice into small pieces with a sharp knife.
Mix the cake mix, juice, oil, and eggs together until well blended. Slowly stir in diced apple pie filling.
Pour into ready pan.
Bake for 40 minutes.
Cool completely before frosting.
Cream Cheese Frosting Option:
1 (8 ounces) cream cheese, softened
1/4 cup butter, softened
1 teaspoon vanilla extract
1 teaspoon apple pie spice
3-4 cups powdered sugar
1 to 2 tablespoons milk
1/2 cup chopped walnuts (optional)
In a medium bowl beat the cream cheese, butter and vanilla until fluffy.
Add the apple pie spice and gradually mix in powdered sugar.
Add 1 tablespoon of milk, beating until smooth.
Add a bit more milk if needed.
Frost cooled cake.
Sprinkle walnuts on top if you like.