https://booksy.com/blog/us/french-manicure-types/Nail care can make the holidays and everyday glamorous with these Trind Nail Tips.
Beautiful nails are noticed!
Trind Nail, Europe's most trusted and respected line of hand and nail care products, has put together some great nail tips.
Trind is globally known as experts with 25 years of expertise.
Their unique products are made from high-quality ingredients, which nourish and strengthen the nails and stimulate growth.
They provide visibly better condition of nails and cuticles, resulting in stronger and more beautiful nails.
The Trind nail care lineup includes nail polishes in fun and trendy colors.
But the backbone of the line is their nail care system that will transform the health of your nails.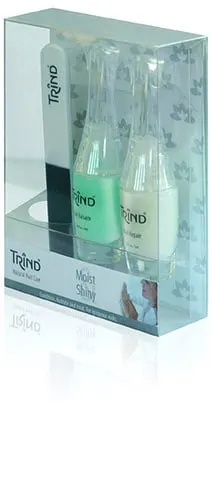 Moist & Shiny Kit
The Moist & Shiny kit is one of Trind's best sellers for women who need to repair those dry, brittle nails that won't grow.
The Trind Nail Balsam hydrates and moisturizes the nail and helps create the perfect balance of moisture and protein in the nail.
The Trind Nail Repair strengthens while promoting flexibility.
These two products together will rejuvenate your nails.
Trind Nail Tips: The Bare Manicure With Trind
Healthy nails are gorgeous nails.
Use Trind Moisturizing Nail Balsam and Trind Nail Repair, and your bare nails will be beautiful nails.
This Dream Team gives you nails that don't need to be covered up.
Use Trind Extra Mild Cuticle Remover and Trind Cuticle Repair Balsam to maintain your cuticles.
Healthy cuticles mean strong, healthy nails.
Use the patented Trind Professional Glass Nail File to shape your nails.
The laser grit seals as it files to help prevent chipping and peeling.
Keep your nails on the shorter side and gently round the edges.
Your secret weapon for the Bare Manicure is Trind Nail Brightener.
This is like a french manicure in a bottle!
It makes your nails brighter, with the white parts whiter.
Use a white nail pencil under the tips to further highlight the ends.
That's all you need to get that manicured look in a fraction of the time.
It's easy to maintain, too!
Invest the time to make your nails their healthiest, and you won't need a polished manicure.
Check out the Trind Bare Manicure video featuring professional model, actor, and Trind fan Judith sharing insider tips and tricks that show you how to build great nails.
The Trind Bare Manicure
Cuticle Love With Trind
The nail matrix is the "brain" of the nail.
If the cuticle protecting it is hard, ridges will form in the nail.
Maintain healthy cuticles, and your nails will thank you!
Never cut your cuticles!
After your shower, make it a habit to push them back and rub them gently with a towel to remove any excess skin.
Trind Extra Mild Cuticle Remover is alkaline-based to soften cuticles and make it easy to remove any excess.
Just push them back gently, and rub off any excess cuticle with your fingernail or a dry towel.
Use Trind Cuticle Repair Balsam to bring back hydration.
This liquid gold will help you start to grow a healthier nail.
Build Your Best Nails With Trind
Dehydration can lead to splits and cracks in your nails.
Keeping your nails hydrated starts with keeping your body hydrated.
Drink lots of water every day – at least six glasses.
Sip, don't gulp!
A healthy diet of fruits and vegetables packed with vitamins and enzymes is essential for maintaining healthy nails.
Make sure you eat lots of foods rich in sulfur and silicon.
Fish and broccoli are two examples of such foods.
And don't forget foods packed with biotin, such as whole grains.
If you don't like drinking milk or are allergic to it, try drinking carrot juice instead.
Carrot juice is high in calcium and phosphorus, essential in maintaining healthy cuticles and nails.
You're always on the go but want to keep up with a proper diet?
Eating real food instead of protein bars and supplements is always better for our bodies.
Try to eat as much natural food as possible to maintain healthy and strong nails.
Vitamins or supplements and proper diet better your chances of having strong and healthy nails.
Most important are Vitamin A, Vitamin C, calcium, folic acid, protein, Vitamin B12, and zinc.
Always check with your physician first before taking any supplement!
In addition to using the Trind Moisturizing Nail Balsam and Trind Cuticle Repair Balsam, simply increasing the amount of vitamin A and calcium in your diet can have very positive results when you're trying to prevent dry and brittle nails.
Trind Moisturizing Nail Balsam and Trind Cuticle Repair Balsam can be used daily.
The Trind balsams always keep your nails hydrated like drinking water every day.
They're like conditioners for your nails.
Nail SOS
Hangnails are partly caused by a lack of both protein and vitamin C.
If you notice white spots on your nails, the culprit might be a lack of zinc in your diet.
White marks across the nails can also signify a possible protein deficiency or dehydration caused by using an acetone-based polish remover.
Trind Extra Mild Nail Polish Remover is acetone-free and extra gentle on your nails!
Lack of vitamin B12 can lead to dryness and discoloration of the nails.
Not getting enough vitamin A and calcium in your diet causes brittle nails due to dryness.
Use Trind Moisturizing Nail Balsam to add a dose of biotin and condition your nails.
This "liquid gold" is the closest thing to your nail's natural moisture, and your nails will thank you for it!
Nail Love With Trind
Heavily perfumed lotions and hand sanitizers contain a high amount of alcohol, which leads to nails breaking or chipping because of dehydration.
Wear rubber gloves when washing dishes or using household cleaners. If dish soap can remove baked-on grease, just imagine what it's doing to your hands and nails.
If you are removing and reapplying polish more than once or twice a week, be sure to apply Trind Moisturizing Nail Balsam first.
Using too much polish remover too often can dry out your nails. Always use acetone-free polish remover.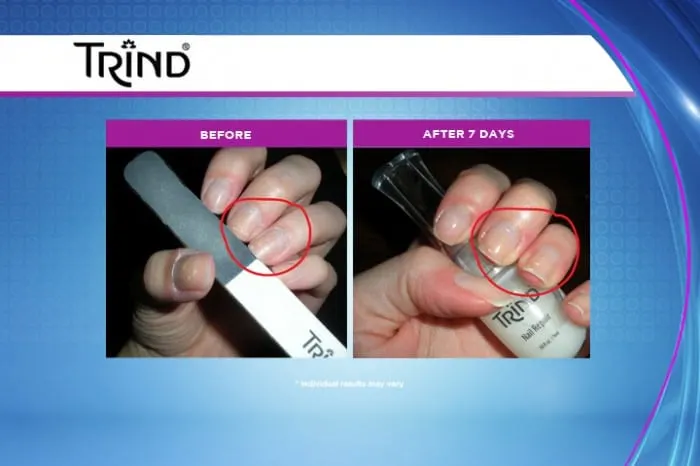 This picture is the before and after seven days after fake nails are removed and Trind products being used.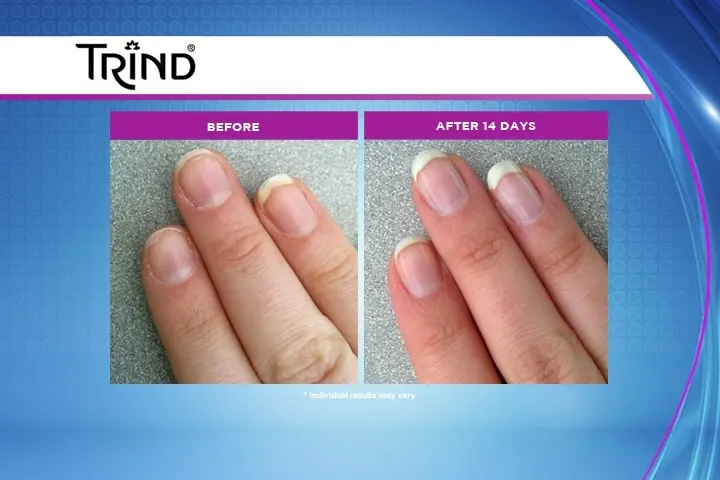 This is the before and after fourteen days after the removal of fake nails and Trind nail products.
Take the 14-day challenge with the Trind Moist & Shiny Kit, and you'll see your nails improve.
These products are a Dream Team that will give you back the nails you were born with.
After improving your nails with the Trind Moist & Shiny Kit, Trind Nail Repair can be used as a very reliable base coat if used no more than once a week.
Getting a hand massage will increase circulation and stimulate quicker nail growth.
Manicure Tips From The Pros At Trind
Even if your nails do not have nail polish to be removed before doing your nails, use Trind's acetone-free Extra Mild Nail Polish Remover to prepare the nail plate better.
This will remove any grease and/or residue, so your polish will adhere better and last longer.
To push back the cuticles, first, soak your hands in warm water for a few minutes.
Pushing back your cuticles should never be painful.
Never ever cut your cuticles with scissors!
Hangnails, on the other hand, can be snipped away.
While filing your nails, you can check your progress by running them down a pair of old nylons.
If your nails snag on the nylons, you have some additional buffing to do.
Use the patented Trind Professional Glass Nail File to give you fast, professional results.
The laser grit files and seals the nail simultaneously for a smooth and healthy finish.
Start with the Trind Moisturizing Nail Balsam for moisture, and then use a base coat to properly prepare the nail plate as your canvas before applying your favorite shade of polish.
A base coat also helps protect and maintain the strength of your nails.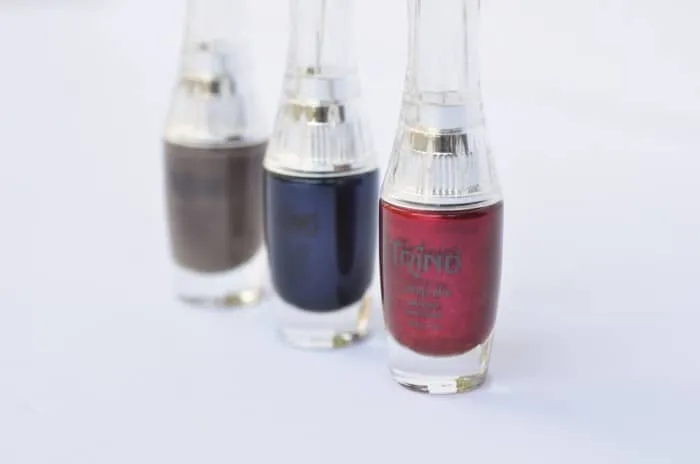 Give your nail polish at least 1 to 3 minutes of drying time between coats when doing your nails at home.
This will give you a nice even sheen and lasting finish.
Apply many thin coats of your polish and not one thick coat. It will dry quicker and last longer.
Apply your polish like a professional in three strokes.
Take a small amount of polish on your brush and apply one stroke down the center of your nail.
Then apply strokes on the left and right. Do not use more nail polish.
One brush dip should equal three strokes of application.
Allow at least 1 minute for the polish to set before applying the next coat.
Or better yet, wait 3 minutes for the best results.
Remember, 2 to 3 thin coats are better than one thick coat.
Always apply a clear topcoat to your polish to finish off your nails.
It's worth the extra step to give your nails that nice glossy look.
Topcoats add longevity to your Manicure and help protect your nails.
Apply the topcoat only after your polish is completely dry to the touch.
It may be a pain to wait out the drying time, but you'll thank yourself later.
Want the next best thing to the perfect French Manicure without the hassle of getting the white tips neat and free of imperfections?
Use Trind Nail Brightener (aka. French Manicure in a bottle) and Trind Nail White Pencil underneath the nail tips instead of white polish.
You'll love the results!
Pump Up Your Manicure With Trind
Use the patented Trind Professional Glass Nail File to give you fast, professional results.
The laser grit files and seals the nail simultaneously, helping to prevent chipping and peeling.
Chips and cracks to your nail polish are just plain annoying.
Part of the preventative maintenance of your Manicure is reapplying or "touching up" the topcoat.
It won't make your polish last forever, but it will give you some extra mileage.
Don't forget to apply a base coat, nail polish, and topcoat across the nail edge too.
This helps seal the ends and prevent chips.
Don't use your nails as tools!
Your hands are not a swiss army knife if you know what I mean.
Don't dig, pick, or scratch at things.
You've spent too much time and money on manicures and nail care products.
You manicure doesn't like added moisture.
.Avoid soaking your hands in water if you can, and use a pair of gloves when you can't!
The Trind Story:
Trind is Europe's most trusted and respected hand and nail care line.
It is found in the finest perfumeries from St. Tropez to the Champs Elyseé in Paris and from Stockholm to Milano.
Trind is now fast achieving the same status in the United States & Canada.
News of Trind is spreading like wildfire as women everywhere share their stories about the incredible results Trind achieves!
Trind has been an expert in nail care for over 25 years.
The outstanding line of Trind premium products evolved from a passion for doing the impossible, which lead to the development of nail care products that would help all women have strong and flexible nails, products whose effectiveness was sustainable.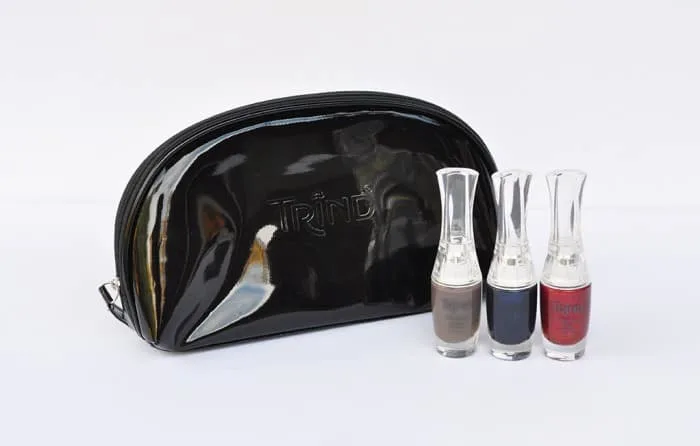 ---
Resources: